Kaiser Chiefs
The Leeds indie rock band are best known for songs like 'I Predict a Riot' as well as albums like Yours Truly, Angry Mob and Employment.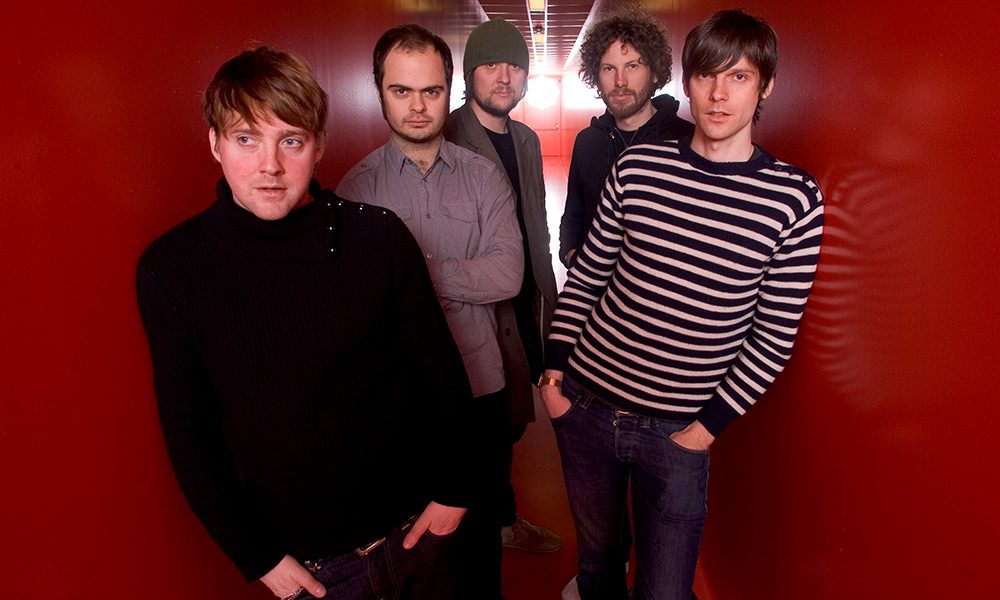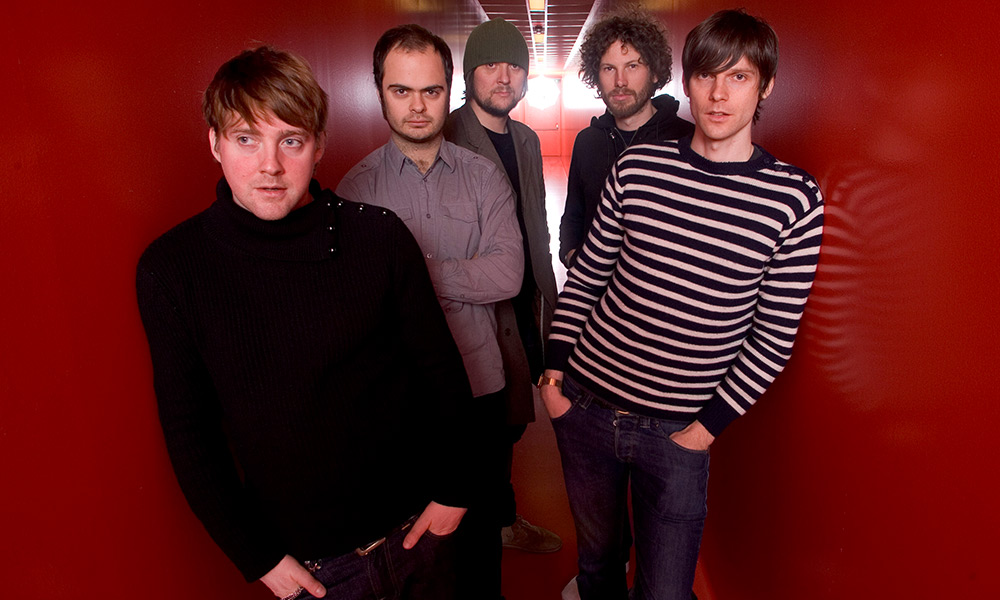 In a 21st century musical landscape populated by art-rockers, urban realists, hip-hop stars, desktop DJs and bands with axes to grind, there needs to be space for the ingenious indie-pop outfit whose principal policy is to play, to play loud, to have fun and to entertain. Just such a slot was more than adequately filled by Leeds quintet Kaiser Chiefs. Well, initially, at least. Until they developed a social conscience, that is. Over five massive albums — all Top 10 and mostly gold and platinum No.1 or No.2 hits — the Chiefs went from guitar-slinging cheeky chappies to world-weary political commentators. That's if you pay close attention to the lyrics, of course. The music remains predominantly upbeat and anthemic for the duration, which accounts for the band's resilient popularity and mega receipts. Kaiser Chiefs have notched up combined sales of over three million — Employment (2005), Yours Truly, Angry Mob (2006), Off With Their Heads (2008), The Future Is Medieval (2010), and Education, Education, Education & War (2014). At least two of their singles, 'I Predict A Riot' and the No.1 'Ruby', have wormed their way into the public's consciousness to such a degree they're on the way to genuine classic status. From the outset Kaiser Chiefs hit the ground running: they swept the board at the Brits in 2006, scooping three awards — for Best Breakthrough Act, Best British Group, and Best Album for Employment. In 2015 they remain one of Britain's best-loved bands. They have been steadily developing their own agenda too: to play and to entertain, certainly, but also to express their day-to-day concerns via their music, but always via the art of wry observation rather than tub-thumping manifestos. And with frontman Ricky Wilson currently a primetime TV celebrity on the BBC talent show, The Voice, it doesn't look as if Kaiser Chiefs are about to slip off the radar any time soon.
Kaiser Chiefs began as school friends in Leeds, Yorkshire, in 2000, under the name Runston Parva, a deliberate corruption of the name of local village Ruston Parva. Clustered around the songwriting team of vocalist Ricky Wilson and drummer/lyricist Nick Hodgson, with guitarist Andrew White, bassist Simon Rix, and Nick Baines on keyboards, success appeared to come quickly when they were signed to Mantra Recordings. This imprint of Beggars Banquet was home to indie champions such as Gorky's Zygotic Mynci, Saint Etienne and the Delgados. In the early 2000s, the Britpop sensation of less than a decade before was enjoying a resurgence of interest (if it ever went away) and indie music was once again basking in the sunshine of Pulp, Blur and Oasis. Parva were keen devotees of Blur and openly aped their sound — to the point that when Nick Hodgson met his hero Damon Albarn he quipped, "I hope you've not brought your lawyers." In 2003, Mantra issued three singles by Parva, and an album, 22, titled after the members' average age and a 'lost' Kaiser Chiefs album in all but name. But just as the second wave of Brtipoppers that included Franz Ferdinand, Kasabian and the Killers were storming the charts, Beggars Banquet closed down their Mantra label and Parava were set adrift.
Bruised but still brimming with energy and hungry for success, Parva regrouped and soldiered on. "Everything is about the band," commented Ricky Wilson later. "It's the most important thing in my life." But being associated with a failed record label marked them up as "damaged goods" and they decided to rebrand. Nick Hodgson: "We changed the way we play, the way we dress, basically everything we could change without changing our faces." Keen football fans and supporters of Leeds United, they drew inspiration from their team's flamboyant centre-back Lucas Radebe, nicknamed "The Chief", after Kaizer Chiefs, his previous team in his native South Africa. Another deliberate name corruption later and the Kaiser Chiefs were born.
With a fresh twist on their robust indie sound, built upon the foundation of punk and new wave topped off with Britpop swagger, they attracted renewed interest from record labels. They eventually signed to B-unique, a start-up indie with acts such as Alkaline Trio and Mull Historical Society on its books. B-unique's faith in Kaiser Chiefs was well placed, and the band soon became their most successful act. Their first two singles, the rabble-rousing 'Oh My God' and 'I Predict A Riot', shot into the UK Top 10 in 2004, and their debut album, Employment, issued the following year, was one of the biggest-selling debuts of all time, not just in UK indie central but around the world.
Containing four hit singles — 'Oh My God', 'I Predict A Riot', 'Every Day I Love You Less And Less' and 'Modern Way' — and produced by Stephen Street, Employment peaked at No.2 in the UK, with sales of over two million. The awards were impressive: six times platinum in the UK, three times platinum in Ireland, double platinum in Europe and gold in Greece and Australia. Critical reception was enthusiastic, and reviewers fell over themselves to praise the band, citing their nervy energy, cheeky quintessentially British humour and well-crafted songs with infectious sing-a-long choruses. Kaiser Chiefs must have been delighted by one particular notice from Yahoo Music, which decided that they were "a worthy successor to Blur."
Following a hectic year of touring, Kaiser Chiefs spent just six weeks recording their second album, Yours Truly, Angry Mob, released in 2007 and again produced by Stephen Street. Their already enormous success served to fuel a thirst for even more. "We were looking at some sales figures of Led Zeppelin," Nick Hodgson told the NME. "The first one did eight million in the US alone. The fourth? Twenty-three million! So we're like, 'Yeah!. It'd be great to do that, wouldn't it?" That was perhaps unrealistic, but Yours Truly, Angry Mob did better the chart performance of Employment in almost every territory and reached No.1 in the UK.
Britpop was still an obvious influence musically, but the serious faces on the cover served notice that humour was less of a factor and that, lyrically, social issues were now a concern. The music was predominantly cheery and ferociously upbeat with killer choruses, but irreverence now gave way to irritation and disenchantment. 'Angry Mob' addresses misrepresentation in the tabloid press. 'Highroyds' reflects upon a Leeds mental hospital that was being redeveloped for housing (which also, incidentally, inspired the title of Kasabian's third album, West Ryder Pauper Lunatic Asylum). And on 'Everything Is Average Nowadays' Ricky Wilson sings "Now you say it's getting better / but I don't really see the signs". Focus on the music exclusively, however, and you'd hardly notice the difference. The album was crowned by the No.1 single, 'Ruby', an arena anthem of such ubiquity that it was nominated for an Ivor Novello Award for 'Most Performed Title of 2007-2008'.
The third album Off With Their Heads from 2008 includes more of the same — wry social observations, heaps of wit and charm, and "whoa-whoa" choruses designed to get listeners punching the air. Producer Mark Ronson adds a sophisticated variety to the Kaiser sound and there were 'new' influences derived from the observational grit of The Kinks and The Jam. 'Always Happens Like That' recalls 'I Predict A Riot', while 'Addicted To Drugs' paraphrases Robert Palmer's 'Addicted To Love'. Nick Hodgson takes lead vocals on the uncharacteristic 'Remember You're A Girl', the plaintive closing track that garnered comparisons to both Lennon and McCartney, which is praise indeed. Overall, …Heads drew mixed reviews, although many were as positive as the UK chart position of No.2. Lead single, 'Never Miss A Beat', meanwhile, peaked at No.5,
It wasn't until 2011 that fourth album, The Future Is Medieval, arrived. The band had a new label, Polydor, and a new producer, Tony Visconti. In an interview Hodgson revealed that, as they were struggling to complete the verse of 'Man On Mars', Visconti texted his old friend David Bowie for help, and Bowie replied, offering "a couple of lines". But Hodgson rejected them. "I can't believe I'm saying this," he admitted, "but they just weren't right, so I've missed out on a Hodgson/Bowie writing credit. Gutted!". The song was the second single from the album, but it failed to chart. Neither did its follow up, 'Kinda Girl You Are'. The lead 45, 'Little Shocks', meanwhile, despite garnering "one of their best" notices in some quarters, peaked at a resoundingly low No.179.
The downturn also applied to the album itself, which reached UK No.10, their lowest placing to date but a success nevertheless. The Chiefs had taken an innovative approach to its marketing, offering fans a customized download of 10 tracks from the 20 posted on their website. There were new influences too: hints of Bowie, perhaps not surprisingly, on 'Things Change', Kraftwerk even on 'Heard It Break' and a mixture of the Beatles and the Stones on 'When All Is Quiet'. But in the main, having previously channelled Blur to obvious great effect, for The Future… Kaiser Chiefs turned to Oasis and their 'difficult' third album Be Here Now. Said Hodgson: "We all know that record has loads of problems, but at least it's got an attitude". Perhaps some of those 'problems' rubbed off, as the Chiefs' trademark ebullience was now replaced by a gloomier perspective. Gone were the irresistible 'nah-nah-nah-nah-nah' hooks of old, replaced by a more thoughtful — OK, downbeat — approach. Nick Hodgson sang lead vocals again on the closing 'If You Will Have Me', in a moving message to his father which once more invoked the spirit of John Lennon.
Kaiser Chiefs' Education, Education, Education & War (2014) was their boldest statement yet. The overtly political title is a reference to former UK Prime Minister Tony Blair; inside, the band's by-now entrenched lyrical themes concerning the inequalities of life were again to the fore, alongside a strong anti-war message – and plenty of marching beats. Prior to its recording, Kaisers received a major upset when founding member, songwriter and drummer Nick Hodgson left the band, citing his dislike of touring and his desire to concentrate on other projects. Vijay Mistry from Leeds band Club Smith took over on drums. There was also another producer, Ben H. Allen III and a new label, Fiction.
Reviews were mixed again but despite the setbacks, the album is back to basics for Kaiser Chiefs and it's bristling with energy and infectious hooks. It also returned them to No.1 in the UK. It opens with 'Factory Gates', which revisits the heights of 'I Predict A Riot' once again, as does 'Ruffians On Parade' and the melodic, 'Misery Company', all highlights. Reaching only No.31, the anthemic lead single, 'Coming Home', didn't quite match the success of the album, but was classic Kaisers nonetheless. Unlike the thundering 'Cannons' on which flourishes of death metal sit alongside a spoken-word section recited by actor Bill Nighy. Album closer 'Roses' is a departure from the main anti-war theme, on which Ricky Wilson's reflective minor key vocals follows Nick Hodgson's wistful precedents on the previous two collections. A new direction, perhaps?
That seems to be the case with 2016's Stay Together, on which collaboration with Brian Higgins (Sugababes, Girls Aloud and Little Mix) throws the Chiefs into the pop arena and, thanks to key tracks 'Parachute' and 'Hole In My Soul', gives the lie to any notion that they've lost the plot. Their year ended with a triumphant show in Glasgow. They've played together; they've stayed together. Keep the Kaiser faith.
Words: Andy Davis