The Tragically Hip
Beloved in their native Canada, the group was one of the most successful bands to emerge from the alt rock explosion.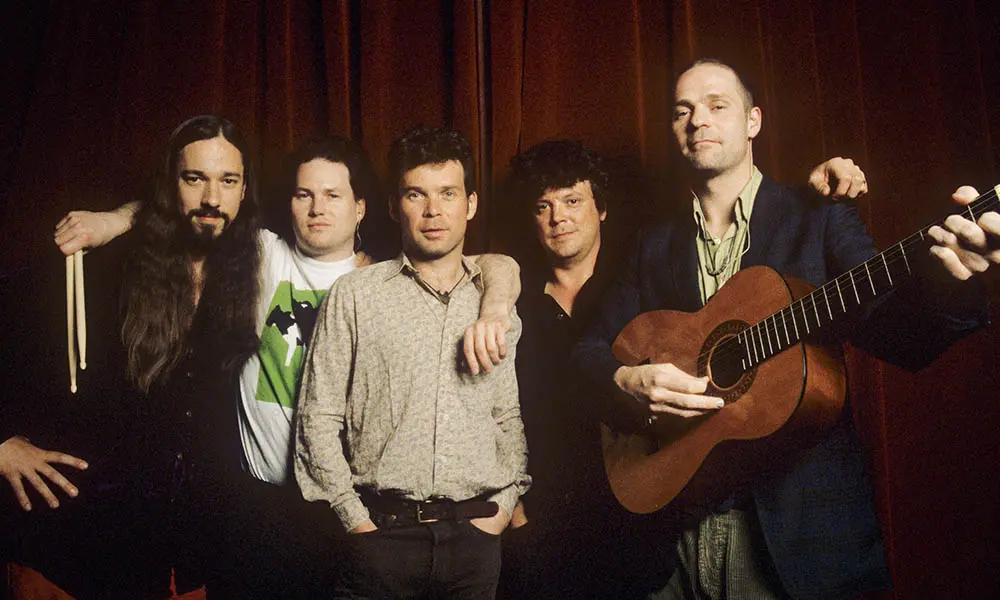 Frequently compared to U.S. 80s alt-rock counterparts R.E.M., Canada's Tragically Hip spent more than three decades together recording numerous genre-defining albums. From 1984 to 2016, Rob Baker, Gord Downie, Johnny Fay, Paul Langlois, and Gord Sinclair earned critical praise, a global fanbase, and a spot as the best-selling Canadian band in all of Canada (not to mention the fourth best-selling artist overall). Even Canada's Prime Minister attended the Hip's final concert, which was broadcast live to millions across the country.
Forming in 1984 in Kingston, Ontario, the Tragically Hip began as a project between Gord Sinclair and Rob Baker, who met as students. Eventually, they joined up with Downie and Fay and started gigging around Kingston and named their band after a skit in the 1981 film Elephant Parts. In the mid-'80s, the band was discovered by then-MCA Vice President Bruce Dickinson at Toronto venue the Horseshoe Tavern, and they recorded their first self-titled EP, which housed two singles: "Small Town Bring-Down" and "Highway Girl." In 1989, they released their debut LP, Up To Here, whose singles – "Blow at High Dough," "New Orleans Is Sinking," "Boots or Hearts," and "38 Years Old" – gained traction at Canada's rock radio stations.
As a band, the Tragically Hip were prolific, producing 13 studio albums over the course of their career. After their debut, they dropped 1991's Road Apples, which went No. 1 in Canada and featured three singles: "Little Bones," "Twist My Arm," and "Three Pistols." The next year, they dropped Fully Completely, which found the group shifting away from their earlier blues-driven sound.
In 1994, the Hip released Day For Night, which featured a whopping six singles, such as "Nautical Disaster" and "Grace, Too." The next year, they'd make their highest-profile appearance in the United States as the musical guest on Saturday Night Live, at the request of former cast member and fellow Canadian Dan Ackroyd.
In 1996, the band released Trouble At The Henhouse, which featured their most successful single to date: "Ahead by a Century," which hit number one on the RPM Canadian singles chart. The album single "Butts Wigglin" also earned a spot in the Kids in the Hall movie Brain Candy.
In 1998, the Tragically Hip released their sixth full-length album, the triple-platinum Phantom Power, which won the 1999 Juno Award for Best Rock Album and Best Album Design. One of the album's singles, "Bobcaygeon," won the Juno Award for Single of the Year in 2000. That same year, the band released Music @ Work, which took home the Juno Award for Best Rock Album.
Still going strong, the Hip released Violet Light in 2002, which went platinum in their home country. That same year, they performed two songs – "It's A Good Life If You Don't Weaken" and "Poets" – for none other than Queen Elizabeth II. Two years later they played the halftime show at the 92nd Grey Cup in Ottawa.
Come 2005, the Tragically Hip dropped a double CD and DVD box set, Hipeponymous, which held all of their singles and music videos to date, plus a behind-the-scenes rockumentary called Macroscopic. The next year, they released a new studio album, World Container, produced by Bob Rock, which hit number 1 on the Canadian rock music chart. Also in 2006, the Hip memorably opened a few dates for The Who in the US.
Teaming up again with Bob Rock, the Hip released We Are The Same in 2009, which they promoted by broadcasting a live performance and interview with The Hour's George Stroumboulopoulos across 80 theaters across Canada. The next year, the Hip performed two songs – "Fiddler's Green" at the "Canada for Haiti" – for a telethon to aid Haitian earthquake victims.
As a new decade set in, the Tragically Hip began to prep their 12th studio album, Now For Plan A, which dropped in fall of 2012 and featured the single "At Transformation." In 2014, the band released a remastered deluxe reissue of their third studio album, Fully Completely, which came with two bonus tracks, a vinyl edition, and a live show recording.
In 2016, the band revealed that Downie had been diagnosed with terminal brain cancer. Still, they said, they would plan to tour that summer, which also saw the release of their 13th album, Man Machine Poem. Throughout his illness, Downie recorded new music with the Tragically Hip, who gave a historic final concert in the band's hometown of Kingston, one that Canadian prime minister Justin Trudeau attended. It was watched by approximately 11.7 million people – roughly one-third of the Canadian population.
The following year, all five members of the Tragically Hip were awarded the Order of Canada by Governor General of Canada David Johnston, and a documentary about the band, Long Time Running, premiered at the 2017 Toronto International Film Festival.
In October 2017, Downie passed away. In a press conference, Prime Minister Trudeau said, "Our buddy Gord, who loved this country with everything he had—and not just loved it in a nebulous, 'Oh, I love Canada' way. He loved every hidden corner, every story, every aspect of this country that he celebrated his whole life."
Though Downie has passed on, the remaining members of the Tragically Hip continue to be active musicians, though have said that they would no longer perform under their longtime band name. Occasionally, they release recordings from the vast Hip archive and perform in separate projects. In 2018, Baker opened up about why the remaining band members could not in good conscience continue without Downie, telling ET Canada, "When I say The Tragically Hip doesn't exist as a performing unit anymore because a key member is gone, I think [fans] understand that. We wouldn't be The Hip without Gord… The Hip has played their last note."
Listen to the best of The Tragically Hip on Apple Music or Spotify.