Kate Bush
Kate Bush is one of the most revered figures in British pop music, with a catalog of influential and classic works that include The Red Shoes, The Kick Inside, 'Hounds of Love,' and 'Wuthering Heights.'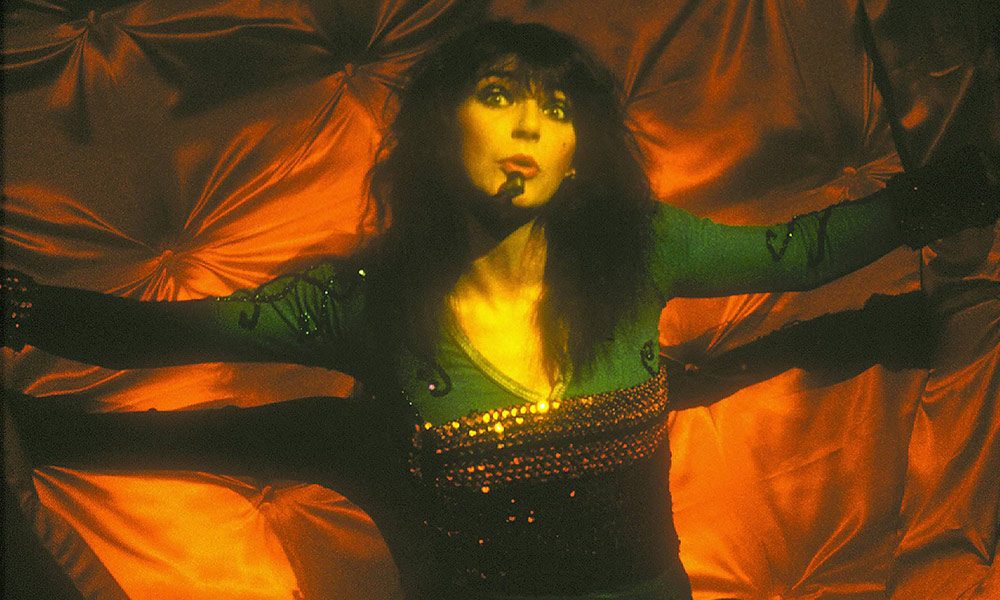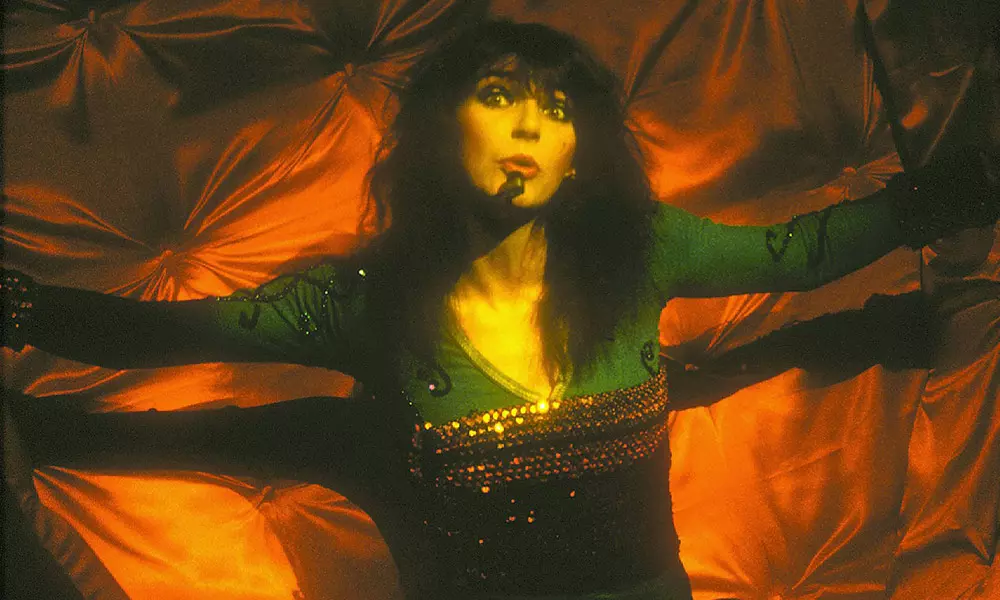 When Kate Bush announced she was returning to the stage for a limited run of shows in late 2014, it generated a digital sensation seismic enough to threaten to slow the internet. The 22 Before The Dawn dates in London's modestly proportioned Hammersmith Apollo became one of the hottest live draws in the world that year and, despite Kate's best efforts, tickets were soon changing hands for hundreds of pounds. After a wave of critical acclaim that later characterised reviews of the performances, fans were hoping this might signal the start of a new era of more regular output but, perhaps inevitably, the singer retreated to her private world and little – save a 2016 live release of recordings from the residency – has been heard since.
It follows a familiar pattern for one of the UK's most critically revered female artists, who was named Catherine at her birth in 1958. The Kent-born grammar schoolgirl started experimenting with music at an early age and, by the time she was a teenager, had already written some of the songs that would make her famous. Kate Bush's family, who had a long-standing involvement in music, encouraged her to produce some demos of her songs and a tape of them found their way into the hands of David Gilmour of Pink Floyd. He funded a professional recording of the best tracks and this got her signed to EMI in 1976.
Put on a retainer by the label to allow her to complete school, Kate spent the time writing more songs and performing at pub gigs in venues across south-east London. She finally entered the studio to record The Kick Inside in 1977, when she was just turning 19. The 13-song set came out in February the following year after Kate had insisted that the first single to be lifted from the album should be 'Wuthering Heights'. She was right. Her memorable, haunting melody and charismatic performance was a sensation and shot to No.1 in the UK, making her the first female vocalist from Britain to top the charts with her own composition. It also went on to do strong business in many other markets – with the notable exception of the US – and would win her an Ivor Novello Award for Outstanding British Lyric.
'The Man With The Child In His Eyes' swiftly returned Kate to the British Top 10, but EMI was keen to capitalise on the momentum and persuaded her to quickly record a new album. Kate would later regret racing back to the studio and it would be one of the last times her work was largely shaped by the influence of others. Lionheart, rush-released in November of the same year as her debut, was less successful than The Kick Inside and only yielded one major hit in 'Wow', which peaked at No.14 in the UK. A 28-date nationwide tour called The Tour Of Life helped promote the record, but it was to be the last time Kate would go on the road for more than 30 years.
By 1980 and Never For Ever, her third album, Kate had broken away by setting up her own publishing and management company and producing her own material. This determination to do it her own way rewarded Kate with her first chart-topping album and big hits in 'Babooshka' and 'Army Dreamers'. With her work blending imaginative themes and dramatic promotional interpretation, Kate's commercial fortunes were consistent and her artistic reputation was soaring. She guested on Peter Gabriel's hit 'Games Without Frontiers' and was continuing to win further industry awards, including another Ivor Novello Award.
It was business as usual when the stopgap single 'Sat In Your Lap', released in July 1981 and preceding its parent album by more than a year, got to No.11. But when The Dreaming finally hit the shops amid an exploding new pop scene dominated by The Human League and Duran Duran, the 10 songs struggled to find much of an audience and the set became Kate's lowest-selling to date, with three of its four singles failing to even trouble the UK Top 40.
Kate retreated to her new purpose-built studio, and it was to be another three years before her masterpiece – and a critical and commercial triumph – was revealed. The Hounds Of Love became Kate's biggest album and returned her to the top of the charts, knocking chart goliath Madonna off the peak slot. Crucially, 'Running Up That Hill' was also a huge launch single and finally gave Kate Bush some cut-through in the US, where it peaked at No.30 on the Billboard Hot 100. More hits followed with 'Cloudbursting', the album's title track and 'The Big Sky', with each supported by strong videos that went into steady rotation on MTV and the growing number of similar music platforms worldwide. EMI capitalised on this renaissance with the 1986 compilation The Whole Story – another multi-platinum seller – which was supported by the standalone single 'Experiment IV'. It came as no surprise that Kate was decorated with even more awards, including a Brit for Best Female Artist. After duetting with Peter Gabriel on 1987's 'Don't Give Up' from his huge-selling So, she would respond by withdrawing from the promotional merry-go-round to spend time crafting her next release.
1989's The Sensual World lacked the commercial clout of its predecessor, but contained the well-regarded title track and, perhaps, Kate's most tender ballad, 'This Woman's Work', which first featured in the cult 80s movie She's Having A Baby. The era was also characterised by another brief run of more consistent activity with a contribution to an Elton John and Bernie Taupin tribute album that was swiftly culled for a single. Her cover of 'Rocket Man' made UK No.12 and was named "best cover ever" in a national newspaper poll, 16 years later. She also made an appearance in a TV play by The Comic Strip team and produced a track for singer and harpist Alan Stivell.
The Red Shoes was released in November 1993 and the cameo-heavy 12-track collection was a companion piece to Kate's last long-form visual work to date, ­ the short film The Line, The Cross And The Curve, but it was a project she would later dismiss. In 1994, she covered George Gershwin's 'The Man I Love' for a tribute album, but as events in her personal life, including the death of her mother and, in 1998, the birth of a son, started to dominate, high-profile appearances by the singer became rare and releases even scarcer. She moved from her home in Eltham, south-east London, to Berkshire and then to Devon.
The silence finally broke with Aerial in 2005, which was preceded by a high-charting single, 'King Of The Mountain', which returned her to the UK Top 5 for the first time in 20 years. The ambitious album followed a format established by Hounds Of Love, comprising one collection of linked but independent songs and a longer set on what, in the vinyl era, would have been the second side. The album sold solidly but Kate's promotional appearances to support it were limited and critical acclaim outstripped its commercial performance. None of this would likely have mattered to the enigmatic artist who was more determined than ever that her output is appreciated on its own terms.
A manifestation of this maverick sensibility had long been demonstrated by an unflinchingly honest assessment of her own work. On reflection unhappy with elements of her later records, Kate Bush would rework songs from The Sensual World and The Red Shoes for a project she called Director's Cut. The move confounded critics puzzled by the approach she had taken with these well-liked albums, but the 2011 package reached No.2 in her homeland and featured vocals from her son Albert, who would go on to perform with her at the 2014 shows.
If fans were less surprised by this move, they were to be blindsided by the uncharacteristic haste of Kate's next studio set, which reached shops just six months after Director's Cut. 50 Words For Snow was Kate's highest-profile return to seasonal themes since the Christmas 1980 single 'December Will Be Magic Again'. This seven-track collection of atmospheric compositions was another critical success and generated a rare public appearance when she turned up to accept a South Bank Sky Arts Award for the release. Though she later declined to perform during the London 2012 Olympic ceremonies, a remixed version of 'Running Up That Hill' was offered to the organisers and, after its airing in a choreography sequence, returned Kate Bush to the Top 10 of the UK singles charts once again.
After the excitement of the 2014 live dates and the Top 10 success of the companion album, Before The Dawn, in 2016, no one is laying bets that there will be new Kate Bush material any time soon. She admits that preparation for the tour had been all-consuming, and pushes back with a ferocious dignity when challenged about the balance she has struck between her family commitments and the creative draw of her work. It's art, for certain, but the mystique that pervades her life has more than a flavour of the showman about it, which will make the next release – whenever it comes – as magical as ever.
Mark Elliott