From Elton John To Taron Egerton: The Many Missions Of 'Rocket Man'
The varied history and many interpretations of one of the most enduring John-Taupin compositions.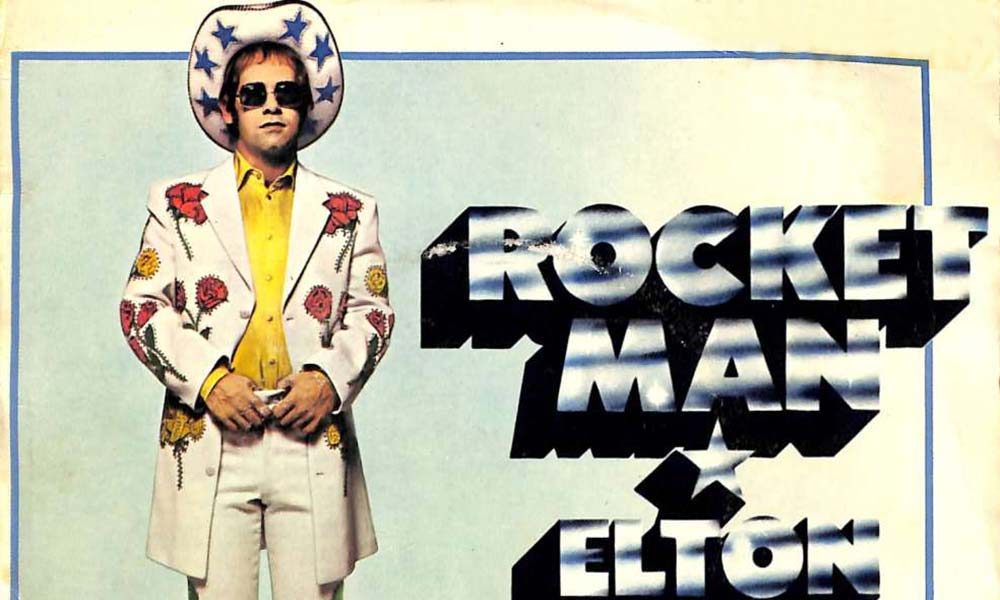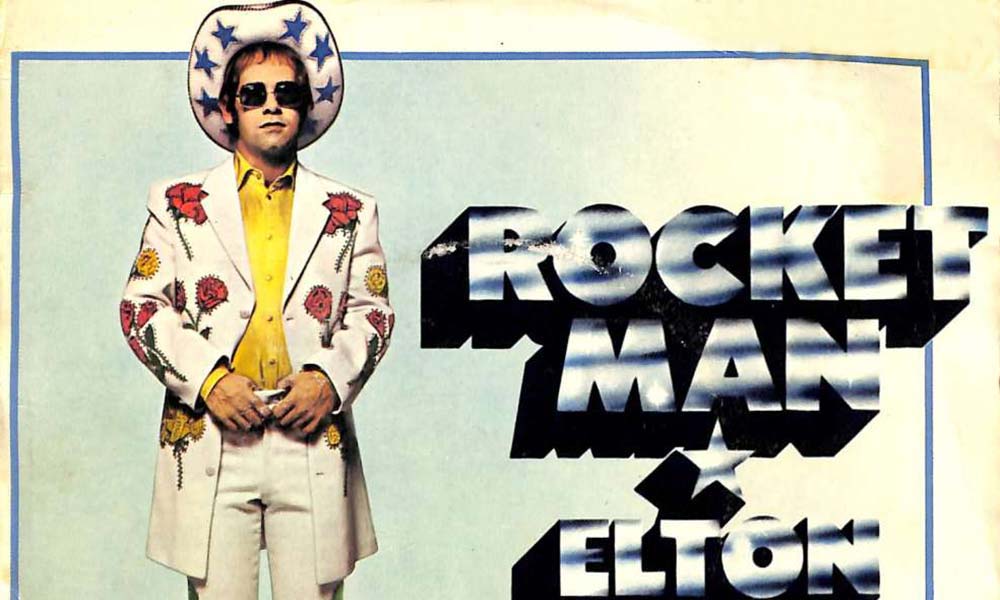 Taron Egerton's version of "Rocket Man" on the soundtrack of the musical fantasy based on Elton John's life, Rocketman, was the latest endorsement of one of the most treasured songs in Elton's jewel-encrusted catalog. It prompts this look at the history of a composition that has inspired several other notable interpretations, and has indeed lasted a long, long time.
Taron Egerton - Rocket Man (Official Video)
Egerton's interpretation, enthusiastically endorsed by the superstar himself, follows an imaginative reworking of the 1972 hit by country notables Little Big Town, on the 2018 all-star album Restoration: The Songs Of Elton John and Bernie Taupin. The original had a visual makeover of its own in 2017, thanks to a new video by Iranian filmmaker Majid Adin.
Elton John - Rocket Man (Official Music Video)
Zero hour, 9am for the Elton original of this vivid story song arrived on March 31, 1972. That's when "Rocket Man" was released as a UK "maxi-single," also featuring "Holiday Inn" and "Goodbye," ahead of his fifth studio album Honky Château. The A-side was produced, as was the LP, by Elton's regular studio confidant Gus Dudgeon, who had also overseen David Bowie's 1969 breakthrough hit on the same theme, "Space Oddity."
Space age singles
As public fascination in space flight reached fever pitch, that Bowie single came out a matter of days before the launch of Apollo 11, which dramatically achieved the first manned lunar landing. By 1972, the "space age" as we then knew it was coming to an end, with the final moon launch in the program, Apollo 17, making its landing that December. 
Taupin's lyric for "Rocket Man" drew inspiration from one of 18 short stories in 1951's The Illustrated Man, by the revered science fiction writer Ray Bradbury. The book reached a new generation when it was turned into the 1969 feature film starring Rod Steiger and Claire Bloom. The story described the life of an astronaut who goes on three-month sojourns into space.
As Elton's "Rocket Man" first climbed into the chart stratosphere, the still-emerging Bowie described the influence of his earlier hit on the new one — even as he admitted to Disc magazine that he already thought of his song as an unwelcome novelty. "It would be nice to eradicate 'Space Oddity,'" he said, "but I'm flattered in the nicest way, that Elton John took so much out of it for 'Rocket Man.' I think perhaps it was premature. If that single had come out now I would be 'part of the scene'."
Zero hour, 9am
In 1998, Taupin told Musician magazine: "The first verse of 'Rocket Man'…was in my head as I was driving to my parents' house in England many years ago. I drove like crazy down these backroads trying to get there in time so I'd remember it, and rushed in the door to write it down. I had the whole opening bit: 'She packed my bags last night, pre-flight/zero hour, 9am, and I'm gonna be high as a kite by then.' That all came to me at once."
"Rocket Man" peaked at No.2 in the UK in the first week of June 1972, beaten to the top only by "Metal Guru,' by Elton's friend Marc Bolan and T. Rex. It hit No.6 on Billboard's Hot 100 in July, the very month that American writer-artist Harry Nilsson's Son Of Schmilsson album was released, containing "Spaceman," which described how the lunar programme was no longer the inspiration it had been. "I wanted to be a spaceman, that's what I wanted to be," he sang. "But now that I am a spaceman, nobody cares about me."
Burning out his fuse…
One of the first covers of "Rocket Man" was for the 24th edition of the Top Of The Pops series, which offered budget compilations of recent hits, swiftly recorded by nameless musicians. The irony would not have been lost on Elton, who himself played on some albums in that series in his pre-fame years of the late 1960s.
The song was meat and drink to many of the light entertainment orchestras of the day, but came into its own again a pop generation later when Kate Bush paid tribute to it in her 1991 rendition. "Rocket Man" was her choice for that year's multi-artist set, Two Rooms: Celebrating The Songs Of Elton John & Bernie Taupin. Released as a single, it reached No.12 in the UK and No.2 in Australia.
Kate Bush - Rocket Man (Music Video)
Many further covers accrued in the 1990s by such groups as the Brown Derbies and Me First and the Gimme Gimmes, as well as British guitar hero Hank Marvin, on his Heartbeat album. In 2003, Neil Diamond's 1978 version was included on his live box set Stages, collected from shows of his between 1970 and 2002 onto five CDs and one DVD.
Rocket Man (Live At Pine Knob / 1978)
2004 brought the appearance of a late 1990s version cut in the early days of My Morning Jacket, belatedly released on the collection The Sandworm Cometh. In 2011, Elton himself duetted on a medley including "Rocket Man" and "Mona Lisas And Mad Hatters," its Honky Château bedfellow, with American singer, actor and dancer Matthew Morrison.
Mona Lisas And Mad Hatters/Rocket Man
Electro-pop pioneers Heaven 17 gave the song a distinctive update for the 2015 various artists compilation '80s Re-Covered, on which artists of the 1980s lent their sound to a variety of hits. "Rocket Man" is also a staple in the live set of Liverpool-born country singer-songwriter Laura Oakes, twice named the British Country Music Association's Female Vocalist of the Year.
'A colossal hit'
"Elton John for me has always been king," Oakes says. "[His] was the very first live show I ever saw when I was 14, and that was what made me go 'Oh my god, I want to do this for a living.' 'Rocket Man' is such a colossal hit and it displays perfectly everything that is genius and brilliant about Elton and Bernie's songwriting, which is why I wanted to cover this one in particular.
"Listening to it growing up when I was getting into country music, I always thought 'This could be a great country song,'" she explains. "So that's exactly what I did with it and it's one of my favorite points in my live set — because not only do I get to remind the audience of one of the greatest writing partnerships ever, I get to remind myself why I love Elton's music so much, and how I felt at 14 hearing him live for the first time."
Here's Oakes performing the song for the Under The Apple Tree acoustic session series; we also recommend her version of a later Elton song, the Blue Moves track "Cage The Songbird," which is on her Nashville Stole Your Girl EP.
Laura Oakes - 'Rocket Man' (Elton John cover) | UNDER THE APPLE TREE
Listen to the best of Elton John on Apple Music and Spotify. 
"Rocket Man" was then reinhabited by one of country music's biggest names, Little Big Town, with lead vocals by Jimi Westbrook and a suitably futuristic and glamorous video. The group brought it to life as they took the stage at Europe's 2018 C2C (Country to Country) Festival and during their ensuing performance at the ACM Awards. Latterly, the song sits in Egerton's hands, and on the soundtrack of one of 2019's biggest musical films. For "Rocket Man," it remains a timeless flight indeed.
Little Big Town - Rocket Man (Official Music Video)
Buy or stream "Rocket Man" on the Honky Château 50th anniversary editions.