T. Rex
The London glam rock band was founded and led by singer and songwriter Marc Bolan, proving hugely influential on decades of bands that followed.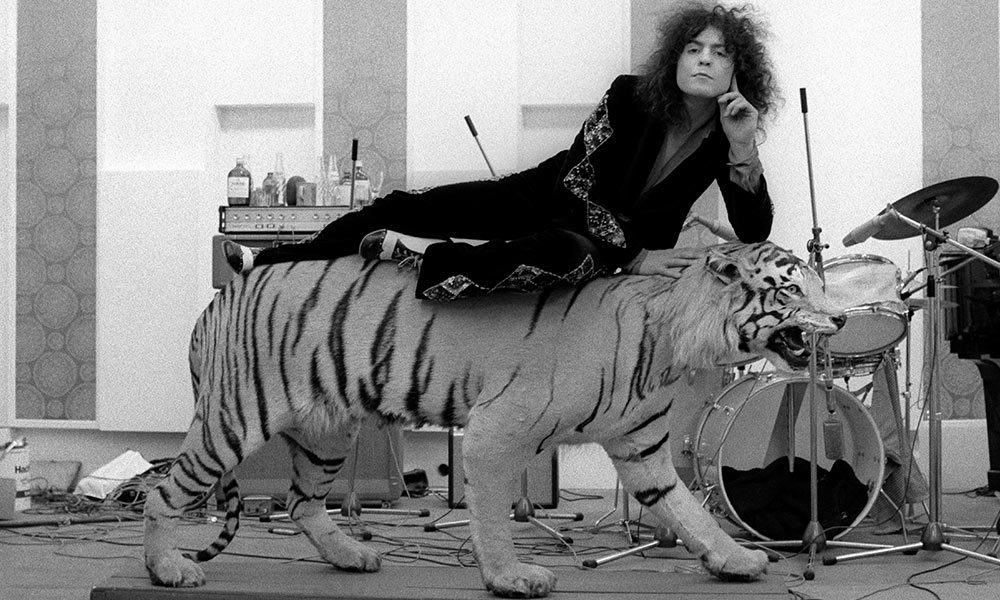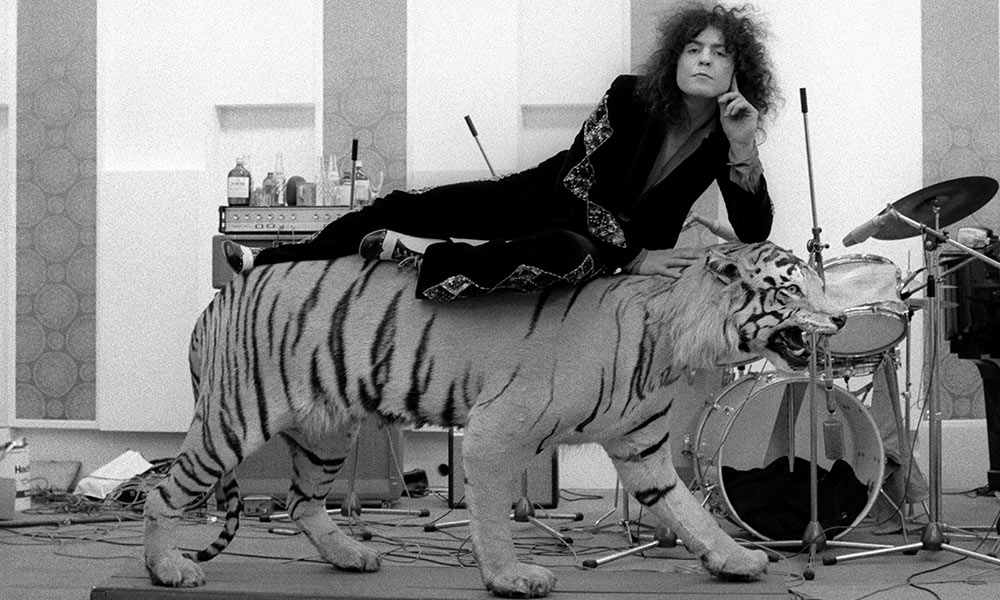 Marc Bolan's T. Rex initially formed as Tyrannosaurus Rex in 1967. Rapidly establishing themselves as darlings of the underground scene, thanks to an exhilarating blend of pixie whimsy and idiosyncratic song structures, that hippy duo – Bolan and drummer pal Steve Peregrin Took – metamorphosed into T. Rex in 1970 and became the pioneering spirit of the emergent glam rock movement, which Bolan jumped on to just before his friend and rival David Bowie. While retaining some of the mystic impetus of their first forays the new look T. Rex were increasingly electric and made themselves well-loved fixtures in concert halls and on Top of the Pops. Marc was killed in a car crash in 1977 but he's left us with a legacy of superbly quirky music whose style and class continue to captivate listeners and influence the present-day bands.
They broke the mould when Marc Bolan burst onto the unsuspecting ears of Londoners at the Electric Garden in 1967 but the little chap from Stoke Newington rarely stuck in any one place long enough for the pieces to be put back together again.
Early Tyrannosaurus albums were recorded in a blitz of activity, befitting a post-Mod maverick with urgent songs to impart. My People Were Fair and Had Sky in Their Hair…But Now They're Content to Wear Stars on Their Brows was a debut full of magic, followed by the equally impressive Prophets, Seers  & Sages: The Angels of the Ages, the delicate Unicorn and the groundbreaking album A Beard of Stars. With producer Tony Visconti acting as a technical genius for the nascent sea change in British rock music, Bolan had his ally. He also had his eye on the crown, mixing weird and wonderful tunes based on Middle Eastern sagas with bursts of classic Gene Vincent and Eddie Cochran rock and roll.
As the 'head' era came into full swing, Bolan's albums were essential artefacts for the great-coated, Patchouli oil brigade and the switch to plain T. Rex in 1970 coincided with a move to electrification, and stagecraft second to none. Break out tracks like 'King of the Rumbling Spires' and the effervescent classic 'Ride A White Swan' suddenly elevated T. Rex from clubland to theatres. Soon sporting glitter in his hair and stuck on stars on his face Bolan became the elfin pin-up of the era, appealing to the important teenage girl market as well as the hairier male types. Sexually charged songs like 'Hot Love' and 'Get It On' made Marc an instant superstar with a following so large it merited the term T. Rextasy.
Electric Warrior (1971) could be cited as Britain's first total glam rock epic. It was such a gas that the band filled the old Empire Pool in Wembley for two heady shows in March 1972 with Beatle Ringo Starr filming the phenomenon for posterity as part of the Born To Boogie movie. In fact, even the usually hard to impress John Lennon had name-checked Bolan favourably – but it was Marc's ongoing rivalry with Bowie that became the Beatles vs. Stones battle of the bands back then.
While he avoided political or social commentary stuff Bolan perfected his own craft on The Slider (1972), which contained the number-one hits 'Telegram Sam' and 'Metal Guru' – another prescient title. Now bossing a four-piece rock band, Bolan took stock and made a partial return to his peculiar roots. Zinc Alloy and the Hidden Riders of Tomorrow – A Creamed Cage in August was a sideswipe at Bowie's own Ziggy invention. Who'd got there first? Bolan was convinced by 1974 that he was King of the Cosmic Castle.
Bolan's Zip Gun and his alter ego Zinc Alloy (he'd invented the role in 1966) emerged during a tough time for Marc. The usual perils of the era didn't escape him and he was justifiably aggravated to find other lesser talents trying to usurp him. Well capable of producing himself, Zip Gun was boosted by a new more soulful sound influenced by Marc's relationship with American singer Gloria Jones, as well as a heavily futuristic Sci-Fi mood captured in 'Space Boss' and 'Golden Belt'. This experimentalism didn't sit so easily with his pretty loyal fan club but is revealed today in its full glory.
Similarly, Futuristic Dragon, which featured the hit single 'New York City', is another disc that benefits from hindsight as Bolan starts to shed his past and passes his gaze across the new young punk scene. Around this time he was being championed by The Ramones, would tour with the Damned and return to mainstream TV with his show Marc, where the curly-haired host introduced and often played with fresh upstarts like The Boomtown Rats, The Jam and Generation X. He was never in their shadow.
Having been somewhat marginalised in the rush to conquer America by old pals Bowie and Elton John; it seemed Bolan found his niche again. His last studio album was Dandy In The Underworld (1977), which garnered positive reviews and sent many new listeners scurrying to catch up with albums that were themselves relatively recent. The album is a peach, showcasing the talents of Herbie Flowers and Tony Newman, as well as Steve Harley, Gloria Jones and jazz soul names, sax player Chris Mercer and drummer Paul Humphreys.
Six months after release Bolan died in that fateful crash, taken far too young at just 29. His legacy is significant. At one time in 1973 T. Rex records were shifting a reported 100, 000 copies a day! He played twin necked guitar alongside his mate Jeff Lynne on the Electric Light Orchestra's Ma-Ma-Ma-Belle, dashed off sessions with Ike and Tina Turner and even buried the hatchet with David Bowie when the two titans of teen appeared together on the TV show Marc in 1977.
A measure of his status can be gauged by the fact that amongst mourners at his funeral were Les Paul, Eric Clapton, Rod Stewart, Bowie and Tony Visconti. Any of his albums are recommended and newcomers might wish to start with T. Rex before delving back into the wonders of Tyrannosaurus Rex. Bolan's influence would have amused him since the punk kids aside he has inspired everyone from Morrissey and Johnny Marr of The Smiths, Siouxsie and the Banshees, Bauhaus, Guns 'n' Roses, The Replacements, Power Station, San Francisco great Ty Segall and Oasis.
Great compilations are available, of course, but we reckon to dig into Electric Warrior and The Slider and then experiment with the back catalogue. Delights abound. Bang a gong. Get it on.
Format:
UK English