The Ozark Mountain Daredevils
The Southern rock band from Springfield, Missouri were mainly active during the 1970s but still perform to this day.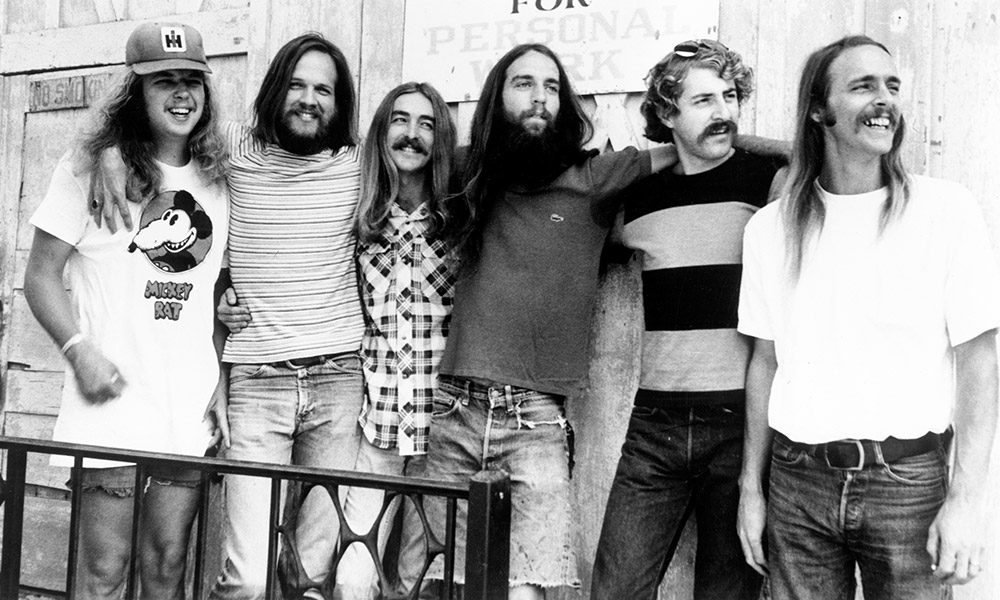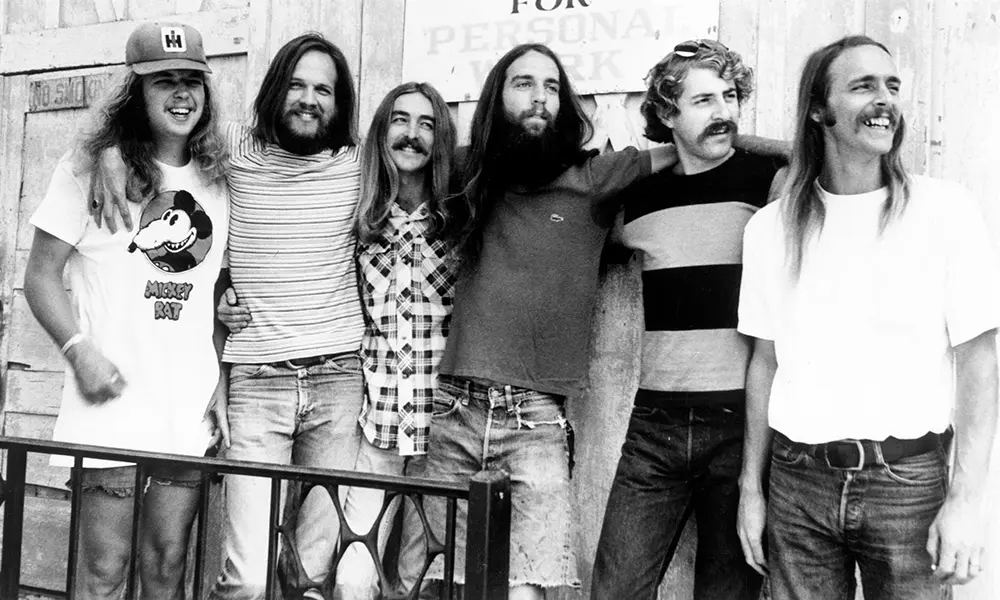 A legendary name in Southern country-rock circles, The Ozark Mountain Daredevils came out of Springfield, Missouri in the early 1970s and soon won a reputation for their incredible multi-instrumental guitar playing skills and sure-fire songwriting abilities. Their independent spirit brought them to the attention of Brewer & Shipley managers Paul Peterson and Stan Plesser who made they sure the band served their apprenticeship in the toughest coffee houses and ale bars in the locale before entrusting them to the top-notch team of producers David Anderle and Glyn Johns. The Ozarks airtight harmonies and rapid mastery of studio sound resulted in a trio of terrific albums at the outset, all of which we have here for you, and gained them chart success in the shape of the hit singles 'If You Wanna Get To Heaven' and their signature number, the lovely 'Jackie Blue'. Featuring key players like Buddy Brayfield, Randle Chowning, John Dillon, Mike 'Supe' Granda, Bill Jones and Steve Cash in their retinue the Ozarks imprint has become a byword for virtuosity and classic country. The beauty of it is that they are not so well known anymore, outside of the cognoscenti. Our catalogue gives everyone a chance to rectify that and rediscover a band that slipped through the cracks yet now sound like a cult classic.
After cutting their teeth as Family Tree in the clubs and theatres of their native Springfield Steve Cash, Randle Chowning and friends made a demo tape that impressed John Hammond who was looking for new talent to join his roster in New York City. When that didn't materialise the same tape made its way to Peterson and Plesser who saw their potential and gave them a residency at the Vanguard in Kansas City. Word of mouth did its best thereafter and following a support stint with Loudon Wainwright 111 and Brewer & Shipley they convinced A&M's Jerry Moss to snap them up. They were then sent to England to record their debut album, The Ozark Mountain Daredevils (sometimes known as The Quilt Album on account of its down-home patchwork quilt cover).
Whether or not that quilt served notice of the Ozarks eclectic ability the music within certainly did. 'If You Wanna Get To Heaven' was a simply irresistible radio hit that then became a solid 25 smash on Billboard's Top 100.
The entire recording caused a sensation in new country circles. The combination of harmonicas, harpsichord, fiddle, dulcimer and glorious four-part harmonies pushed the group up the pecking order and made a huge impression in Europe also, especially in the UK where the pub rock/pre-punk crowd made it big seller at discerning import stores, not least because the OMD boys provided the London press with mighty fine copy and charmed all those who came into their orbit.
Stand out tracks abound. Randle Chowning's harp driven 'Country Girl' has the kind of open-air and blue skies majesty associated with early Eagles hits like 'Take It Easy' while Steve Cash's 'Chicken Train' is pure country joy. One listen to this disc will convince you that the Ozarks had a special gift – they are certainly a match for any more famous kin like The Flying Burrito Brothers and don't take themselves too seriously either.
The same Johns/Anderle production team coaxed another classic out of the boys on 1974's It'll Shine When It Shines. To get the appropriate atmosphere for their songs the band now cut their tracks pretty much in real-time in their pre-Civil War rehearsal space. Johns and Anderle were set up in the garden with a mobile truck-recording unit and the results are sensational.
Every song here resonates with country air. The swampy 'E.E. Lawson' is a favourite but then so are 'Look Away' and 'Kansas You Fooler'. Best of all is the Steve Cash/Larry Lee tune 'Jackie Blue', sung by drummer Lee in a magnificent high register. Adored at the time the song has got long legs. The Smashing Pumpkins covered it on their Gish album and Shawn Lee did the honours a few years hence. It's still a regular request on FM radio.
While many bands struggle to match such highlights the Ozarks improved again on The Car Over The Lake album, which has a feel somewhat reminiscent of Little Feat in their pomp. Down to a solid sextet, they added specialists where necessary. Weldon Myrick plays the pedal steel guitar, Nancy Blake the cello and Farrell Morris chimes in with orchestral bells.
Recording in Nashville, the Daredevils combo of Californian soaked bliss and front porch laid-back strums add up to the most pleasant listen imaginable. Their Southern rock roots are all over 'Keep On Churning' and 'Leatherwood' while the typically zany 'Gypsy Forest' has enough time changes to keep everyone guessing.
What the Ozarks didn't do was compromise. If that cost them dear at the time, in retrospect, it's only cause for celebration. They refused to re-settle in California for one thing and deliberately avoided cloning their hits. More power to their elbow because if they'd done either or both of those things they may have sacrificed their credibility.
We love them just the way they are and we also particularly enjoy their Best Of – 20th Century Masters – The Millennium Collection. This must-have 12-track compilation gathers all the highlights mentioned above with room for other southern delights like 'Homemade Wine' and 'Road to Glory'. If these don't put a spring in your step and have you singing along – 'Jackie Blue' must be one of the all-time earworms – then check your pulse. Of course, we know that won't be the case. Get some Ozark Mountain Daredevils into your life, open the windows and shine along with their irresistible Missouri music.
Words: Max Bell