'Captain Fantastic And The Brown Dirt Cowboy': Elton John's 'Favorite Album'
An autobiographical album that charted Elton John and Bernie Taupin's rise to fame, 'Captain Fantastic And The Brown Dirt Cowboy' now serves as a companion to 'Rocketman.'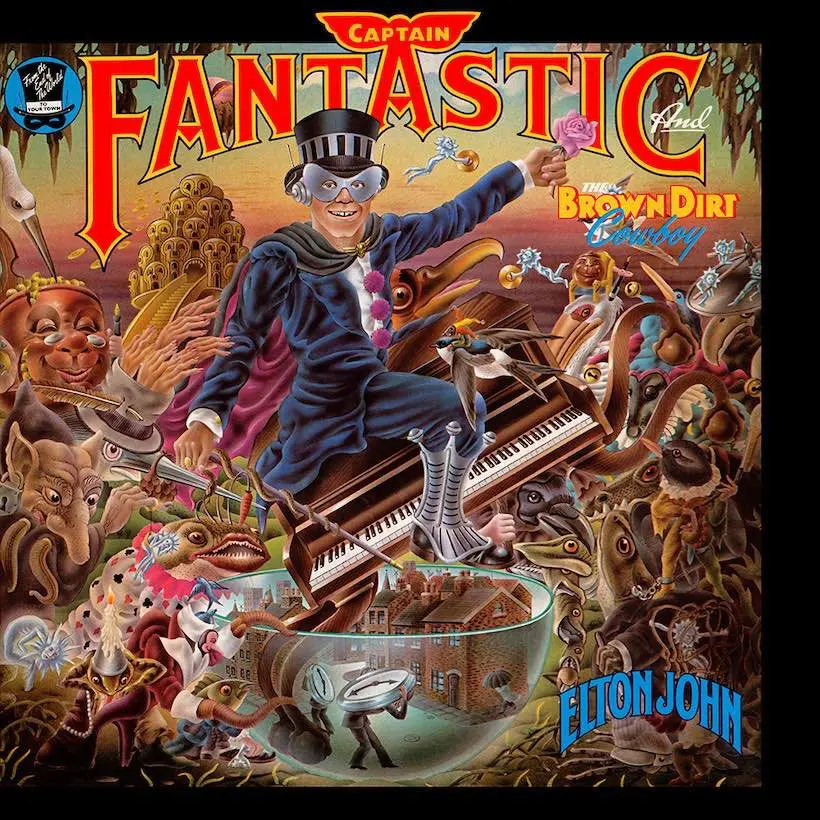 From the end of the world to your town. That was the odyssey completed in the title-song lyric from Elton John's ninth studio album, Captain Fantastic And The Brown Dirt Cowboy. Put another way, this was the record that describes Elton and Bernie Taupin's adventures in their first seven years, which took them from their towns all over the world.
Captain Fantastic And The Brown Dirt Cowboy serves as a particularly appropriate companion to the 2019 musical fantasy biopic Rocketman, from its retrospective lyrical tone down to the vintage photographs that were part of its artwork. These depicted the future Captain, an itinerant and hopeful piano player called Reg Dwight, and the embryonic Kid, an ingenious wordsmith from rural Lincolnshire.
At that point in 1974, when Elton had become the hottest property of his musical generation, he and Bernie decided it was time to write about themselves. Not indulgently, nor sentimentally, but with calm clarity about where they had come from – back to the famous 1967 meeting when both answered an advertisement placed in New Musical Express by Liberty Records' Ray Williams.
Captain Fantastic And The Brown Dirt Cowboy was a particularly significant entry in their canon for plenty of other reasons, too. Produced, as ever, by the redoubtable Gus Dudgeon, it was the last album in an epic sequence to feature the regular band of Davey Johnstone, Dee Murray, and Nigel Olsson. Percussionist Ray Cooper remained in the fold, but his bandmates were dispensed with on the eve of the record's release. It was the record that Elton would go on to describe as one of – if not the – finest he'd made to that point. And, after its release, on May 19, 1975, it became his first album to enter the American chart at No.1.
5 Elton John Songs You Need To Know
This fascinating collection of songs was recorded, like its predecessor, Caribou, at the ranch of that name in Nederland, Colorado. Caribou was barely out and was turning into another top-selling smash when the band set about recording Captain Fantastic… in the summer of 1974.
Between the start of the sessions and the album's appearance there came another few months of momentous releases and events. Elton's first greatest hits collection, released in November, became a prodigious success, soaring to what is now estimated at 24 million worldwide sales. A US chart-topper for ten weeks, it was certified 17-times platinum by the RIAA for its American sales in 2016, and is comfortably his biggest-selling album of all.
Keeping a bargain
That same month, John Lennon's "Whatever Gets You Thru The Night," featuring his friend Elton on harmony vocals, went to No.1 on the Billboard Hot 100. Soon, with considerable trepidation, Lennon was fulfilling his part of the deal – that if Elton appeared on the single, the ex-Beatle would sing with him in concert, as he did at New York's Madison Square Garden in his last public performance.
Before the year was out, the compliment was returned again, in Elton's brilliantly reimagined version of The Beatles' "Lucy In The Sky With Diamonds," also featuring Lennon. That hit No.1 in the US in January 1975. Elton was everywhere: underwriting Neil Sedaka's astonishing return to chart prominence on the British star's Rocket label; charting highly with a reissue of his first album, Empty Sky; and hitting the top spot in the US yet again, in April, with "Philadelphia Freedom."
Elton John - Lucy In The Sky With Diamonds (Live On The Old Grey Whistle Test)
No storybook autobiography
In a rare interview with Melody Maker, published in January 1975, Olsson provided a tantalising preview of the upcoming release. "The next LP is perfect," he said. "It really is the one! It's called Captain Fantastic And The Brown Dirt Cowboy. It's a concept album and tells how Bernie and Elton started writing songs. For me – it's my favorite album to date."
John and Taupin wrote Captain Fantastic…, unusually, in chronological order, in the sequence in which the songs appeared. While this was no obvious storybook autobiography, devotees could easily glean many details of the pair's insalubrious early days together.
The album opened with the title song, a gentle refrain based around acoustic guitar, in a style that typified what we now describe as Americana. It described young Reg's "raised and regimented" upbringing that we see in Rocketman, "just someone his mother might know." Taupin, by self-description "still green and growing," is clearly wondering whether to venture to London. "Shall I make my way out of my home in the woods?" he asks himself.
Nine-to-five writers
As they travel together through the mean streets of the capital, the intrepid duo come face to face with seedy reality. "Sodom meet Gomorrah, Cain meet Abel," goes the refrain in "Tower Of Babel." Then, it's down to the nine-to-five of life as staff writers at Dick James Music, where "It's hard to write a song with bitter fingers, so much to prove, so few to tell you why."
The album's best-known song, and its most obviously personal, was its only single, the superb "Someone Saved My Life Tonight." It was partly inspired by Elton's ill-advised engagement to his early girlfriend Linda Woodrow, and the subsequent cry for help of his half-hearted suicide attempt in 1968. The tone was one of relief. "You almost had your hooks in me, didn't you dear," he sings. "I would have walked head on into the deep end of a river/Clinging to your stocks and bonds/Paying your HP [hire purchase] demands forever."
Elton John - Someone Saved My Life Tonight (Old Grey Whistle Test 1982)
'I've laid myself on the line'
Captain Fantastic And The Brown Dirt Cowboy was replete with other, lesser-known delights, including "Tell Me When The Whistle Blows," brilliantly arranged by Gene Page. The reflective "We All Fall In Love Sometimes" would be interpreted for a new generation by Coldplay, on the 2018 tribute set Revamp: Reimagining The Songs Of Elton John & Bernie Taupin. There was a towering finale, too, in the shape of "Curtains," highlighting Cooper's box of percussive tricks.
"I've always had a lot of confidence in this album," Elton told Melody Maker soon after its release. "I can't understand the critics who say that Bernie and I must be egomaniacs. The album wasn't meant to say, 'Here we are, we're wonderful!' The reviews did make me feel that maybe we'd been a bit self-indulgent. But for me it's a completely honest album. I've laid myself on the line. It's the truth, and I don't see why people should criticize me for being autobiographical."
The album cover featured a memorable cartoon Elton in an elaborate design by Alan Aldridge and Harry Willcock. The attractive package, and a compelling array of quintessential 70s pop-rock imagery, helped take Captain Fantastic And The Brown Dirt Cowboy straight to the top of the US chart. It stayed there for a total of seven weeks, immediately turning gold. In 1993, it was certified triple platinum.
'I identify with this album more than anything I've done'
The live launch of Captain Fantastic… took place at June 21, at Wembley Stadium, a sell-out, all-day extravaganza at which Elton played an opening set of hits, before debuting the whole of a new record still unknown to many. By August, however, "Someone Saved My Life Tonight" was hitting No.4 in America, just before Elton played a set of benefit shows at the Troubadour in Los Angeles, where his love affair with the country had begun five years earlier. His donated services raised more than $150,000 for UCLA's Jules Stein Eye Institute.
Listen to the best of Elton John on Apple Music and Spotify.
With his usual prolific pace, it would be only five months before Elton was hastening to the end of his DJM Records contract with his tenth album, Rock Of The Westies. But for the moment, he was allowing himself some quiet satisfaction about a moment of fantastic introspection.
"Before, I just used to write melodies to Bernie's experiences and fantasies," he told Melody Maker. "I identify with this album so much more than anything else I've done. For me it will always be my favorite album. But that's from a purely selfish point of view. Whether it will stand the test of time, who knows? You can only tell in retrospect."
Buy or stream Captain Fantastic And The Brown Dirt Cowboy.