Elton John Facts: Ten Things We Learned From The 'Rocketman' Movie
Presented as a musical fantasy, the 'Rocketman' movie still contains plenty of Elton John facts focusing on key moments in the legendary artist's life.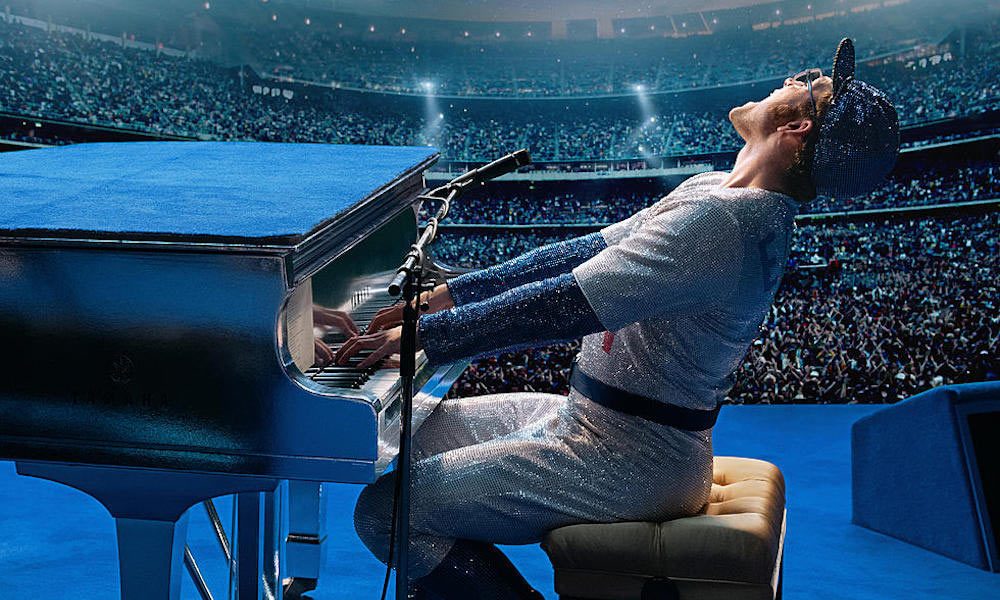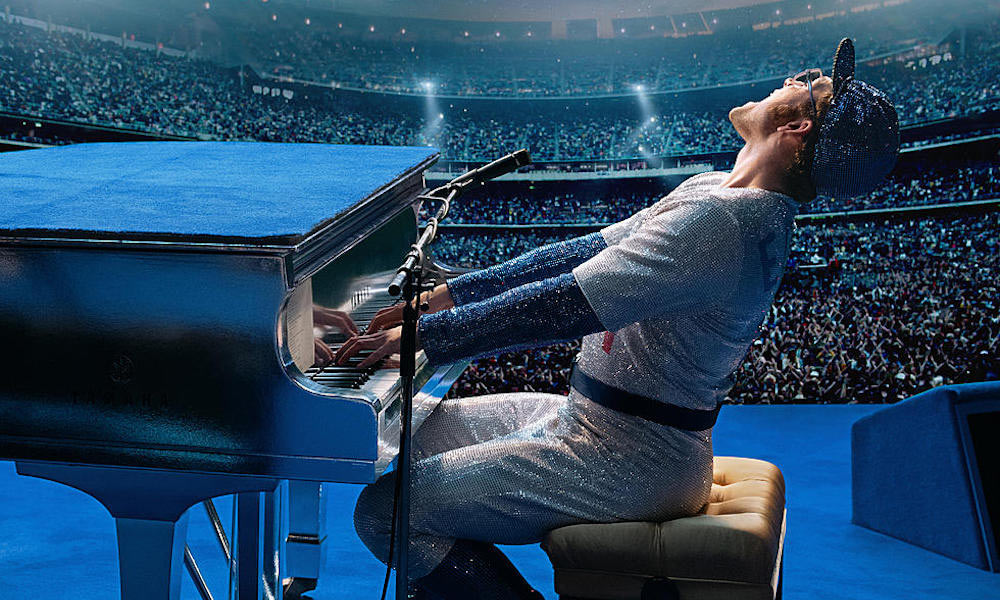 None of the makers of Rocketman, from director Dexter Fletcher to writer Lee Hall and co-executive producer Elton John himself, described the blockbuster film of Elton's singular life as a biopic. It is very deliberately presented as a musical fantasy, one that takes an impressionistic look at the key moments in the singer-songwriter's life, set to his signature hits as they fit the arc of the story. "Based on a true fantasy" is a pleasingly appropriate tagline. Yet the movie contains plenty of Elton John facts, ensuring that there is plenty to learn about the legend.
Rocketman (2019) - Elton John's Journey - Paramount Pictures
The wealth of rave reviews that greeted the movie were a testament to the central performances — notably those of a suitably larger-than-life Taron Egerton as Elton, and the excellent Jamie Bell as his career-long co-writer, Bernie Taupin — and the incredible durability of its soundtrack. The film's music director, the esteemed Giles Martin, revisits these mighty anthems with an authority and imagination that makes them as big as the screen.
Rocketman is also invested with a string of fine supporting performances. They include Richard Madden as a positively Machiavellian John Reid, Elton's manager and sometime lover; Stephen Graham as the star's first record company boss, Dick James; and Gemma Jones as his grandmother and champion, Ivy.
While Rocketman is by no means a strictly chronological illustration of Elton's life and work, it contains endless talking points, did-you-knows and lesser-spotted stories about the artist formerly known as Reginald Kenneth Dwight. We present ten things we learned from the Rocketman movie.
Rocketman (2019) - Official Trailer - Paramount Pictures
Elton John Facts: 10 Things We Learned From The 'Rocketman' Movie
1: 'Your Song' was written in minutes at his mother's apartment
Among the many key career moments that are vividly depicted in Rocketman, one of the most striking is when Bernie presents Elton with newly-written, coffee-stained lyrics for an early ballad. In one of the first examples of their instinctive chemistry, Elton took a set of words about a young man's attempts to express his emotions, and the melody for it hit him almost immediately. The result was 'Your Song', which became his breakthrough single. The effect on his career, and on the world, was indelible.
Elton John - Rocket Man (Official Music Video)
2: Elton's father was in the RAF, and often absent
Stanley Dwight, played in the film by well-known British actor Steven Mackintosh, served as a flight lieutenant in the Royal Air Force. We see him arrive home on leave early in Rocketman, which shows the difficult and often distant relationship between father and son. Elton's mother, Sheila, played by Bryce Dallas Howard, was more supportive, encouraging young Reggie's early love of rock'n'roll.
3: 'I Want Love', a hit from 2001, describes a family scene from the 50s
In 2001, Elton won a Grammy nomination, and a UK Top 10 hit, with 'I Want Love', a powerful ballad from the Songs From The West Coast album. In a prime example of the way that the Rocketman movie creates a unique timeline to illustrate the star's life, the song becomes an ensemble piece shared among young Elton's family at their house in Pinner, Middlesex, as his father becomes the one "dead in places other men feel liberated".
4: Elton's grandmother Ivy was a loyal supporter
Ivy, the mother of Sheila, had a close relationship with her grandson Reggie, all the more so because of the frequent absences of his father, Stanley. Ivy was the one person who encouraged the future Elton to persevere with his early love of the piano. In the film, she is seen taking him to his first appointment at the Royal Academy – and giving him the bus fare home.
5: Industry exec Ray Williams changed Elton's life
Rocketman gives deserving attention to the vital role played in Elton's career by Ray Williams. As head of A&R at Liberty Records in 1967, he placed the fateful advertisement in New Musical Express that was answered by both Reg Dwight and would-be pop lyricist Bernie Taupin. Williams is played in the film by Charlie Rowe.
6: The film includes a meticulous recreation of the famous video for 'I'm Still Standing'
Taron Egerton leads a joyful recreation of the exuberant video for Elton's defiant 1983 hit 'I'm Still Standing', which was filmed by director Russell Mulcahy in Cannes and Nice. It recaptures the "human domino" scene, as well as Elton standing on the beach in straw boater hat.
Elton John - I'm Still Standing
7: The "levitating" scene in Rocketman is based on a real photograph
Rocketman shows Elton and Bernie's long-dreamed-of arrival in Los Angeles when the singer was booked to play six shows at the storied Troubadour in West Hollywood. The opening performance, on 25 August 1970, was such a sensation that music writer Robert Hilburn, of the LA Times, was moved to write: "He's going to be one of rock's biggest and most important stars." The "levitation" scene in the film was inspired by a real photograph of the gig, in which Elton kicks his legs high into the air in the flamboyant style of one of his great heroes, Jerry Lee Lewis.
8: Rocketman features countless Elton anthems, but also little-known early songs
As reflected by its soundtrack, the Rocketman movie not only features more than a dozen of the very biggest hits of Elton's career but has room for some of his less-remembered early efforts. These include the non-album tracks 'Rock And Roll Madonna', a 1970 single, and 1968's 'Thank You For All Your Loving', which he wrote with former guitarist Caleb Quaye.
9: Elton met his wife, Renate Blauel, in a studio, while finishing an album
Blauel, played in the Rocketman movie by Celinde Schoenmaker, was a sound technician who met Elton while he was on his downward spiral of drugs and drink-fuelled unhappiness. Their wedding in Australia, in 1984, is part of the film; they divorced in 1988, and the artist (who had described himself as bisexual in 1976) came out as gay soon afterwards. "I wanted more than anything to be a good husband," he said later, "but I denied who I really was, which caused my wife sadness, and caused me huge guilt and regret."
10: Rocketman shows some heated exchanges between Elton and Bernie, but in real life, they have never fallen out
A scene in Rocketman has Bernie Taupin performing some of his lyrics from 'Goodbye Yellow Brick Road', when, during a heated exchange with an increasingly disconnected Elton, he sings about "going back to my plough". The friends of over 50 years have had arguments, as the superstar wrote in a piece for the Observer newspaper just after the film's release. "We've had arguments – you don't want to get him started on the subject of some of my more outlandish stage costumes," he reveals. "But we've never fallen out, despite all the ridiculous crap we've been through." Thus the relationship between the Rocketman and the Brown Dirt Cowboy continues.
Rocketman is now available on Amazon and Hulu, buy the soundtrack or DVD here.
Format:
UK English