Best Elton John Songs: 20 Essential Tracks By The Rocket Man
In a recording career that spans over five decades, the best Elton John songs have become part of the fabric of our culture – a language we all understand.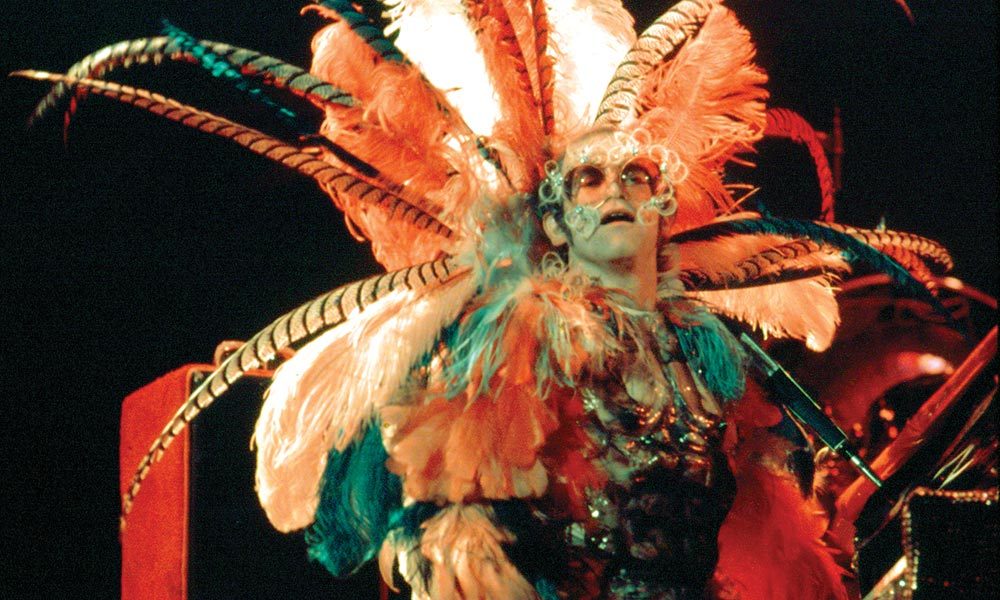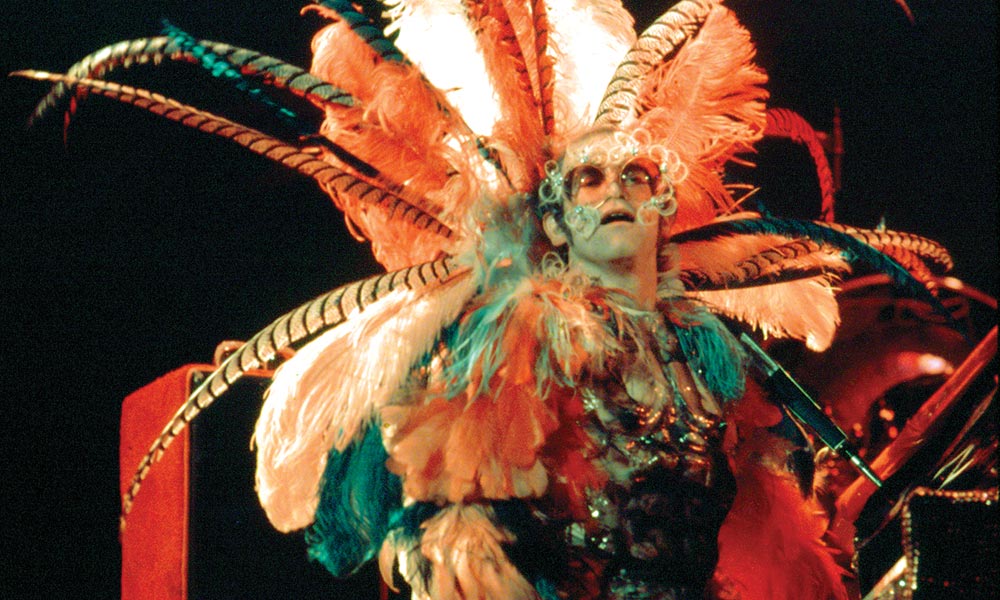 Elton John has been used to doing things on a grand scale for a very long time, so it's only right that, even as he conducts his vast, three-year farewell tour, we should be welcoming him to the silver screen. The arrival of Rocketman, the movie that tells the story of how a shy, short-sighted young fellow called Reginald Dwight became one of the most successful musicians of all time, will bring his timeless music to yet another vast audience all around the world, ensuring that the best Elton John songs continue to resonate.
His work has been part of the very fabric of our culture, and a language we all understand, for what seems like forever. Dexter Fletcher's film, starring Taron Egerton and written by Lee Hall, will only burnish that legend and shine even more glory on some of the most enduring songs of our lives.
Listen to the best of Elton John on Apple Music and Spotify, and scroll to read our best Elton John songs of all time.
Best Elton John Songs: 20 Essential Tracks By The Rocket Man
20: Sorry Seems To Be The Hardest Word (1976)
The first single from one of Elton John's most underrated albums, Blue Moves, was a tear-stained love song that stands tall in his inventory of ballads. "Sorry Seems To Be The Hardest Word" is something of a collector's item in the John/Taupin catalog: instead of their time-honored "two rooms" process, in which Bernie's lyrics usually tease a melody out of Elton, here the superstar played his friend a piece of the tune which then inspired the words. Carl Fortina played the elegant accordion solo. A 2002 update by boy band Blue, featuring Elton, topped the UK chart; another, by Ray Charles for his Genius Loves Company album (again with an Elton cameo), may well have been the last thing The Genius ever recorded.
Elton John - Sorry Seems To Be The Hardest Word
19: Mona Lisas And Mad Hatters (1972)
Elton John's collection of hits is second to none, but across half a century's worth of albums, a number of the best Elton John songs were never released as singles. Featuring a namecheck for "Spanish Harlem" – as recorded by two of Elton and Bernie's soul heroes, Ben E King and Aretha Franklin – this delicate piece about Taupin's first impressions of New York City adorns the Honky Château album and remains one of Elton's own great favorites. He introduced it at the Royal Festival Hall in January 1972, before the album was even out, and was still playing it at his Million Dollar Piano residency at Caesars Palace in Las Vegas, in 2018.
Mona Lisas And Mad Hatters
18: Crocodile Rock (1972)
So prolific was Elton John in the early 70s that, just three months after releasing "Honky Cat" as the second and final single from Honky Château, he gave us this nostalgic rocker as the lead song from Don't Shoot Me I'm Only The Piano Player. "Crocodile Rock" holds a cherished place in Elton's history for being his first American No.1 single, when it unseated Stevie Wonder's "Superstition," no less, from the Hot 100 summit and stayed there for three weeks. It's a great example of one of the quintessential pop-rock quartets at their tightest, with support from Davey Johnstone on guitar, Dee Murray on bass, and Nigel Olsson on drums.
17: Circle Of Life (1994)
To return to the theme of Elton John not doing things by halves, his 1994 soundtrack to Disney's epic The Lion King became the bestselling score album to an animated feature in US film history, selling five million copies that year alone. His lyrical partner Sir Tim Rice (who was knighted that year, four years before Elton) could only marvel at his productivity: he gave the singer a set of lyrics at 2pm one day and was open-mouthed to hear a well-rounded demo and a winning melody at about 3.30pm. The song's own circle of life will turn again when it's featured in Disney's 2019 remake of the film.
Elton John - Circle of Life (From "The Lion King"/Official Video)
16: I Want Love (2001)
This Grammy-nominated entry from the rightly lauded Songs From The West Coast album is a fine example of how highly evolved the best Elton John songs became. A self-analytical Bernie lyric of almost painful honesty is tethered to an incisive Elton tune, with further visual illustration in a video starring Robert Downey Jr. The song returned Elton to the UK Top 10 and restated its emotional heft in a version by Chris Stapleton for the country-themed 2018 collection Restoration: Reimagining The Songs Of Elton John And Bernie Taupin.
15: Saturday Night's Alright (For Fighting) (1973)
The first single from Goodbye Yellow Brick Road has remained a rocking favorite, thanks in great measure to the way that Elton John's keyboards go 15 rounds with Davey's pugnacious guitar lines. The combative, lairy feel was the perfect match for a Taupin lyric describing the overt aggression of a pub or club night out in the 60s, in what Bernie later described as his first attempt to write a totally English rock'n'roll song.
Saturday Night's Alright (For Fighting)
14: Philadelphia Freedom (1975)
Credited to The Elton John Band and superbly orchestrated by the much-traveled Gene Page, closely associated with the hits of Barry White, "Philadelphia Freedom" was a testament to Elton John's innate soulfulness. It was written in tribute to his good friend, tennis star Billie Jean King, who had, by then, become one of the first women to coach men, supervising a team in a professional tennis league called the Philadelphia Freedoms.
13: Levon (1971)
Much as the vivid Americana of The Band was a huge influence on Elton and Bernie, this track from Madman Across The Water was not specifically named after their drummer and vocalist, Levon Helm. Taupin later said that he just liked the name. Nor was the song a single in the UK, but it's gone on to represent the best Elton John songs of the early 70s as eloquently as many bigger hits of the period. As a measure of the superstar's fondness for it, the full name of his son Zachary, with partner David Furnish, is Zachary Jackson Levon Furnish-John.
12: I Guess That's Why They Call It The Blues (1983)
The Elton John of the 80s may, we now know, have been in a life-or-death struggle for his soul, but he remained an undisputed bastion of popular music throughout, thanks in part to songs such as this. "I Guess That's Why They Call It The Blues" was the first single from the splendid return to form that was the Too Low For Zero album and became his first platinum single in America for many years. Engaging Stevie Wonder for a stunning harmonica solo didn't hurt.
Elton John - I Guess That's Why They Call It The Blues
11: Don't Go Breaking My Heart (with Kiki Dee) (1976)
The song that gave Elton John his first UK No.1 – his first solo chart-topper is still to come in our countdown – may have been a relatively featherweight confection compared to many of the best Elton John songs. But it remains a much-loved part of his songbook, greatly enhanced by his vocal chemistry with Kiki Dee, who by then was not just an old friend but a longtime part of Elton's Rocket Records roster. In March 2019, on the first night of his two-concert booking at Madison Square Garden in New York, Kiki joined Elton to give the song a new airing.
Elton John, Kiki Dee - Don't Go Breaking My Heart (with Kiki Dee)
10: Daniel (1973)
This touching release has been described by Taupin as "the most misinterpreted song we've ever written". It was actually about a Vietnam War returnee trying to regain the life he had had before the conflict. Even if that sentiment was lost on some of its admirers, "Daniel" reached No.2 in the US, held off the top spot only by Paul McCartney And Wings' "My Love." Elton's Mellotron detail, with its flute-like effect, was a key facet of the song's charm.
9: Someone Saved My Life Tonight (1975)
A vital ingredient of what was, at the time, the most autobiographical work that Elton John and Bernie Taupin had ever undertaken, the Captain Fantastic… album. "Someone Saved My Life Tonight" was inspired by Elton's half-hearted attempt at suicide when, sharing a flat with Taupin in 1968, the would-be star was trapped in an unhappy relationship with an early girlfriend. The "sugar bear" who saved him was his old bandleader from the Bluesology days, Long John Baldry; the album told the co-writers' story from the point at which they met, in 1967, up until the recording of 1969's Empty Sky.
Someone Saved My Life Tonight
8: Bennie And The Jets (1973)
Ask self-confessed chart obsessive Elton John about his proudest achievements, and to this day he will include the fact that "Bennie And The Jets" was not only a US pop No.1 but reached the Top 20 of the R&B chart. Indeed, it only became a single in the first place thanks to the listeners of black radio station WJLB in Detroit, who called to request it in their droves. Forever retaining its place among the best Elton John songs, it's been an anthemic highlight of literally thousands of Elton shows, including his Live Aid performance in 1985.
Bennie And The Jets (Remastered 2014)
7: I'm Still Standing (1983)
In the apparently effortless symbiosis of one of the greatest-ever songwriting partnerships, this Too Low For Zero standout describes the resilience of both Taupin and John – both in their private lives and in Elton's career, which had already survived punk, new romanticism and more ("looking like a true survivor, feeling like a little kid"). The song, and the Russell Mulcahy-directed video, introduced Elton to the MTV generation.
6: Don't Let The Sun Go Down On Me (1974)
One of several songs in Elton John's awesome inventory to be a major hit at least twice, for himself and/or others, this track from Caribou rose again in the 1991 live duet with George Michael that topped the UK chart. The glorious original featured backing vocals by Carl Wilson and Bruce Johnston of The Beach Boys, and Toni Tennille from the Captain & Tennille, as well as percussion by the indefatigable Ray Cooper.
Don't Let The Sun Go Down On Me (Remastered 1995)
5: Tiny Dancer (1972)
As recently as 2018, this enduring highlight of the Madman Across The Water album was emphasizing the way its popularity continues to grow with each passing year, when the RIAA certified it triple platinum. Much of that prolonged life, as Elton John gratefully declares, came from its featured spot in Cameron Crowe's Almost Famous movie of 2000. Bernie's first trip to the US was again the inspiration, but this time on the West Coast, where they landed in the autumn of 1970.
4: Rocket Man (I Think It's Going To Be A Long, Long Time) (1972)
At a time when Elton John was still struggling for prolonged and consistent singles success in the UK, despite his ever-rising profile across the Atlantic, "Rocket Man" gave him a major hit (and, 47 years later, the title of his biopic). It might be hard for modern-day listeners to grasp how the single captured the zeitgeist of public excitement about the space program: it came out as Apollo 16, led by Commander John Young, was about to take man to the moon for the fifth and penultimate time.
Rocket Man (I Think It's Going To Be A Long, Long Time)
3: Sacrifice (1990)
Some artists affect an insouciance about their chart performance, but not Elton John. When "Sacrifice" gave him his first solo UK No.1, he greeted the achievement as one of the highlights of his life. It was made all the sweeter by the fact that, as is not always now remembered, the song had first been released seven months earlier, when it peaked at a mere No.55. It was underpinned by his Roland digital piano and with a lyric of great emotional maturity by Taupin, which he said was a "million miles" from a certain early landmark we are about to find at No.1 in our rundown of the best Elton John songs.
2: Candle In The Wind (1974)
Elton and Bernie's salute to Marilyn Monroe became a hit again in 1987, on John's Live In Australia album, and then in the most heartbreaking circumstances imaginable in 1997, when the lyrics were rewritten in tribute to the late Diana, Princess Of Wales. That recording, produced by George Martin, became the bestselling single in recording history. The original was never a single in the US but was the third British release from the timeless Goodbye Yellow Brick Road, and a song that became cherished the world over.
Candle In The Wind (Remastered 2014)
1: Your Song (1970)
It seems only right that the No.1 entry in our Top 20 countdown of the best Elton John songs should be his first hit – the one that truly announced his arrival and the track that he has performed live more than any other. Its affecting innocence stems from the fact that it was written when Taupin was just 17 years old, in 1967, and John was 20. Bernie penned the lyrics over breakfast at Elton's mother's house, where he was staying; Elton came up with the melody in 20 minutes. A classic was born, and so was the career of one of the greatest singer-songwriters of all.
Format:
UK English