Elton John's Longest-Running UK Studio No. 1 Album
Surprisingly, the LP with that distinction is not 'Goodbye Yellow Brick Road' or any of Elton's later classics.
Leaving aside his 1974 Greatest Hits collection, which Elton John studio album do you think has spent the longest time at No. 1 in the UK? You might be surprised to know that it's not Goodbye Yellow Brick Road or any of his later classics. Instead, it's the record that gave him his very first chart-topping album in his home country on 10 February 1973, Don't Shoot Me I'm Only The Piano Player. It went on to top the US bestsellers on the 3 March chart.
Listen to Don't Shoot Me I'm Only The Piano Player right now.
Elton had been a recording artist in that name for some five years by the time he released this sixth studio LP. He had broken into the UK top ten for the first time with 1971's Tumbleweed Connection, which reached No. 6 in its third chart week. The next year, Honky Chateau almost made the top spot, debuting at No. 2 behind his friend Marc Bolan's T. Rex album Bolan Boogie.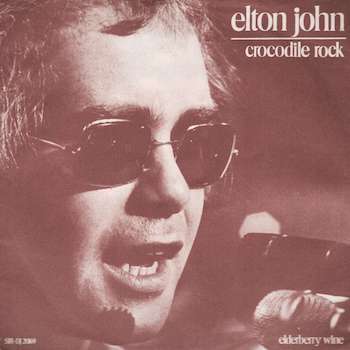 But this time, there was no stopping Elton. The key was the big success of two consecutive top five UK singles, 'Crocodile Rock' late in 1972 and, simultaneously with the new album, 'Daniel.' Both took their place on a record that was again created in the happy environment of the Chateau d'Hérouville in France and also contained favourites such as 'Teacher I Need You' and 'Elderberry Wine.'
Don't Shoot Me went straight to the top of the UK chart, unseating Slade's Slayed? album in a top five that also included David Bowie's The Rise and Fall of Ziggy Stardust. And there it stayed for six long weeks, until it was toppled by Alice Cooper's Billion Dollar Babies.
That remains the longest reign of any Elton studio album, compared to the five weeks for Sleeping With The Past, two each for Goodbye Yellow Brick Road, Caribou and the later Very Best Of collection, and one for the 2012 remix collaboration with Pnau, Good Morning To The Night. It's only beaten by the mighty 11-week run of that first retrospective Greatest Hits album of 1974.

Don't Shoot Me I'm Only The Piano Player can be bought here.
Follow the official Elton John Best Of playlist.