'Madman Across The Water': 'Tiny Dancer' And A Big Splash For Elton John
Described by Elton John himself as 'the very last album of its kind we'll do,' 'Madman Across The Water' continued his North American domination.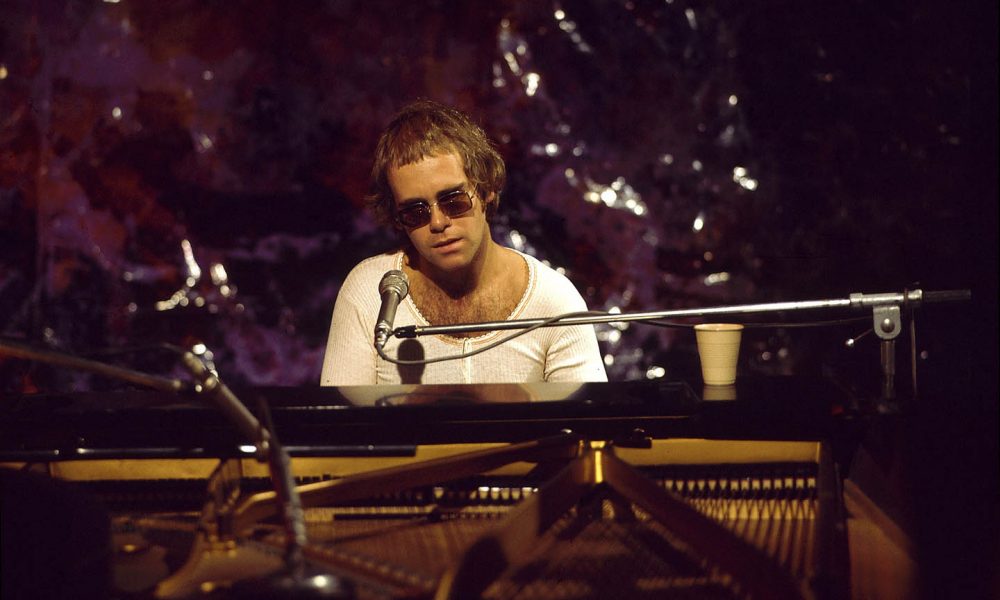 Exponential success brought no let-up in Elton John's diary in 1971. By November, it was time for the release of his fifth album in 18 months, and this after the little matter of a live album (17-11-70) and a film soundtrack (Friends) in the previous eight. But still the timeless melodies poured out of him, and trenchant lyrics from Bernie Taupin's pen, on another vital entry in their early work together, Madman Across The Water.
The album was – and to some extent remains – underappreciated in the UK, where its chart performance was inexplicably brief. But in America, where audiences were adopting Elton as the British representative of the singer-songwriter surge, it swiftly went gold, with platinum garlands to follow later. It's also revered for two tracks that have become immortal emblems of the era, "Tiny Dancer" and "Levon."
Recording sessions: 'It was free-form writing'
Sessions for Madman Across The Water started in February 1971, just as the Friends soundtrack was about to appear. That score may have been a relatively low-key entry to the world of film work for John and Taupin, but it was an important introduction to the demands of another discipline. Similarly, the live album that followed in May, 17-11-70 – the month and day in the title were reversed for the US release – revealed the live credentials of an increasingly theatrical performer. Its closing version of "Burn Down The Mission" underlined the point by incorporating elements of "My Baby Left Me" and The Beatles' "Get Back."
After the widescreen Americana landscapes of Tumbleweed Connection, Madman Across The Water was, to a degree, a return to the simpler piano motifs of Elton's debut album of 1969, Empty Sky. For the final time, it had the artist and the faithful group of collaborators headed by producer Gus Dudgeon working at Trident Studios; those opening sessions covered the songs "Levon" and "Goodbye," before a summer return to complete the album.
For all the assumptions about "Levon," as we came to learn, it wasn't named after The Band's Levon Helm, despite Elton and (especially) Bernie's adoration of their music. Taupin just liked the name – the same reason that the character calls his son in the narrative Jesus. "It was free-form writing," Taupin told Rolling Stone in 2013. "It was just lines that came out that were interesting."
One thing in Taupin's often-elliptical writing that was based in the truth, however, was the line explaining Levon's lineage. "He was born a pauper/To a pawn on Christmas Day/When The New York Times/Said 'God Is Dead' and the war's begun/Alvin Tostig has a son today." The headline did, indeed, appear in the Times on several occasions, including in January 1970 ("'God Is Dead' Theme Assailed By Pope") and again in April, in James Finn's review of the book The Encounter, by Malachi Martin, titled 'God Is Dead, And Religion Dying.'
Other contributors to "Levon" included drummer Barry Morgan, bassist Brian Odgers and Brian Dee on harmonium. While no singles from Madman Across The Water were released in the UK at the time, the song was issued in America, charting just before Christmas and climbing to a No.24 peak in February 1972.
The other early recording, the solemn "Goodbye," became the album's closing song, its elegant orchestration again the work of Paul Buckmaster, who conducted on all but two of the album's tracks. But the band that reconvened at Trident for three further days in August would include other notable collaborators.
'Tiny Dancer'
In a 1973 interview, Taupin said that "Tiny Dancer," which opened Madman Across The Water, was about his first wife, Maxine Feibelman, who was, indeed, a dancer. Thus, as so often, by singing those words, Elton appeared to be describing his own world when he was really depicting Bernie's. The song became the second single from the album in the US, and while its six-minute duration guaranteed that its radio impact at the time would be minimal (it peaked at No.41), it's gone on to hallowed status, helped in great measure by its inclusion in Cameron Crowe's much-loved movie of 2000, Almost Famous.
The track also featured perhaps the UK's most accomplished, and prolific, purveyor of the pedal steel guitar, BJ Cole. Remarkably for a song that was originally only an album track in the UK, "Tiny Dancer" was certified gold by the BPI, for equivalent sales of 400,000 units, in August 2018; earlier that year, it went triple-platinum in America.
Elton John - Tiny Dancer (Live On Old Grey Whistle Test)
Bandmates and guest musicians
Keyboard ace Rick Wakeman, who was about to leave one successful act to join another as he departed the Strawbs for Yes, played on three Madman Across The Water tracks, including the brooding title tune. An earlier version of the song, featuring guitarist Mick Ronson, dated from the Tumbleweed Connection sessions. Acclaimed engineer Ken Scott, who'd already made a name for himself with sessions for The Beatles, David Bowie and others, was brought in by Dudgeon to finish the recording when Robin Cable was seriously hurt in a car accident.
Wakeman's Hammond organ also added colour to "Razor Face," which featured Caleb Quaye's electric lead guitar and accordion detail by Jack Emblow, and "Rotten Peaches," which featured two more names who would become associated with Elton forever.
The blond, 20-year-old Scot Davey Johnstone played acoustic guitar on the latter track, as well as on the album's title song and "Tiny Dancer," and both mandolin and sitar on "Holiday Inn." Formerly of folk-rock troopers Magna Carta, he was soon to be named an official member of Elton's band, by a frontman who was feeling the need for a second soloist on stage. Also making his first appearance on an Elton album, on three tracks, was the inimitable session and touring percussionist Ray Cooper.
Elton's colleagues in that line-up, bassist Dee Murray and drummer Nigel Olsson, didn't play on Madman Across The Water, though they were part of a team of backing vocalists that also included friends of the band: Lesley Duncan, Tony Burrows, Roger Cook, Sue & Sunny, Barry St John, Liza Strike, and Terry Steele. Another highly-qualified session man, bassist Herbie ("Walk On The Wild Side") Flowers, played on three numbers.
5 Elton John Songs You Need To Know
Release and reception: 'The very last album of its kind we'll do'
Upon its release, on November 5, 1971, Elton's regular supporter at Sounds, Penny Valentine, was as complimentary about the album as ever. "It is easy to say 'this is his best album yet' because with each new set from an artist you like and admire it should justly seem that each product is better than the one before," she wrote. "In fact this IS his best album to date…capturing and sealing all the early strength that came off Elton John."
Madman Across The Water may have fallen victim of the sheer weight of Elton material appearing in quick succession. It entered the UK chart in May 1972 at No.41 but that, almost incredibly, became and remains its highest-ever placing in Elton's home country. After a second week at No.48, it disappeared. But there were no such problems in the US, where the album climbed to No.8 in a 51-week run. It quickly went gold, turning platinum in 1993 and double-platinum in 1998.
Listen to the best of Elton John on Apple Music and Spotify.
"I still like that album," John told Valentine soon after its appearance, "but really Bernie and I had hit a very odd situation when we came to cut it. We had written only about eight songs that year, working on them separately, and it came to the point that there was nothing to fall back on if we'd hated one of the tracks. Normally we write about 25 numbers a year, so you can tell the sort of state we were in. So Madman wrapped up the tail end of our writing, and it was the very last album of its kind we'll ever do."
By May 1972, as Madman continued to cross the water, and as Elton soared with "Rocket Man" – the song that gave the musical fantasy movie about him its title – Reginald Dwight formally changed his name to Elton Hercules John. Now entering the stratosphere, he would not touch down again for years.
Buy or stream Madman Across The Water.