Americana: How Country And Roots Music Found A "Brand New Dance"
With its roots in country tradition and punk attitude, Americana music is hard to define but easy to love. uDiscover Music dons a Nudie suit and goes in search of the Americana dream…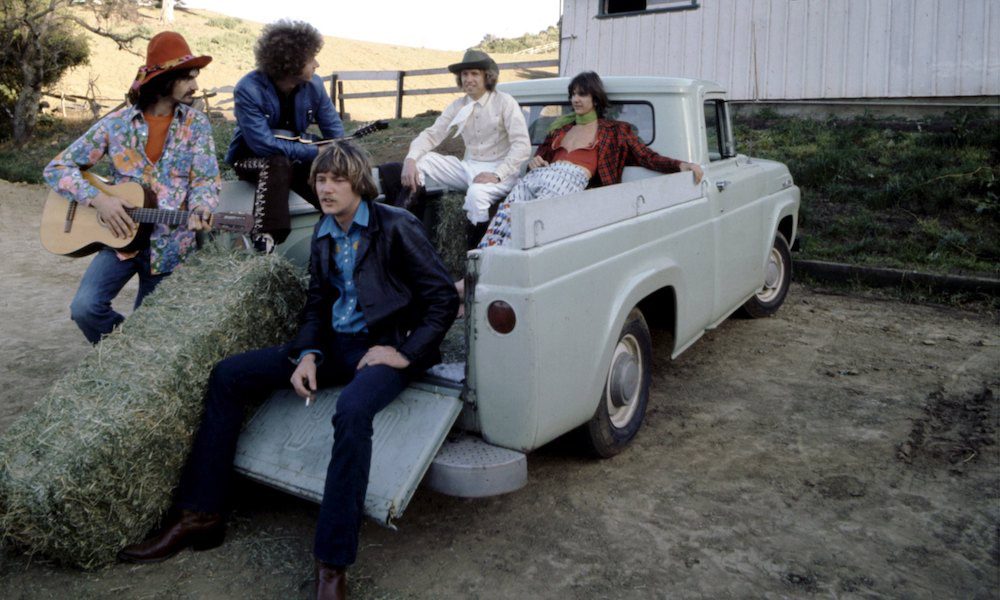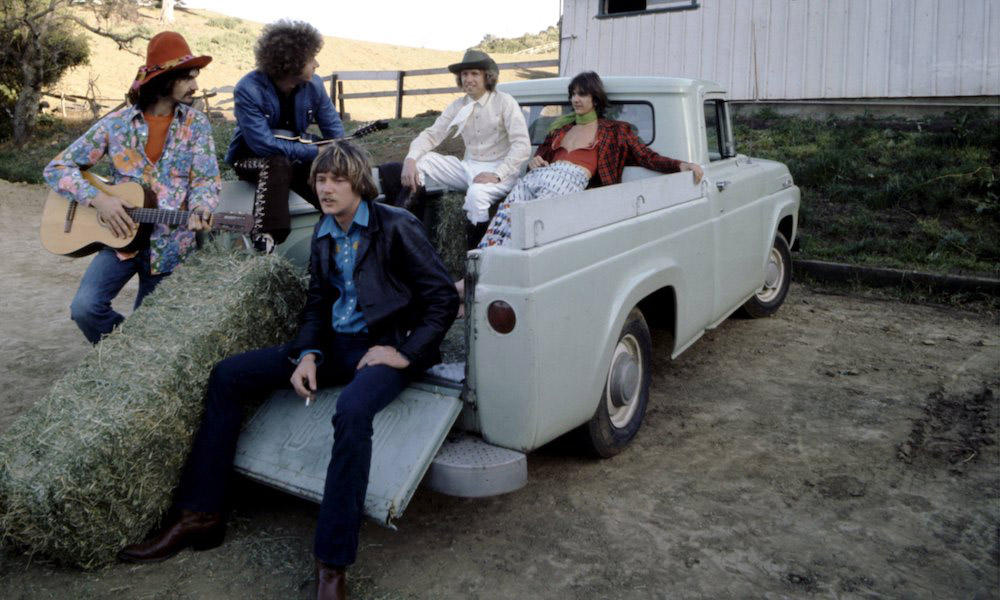 When the term "Americana" was included in the prestigious Merriam-Webster dictionary in 2011, Americana Music Association executive director Jed Hilly joked that they would be selling T-shirts emblazoned with the word, along with the tag line "Look it up!" "It's still a little off the radar," added Hilly, "because we're not super commercial."
In the following five years, the musical landscape was transformed as Americana music became bona fide hot property. Chris Stapleton's Americana record Traveller was the seventh best-selling album of 2016, with sales reaching nearly one and a half million copies, putting it just behind records by pop megastars Adele, Beyoncé, and Rihanna.
Chris Stapleton - Fire Away (Official Music Video)
Merriam-Webster defines Americana music as "a genre of American music having roots in early folk and country music." The panorama of these roots is wide, taking in country and western, Appalachian, gospel, roots-rock, folk, bluegrass, R&B, and blues. Americana bands are usually built around acoustic instruments, but can feature a full electric band.
Early folk and gospel musicians shaped the ground for country and Americana music, but some of the modern blueprints came from the Western swing movement of the 20s and 30s, and its talisman, Bob Wills, whose distinctly Texan music gained national popularity in the 30s. The signature tune of Wills and his Texas Playboys, "San Antonio Rose," has been covered hundreds of times, by everyone from John Denver to Clint Eastwood. Wills had a direct influence on Willie Nelson and helped shape his inclusive view of music.
Nelson has paid fulsome tribute to Wills and also acknowledged a bigger debt to one of music's genuine pioneers: Hank Williams. Williams, who was only 29 when he died, on January 1, 1953, packed so much into his short life, including the 29 hits he recorded, such as "Hey, Good Lookin'," "Why Don't You Love Me?" and "Long Gone Lonesome Blues." He was recognized as a guiding light by The Smithsonian Institution in 1999, when its first-ever forum about country music – A Tribute To Hank Williams – honored this enigmatic icon and what he had done to create the foundations of modern country music.
Like many pre-war musicians, Williams learned to sing in a church choir (in Alabama) and his music synthesized the musical styles of his Deep South environment – Western swing, Appalachian mountain music, honky-tonk, country blues, and gospel music. But it was his remarkable gift for writing heartbreaking confessional narrative songs, such as "I'm So Lonesome I Could Cry," that set him apart as a supremely talented song craftsman.
Hank Williams - Hey Good Lookin' (Official Video)
Williams was one of the first American singer-songwriters to express, in direct and elegiac lyrics, the intense personal emotions, the dreams and heartaches, of the common people. Leonard Cohen called his songwriting "sublime," and Bob Dylan said, "Hank's songs were the archetype rules of poetic songwriting." Williams' work has been covered by artists as diverse as Louis Armstrong, Elvis Presley, and Al Green.
Williams inspired legions of musicians: country legends such as Johnny Cash, who recorded a whole tribute album to the icon; singers such as George Jones; creative forces the likes of Gram Parsons; and even modern rock stars such as Beck, Keith Richards, and Tom Petty. When Ryan Adams and his fellow-alt.country stars of the 80s and 90s were finding their way, they turned again to the man capable of writing a masterpiece such as "I'm So Lonesome I Could Cry." Lucinda Williams said, "I was listening to Hank since as far back as I can remember. His music was some of the first music I was exposed to."
Hard-drinking and straight-talking, Williams was perhaps country music's first rebel, a trait emulated by the self-proclaimed outlaw country stars of the 70s who brought some of the rebellious attitude of punk music into country's mainstream. Hank Williams was Americana 70 years before the word gained popular usage.
Music changes when genres collide, and another man who was ahead of his time in pulling together different strands of music was Ingram Cecil Connor III, who took the stage name Gram Parsons. Florida-born Parsons was a big Elvis Presley fan as a child and formed his first band, The Pacers, at Jacksonville's Bolles High School in the early 60s. Fellow-student Luke Lewis, who went on to become President of Universal Music Nashville, said that hearing Ray Charles' 1962 album Modern Sounds In Country And Western Music – in itself a glorious early example of Americana music – had a huge influence on both of them. "It was probably the first time either of us had a clue about country music," said Lewis, who went on to record Ryan Adams, Lucinda Williams, and Johnny Cash.
Ray Charles - You Don't Know Me
Parsons made his first real impact with The Byrds, for whom he wrote the timeless "Hickory Wind." He played a pivotal role in their seminal Sweetheart Of The Rodeo album, before leaving with Chris Hillman, in 1969, to form The Flying Burrito Brothers. The Flying Burrito Brothers, who were playing a mix of traditional country music and rock, helped create something dubbed "Cosmic American Music" with their first two albums, The Gilded Palace Of Sin and Burrito Deluxe. "The greatest legacy of The Flying Burrito Brothers and Gram is we were the alternative country band. We couldn't get on country radio and we couldn't get on rock radio. We were the outlaw country band for a brief period," said Hillman.
The Flying Burrito Brothers - Hot Burrito #1
The Flying Burrito Brothers tied together country, rock'n'roll, R&B, folk, and soul inflections, and Parsons gained a lot of confidence from creating something so potent. At the time, Parsons was eagerly embracing every opportunity to grow musically. In the summer of 1971, he moved to southern France, where he lived for a short period at Villa Nellcôte as the guest of his friend Keith Richards, during the period when The Rolling Stones were working on their classic album Exile On Main St.
Parsons played country music with Richards and learned to expand his own horizons; the Stones let the Burritos record the song "Wild Horses" even before their own version had been released. Mick Jagger and the band had a strong influence on Parsons' decision to go solo. "I just had the feeling this man was about to come out with something remarkable," said Richards.
His solo albums, GP and Grievous Angel, were indeed remarkable and helped launch the career of co-singer Emmylou Harris. She was amazed at Parsons' knowledge of country music and said, "I was learning all these country songs. I was like a religious convert. I couldn't get enough."
Hillman believes that with songs such as "Sweetheart Of The Rodeo," Parsons "opened the floodgates" to the country-rock, alternative country, and the Americana booms that followed. Parsons himself believed that music was either good or bad and you didn't have to worry too much about "labeling and defining" types of music. His premature death, at 26, in 1973, robbed the world of a pioneering musician, but his influence – in the work of other musicians and through the work of The Gram Parsons Foundation – hovers over the Americana music that came in his wake. The early work of Wilco's Jeff Tweedy clearly shows the influence of songs such as "Sin City" and "One Hundred Years from Now."
Who Do You Love (feat. Ronnie Hawkins) (Concert Version)
At the same time as Parsons was learning about Hank Williams, The Band – Robbie Robertson, Levon Helm, Garth Hudson, Richard Manuel, and Rick Danko – were cutting their teeth as The Hawks. They began as the backing band of rockabilly singer Ronnie Hawkins but soon began forging their own path and taking on a significance that would have been hard to predict for early fans of The Hawks. Robertson said, "As The Band we set out to play the music that we had gathered in all of this experience. We were taking a little bit of gospel from here, a little mountain music from over there, a little bit of Delta blues here, a little bit of Chicago blues there."
The Band's 1965-66 tour with Bob Dylan was one of the most game-changing and infamous tours in music history, as controversy erupted over Dylan's decision to launch folk music into the electric age. The Band were happy to spread their musical wings and play their own part in the evolution of American music. Decades later, Robertson confessed, "People said, 'You're Americana.' And I was like, 'We're from Canada. We're "NorthAmericana, maybe…"' I'm still not sure I know what it is."
The Band - The Night They Drove Old Dixie Down - 11/25/1976 - Winterland (Official)
Their brand of "North Americana" involved a Canadian band's subtle and moving pastoral evocations of Southern American mythology in modern-day classics such as "Up On Cripple Creek," "The Weight," and "The Night They Drove Old Dixie Down."
The Band had the superlative songwriting skills of Robertson, the soulful voice of Helm, and the musical dexterity of keyboardist Hudson. Their debut album, Music From Big Pink, released in 1968, pushed other musicians, including Eric Clapton and Grateful Dead, into a more roots-oriented sound. With the famous concert filmed by Martin Scorsese and dubbed The Last Waltz, the band brilliantly backed artists such as Van Morrison, Joni Mitchell, Muddy Waters, and Neil Diamond, showing that they could play anything with anyone.
The Last Waltz (1978) - The Weight Scene (4/7) | Movieclips
When Clapton first heard them, back in the late 60s, it was a turning point in his disillusionment with Cream. Just as The Band had reacted against psychedelia with a back-to-the-roots sound, so Clapton formed Blind Faith as a backlash move, before going on to explore Americana further in his work with Derek And The Dominos, who included Duane Allman on slide guitar.
In 2017, Clapton told an audience at the Toronto International Film Festival, "I was given an acetate of Music From Big Pink back in England and it shook me to the core. I was in Cream at the time, already with the notion that it wasn't going in the right direction, and I thought, 'Well this is what it is.' I knew who Robbie Robertson was but I didn't realize that was their group. I thought they just appeared. I thought they were all from the Mississippi Delta… they were magnificent heroes for me. I went up to jam with them and they said, 'We don't jam, we write songs and play the songs.' I thought, My God, these guys are real serious."
The wheel came almost full circle in 1999, when Helm recorded the live album Ramble At the Ryman as part of the Americana Music Festival And Conference, an acknowledgment of his influence on Americana and the way that The Band had directly inspired musicians such as Lee Ann Womack, Rosanne Cash, and The Allman Brothers Band.
The Allman Brothers Band - Statesboro Blues (Live)
As we have seen, Americana icons stretch back to the founding fathers and mothers of country music, titans such as Bob Wills, Hank Williams, Woody Guthrie, and Patsy Cline. But in the 70s and 80s a group of modern greats decided to create their own legacy. There were talented individuals ploughing their own fields – including Guy Clark, Glen Campbell, Don Williams, Dolly Parton, John Prine, and Alan Jackson – but the closest thing to an Americana supergroup came in 1984. Willie Nelson, by then a veteran of the Nashville songwriting scene who had broken out to become one of most distinctive musicians of the modern era, became a catalyst for a new direction in country music when he helped persuade fellow country greats Johnny Cash, Waylon Jennings, and Kris Kristofferson to band together as "outlaws."
They called themselves The Highwaymen (taking their name from a Jimmy Webb song) and paid tribute to past heroes with covers of songs by Woody Guthrie and Hank Williams. The Highwaymen were frequently referred to as "the Mount Rushmore of country music," prompting Emmylou Harris to say "they actually need to be up there on the big rock with the presidents." Their influence was enormous and the links carry on: The Highwaymen's steel guitarist, Robby Turner, now works with Chris Stapleton.
The Highwaymen - Highwayman
During the period The Highwaymen were active (1984 to 1995), a new form of Americana music began to rise. Just as The Band had reacted to prevailing trends of popular music by transcending them with their own songs and style of performing, the musicians who came to embody the alt.country boom in the late 80s and 90s considered themselves to be challenging the prevailing country music establishment. As Lucinda Williams put it: "I definitely don't feel a part of what I call the straighter country music industry of Nashville."
Steve Earle, who made a quartet of brilliant albums between 1986 and 1990 (Guitar Town, Exit 0, Copperhead Road, and The Hard Way) was a kindred spirit to Williams, and both were part of what also became known as the "insurgent country" boom of the late 80s, along with rising stars such as Rodney Crowell and Del McCoury. Copperhead Road was the album that really introduced Earle to a growing European audience. The title track is a grand storytelling narrative about a moonshiner who changes his product base to grow something more fragrant, and demonstrated that Earle's songwriting had the narrative power of old-style writers such as Woody Guthrie, Lefty Frizzell, and Hank Snow.
Steve Earle - Copperhead Road (Official Music Video)
Earle said that, though he and Lucinda Williams were dubbed "the new outlaws," the core of what they were doing was making a different type of music, rather than social rebellion. "It wasn't about the drugs we were taking and the trouble we were getting into back then," said Earle, "it was about artistic freedom."
Guitar Town came out in 1986, the same year that kd lang, Dwight Yoakam, and Lyle Lovett, with his marvelous self-titled debut album, first emerged. Lovett said, "In that period of time there was a lot of stuff that you wouldn't think of as being a traditional Nashville signing getting signed. You'd see people having a chance to make a record, and that's a very cool thing."
Lyle Lovett - If I Had A Boat
Minnesota-based band The Jayhawks, whose harmonies and twang-rock sound laid down some of the blueprint for modern Americana music, also released their debut album in 1986 and they soon gained a strong following in Europe. When Ryan Adams began to make Americana music with the band Whiskeytown, he said he realized that there were other people who were "hip to Gram Parsons" and cited The Jayhawks as an influence. Whiskeytown were formed in 1994, in North Carolina, and made three studio albums before Adams left in 2000 to launch his solo career.
Lucinda Williams released a couple of albums in the 80s but, after a long period of relative obscurity, she captured the music world's attention with her superb 1998 album Car Wheels On A Gravel Road, her first record to go gold. The album contains a series of mesmerizing, emotive story songs that sound as relevant in the 21st century as they did when they were cut. Williams, who has gone on to make other excellent albums, such as Essence and Blessed, said of Car Wheels…, "I didn't want to make the same-sounding album again. I was trying to go for a certain vocal sound that I felt like I still hadn't gotten on any of my albums up to that point."
Lucinda Williams - "Car Wheels On A Gravel Road" [Live from Austin, TX]
Williams is part of a fantastic heritage of female Americana singer-songwriters who have penned some of the most powerful lyrics in modern country music. Following on from the tradition of greats such as Kitty Wells, June Carter Cash, Dolly Parton, Loretta Lynn, Patsy Cline, Bonnie Raitt, Linda Ronstadt, and Emmylou Harris, the 80s and 90s saw the rise of a number of formidable female Americana artists, including Reba McEntire, Mary Chapin Carpenter, Julie Miller, Mary Gauthier, and Abigail Washburn. One of the most distinctive was Nanci Griffith, a poet in song, who was as confident writing her own compositions as she was in interpreting the words of other fine Americana songwriters such as Robert Earl Keen and Tom Russell.
The trend for female talent continued in the 90s, when innovative performers such as Gretchen Peters, Iris DeMent, Sheryl Crow, Rita Hosking, Dar Williams, Lee Ann Womack, Lori McKenna, Ani DiFranco, and Gillian Welch began making such terrific albums.
Sheryl Crow - My Favorite Mistake
One of the most promising songwriters to emerge in this period was Patty Griffin, who had been part of the local Boston folk scene until she appeared on the industry's radar with her remarkable 1996 A&M debut, Living With Ghosts. Griffin has continued to make powerful and soulful albums, branching out into gospel with 2011's Grammy-winning Downtown Church. Exciting new talents, such as Sarah Jarosz, Aoife O'Donovan, Ruth Moody, Angeleena Presley, Maddie And Tae, and Lady A singer and songwriter Hillary Scott, continue to appear and thrive.
But the old guard have not been left behind. Dolly Parton returned to bluegrass with some stunning albums around the turn of the century, and Loretta Lynn's 2004 album, Van Lear Rose, was sensational. Jack White, musical auteur, and mastermind of The White Stripes, was only two when Lynn had recorded her previous album, in 1977: a tribute to Patsy Cline. Lynn and White were an unlikely pairing, but the latter helped bring Lynn's music to a new audience when he produced the then 72-year-old's acclaimed comeback.
Van Lear Rose reflected other facets of modern Americana music – its originality and individuality. The music can encompass everything from the mordant wit of Lyle Lovett to the rocking ballads of Drive-By Truckers, the social observation of James McMurty, Danny Schmidt, Todd Snider, and Jason Isbell, to the affecting emotional songs of Billy Joe Shaver, Dierks Bentley, Chris Stapleton, Sturgill Simpson, and Amos Lee, as well as lesser-known talents such as Robby Hecht and Richard Shindell.
It is hard to say exactly who were the inspirations and originators of Americana music, such is the richness of its diverse heritage, but it would not be stretching it to say that Americana runs through bands as diverse as Grateful Dead and Los Lobos. Neil Young, along with Crosby, Stills And Nash, are not immediately labeled an Americana band but they certainly helped push the popularity of modern roots-based rock.
Little Feat - Dixie Chicken (with Emmylou Harris & Bonnie Raitt) Live 1977. HQ Video.
In addition, the origins of Americana zigzag across the nation's states, from the southern deserts of Little Feat's "Willin'" to the Mississippi Delta of "Dixie Chicken." A reflection of its roots is shown by the way the Americana Music Trail offers tourists an experience that takes in everything from the Muscle Shoals hub in Alabama to the country music bars of Nashville and the jazz joints of New Orleans.
Sometimes a soulful non-country artist can capture Americana music through their interpretation of a great song. On her Blue Note Records album Feels Like Home, Norah Jones does Townes Van Zandt proud with a beautiful version of his song "Be Here To Love Me." Grammy megastar Alison Krauss has an extremely adroit eye for selecting the very best of modern Americana songwriting. Krauss has covered songs by artists as diverse as Willie Nelson, Richard Thompson, Shawn Colvin, Sidney Cox, Mindy Smith, James Taylor, Tim O'Brien, Jackson Browne, and Tom Waits – and her incomparable voice can even bring something new to a classic Woody Guthrie song.
Krauss was also integral to the triumphant O Brother, Where Art Thou? soundtrack album, produced by T Bone Burnett for the Coen brothers. Krauss' band member Dan Tyminski created a modern classic with his version of "Man Of Constant Sorrow," on an album where bluegrass legend Ralph Stanley sings a haunting version of "O Death." Stanley offered up Americana music in its starkest, most powerful form, like a voice direct from centuries past.
Gillian Welch's Revival, also produced by Burnett, tapped into Americana's heritage. Revival was recorded in Nashville at Woodland Sound, which owed its place on the musical map to such 70s albums as The Nitty Gritty Dirt Band's Will The Circle Be Unbroken. Burnett even practiced recording Welch's voice on an ancient Wollensak machine, the sort once used by Hank Williams. Welch, an authentic Americana artist, has done much to keep a bygone era of music fresh and relevant.
Burnett, incidentally, believes that the modern age of digital music has helped Americana music progress because it enables fans to tap into the original source music for some of the contemporary versions of songs. He said: "The modern audience, because they have so much to draw from, are much more savvy than they are given credit for… and with ancient music, you can reinvent it at any time."
Kacey Musgraves - Blowin' Smoke (Official Music Video)
The best young musicians try to both honor and re-invent the music of their heroes. Kacey Musgraves, whose album Same Trailer Different Park was a stunning success in 2013, says her "ideal cross point of music" is The Beach Boys, Lee Ann Womack, and John Prine.
Texas-based band Midland, whose debut album, On The Rocks, was released in September 2017, were hailed by Billboard for bringing a contemporary "George Strait 1980s new traditionalist" sound into the modern era. Midland, and the talented The Cadillac Three, may not be strictly Americana but they both bring the same sort of Americana hallmarks – freshness and empathy – to country music. The Cadillac Three have been produced by the supremely talented Dave Cobb, who has done much great work with Chris Stapleton, Lindi Ortega, Colter Wall, Brandi Carlile, Jason Isbell, and Amanda Shires.
It is clear that Americana is going from strength to strength. The rise of streaming services such as Spotify mean that the genre has accessibility and mainstream visibility, even if it is not played on traditional country music radio stations. Added to that, a host of festivals have sprung up to accompany the annual AmericanaFest in Nashville, which will celebrate its 19th year in September 2018. Among the newcomers are The Long Road. Billing itself as a "country, Americana and roots" festival, it launches in the UK that same month. The festivals have become key to the evolution of new talent.
Since 2010, Americana has been a category recognized by the Recording Academy. Levon Helm was the first winner of an Americana Grammy (claiming another one in 2012), and the award has also been won twice by Jason Isbell. Mavis Staples, Bonnie Raitt, Emmylou Harris, Rodney Crowell, and Rosanne Cash have also been victors. The all-embracing nature of Americana was shown in the 2016 victory of Stax Records legend William Bell. Robert Plant, the former Led Zeppelin frontman, who has recorded with both Alison Krauss and Patty Griffin, said "there are no boundaries as to where Americana can go."
The multifarious nature of Americana will continue as it spreads across continents. When Americana was rewarded with a dedicated album listing by the Official Charts Company in the UK, the Top 10 acts included Ryan Adams, Lucinda Williams, and Swedish sibling duo First Aid Kit. There are now Americana Music Associations in the UK and Australia – a far cry from 1999, when a group of radio DJs, record-label workers, and music journalists met informally at the South By Southwest music industry conference in Austin, Texas, to discuss how they could promote the music they loved, and decided to form an organization.
Robert Plant, Alison Krauss - Please Read The Letter
Jimmie Fadden, from The Nitty Gritty Dirt Band, is quoted in the book The Americana Revolution, saying that "Americana was an attempt to group together a lot of unexplainable forms of roots music in a way that could be encapsulated, presented to an audience, with an understanding of it having a name."
The name is now significant. Americana music is progressive and cutting-edge, and one of the best-selling music genres for albums – outselling R&B, hip-hop, and dance in 2016, according to Billboard – and acclaimed by cultural heavyweights. PEN/Faulkner award-winning novelist Ann Patchett once told The New York Times that Americana is "the coolest music scene today."
New Americana will continue, in the words of Hank Williams, to "show the folks a brand new dance," but whatever comes, the musicians will always have a treasured history to call upon. Someone who encapsulates that is the remarkable Ry Cooder, who has arguably been making brilliant Americana music for more than half a century. Cooder's 2018 album, The Prodigal Son, on Fantasy Records) features a cover of the Stanley Carter song "Harbour Of Love," a song first cut in the 50s for Mercury Records. "There's some kind of reverence mood that takes hold when you play and sing these songs," he said.
That reverence and enthusiasm is why Americana roots music will continue to flourish.
Looking for more? Discover the 10 best Americana albums of all time.