'We're Artists, We're Not Going To Dress Like Accountants': The Country Style Of Midland
Our 2018 meet-up with Midland, one of country's fastest-rising bands and a trio known for their style as well as their music.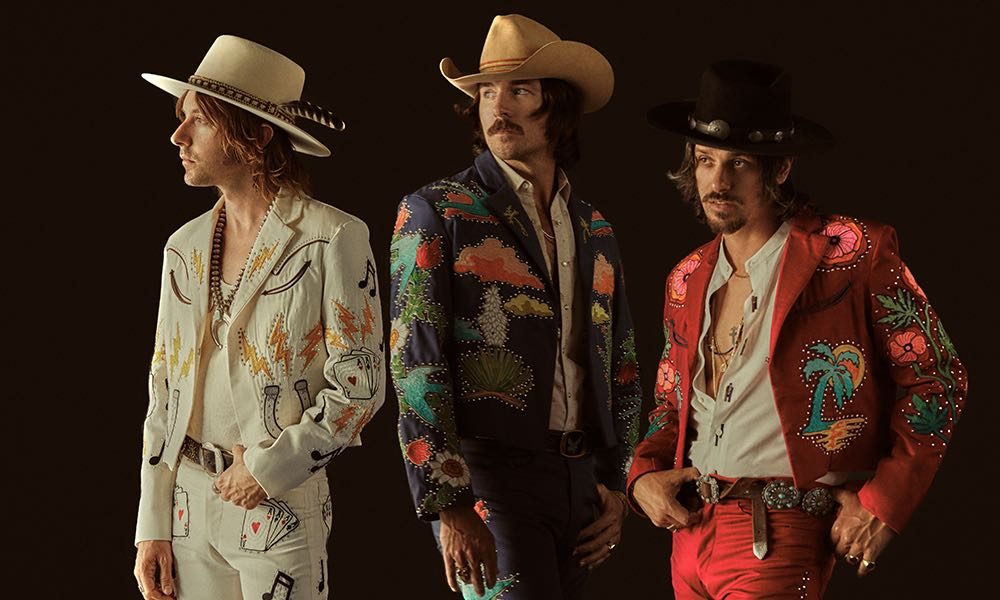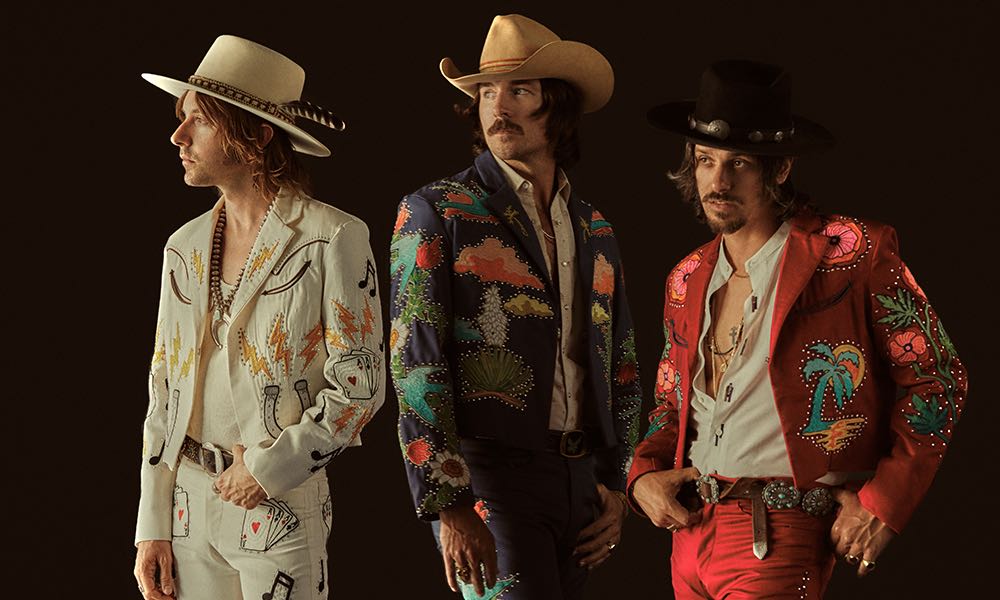 There are times when you know you're witnessing a band on an exponential upward curve. So it was for the audience at the 2018 C2C Festival at London's The 02, where Midland's first European visit confirmed the stylish Texas trio of "Drinkin' Problem" fame as one of the fastest-rising commodities in country music.
Even while the band were living it up, in every sense, on a visit which included their own post-C2C sellout date at London's Omeara, tickets went on sale for an eight-date debut UK tour in their own name. That came at the end of a packed 2018 touring calendar, and in 2019, their non-stop schedule embraces a big North American tour followed by dates in Australia and then another British visit in December.
All this from an outfit who, for all their domestic success since signing to Big Machine, admit they had no real expectations of overseas recognition this soon. "We had zero expectations coming into this, but it's been a wild ride," says lead singer Mark Wystrach. "[British and Irish audiences] are such great crowds and give so much to the artists. It's spectacular."
Towards the end of Midland's London show, as they prepared to play "Drinkin' Problem" – the song that became their major US breakthrough as a Top 5 country sales and airplay single – Wystrach tentatively asked the crowd if they might turn their mobile phone lights on for the last chorus. They didn't wait that long: from the opening bar, The 02 was floodlit by admiring fans.
"We're not used to playing in arenas yet," says the frontman, "but we've been out with Little Big Town, and this is something we've been doing. Most of the time I forget, but I was like, 'Alright, I really want to see this.' And man, it's a wild thing. There's something magical about it and it felt like a dream. That was a testament to what kind of crowd it was. They were with us from the beginning. That lifted our performance."
Throughout the genre, there's a real feeling that "Drinkin' Problem" has become a modern-day country landmark. "It's definitely a song of its moment," says Wystrach. "It kind of feels like an anthem in a way, and it's not just because of the subject. It's the singability of the song.
"It's a cool thing to see it catch on in that way, but it's not the only song people have been singing, which is really bizarre to us. Stateside, you'll hit pockets where people only know one song, and they'll still give you everything, but it's not fully like it is [in the UK], where our fans are consuming the whole album."
Wystrach, bassist Cameron Duddy, and lead guitarist Jess Carson co-wrote all 13 songs on the On The Rocks album, several with country heavyweights such as Shane McAnally and Josh Osborne, who produced the set with Dann Huff. Its release in September 2017 brought a No.1 debut on Billboard's Top Country Albums chart. By the early spring of 2019, the trio were back on the radio with the so-old-it's-new sound of the single "Mr. Lonely."
Midland - Mr. Lonely Line Dance
On The Rocks struck a chord with its modern take on a traditional country style, but there are other elements in the Midland sound. "We are a country band," says Carson, "but we're three people with wide-ranging influences. We listen to everything. The Rolling Stones are probably one of the biggest influences on this band.
"There's a lot of rock'n'roll, blues, R&B, everything. That all gets funnelled into the country music filter, but we're not so quick to put a label on ourselves. I think we're country rock'n'roll and that will always be our [thing]. You can do a lot under that umbrella." Adds Duddy: "I don't think we'll ever end up being accused of being Americana, though. Particularly because of Mark's voice, too."
Wystrach is pleased to consider that Midland are part of a vanguard of new, genre-busting country artists. "When you look at us and Margo Price and what Sturgill Simpson is doing, it's almost become the new indie rock'n'roll, because there's some really great individuals." Says Duddy: "It's a vacuum, because there's no more great rock bands, not coming out of America, as far as I'm concerned. Country music has now filled that void." 
All three band members feel they've found a home at Big Machine, to whom they signed in March 2016, releasing a self-titled EP ahead of the individual emergence of "Drinkin' Problem." "When you go to Nashville as an outsider, the danger is people might want to change what you're doing," observes Carson. "They were just the ones that accepted us as we were, and believed in it. We couldn't really ask for more.
The other key ingredient in Midland's relentless rise has been their singular sense of retro style, often appearing in Nudie Suits. It underlines, to quote another genre, that ZZ Top's adage remains true: every girl crazy about a sharp dressed man.
Listen to uDiscover Music's Outlaw And Disorder: Country Rebels playlist.
"You don't want to look like an idiot and sound really good, what's the point of that!" laughs Duddy. "It's an extension of our individualities," says Wystrach. "We're artists, man, so we're not going to dress like we're accountants. A lot of people think it's a put-on, but this is how we dress. I don't think any of us were ever particularly interested in blending in."
Duddy emphasises the point. "We'll be at an event Stateside and there'll be more than one band, and we'll show up to the hotel at like 8am, red-eyed and tired and just looking for a place to crash. Everyone else is checking in at the same time and they'll be in sweatpants and modern wear, and they're like 'Holy shit, you guys wear this all the time, huh?' and I'm like 'It's all I got! My PJs are vintage, man!'"
Buy or stream Midland's On The Rocks album.
Format:
UK English