Impulse For Change: A Short History of Impulse! Records
Impulse! Records' history blends indie hipness with a compulsion to push the boundaries, creating some of the most forward-thinking music in history.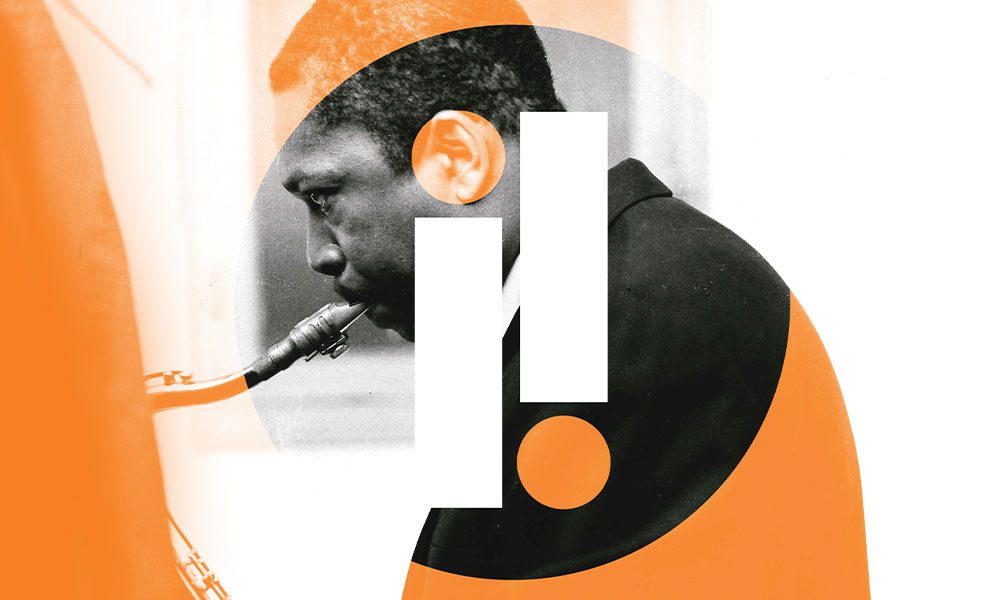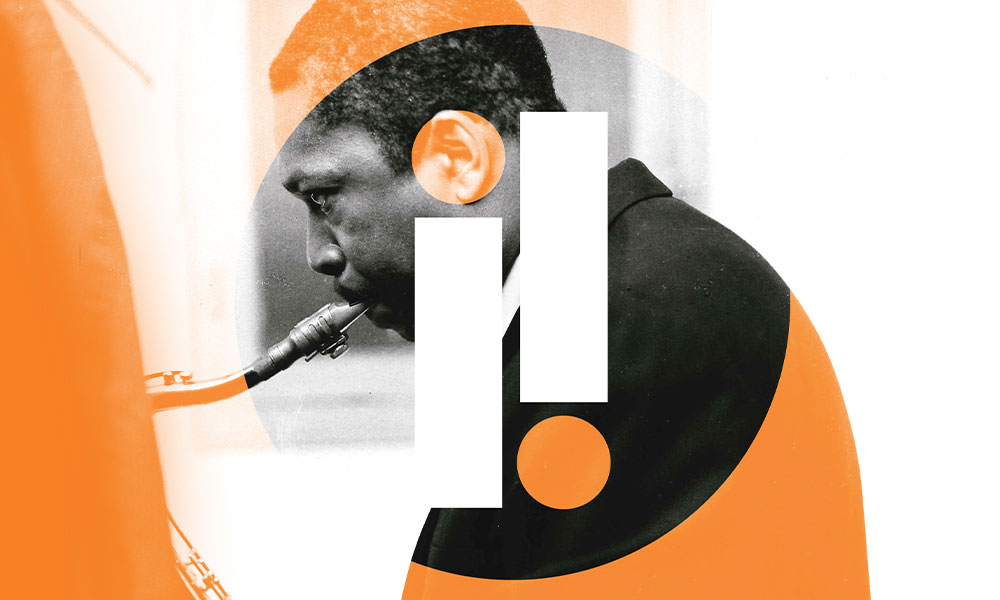 Founded in 1961 by Creed Taylor, Impulse! Records is regarded as one of the most important and iconic record labels in jazz. Its history is rich with pioneering musicians who refused to sit still, pushing musical boundaries and creating a discography that's the equal of any other major jazz record label.
One man looms large in Impulse! Records' history: John Coltrane. A musical seeker who played saxophone and flute, and recorded for Prestige, Blue Note, and Atlantic before landing at Impulse! in 1961, Coltrane evolved into a paradigm-busting pathfinder who became not only the label's talisman but also, both musically and spiritually, its guiding light. Indeed, such was his influence on the company's mindset and raison d'être that Impulse! Records was often referred to as "the house that Trane built." (There's even a book with that name, penned by the renowned music writer Ashley Kahn, who goes far further into depth on the Impulse story.)
Listen to the Impulse Records: Music, Message and the Moment box set here.
"The New Wave Of Jazz Is On Impulse!"
Certainly, Coltrane, who stayed with Impulse! until his death in 1967, was hugely influential and his presence was a key factor in attracting some of the leading protagonists of jazz's avant-garde movement (namely Albert Ayler, Pharoah Sanders, Archie Shepp, Sun Ra, Michael White, and Alice Coltrane) to join the roster of what was, in essence, a major label. And yet if you examine the Impulse! Records story in finer detail, you'll find that, despite its forward-looking motto, "The New Wave Of Jazz Is On Impulse!", it was a record label that also honored the idiom's old guard.
Duke Ellington, Coleman Hawkins, Ben Webster, Earl Hines, Benny Carter, and Lionel Hampton all recorded for Impulse! Records, a fact that torpedoes the notion that the label favored only jazz revolutionaries. Despite its seeming inclinations towards the "new thing," Impulse! wasn't biased towards any particular style of jazz, but rather sought to bring the young upstarts and old masters together to present their respective talents in the best possible way. Or, as an advertisement the label took out in Billboard, in 1961, stated: "Dedicated To Presenting The Greats In A Showcase Of Sonic Perfection!!"
Different from other jazz labels
From the outset, Impulse! Records was different from other jazz labels. Unlike, say, Blue Note or Prestige, it didn't evolve gradually over time but emerged fully-formed and ready to run. Its albums, distinguished by a visually striking orange, black, and white color scheme, looked different as well. They were classy, upmarket, and perfectly complimented the music's impeccable sound quality.
For the label's founder, Creed Taylor, how the music was packaged and presented was an important component in the art of record-making, as he told this writer in 2008: "The packaging was very distinctive – it was double-fold, laminated jackets. After people heard the music on the radio, it was very easy to identify when they went into the record store because Impulse! had the best-looking covers."
Within a short space of time, Impulse! became seen as a serious rival to long-established specialist jazz labels such as Blue Note, Prestige, and Riverside. Unlike those companies, however, it was a newly-created division of a well-heeled major label where there were fewer financial constrictions. Even so, from the very beginning, Impulse! Records was driven by an indie label mentality. It could be likened, then, to Blue Note on steroids, though where Alfred Lion's iconic company had an aura of cool, Impulse! emanated a sense of mystique and – as it progressed – otherworldliness. From its inception in 1961 until it ceased operations in 1977, Impulse! Records was the undisputed standard-bearer for the most cutting-edge sounds in jazz.
Laying the foundations: the early years
Rewinding back to 1961: Impulse! was born when the New York-based company ABC/Paramount – a major record label chiefly known for producing pop acts such as Paul Anka, Danny And The Juniors, and Frankie Avalon in the late 50s – sought to venture more deeply into the jazz market. Creed Taylor joined ABC/Paramount in the company's inaugural year, 1955, heading up its jazz department, which he aimed to expand. He became renowned for dreaming up original and savvy concepts to help sell jazz to the wider public, finding success in 1957 with the bebop-influenced vocal trio Lambert, Hendricks And Ross, whose groundbreaking album, Sing A Song Of Basie, used layered, multi-tracked voices to recreate vocalese versions of Count Basie tunes. In fact, it was Taylor's success at generating sales in the jazz field – combined with the label's accumulated wealth from its chart successes in the pop singles market – that led his bosses at ABC/Paramount to green-light the launch of a separate jazz division in 1961.
Despite the punchy immediacy of the label's eventual name, Impulse! Records gestated in Taylor's mind for a year or so before it launched. The idea for creating a label separate from, but affiliated with, ABC/Paramount began to gain more traction when Taylor added designer Fran Scott – then the wife of noted jazz clarinetist Tony Scott – to his team, as well as photographer Pete Turner, whose striking images would adorn ABC/Paramount album covers under the producer's supervision.
"There would be no backing away"
One album in particular, The Sound Of New York, released in 1959 by composer Kenyon Hopkins, epitomized Creed Taylor's production values and anticipated what would become standard practice at Impulse! two years later. It boasted a deluxe gatefold sleeve complete with liner notes and Creed Taylor's signature in bold black ink. It would become his calling card. "I wanted to put my stamp on something that I did, so there would be no backing away," the producer said in 2008. "Unless I finished something and made it the way I envisioned it from the beginning, I wouldn't put it out. But if I did put it out, I was going to put my stamp on it. It's like, why do you put "Coca-Cola" on Coca-Cola bottles? It's a trademark."
Though he didn't know it at that point, The Sound Of New York was a blueprint for the big-budget concepts that Taylor would explore during his tenure with Impulse! He wanted to combine high aesthetic values with quality jazz played by the music's leading musicians, and, in 1961, he was able to realize that dream when he persuaded ABC/Paramount's money men to bankroll a new jazz label.
Taylor had already come up with a name for the new enterprise – Impulse! – and its pièce de résistance was the exclamation mark at the end of the word, used to connote spontaneity and impetus. The idea to employ an exclamation mark came from designer Fran Scott, who ingeniously also came up with the label's orange-and-black color scheme and was behind the glossy, high-quality covers. She also favored using talented photographers for the album covers, such as Pete Turner and Roy DeCarava, but by the time Impulse! Records launched, Scott had left the company to tour with her husband (her place was taken by Margo Guryan, who continued to adhere to the same design concepts).
The birth of Impulse! Records
The birth of Impulse! Records, in the spring of 1961, was accompanied by a clever marketing slogan devised by Taylor – "The New Wave Of Jazz Is On Impulse!" – and the company's launch coincided with the arrival at ABC/Paramount of R&B maven Ray Charles.
After a fertile stint at Atlantic Records, which had transformed the Georgia-born musician into a big star, Charles was lured to his new recording home in November 1959 by the promise of a big advance and, more importantly, the prospect of artistic independence (which involved having his own label, Tangerine). He recorded three albums for ABC/Paramount in 1960 but his fourth, Genius + Soul = Jazz, for which Creed Taylor put Charles in the studio with arranger Quincy Jones and members of Count Basie's big band, proudly bore the Impulse! logo. Aided by the chart success of the album's single "One Mint Julep," Genius + Soul = Jazz gave Impulse! some serious sales action and helped to establish the record label as a brand as well as furthering its recognition with the wider public.
Genius + Soul = Jazz was the second album in a batch of four titles released to announce the launch of Impulse! Records. The first was The Great Kai And JJ by trombone duo Kai Winding and JJ Johnson, which, for a label that became synonymous with cutting-edge jazz expression in the 60s, was a decidedly conservative, if tasteful, affair. The same can be said of the third offering on Impulse!, a solo project by Winding called The Incredible Kai Winding Trombones. There was, however, a more progressive bent evident on the fourth album released by Impulse!, an orchestral project by arranger/conductor Gil Evans, called Out Of The Cool.
All four projects were recorded in late 1960 at the same facility: Van Gelder Studio in Englewood Cliffs, New Jersey. It was owned and run by optometrist-turned-recording engineer Rudy Van Gelder, who was considered a sonic genius and was responsible for recording most of the sessions for the Blue Note and Prestige labels. "He was making the best-sounding records that I could ever dream of at that point," Taylor said in 2008, reflecting on his reliance on Van Gelder and his equipment.
Modern, cool, and sophisticated
Despite the aural fireworks of Ray Charles' Genius + Soul = Jazz, Impulse! Records hadn't really announced itself with all guns blazing, but when Taylor pulled Oliver Nelson's The Blues And The Abstract Truth out of his hat in the summer of 1961, people were impressed. Nelson was an alto saxophonist, composer, and arranger whom Taylor teamed with a sextet that included rising jazz stars Eric Dolphy, Freddie Hubbard, and Bill Evans. The resulting album – modern, cool, and sophisticated – was stunning, particularly the opening cut, "Stolen Moments."
Impulse! Records was up and flying, and its sixth album, the final one helmed by Taylor, would raise the label's profile even higher. It was called Africa/Brass and was the label's first release by saxophonist John Coltrane, whom Taylor had brought to the label after buying out his Atlantic contract.
By the time Africa/Brass, which showcased Coltrane's quartet augmented by a larger ensemble, was in the shops in September 1961, Creed Taylor was no longer working for Impulse! He'd been headhunted by Verve, which had begun as an independent label established by Norman Granz in 1956 only to be sold to MGM in 1961.
A "musical mega nova": the Bob Thiele era
The loss of Taylor was great, but not catastrophic. In his place came Bob Thiele, a different kind of producer who was seven years older than Taylor and had been in the music business for longer. Having owned his own label, Signature, in the 40s, and worked for Decca (he signed Buddy Holly to their Brunswick imprint), Thiele was vastly experienced. He was already working for ABC in 1961, having produced pop acts Frankie Laine and Della Reese; a self-proclaimed "jazz freak," Thiele couldn't turn down the chance to run Impulse!
His first project at the helm of Impulse! Records was John Coltrane's "Live" At The Village Vanguard album. The recording, captured at the historic New York jazz venue, was the saxophonist's most exploratory album at that point, and Thiele described it as a "musical mega nova": the jazz equivalent of the big bang.
Spiritual (Live From Village Vanguard/November 2,1961)
Though at first unnerved by the intensity of Coltrane's music, Thiele experienced something akin to an epiphany hearing the saxophonist live and began to understand where Coltrane was coming from. The two became unlikely friends and formed a musical alliance based on trust. Thiele realized Coltrane's profound importance to jazz – and to Impulse! – and made him the lynchpin of the label as it moved forward in the 60s. He would oversee the saxophonist's masterpiece, A Love Supreme, recorded in 1964, which remains the label's biggest-selling album of all time.
Under Bob Thiele's stewardship, Impulse! Records blossomed from 1962 onwards with a tremendously varied catalogue of releases. The label issued albums by young rising stars such as pianist McCoy Tyner and drummer Elvin Jones – who were both important members of Coltrane's quartet – along with trumpeter Freddie Hubbard, but also gave established musicians such as Quincy Jones, Charles Mingus, Sonny Rollins, Milt Jackson, Max Roach, Roy Haynes, and Shelly Manne opportunities to make albums. They didn't leave out jazz's old guard, either, as albums by Duke Ellington (who collaborated with Coltrane on the album Duke Ellington And John Coltrane), Benny Carter, Coleman Hawkins, Johnny Hodges, and Earl Hines all attested. Thiele signed singers to Impulse!, too, exemplified by the presence of Freda Payne (six years before she scored a global pop hit with "Band Of Gold"), Lorez Alexandria, Johnny Hartman, and Jackie Paris.
Free jazz and the rise of the avant-garde
Such was Coltrane's profound influence on the label that his death, aged 40, from liver cancer, in 1967, might have been a threat to a lesser label, but Impulse! Records had a strong roster of talent willing to follow in the saxophonist's footsteps and push the boundaries of jazz even further. Among the more radical musicians signed by Thiele was Archie Shepp. The saxophonist initially spent six years with Impulse!, from 1964-1969, during which time he released 11 very varied albums. His music grew more politicized as the decade wore on, blending avant-garde flavors with soul, funk, and African influences (Shepp would return for a second stint at Impulse! in the early 70s).
Damn If I Know (The Stroller)
Another important signing was free jazz maven Albert Ayler, who recorded five albums for Impulse! between 1966 and 1969. Influenced by gospel hymns and marching bands, Ayler's music was deeply spiritual but not as truly cosmic, perhaps, in its scope as the recordings made for Impulse! by Pharoah Sanders, a former Coltrane sideman, who made his debut for the label with the album, Tauhid, in 1967.
Sanders produced long, meditative soundscapes in which eerie, sometimes screaming and squawking saxophone lines contrasted with bell-laden laidback grooves driven by African percussion. Like Archie Shepp, Sanders created a unique sound that reflected his own life and the turbulent, uncertain times he lived in. Those times were characterized by a revolutionary fervor that could be felt in the very DNA of Impulse!'s recordings as the 70s dawned. It was at that point that the label signed Ornette Coleman and released two live albums (Ornette At 12 and Crisis) by the Texas saxophonist whose music had sounded the death knell for bebop when he released his free jazz manifesto, The Shape Of Jazz To Come, in 1959.
Rise of the avant-garde: Impulse! in the 70s
By then, Impulse! Records – whose parent company, ABC, had moved from New York to Los Angeles – focused more on recording avant-garde music, despite the fact that two new subgenres of jazz, fusion, and jazz-rock, were beginning to have a big commercial impact in the wake of Miles Davis' 1970 game-changer, Bitches Brew, which plugged jazz into the mains socket. At that point, however, Bob Thiele had left to set up his own label, Flying Dutchman, leaving producer Ed Michel with the responsibility of keeping Impulse! afloat.
Michel had inherited a strong roster of talent. The label's stalwarts, Shepp and Sanders, continued to record for Impulse! – one of Shepp's most important records was 1972's protest album Attica Blues – as did pianist Ahmad Jamal, and they were joined in the early 70s by horn men Gato Barbieri, Marion Brown, and Sam Rivers, plus rising piano star Keith Jarrett. The label also continued to explore a cache of previously unissued Coltrane recordings with regular archival album releases.
But a more significant addition to the label's roster was John Coltrane's wife, Alice. Her debut for Impulse!, 1968's Cosmic Music, combined some of her husband's recordings (overdubbed with strings) with her own, but thereafter Alice emerged from beneath John's shadow, creating deeply spiritual music that married jazz with Eastern mysticism. Alice has earlier replaced McCoy Tyner on piano in Coltrane's quartet, but now she turned to the harp and electric organ as her two main instruments on her solo albums, which ranged from intimate small-group recordings (1968's A Monastic Trio) to epic, orchestral works (1972's World Galaxy).
Alice Coltrane's last release for Impulse! was a double-album compilation, Reflections On Creation & Space: A Five Year View, released in 1973, but the label continued to fly the flag for cutting-edge jazz.
Impulse! Records enters the mainstream
Though the spirit of adventure and devotion to bringing its artists' musical vision to life was unchanged, by the mid-70s, Impulse! releases were no longer presented in gatefold sleeves. Also, the iconic orange-and-black color scheme had been dispensed with and the Impulse! logo redesigned. In 1975, when ABC's staff were subject to a complete overhaul in the name of streamlining, Ed Michel left the label. He was replaced by Edmond Edwards, who, ironically, had replaced Creed Taylor at Verve in 1967, and had also helmed John Coltrane's debut Prestige album ten years before that.
Edwards didn't have the substantial budgets of Taylor, Thiele, and Michel, and, as a result, Impulse!'s release schedule slowed down. He also began to focus on more mainstream jazz. Edwards signed hard bop trumpeter Blue Mitchell, along with soul-jazz saxophonist John Handy, pianist/singer Les McCann and vocalists Bobby Bland and Gloria Lynne, plus blues legend BB King. In doing so, he created a new identity for the company. When Edwards' two-year contract expired in 1977, however, ABC was bought by MCA, and Impulse! was mothballed. It was, however, revived in 1986 as an imprint of MCA, resulting in several new albums (by Michael Brecker and Henry Butler) as well as reissues of classic catalogue titles.
Four years later, MCA acquired jazz indie GRP, ostensibly a smooth jazz fusion label founded by Dave Grusin and Larry Rosen in 1978, which was given the responsibility for looking after the Impulse! catalogue. By the mid-90s, GRP was not only reissuing classic titles from Impulse!'s discography – he also decided to reactivate the label by signing McCoy Tyner, Horace Silver, and rising jazz star Diana Krall to record new albums which bore the famous orange-and-black designs.
Impulse! in the 21st Century
In 2000, MCA – and by association, its imprints GRP and Impulse! – changed ownership in a corporate merger that saw it assigned to Verve under the umbrella of Universal Music Group. Since then, a host of classic Impulse! albums have been reissued on both CD and vinyl. In addition, there have been several special archival releases, the most remarkable of which was the discovery of a previously unheard Coltrane studio album recorded in 1963 and which was released in 2018 as Both Directions At Once: The Lost Album.
Now Impulse! is a fully active label again, and those on its current roster include Sons Of Kemet and The Comet Is Coming, two very contrasting bands led by acclaimed UK reed man Shabaka Hutchings. Also signed to the label are American pianist Sullivan Fortner, Spanish singer and trumpeter Andrea Motis, and 91-year-old saxophonist Lee Konitz.
The Comet Is Coming - Summon The Fire
Decades after its inception, Impulse! Records is still a force to be reckoned with. It not only has a rich history, but also, if its current talents are anything to go by, there's a bright future in store. While John Coltrane was undoubtedly a central character in Impulse! Records' history, he was one of many musicians that have helped to shape the label's sonic identity and steer its destiny through six decades of change.
In its initial incarnation, Impulse! Records blended an indie-style hipness and cool sense of street cred with substantial major-label investment. It was able to balance the books and please the accountants by refusing to do the obvious and sacrifice artistic expression for commercial gain. Adhering to its core values the label was true to the music and served the artist.
Now, Impulse! Records' revered and much-loved orange-and-black design scheme has returned – and so has its original logo. Impulse! is definitely back. But then it's never really been away, has it?
Buy the Impulse Records: Music, Message and the Moment box set here.