What Is Bebop? Deconstructing Jazz Music's Most Influential Development
The term is well-known, but many jazz newcomers often ask: what is bebop? And why is it hailed as the most important development in jazz? Here's the story.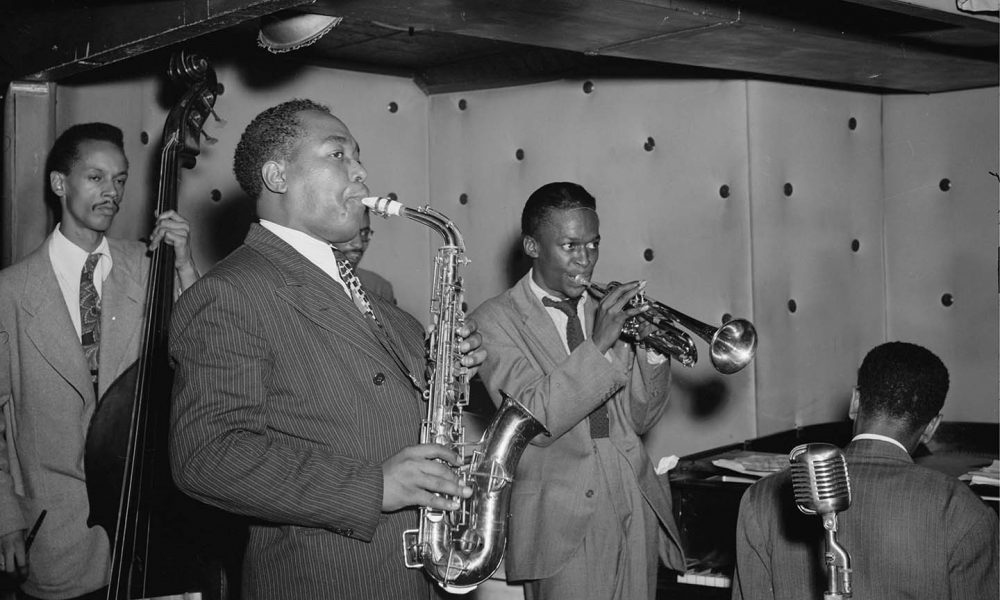 What is bebop? The Big Apple certainly didn't know what hit it when Charlie Parker blew into town like a tornado and shook the jazz scene to its very core. It was 1942, and the 22-year-old alto saxophonist from Kansas City, then playing in pianist Jay McShann's band, was blowing his horn in a way that had never been heard or seen before. Molten melodic lines poured out of him in a rapid-fire torrent of improvisation that took virtuosity to a new level.
Parker, who in his own words had been "bored with the stereotyped [chord] changes that were being used," found a kindred spirit in trumpeter Dizzy Gillespie, with whom he played in Earl Hines' band later the same year. Together, their sonic explorations, which developed rapidly during the next three years, would sow the seeds for what became known as bebop.
While you're reading, listen to our Bebop Jazz playlist here.
What is bebop?
Bebop, as the revolutionary new style and sound eventually came to be known (the origin of the word "bebop" partly stems from a nonsensical word used in improvised scat singing) grew as both an offshoot of and reaction to big band swing music, which was dominated by propulsive dance rhythms. In bebop, though, the rhythmic emphasis was switched from the bass drum to the more subtle hi-hat and ride cymbal, which allowed greater rhythmic fluidity (drummers Kenny Clarke and Max Roach were the chief instigators of this new approach). In the hands of bebop musicians, jazz became more blues-oriented and riff-based too; and because Parker and Gillespie were able to marry their supreme technical ability with their knowledge of advanced music theory, what resulted was a new type of jazz defined by extended solos and whose harmonic language was denser and richer than ever before.
This meant that soloists really had to be sharp-witted, well-prepared, and know their scales inside out, especially when the chord changes came thick and fast (as was the norm with bebop). It's worth noting that tenor saxophonist Coleman Hawkins anticipated the improv aspect of bebop when he recorded the song "Body & Soul" in 1939, in which he briefly stated the main melody before embarking on a long improvisation that bore little resemblance to the main theme. It proved to be a profoundly influential recording for aspiring saxophonists.
But bebop – or "rebop," as it was also known for a time – wasn't to everyone's taste. As it wasn't danceable – it was usually played too fast for that – those who had enjoyed swing jazz found it of little interest and too intellectual. Indeed, bebop, with its improvisatory ethos and demand for virtuosity, insisted upon being perceived as an art form. But the elitist, self-conscious artiness, and cerebral aspect of what is bebop alienated many listeners. Jazz was no longer carefree, happy-faced, radio-friendly music functioning as an escapist soundtrack, but had become something deeper and almost visceral. Musicians the likes of Parker and Gillespie considered themselves artists rather than entertainers, and sought to distance themselves from black music's showbiz traditions.
A jazz revolution
A recording ban by the US musicians' union between 1942 and 1944 (they were striking to get a better royalty rate from the recording companies) meant that the birth pangs of bebop were initially not well documented on record, but when the ban was lifted, the floodgates opened. Parker and Gillespie recorded together; separately; and with singer Billy Eckstine's Orchestra, which helped incubate bebop in the mid-40s. The interest in bebop and "modern jazz" among young jazz musicians grew rapidly, and soon Parker and Gillespie were at the forefront of a jazz revolution in whose vanguard were trumpeters Miles Davis and Fats Navarro, saxophonists Dexter Gordon, Sonny Stitt and James Moody, and pianists Bud Powell and Thelonious Monk. (The latter, though initially deemed a bebopper, quickly established his own unique style that defied easy categorization.)
It was mostly small indie labels that issued bebop recordings in the early days, but as this new music gained credence and popularity as the 40s became the 50s, bigger companies began to get involved during what is bebop's Golden Age.
But by then, bebop, like all music forms, was evolving and changing. Miles Davis, at 22, was already bored by bop and wanted to try his hand at something else. He recorded some singles across 1949 and '50 that eventually became an album called The Birth Of The Cool. Miles put together an ensemble that was larger than the customary bebop small group and made music that was less aggressive than what Parker and Gillespie were doing. He also played at a slower tempo – and, crucially, he reduced the intensity and temperature a few degrees. This became the blueprint for West Coast cool jazz, which would be popular in the 50s.
Some jazz musicians also married bebop with classical music, among them The Modern Jazz Quartet, whose elegant, chamber jazz style was dubbed Third Stream Music.
Meanwhile, on the US East Coast in the 50s, audiences still liked bebop that packed heat and drama. By the middle of that decade, there emerged a variant of bebop called hard bop, which was characterized by dominant blues and gospel elements, and may have rendered those still wondering what is bebop even more confused.
Freedom of expression
Hard bop became the most popular form of jazz in the 50s, and among its main practitioners were Miles Davis – who, ever the restless soul, quit the cool school soon after it started – Clifford Brown, Sonny Rollins, Charles Mingus, Hank Mobley, Horace Silver, Art Blakey & The Jazz Messengers, Sony Stitt, John Coltrane, Art Pepper, Wes Montgomery, Kenny Dorham, Sony Stitt, and myriad others. (By this time, bebop's king, Charlie Parker, was dead, having passed away in 1955, aged 34).
Moment's Notice (Remastered 2003/Rudy Van Gelder Edition)
Hard bop remained a valid jazz currency right into the 60s, though by then another offshoot, called soul jazz, offered a more accessible and gospel-infused version of bebop, and was popular for a few years. But jazz as a whole was losing its audience to rock and pop music. With the rise of avant-garde jazz, the music continued to shed its mainstream appeal, though every now and then the occasional jazz record would infiltrate the pop charts.
Even though fusion and jazz-rock further diminished bebop's appeal in the 70s, there were still musicians who played it, and there was even a mini-revival of interest in it during the late 70s and early 80s, when acoustic, bop-influenced jazz was once again in vogue.
Today, in the 21st Century, we are officially living in a post-bop era, but, amazingly, the music that Charlie Parker and Dizzy Gillespie helped to create over 70 years ago refuses to go away. Traces of its DNA can be found in the music of cutting-edge contemporary jazz artists such as Robert Glasper, Brad Mehldau, Ambrose Akinmusire, and Kamasi Washington.
So what is bebop? Looking back, it's much more than the received image of berets, goatee beards, hepcat slang, and hard drugs. Bebop was about freedom of expression and escaping the harmonic and melodic restraints imposed by the old musical order – and, thanks to what is bebop music's lasting legacy, that's something that can still be said of jazz today.
For more essential jazz, listen to the Jazz Giants playlist on Spotify.