Good Vibrations: 25 Of The Best Jazz Vibraphonists
From dazzling virtuosos to groundbreaking innovators, these are some of the best jazz vibraphonists to ever grab the mallets.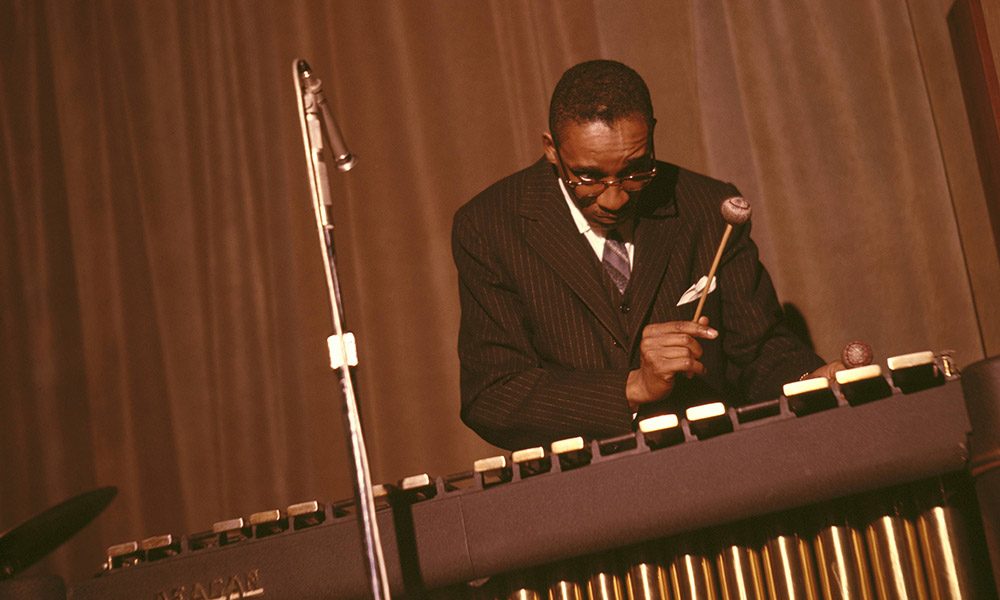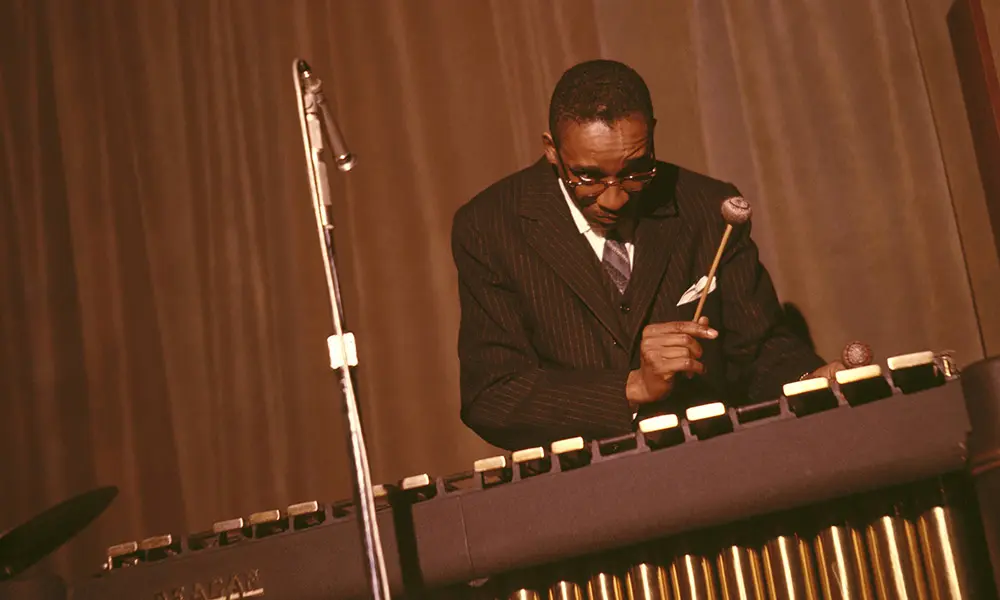 Nothing sounds cooler in jazz than the limpid, bell-like chimes of a vibraphone as its notes cascade over a swinging groove. But jazz wasn't on instrument maker Herman Winterhoff's radar when he conceived the vibraphone in 1916 as a device that combined the resonance of a pipe organ with the attack of a marimba, a percussion instrument played with mallets. His experiment resulted in a contraption that used metal bars configured in a three-octave keyboard layout on a frame; but his major innovation was installing a small motor (the type used on record players of the time), whose speed determined the strength of the vibrato effect that gave the instrument its name.
When the first vibraphones (or vibraharps as they were sometimes known) came off the production line eight years later, their otherworldly sound meant that they were initially used on novelty recordings but in 1930, drummer Lionel Hampton, who also played the xylophone, came across one in NBC studios in New York during a recording session with Louis Armstrong. The New Orleans trumpeter was intrigued by its sound and allowed Hampton to play it on the song "Memories Of You." Thus began the vibraphone's long association with jazz. Hampton, of course, quickly realized the instrument's expressive capabilities and deployed it as a frontline lead instrument. His virtuosic showmanship established the stylistic blueprint for vibraphone playing in jazz, and in his wake came a raft of other talented innovators who helped to take the music beyond swing to bebop, Latin jazz, and ultimately free jazz.
Below is a countdown of the 25 best jazz vibraphonists, ranging from the great trailblazers of the past to today's generation of mallet maestros who are keeping the instrument alive and relevant in the 21st century.
Check out some of the greatest jazz albums on vinyl here.
25: Sasha Berliner
Starting out playing drums at eight years old, San Francisco-born Berliner is a composer and educator who got hooked on jazz at an early age and switched to the vibes at 13. As her striking 2019 debut album, the critically lauded Azalea showed, Berliner blends post-bop jazz stylings with elements from different genres; she also often uses the vibraphone as a textural instrument, creating atmosphere by building layers of glinting color. In 2020 she was named Downbeat's Rising Star of the vibraphone.
24: Mulatu Astatke
Africa's premier vibes maestro, Astatke was born in Ethiopia, but his passion for music took him to study in London, New York, and eventually Boston, where he won a scholarship to the Berklee College of Music. In the mid-'60s, Astatke's interest in Latin music inspired a unique fusion of Ethiopian and Hispanic styles which he dubbed "Afro-Latin Soul" and later, he created his own sound, "Ethio Jazz," defined by Afro-Asian pentatonic scales blended with American jazz-funk syncopations and percolating Latin rhythms. Since 2010, Astatke's career has been rejuvenated by collaborations with The Heliocentrics and Black Jesus Experience.
23: Christos Rafalides
A graduate of Boston's Berklee College Of Music, New York-based Rafalides originally hails from Greece. He started out as a classical pianist but switched to percussion as a teenager and played with several Greek orchestras before his passion for jazz took him to America. As a vibraphonist, he studied under Joe Locke (with whom he later made an album) and since 2002 has fronted a band called Manhattan Vibes, whose trademark is blending jazz with R&B, Latin, and world music.
22: Yuhan Su
Taiwan-born Su has been living in the USA since 2008, when she moved to Boston to study at the city's prestigious Berklee College of Music. She relocated to New York where she made her debut recording for saxophonist Greg Osby's Inner Circle label in 2013 and five years later released her award-winning third album, City Animals; the same year, she was voted by Downbeat's critics as a Rising Star of the vibraphone. Composing and playing in an advanced post-bop style, Su balances her ferocious four-mallet technique with a deep sense of emotional expression.
21: Joel Ross
One of the most exciting new vibraphonists on the block is this Chicago-born musician, a protégé of Stefon Harris. Ross started out playing drums, then switched to the xylophone before discovering his affinity for the vibes. As a sideman, he contributed to records by drummer Makaya McCraven and trumpeter Marquis Hill's Blacktet before signing a deal with Blue Note that produced the acclaimed albums Kingmaker (2019) and Who Are You? (2020). Stylistically, he's very much from the Bobby Hutcherson school of vibes; tethered in the jazz tradition but also innovative, pushing the music forward and expanding his instrument's vocabulary.
20: Warren Wolf
Originally from Baltimore, Wolf was a child music prodigy who learned an array of instruments (including the vibes) at a young age and eventually studied at the Berklee College of Music. He launched his own recording career in 2005, impressing with a series of carefully conceived albums that demonstrated his compositional skill as well as his adroit mastery of the vibraphone. Though his influences are wide and range from Cannonball Adderley to Prince and Tupac, Wolf's music is rooted in the jazz tradition and offers a contemporary update of hard bop.
19: Lem Winchester
From Wilmington, Delaware, Winchester was a rising vibraphone star when his career met a tragically premature end in 1961 after he accidentally shot himself while executing a gun trick. Up until 1960, he had been a policeman but his triumphant debut at the 1958 Newport Jazz Festival had convinced him that music was where his destiny lay. Playing the vibes with a bluesy swagger, Winchester was heavily influenced by Milt Jackson and went on to record albums with the Ramsey Lewis Trio, saxophonist Benny Golson, and arranger Oliver Nelson.
18: Emil Richards
A master percussionist from Hartford, Connecticut, Richards (born Emilio Radocchia) started out playing the xylophone as a child before his interest in the music of Lionel Hampton prompted a switch to the vibes. His career took off in New York during the late 50s, where he played with George Shearing's group. Relocation to the US West Coast saw him join saxophonist/flautist Paul Horn's combo before becoming an in-demand session player who played on myriad movie and TV soundtracks. A supremely versatile and prolific vibes player with a gorgeously translucent sound, Richards' credits ranged from Frank Sinatra to Frank Zappa.
17: Mike Mainieri
This native New Yorker made his debut as a professional musician aged 14, playing the vibes in a small combo led by legendary jazz bandleader Paul Whiteman before joining drummer Buddy Rich's band, where he stayed between 1956 and 1963. After that, Mainieri began a solo career, playing in a decidedly hard bop vein, but by the late 60s, he was experimenting with jazz-rock while pioneering an electric-powered instrument called a synth-vibe. In 1979, he formed the popular all-star fusion band Steps, which later morphed into the long-running Steps Ahead and is still going strong today. A flexible musician, Manieri's credits range from jazz guitarist Wes Montgomery to Dire Straits and Paul McCartney.
16: Joe Locke
One of the leading vibraphone specialists of the 21st century, Palo Alto-born Locke began his recording career as a teenage sideman with alto saxophonist John Spider Martin in 1977. After spells with pianist Kenny Barron and trumpeter Eddie Henderson in the 80s, Locke's own recording career began in earnest in 1990 where his amalgam of scintillating melodic lines with pastel-hued harmonies and swinging grooves quickly made him a rising vibraphone star of the post-bop jazz scene. Influenced by Milt Jackson and Bobby Hutcherson, Locke's ability to acknowledge the jazz tradition while propelling the music forward, has won him many admirers.
15: Marjorie Hyams
There's no doubt that New York-born Hyams would be a better-known musician if she hadn't retired prematurely; putting away her mallets when she married in 1950 at the age of 27. Her time in the spotlight was a brief but spectacular one; besides leading her own groups, she rose to fame playing with reed meister Woody Herman, saxophonist Flip Phillips, and pianist Mary Lou Williams, all in the 1940s. Her last engagement was as a charter member of the George Shearing Quartet between 1949 and 1950, when her sprightly vibes contributed to the group's unique and influential blend of swing and bebop. Despite her early retirement, she remains one of jazz's significant female pioneers.
East Of The Sun (And West Of The Moon)
14: Gary McFarland
Born in Los Angeles, McFarland dabbled with the trumpet, trombone, and piano before turning to the vibraphone in his early 20s. In the 1960s, he became an in-demand composer and arranger who was noted for his silky orchestrations and distinguished collaborations with the jazz heavyweights Stan Getz, Bill Evans, and Gabor Szabo. Blending jazz with Latin music, pop, easy listening, and psychedelia, he brought a new post-bop sensibility to the vibraphone in a jazz setting.
13: Red Norvo
Bearsville, Illinois was the birthplace of Kenneth Norville who as "Red Norvo," a multi-talented percussionist (he also played the marimba), helped to legitimize the vibraphone in jazz. Dubbed "Mr. Swing," Norvo's career gained traction in the 1930s during the big band era when he scored several chart-topping singles. In the 50s he focused more on the vibes, playing bebop-inflected chamber jazz in smaller groups whose members included bassist Charles Mingus and guitarist Tal Farlow. Norvo's stellar career came to a halt in the 1980s after he was incapacitated by a stroke.
12: Dave Pike
Heavily influenced by the bebop argot of Milt Jackson, Detroit-born Pike played with a mixture of flamboyant brio and nuanced sensitivity during a recording career that spanned seven decades. A drummer-turned-vibraphonist, Pike first made his mark as a member of pianist Paul Bley's quartet in 1957 before launching his solo career in 1961. At the start of the 70s, Pike led The Dave Pike Set, jettisoning bop for an explorative mesh of jazz-rock, South Asian music, and even avant-garde experimentalism.
11: Terry Gibbs
Born Julius Gubenko in Brooklyn, Gibbs began as a drummer/percussionist and turned down an opportunity to study classical timpani at Juilliard to pursue a career as a jazz musician. Influenced by the extrovert vibes playing of Red Norvo and Lionel Hampton, he cut his teeth in Woody Herman's band and by the 1950s was making bebop-influenced records under his own name. A gifted vibraphone player, Gibbs could play fast melodic lines with clarity and precision but balanced his prodigious technique with a delicate emotional sensitivity.
Flying Home (Live At The Seville and Sundown / 1959)
10: Buddy Montgomery
The younger brother of jazz guitar icon, Wes Montgomery, Indianapolis-born Charles "Buddy" Montgomery began his career in the late 1940s, playing as a pianist with blues singer Big Joe Turner. In 1956, Montgomery switched to the vibraphone and formed The Mastersounds which included his older sibling, bassist Monk; during the same period, he recorded alongside his two older siblings as The Montgomery Brothers and briefly joined Miles Davis' group. In the late 60s, he launched his solo career and later became a jazz educator. His blues and bop-based approach to the vibes reflected the influence of Milt Jackson.
9: Roy Ayers
Los Angeles-born Ayers was five years old when his parents took him to a Lionel Hampton concert. Afterwards, he met the vibraphonist, who presented him with a pair of mallets; it was an experience that ignited Ayers' lifelong love affair with an instrument that he later became synonymous with. A sideman to flautist Herbie Mann, pianist Jack Wilson, and saxophonist Curtis Amy in the 60s, Ayers career took off in the 1970s when he led a group called Ubiquity, which allowed him to pioneer an explorative jazz-funk style and reframe the vibraphone in a post-bebop world.
8: Stefon Harris
One of the exciting jazz discoveries of the late 90s, Albany-born Harris was indebted to vibraphone pioneers Milt Jackson and Bobby Hutcherson but was able to distill their influences and fuse them with Latin and R&B elements to arrive at a style that is very much his own. Rhythmically fluent and harmonically astute, Harris attacks his instrument with an infectious energy that has helped to revitalize public interest in the jazz vibraphone in the 21st century.
7: Walt Dickerson
Like Bobby Hutcherson, Dickerson was a key figure in aiding the vibraphone's transition from bebop to freer modes of jazz expression. Born in Philadelphia, he pioneered a unique approach to the vibraphone where he used unusually small mallets which he held close to the hammers that allowed him to play cascades of notes with extreme velocity. Starting as an exponent of hard bop, the influence of John Coltrane inspired him to explore jazz in a post-bop vein in the first half of the 60s before he took a decade-long sabbatical. On his return to the jazz scene in 1976, he became immersed in free jazz.
6: Johnny Lytle
From Springfield, Ohio, Lytle began his career as a drummer for Ray Charles and Gene Ammons before taking up the vibraphone in 1955. His solo career began five years later, when noted record producer Orrin Keepnews signed him to Jazzland, an imprint of the Riverside label. Initially playing in a hard bop style, by the 70s, Lytle was refashioning his vibes in a more progressive, jazz-funk-fusion context. His ability to execute fast passages with a showman-like panache purportedly prompted Lionel Hampton to dub him "the greatest vibes player in the world."
5: Cal Tjader
Despite his Swedish ancestry, St. Louis-born Tjader – a former drummer for Dave Brubeck and vibraphonist for George Shearing – became an unlikely doyen of New York's Latin jazz scene; his career taking off when an infectious bout of mambo fever gripped the Big Apple in the mid-'50s. Later, Tjader married California cool with Latin heat, forging a distinctive sound that was sultry yet breezy. He hit the lower rings of the US Hot 100 in 1965 with his single "Soul Sauce," a revamp of Dizzy Gillespie's Afro-Cuban groove, "Guachi Guaro."
4: Gary Burton
A self-taught vibraphonist, Indiana native Burton brought a post-bebop jazz sensibility to the language of his instrument when his career began as a teenager at the dawn of the 1960s. He played with saxophonist Stan Getz and pianist George Shearing early on and then with his own band, became an early pioneer of jazz-rock in the late 60s. His renown increased in the 70s via album collaborations for ECM Records with pianists Keith Jarrett and Chick Corea. Like his contemporary Bobby Hutcherson, Burton revolutionized vibraphone playing using four mallets (as opposed to the customary two), widening the instrument's harmonic palette and expressive capability.
3: Lionel Hampton
From Louisville, Kentucky, the much-decorated "Hamp" learned the xylophone as a teenager but began his professional career as a drummer with the Les Hite Band. He switched to the vibraphone in 1930 when Louis Armstrong heard him recreating one of his trumpet solos on the instrument. Establishing the blueprint for the vibraphone in a jazz context, Hampton rose to fame in the swing era with Benny Goodman's band before launching a successful solo career in 1940. Noted for his liquid mallet runs, Hampton played the vibes with a joyful élan and irrepressible sense of swing.
2: Bobby Hutcherson
Inspired to save up for a vibraphone after hearing a Milt Jackson record when he was 12, this versatile Los Angeles-born mallet maestro bridged the divide between bebop, modal, and free jazz. Renowned for the quicksilver fleetness of his melodic lines, shimmering harmonies, and compositional flair, Hutcherson's career took off at Blue Note Records where he forged a remarkable solo career in the 60s and 70s. Using his vibes to create an impressionistic kaleidoscope of color, texture, and atmosphere, his playing was crucial to the sound of several seminal avant-garde jazz records in the early 60s; among them, Eric Dolphy's Out To Lunch and Jackie McLean's Destination…Out!
If Ever I Would Leave You (1999 Digital Remaster; Remixed and Digital Remaster 1999)
1: Milt Jackson
A Detroit-born musician whose nickname was "Bags," Milt Jackson was an aspiring gospel singer and pianist who switched to the vibraphone as a teenager after hearing Lionel Hampton play in Benny Goodman's band. He helped lead the bebop revolution in the 1940s when he joined trumpeter Dizzy Gillespie's band. From that alliance sprang his own quartet which eventually became the long-running Modern Jazz Quartet, famed for their elegant chamber jazz sound. An extremely dextrous player, Jackson melded blues, bebop, and classical music influences into a unique style defined by his cool, crystalline melodies and a glassy, chime-like sound.
Build your jazz vinyl collection with classic titles and under-the-radar favorites featuring the best vibraphonists.