Dire Straits
As the creation of Mark Knopfler, they successfully blended blues-based influences along with country and rock into an instantly timeless mix of atmospheric album tracks, combined with populist, catchy and massive-selling singles.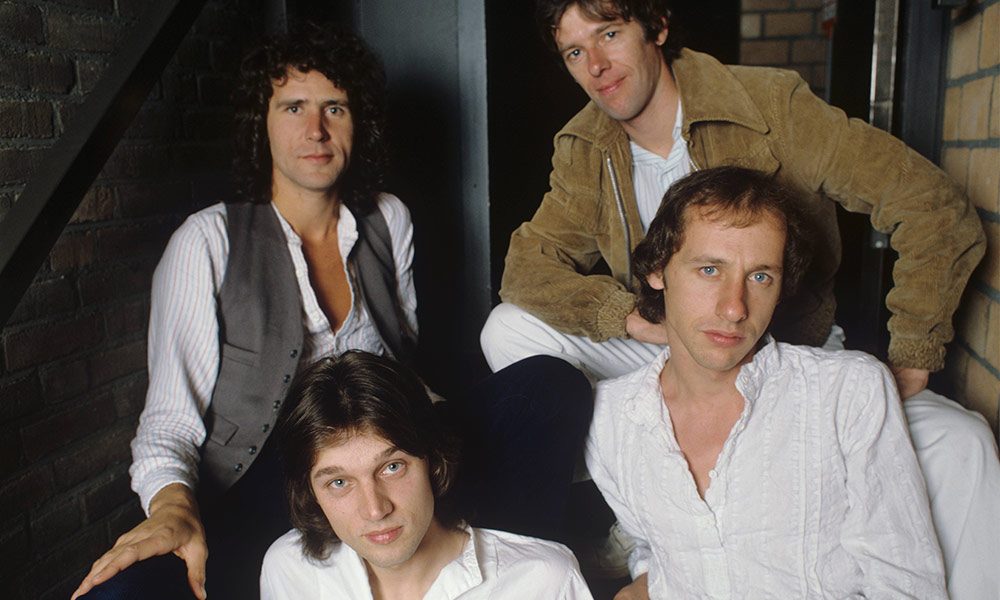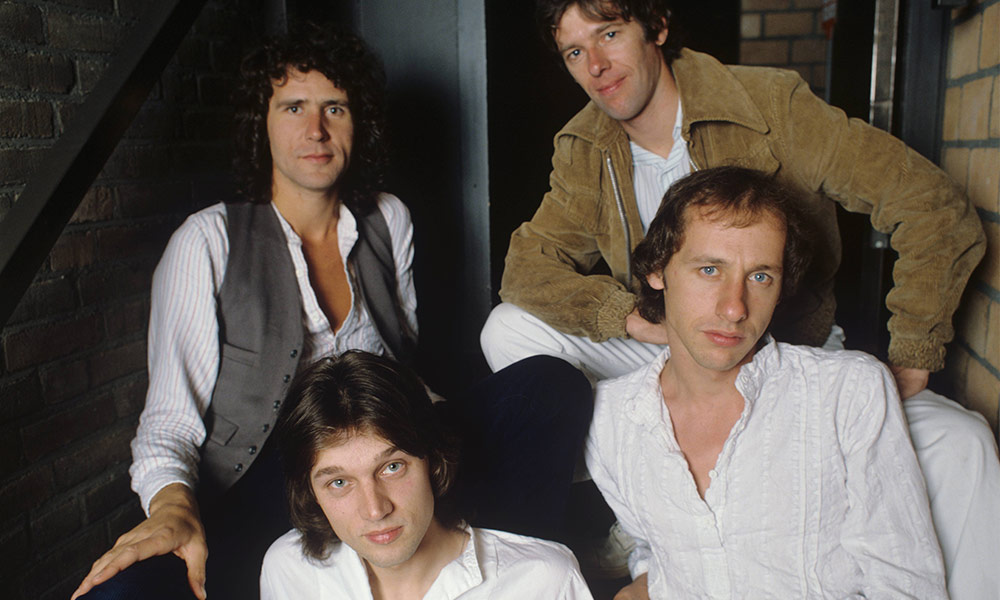 Dire Straits have been acknowledged as one of the most intelligent and original bands of their era. As the creation of Mark Knopfler, they successfully blended blues-based influences along with country and rock into an instantly timeless mix of atmospheric album tracks, combined with populist, catchy and massive-selling singles. Although they will rightly always be remembered for their sixth studio album, Brothers In Arms, there is so much more to discover in their discrete, influential catalogue.
Mark Knopfler was born in Glasgow on 12 August 1949, before relocating with his family to Blyth, Northumberland at the age of seven, where he attended Gosforth Grammar School with his younger brother David. Both brothers were enchanted by music: Mark joined various school outfits and David was singing in folk clubs by his mid-teens. In 1967 Mark studied journalism at Harlow Technical College, and subsequently became a junior reporter on the Yorkshire Evening Post. At the turn of the 1970s, Knopfler went to study English at Leeds University. It was during this period that Knopfler and Steve Philips formed a duo, The Duolian String Pickers. Relocating to London, Knopfler joined Brewer's Droop after answering an advert in Melody Maker. He recorded with them and made the acquaintance of their drummer, Pick Withers. While Knopfler taught at Loughton College, he kept his hand in with pub band, Cafe Racers. David Knopfler, who had been to Bristol Polytechnic, came to London to work as a social worker.
In April 1977, Mark Knopfler moved to Deptford, South London, to join David, and his flatmate, John Illsley, who was proficient on bass. With Knopfler's stockpile of songs, they enlisted Pick Withers on drums and were christened Dire Straits by a friend of Withers. A unique mixture of rock, country, soul and funk, they were championed by BBC London DJ Charlie Gillett, who heard their five-song demo tape and played it on his Honky Tonk show. On the strength of the tape, by October 1977 the group had signed with Phonogram Records, enlisting veteran producer Muff Winwood to produce their first album. Dire Straits emerged at the time of new wave, and to the untrained eye, looked hardly any different to the premier art-punk bands of the day, Television and Talking Heads. The group supported Talking Heads on tour, and Straits' chippy, angular take on artists such as JJ Cale chimed with the times. A review of one of their January 1978 gigs, by Chas DeWhalley in Sounds, quickly spotted Mark Knopfler's greatness, saying he "leads his four-piece band twisting and turning his body, jabbing his elbows and bending his fingers into the most fearsome of chordal inversions and then slipping in and out of the rhythms like an escapologist extraordinaire."
Released in mid-1978, their self-titled debut album seemed somewhat out of kilter with the times, and indeed, after a modest beginning, did not initially perform strongly in the UK. It was only when Warner Brothers became interested in the band in the US, and their concerts over there were well-received, that word began to spread back to their home country. The re-released 'Sultans Of Swing' became an enormous hit, and increasing numbers enjoyed the mellow jaggedness of the group's debut. The album reached No. 5 in the UK charts and stayed on the listings for a remarkable 132 weeks. In the US they became a critical and commercial sensation. Such was their success that Bob Dylan invited Mark Knopfler and Pick Withers to play on his Slow Train Coming album.
Produced by R&B legend Jerry Wexler, Dire Straits' second album, Communique, is the great, unearthed gem in their catalogue. Although a sizeable hit at the time, it has been somewhat overlooked because of the scale of what went before and what was to happen next. Wexler had been impressed, as he wrote in his autobiography, "Mark Knopfler is a remarkably versatile guitarist and a luminous musical mind – Dire Straits was an example of how funky Englishmen can be when they pay attention.
David Knopfler was to leave the group in 1980 during sessions for their next album, Making Movies. Recorded with Jimmy Iovine, the album contained Knopfler's next classic, 'Romeo And Juliet', a perfect everyman love song that became a worldwide hit, as well as stage favourites 'Tunnel Of Love' and 'Solid Rock'. The group's sound was becoming more expansive, and the presence of keyboard player Roy Bittan added a touch of Bruce Springsteen's sound into the mix. Love Over Gold showed the group developing further. Releasing an album with a 14-minute opening track in 1982 was not exactly fashionable, but then that was something Dire Straits never worried about. Dense, atmospheric and unusual 'Telegraph Road' demonstrated how far outside the mainstream Knopfler was happy to work. The album's lead single, 'Private Investigations', a moody, seven-minute semi-spoken piece, became the group's biggest single hit to date, reaching No. 2 in the UK charts. After the album sessions concluded, Pick Withers left the group to pursue individual projects. He was replaced by ex-Man drummer Terry Williams. The worldwide tour that followed spawned the much-loved 1984 double live album, Alchemy, recorded at Hammersmith Odeon the previous year. But nothing could compare to what happened next…
It had been a tremendous journey. For Knopfler, the way to follow up such a multi-million hit was simple: do nothing. Aside from playing the Nelson Mandela birthday concert in June 1988 and a chart-topping greatest hits collection, Money For Nothing, the group was mothballed until 1991. Knopfler had fun with side project the Notting Hillbillies, and he issued an album with one of his musical heroes, Chet Atkins. In 1991 Knopfler and Illsley reconvened with long-term keyboard players Guy Fletcher and Alan Clark and a variety of musicians to make On Every Street, which was released in September 1991. Had it been released by anyone else, it would have been a much-loved and well-received album. In the wake of Brothers In Arms, comparisons were out before a note of music was heard. It reached No. 1 in the UK and No. 12 in the US. Singles 'Calling Elvis' and 'The Bug' were interesting and sprightly but failed to connect with a mass audience. The supporting tour certainly did, however. Over seven million people saw the group on the tour, which started in Dublin in August 1991, concluding in October of the following year in Zaragoza, Spain. The experience left Knopfler drained, and as a result, Dire Straits were finally laid to rest, with the live album, On Every Night, from May 1993, a closing souvenir.
Aside from a couple of charity reunions of Knopfler and Illsley, that, so far, is it. Mark Knopfler has gone on to release a series of well-received solo albums and regularly features Dire Straits material in his live set. An album of the group's BBC sessions in June 1995, and a collection that spanned the best of Knopfler's and Dire Straits' catalogue, The Best of Dire Straits & Mark Knopfler – Private Investigations, was released in 2005, alongside the 20th Anniversary SACD of Brothers In Arms, which garnered a Grammy for Best Surround Sound.
The craft and majesty of Dire Straits live on. It is impossible not to hear one of their high-period songs emanating from a radio or on the television on a weekly basis. Brothers in Arms is ingrained deep in the popular psyche. Mark Knopfler is one of the world's most enduring guitarists and songwriters. If you haven't enjoyed some of their tracks beyond the hits, Dire Straits are a group with a heritage ripe to discover.
Format:
UK English