Rihanna
Rihanna is one of the most famous and successful pop artists of the 21st century, with critically acclaimed albums and massive hit singles.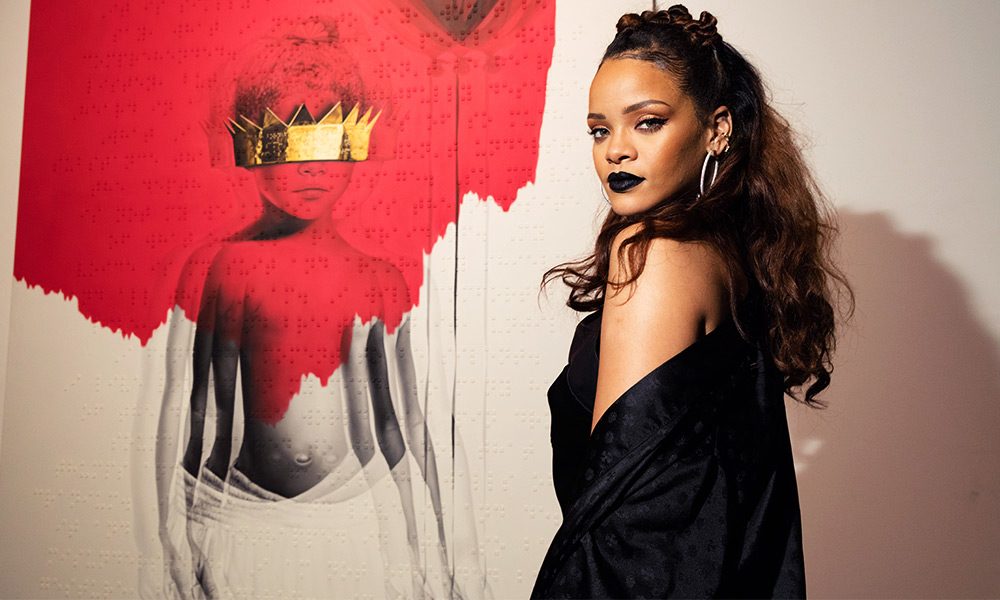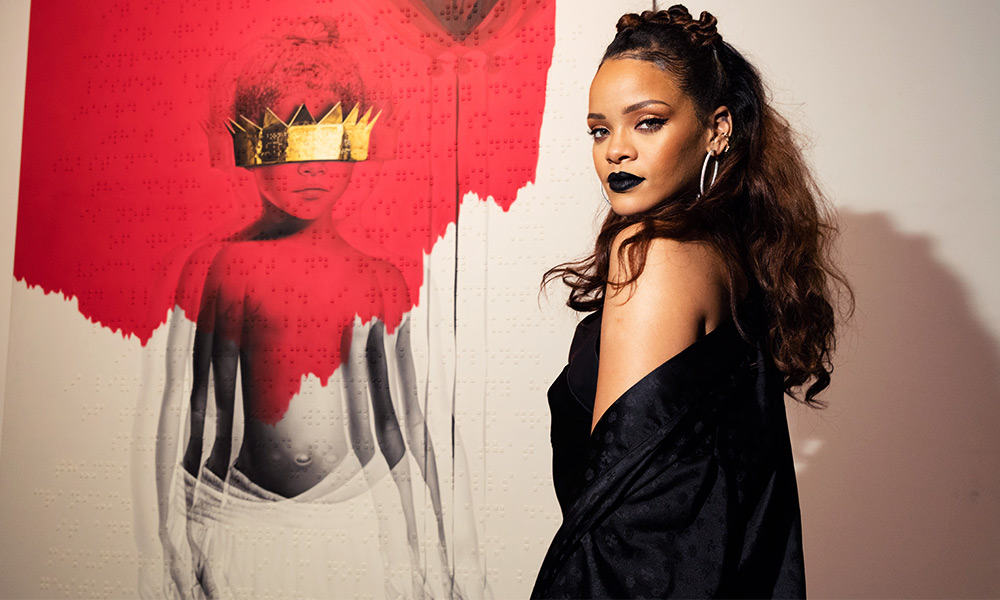 Forbes Magazine once had what feels like the perfect description of Rihanna:"(She) may be the perfect embodiment of the modern pop star. The Barbados native churns out radio hits like "We Found Love" and "Diamonds" and collaborates with some of the biggest names in the business like Jay Z and Eminem. But she also uses social media better than almost anyone. Her Twitter and Instagram feeds allow her to connect with her fans in a way that feels honest and unfiltered and they love her for it." That is all true.
And that ability to parlay commercial success into a media-friendly image that connects with a core audience is one reason why Rihanna is such hot property. She doesn't make the news, she is news.
Her successes are so wide-ranging that she fits the current demand for a singer to become an entrepreneur. With interests in fashion, acting, design, and songwriting, of course, Rihanna fits that bill. Her recorded triumphs are what drive the image and since her debut Music of the Sun went gold she has scaled greater heights on an annual basis. A Girl Like Me, the edgier sensuality of Good Girl Gone Bad, and Rated R, have all propelled Rihanna to become one of the hottest names in R&B/pop. Loud, Talk That Talk, and Unapologetic then bossed the current decade: one where everything is Platinum, and global surrender to her beat a given.
Born in Saint Michael, Barbados in 1988, Robyn Rihanna Fenty comes from Afro-Guyanese stock on her mother's side and Bajan/Irish on her father's. She grew up in Bridgetown listening to reggae music and aimed for a career in the music business as a teenager. Producer Evan Rogers heard of her prowess and invited her to audition, not quite on a whim but definitely out of curiosity:  anyhoo – she performed Destiny's Child's "Emotion" and Mariah Carey's "Hero". Evan is convinced. Rogers took Rihanna and her mother to New York where the girl demo'd and then won a contract aged 16 having won over an initially sceptical  Jay Z who did the smart thing and rewarded the starlet with a six-album deal on Def Jam Recordings.
Her debut single, the track that had floored  Jay Z, was "Pon de Replay", a cut that would go on to sell over 2 million copies in time.  Jay Z knew the song was strong but feared it would make Rihanna a one-hit-wonder. Err, nope.
Rihanna - Pon de Replay (Internet Version)
The breakout album is Music of the Sun where producers including Rogers, The Carter Administration, Carl Sturken, StarGate and others help mould the dancehall fusion of pop and R&B that will make Rihanna's name sing. If you're most familiar with her later work this is well worth discovery since it's a remarkably assured and prodigiously precocious start that pays homage to her Caribbean roots and locates the contemporary heart and soul of urban dance-pop.
The hit "If It's Lovin' that You Want" and a great cover of Dawn Penn's "You Don't Love Me (No, No, No)" – written by Bo Diddley  – are evident highlights. The UK bonus track edition also includes "Should I", featuring J-Status and pointer to a new direction.
A Girl Like Me (2006) is where Rihanna soars. The hits are plentiful: "SOS" is a chart-topper made memorable by its sample of Gloria Jones singing "Tainted Love",  "Unfaithful" and "Break It Off" follow in hot pursuit. Recording in a variety of American and Jamaican studios Rihanna finds her voice here, abetted by Sean Paul, Cory Gunz and fellow Barbadian Dwane Husbands. You can hear her linking disparate musical cultures and revelling in the introduction of a full string section. The Deluxe edition features five other cuts with the remix on "Unfaithful" being guaranteed floor filler.
Rihanna - SOS (Official Music Video)
In 2007 the planet starts to succumb to Rihanna's third album Good Girl Gone Bad – worldwide sales thus far are in excess of 10 million. A #1 in the UK this is the moment being seized by an artist on top of her game. Cue her: "I basically took the attitude of the bad girl and I really got rebellious and just did everything the way I wanted to do it—I didn't want to listen to anybody. I didn't consult with anybody. I just want to have a little more fun with my music and be a little more experimental in terms of my image and my sound. I just reinvented myself." We love the results.
The story-telling "Hate That I Love You" (featuring Ne-Yo) is a highlight but you can't ignore  "Umbrella" where Rihanna and  Jay Z nail the groove on a song that topped the UK charts for ten consecutive weeks – during a flood season! – and turned the girl into daily celebrity gold. Everyone from Biffy Clyro and Taylor Swift to Manic Street Preachers and McFly has covered it; the mark of a classic, "Umbrella" is one of those season-defining tunes.
Rihanna - Umbrella (Orange Version) (Official Music Video) ft. JAY-Z
With neat samples from Lionel Richie, New Order, Sly Dunbar and Michael Jackson via Manu Dibango, this is also Rihanna at her most eclectic.
Various bonus formats are available, including Dance Remixes on the Deluxe edition. And being onto such a good thing what better way to keep it bubbling than with Good Girl Gone Bad: Reloaded (new songs include "Disturbia" and "If I Never See Your Face Again") and Good Girl Gone Bad: The Remixes, where a sharper electronic bite transposes Rihanna from the radio to the dance floor and gives her genuine female icon status.
Rated R drew the singer into the production booth where she is credited as Robyn Fenty. As such, she sat in with Brian Kennedy and will.i.am and came up with a moody, atmospheric set that doesn't shy away from the personal experience of violence and brutality in soured love affairs. With Latin and reggae rhythms filtering throughout the most talked-about cut is "Cold Case Love" where all the critics came onside for an awesome epic that is perfectly realised by the singer, the production crew and the original writing team – including Justin Timberlake, an avowed fan.
By contrast "Rockstar 101" has Slash's lead guitar soldering a metal slide to a chilly slab of hip-hop (Rihanna famously plays Slash in the video). "Te Amo" is lovely Electro-Latin and "Rude Boy", recorded at Metropolis Studios in London, struts on a gritty urban ragamuffin style. The Remixed accompaniment is heavily drenched in house music with extra synthesisers and smart bodywork from Chew Fu.
Back to the studio for album #5. Loud is like it says. "California King Bed" rocks Rihanna right out and "Cheers (Drink to That)" is a celebratory party anthem that is aimed at the weekend. It samples Avril Lavigne's "I'm with You". Also, check the gangster tune "Man Down", a nod at Bob Marley's "I Shot the Sherriff", the saucy  "S&M" and "Raining Men", a rap face-off between Rihanna and Nicki Minaj: sisters in arms.
Eight million copies of the Loud event later Rihanna decided not to follow the reload/remix path but concentrate on her new work. Talk That Talk is the result with the title track returning  Jay Z to the mic and Ri to the top of the charts. Characterized as Rihanna's naughtiest  – an alternative title would be Rated X – we love "You da One" for the dubstep groove and the East London filmed video nodding at A Clockwork Orange. "Cockiness (Love It)" is more down and dirty dancehall while "We Found Love" is written, produced and features Calvin Harris. This track is a story all by itself. Not only has it sold nigh on 11 million copies on single and download formats it's also reckoned to be one of the best selling singles of all time. Happy Mr Harris! Covers on this come from Jessie J and Coldplay – Chris Martin being another high-profile Rihanna aficionado – join the club, mate.
Rihanna: In-Depth Features
The talk having been talked Rihanna was Unapologetic in 2012 and her seventh studio album made the top slot in the vital German market, also Canada, the UK and US, meaning that in seven short years she has gone from being an unknown artist to a formidable brand. The internationalism is hammed home by the hits "Diamonds" and "Stay" and a selection of her most sophisticated music elsewhere. Rihanna's vocals are exemplary throughout and she grabs the zeitgeist of 20-something youth culture, emerging as the perfectly formed diva.
It has been a steady and logical evolution. Rihanna hasn't drastically veered away from what she does best but she has kept up an incredibly high standard in the most demanding and unforgiving of arenas. Subtle tweaks along the way, like using David Guetta on Unapologetic and bringing rising UK star Labrinth into the fold are evidence that someone is doing something right. There are careful switches being flicked too on the Deluxe edition where we hear a far more experimental and introspective artist tackling Emeli Sandé's "Half of Me", an unexpectedly dark gaze into the mirror of superstardom.
Album eight was the super smash Anti (2016), which included the seminal multi-platinum singles "Work" (which featured Drake and shot to No.1) and "Love On The Brain". As ever, it's a far-ranging slab of artistry that deals with everything from drugs and sex to the disturbing outer reaches of desire. Check the deluxe edition for another detour into the darkness on "Goodnight Gotham", co-written by Rihanna, Florence Welch and Paul Epworth. Ever radical, Anti did enormous business in a year blighted by music star deaths. There was some succour here.
Rihanna - Work (Explicit) ft. Drake
Later in 2016, Rihanna capped off the massive success of Anti by receiving the Michael Jackson Video Vanguard Award at the 2016 MTV Video Music Awards. Drake presented the award, and the lifetime achievement honor cemented RiRi's status as a living legend. The following year, with Rihanna still basking in the glow of her 2016 LP, she hopped on a few chart-topping singles from other artists, including DJ Khaled's "Wild Thoughts" and Kendrick Lamar's "Loyalty," which earned the two artists Grammy Awards at the 60th annual ceremony. While Rihanna was quiet as a solo artist after the arrival of Anti, she stayed more than busy as a public figure and businessperson.
The origins of her Fenty fashion empire can be traced back to 2017, when she launched Fenty Beauty under influential fashion house LVMH's Kendo Brands. The following year she expanded the company with the arrival of lingerie brand Savage X Fenty, which offered a more inclusive approach to female undergarments. While the fashion brand was growing at an impressive clip, 2018 also saw Rihanna get appointed by the government of Barbados to be an Ambassador Extraordinary and Plenipotentiary. Somehow, during this time, Rihanna also found time to star in the all-female cast Ocean's reboot, Ocean's 8. In 2021, it was announced that Rihanna was the world's wealthiest female musician with an estimated net worth of $1.7 billion, thanks in large part to her Fenty brand. The following year, Rihanna released the lead single from the Black Panther: Wakanda Forever soundtrack, "Lift Me Up." In February 2023, she headlined one of the biggest stages in all of music: The Super Bowl halftime show.
Rihanna: Studio Albums
Format:
UK English