'Umbrella': The Story Behind Rihanna's Global Smash Hit
The lead single from her third album, the song marked the moment when Rihanna graduated from promising pop star to global phenomenon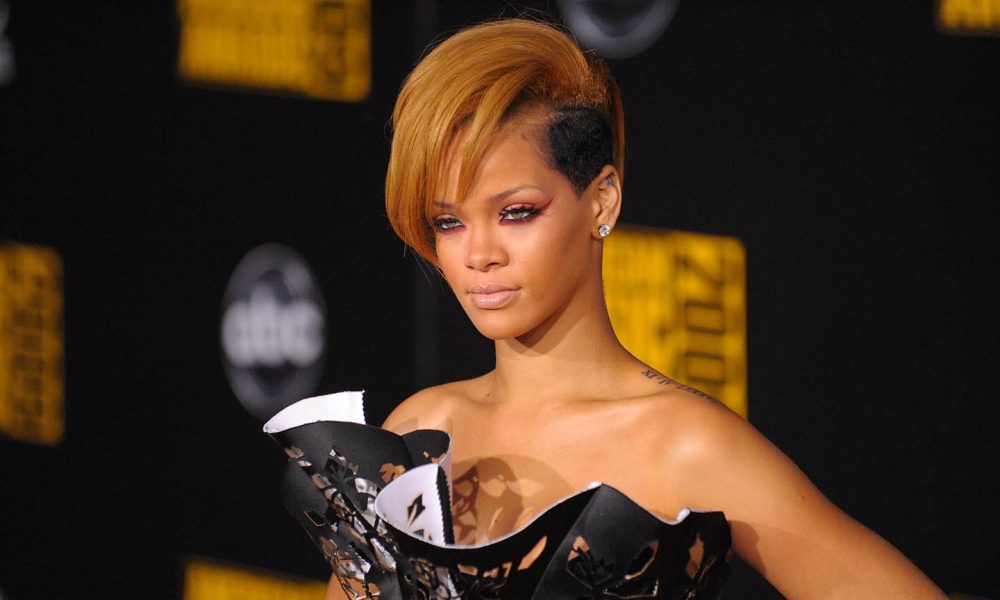 "Umbrella" changed everything for Rihanna. The Barbados-born pop sensation had burst onto the scene in 2005 with "Pon De Replay," reaching No. 2 in the US and hitting Top 10s worldwide. "SOS" went one better the following year, securing the top spot in the US and establishing Rihanna as a global force. But "Umbrella" marked the point where Rihanna not only enjoyed one of the biggest international hits of the decade, but also found an identity of her own. Her career to date had seen her flirting with genres and image as she found her feet – from the moment she coolly intoned the "ella ella eh" hook she became the edgier, more sophisticated Rihanna who'd go on to conquer the pop world.
It could all have been very different. The song – written by Christopher "Tricky" Stewart and Terius "The Dream" Nash – was originally offered to Britney Spears and then to Mary J. Blige, both of whom turned it down. Once Rihanna heard the demo, she was determined to make it her own, as she told The Ellen Show in 2007, "The first time I heard 'Umbrella' I just knew how much I loved the song. I thought it had one of the most original sounds of any song that I've ever heard…. Eventually, I just went up to one of the managers and was like, 'This song is mine…. I'm gonna fight you if I don't have this song.'"
Listen to Rihann's "Umbrella" on Apple Music or Spotify.
The song itself – an offering of shelter from an emotional storm – came easy. Nash broke down the writing of "Umbrella" in a 2007 interview with Blender, beginning with his reaction when he heard a hi-hat loop that Stewart was working on: "I'm like, 'Oh, my God, what is that beat?' Then Tricky starts putting some chords over it, and immediately the word popped into my head: umbrella. I ran over to the vocal booth and started singing… The first verse was written in 60 seconds. Then we had to grow it to the hook. Tricky would put the next chord on there, and I was singing it out: 'When the sun shines, we'll shine together.' I was like, 'Oh, my God, this is crazy.' I was getting goosebumps."
In Rihanna, Nash and Stewart found the perfect voice for their stormy R&B power ballad. Nash's lyrics might've felt overly sentimental had they not been sung with her attitude; the harsh, minimal beats and cinematic strings of Stewart's music may not have worked without Rihanna's sass and grit. Stewart later told MTV that any doubt over the singer was cast aside in the studio, "When she recorded the 'ellas,' you knew your life was about to change if you had anything to do with that record." Once Rihanna's vocals were laid down, she called upon her mentor and Def Jam label boss, rapper Jay-Z, to add a verse – a ringing endorsement and sign that "Umbrella" had massive hit potential.
Rihanna - Umbrella (Orange Version) (Official Music Video) ft. JAY-Z
"Umbrella" got its official release on March 29, just over two months after Nash and Stewart wrote it. The song topped the Billboard Hot 100 for seven consecutive weeks and paved the way for the multi-platinum success of Rihanna's coming-of-age album, Good Girl Gone Bad. Worldwide success quickly followed: "Umbrella" reigned supreme at the top of the UK charts for 10 weeks and has sold more than six million copies worldwide. Its success also gave Rihanna the confidence and clout to take charge of her own destiny. "Umbrella" had certainly proved a song worth fighting for.
Rihanna's "Umbrella" appeared on The Best Of Now That's What I Call Music! 10th Anniversary, alongside other favorites like Katy Perry's "I Kissed A Girl." Looking for more stories behind music's biggest hits? Check out the Now! That's What I Call Music page.