20 Of The Best Rihanna Songs
The Barbados-born Rihanna has come a long way since 'Pon De Replay.' Here are 20 of the best Rihanna songs to take you on that journey.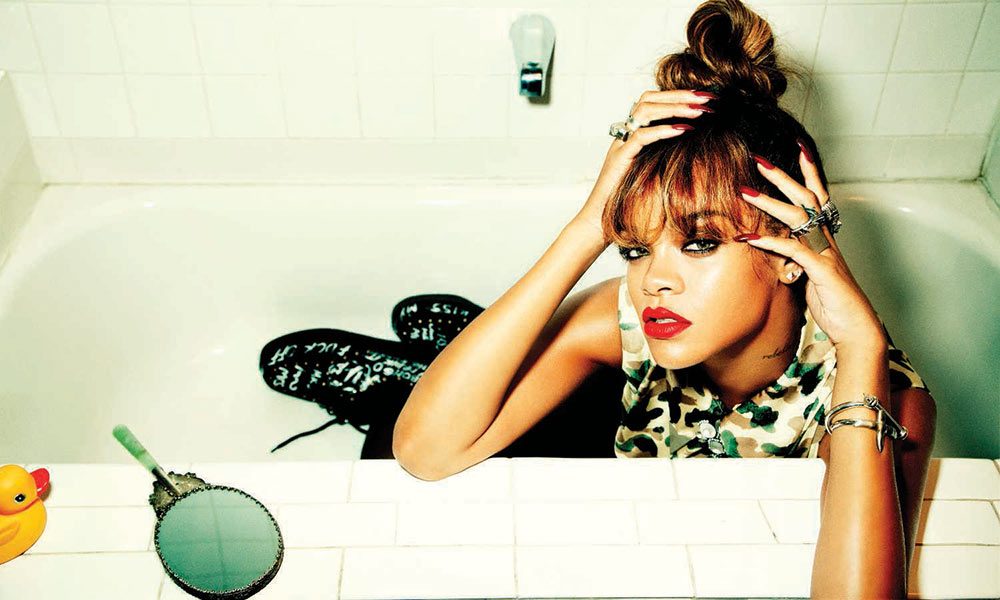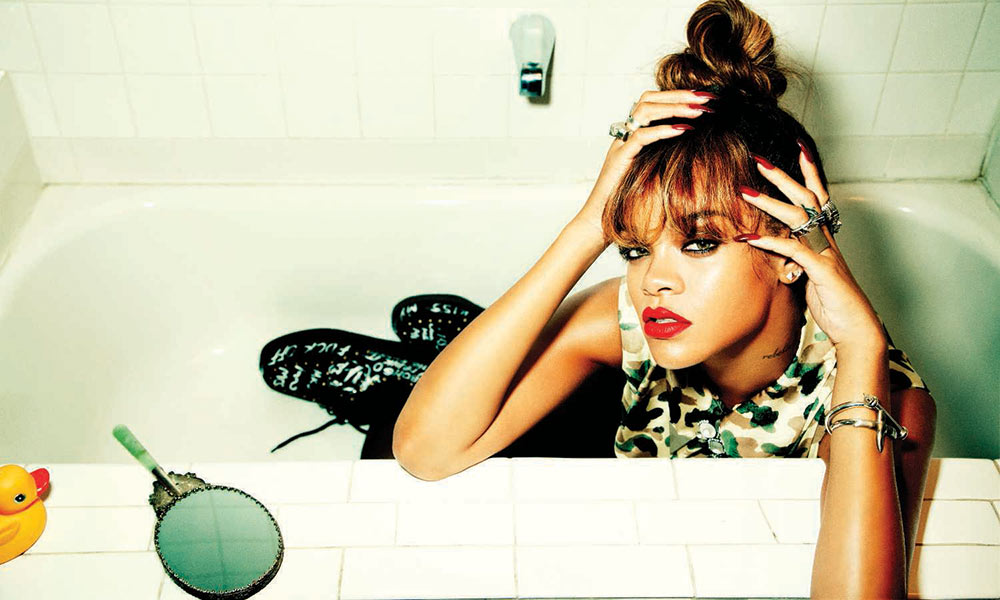 Born Robyn Rihanna Fenty, on February 20, 1988, Rihanna was just 15 when she was first discovered in her home country of Barbados by record producer Evan Rogers. Over the course of the next year, she recorded a demo tape with Rogers, which included the track that would eventually become her debut single – and one of the best Rihanna songs of all time. "Pon De Replay" was described by Rolling Stone as "a poppy piece of dancehall reggae with slapping, syncopated beats recalling big-band jazz", and Rihanna was immediately signed to Def Jam by its then CEO, Jay Z.
This was just the beginning of a momentous career that, over a decade in, has seen her constantly top the charts worldwide. We take a trip through Rihanna's career, focusing on 20 of the best Rihanna songs…
Listen to the best of Rihanna on Apple Music and Spotify.
Getting her six-album Def Jam deal off to a roaring start, Rihanna released her first album, Music Of The Sun, in May 2005, and lead single "Pon De Replay" reached No.2 in both the US and UK, while the album earned a gold certification and firmly established the singer as a household name.
Its follow-up, A Girl Like Me, was released in April 2006 and was another pop and R&B fusion, with heavy influences from Rihanna's Caribbean roots. In an interview with MTV, she said, "Vocally, I've matured so much, and lyrically I'm speaking about stuff I would never sing about before. Now I'm singing about experiences that I've gone through and stuff that other 18-year-old girls go through, so it's all about progression." This maturity was represented in songs such as "SOS" and "Unfaithful," which explore more adult themes such as infidelity and lust; the former was a dance-pop hit that sampled Soft Cell's "Tainted Love" and earned Rihanna her first US No.1.
In an attempt to shake off her innocent persona, Rihanna took on a bolder, more independent image for 2007's Good Girl Gone Bad. Speaking to the Saskatoon StarPhoenix, she said, "I took the attitude of the bad girl and I really got rebellious and did everything the way I wanted to do it – I didn't want to listen to anybody." The pop-R&B crossover hit "Umbrella" was the first single from the album, and, featuring Jay Z, it was also Rihanna's first big collaboration, reaching No.1 in 17 countries. Third single "Hate That I Love You" was another collaborative effort, co-written and featuring labelmate Ne-Yo. Released on 21 August 2007, the song comfortably reached platinum status.
Rihanna - Umbrella (Orange Version) (Official Music Video) ft. JAY-Z
A major turning point in Rihanna's artistic progression came with 2009's Rated R, on which she shook off her pop princess image and began to explore other genres with a variety of songs that still rank among the best Rihanna songs. Justin Timberlake, one of the writers and producers featured on the album, said that it represented a whole new sound for Rihanna, while fellow producer Ne-Yo described Rated R as angrier and edgier than what had come before.
Written after her assault by then-boyfriend Chris Brown, there was, unsurprisingly, speculation as to whether any of the album's songs referenced him, though Chuck Harmony, another co-producer on the record, argued that no matter what single Rihanna released, the lyrics would immediately be associated with Brown. Stylistically, Rated R incorporated genres such as dancehall ("Rude Boy"), Latin ("Te Amo"), and dubstep, while lead single "Russian Roulette" had a darker and more intense tone than any of Rihanna's previous efforts.
In the summer of 2010, Rihanna lent her vocals to a number of hip-hop stars, including Eminem ("Love The Way You Lie") and Kanye West ("All Of The Lights"), with the former becoming Eminem's best-selling single to date, selling six million copies in the US alone. Rihanna also helped Drake achieve his first-ever taste of the UK top spot when she asked him to appear on her 2010 single "What's My Name?," the second release from her fifth studio outing, Loud. Released in November that year, the album moved away from the darker themes of Rated R and returned to upbeat pop, R&B, and dancehall, as Rihanna wanted to go back to having fun. The shift was immediately clear with the first single, "Only Girl (In The World)," which won her the 2011 Grammy Award for Best Dance Recording, and more than holds its own among the best Rihanna songs. Third single "S&M" raced to No.1 on the Billboard Hot 100 and saw Rihanna set a new record as the solo artist with the fastest accumulation of ten chart-toppers.
Rihanna - Only Girl (In The World)
Barely pausing for breath, Talk That Talk followed a year later, in November 2011, and was another dance-pop and R&B outing in the vein of Loud. Lead single "We Found Love" added uptempo techno to the mix (courtesy of DJ Calvin Harris), topped the charts in 27 countries, and proved that, if there's anything to be learned from Rihanna's career, it's that she rarely released a single without breaking a record or two. Staying at the top of the Hot 100 for 10 weeks, "We Found Love" became the longest-running No.1 of 2011. The second single from the album, "You Da One," is a mid-tempo pop/reggae mix that entered the Top 20 in the US, UK, and 11 other countries.
Mining the same rich vein, while incorporating elements of hip-hop and reggae, Unapologetic was Rihanna's seventh studio album, and her third consecutive UK No.1. Picking up an executive producer credit – as she has done for all her releases since Loud – Rihanna enlisted the help of co-producers David Guetta, Stargate, Labrinth and Chase & Status. Signaling a new focus for the singer, lead single "Diamonds" was an electric pop ballad that, lyrically, left previous themes of dysfunctional romantic relationships firmly in the past and once again topped the charts in over 20 countries worldwide. Its follow-up, the pop and R&B ballad "Stay," featured guest vocals from US singer Mikky Ekko and offered yet another side of the singer, revealing a vulnerability rarely seen in her singles.
After releasing almost an album a year for her entire career, there was a four-year gap before Rihanna issued Unapologetic's follow-up. Having left Def Jam for Roc Nation in 2014, however, she filled the gap with three standalone singles, including the Kanye West and Paul McCartney collaboration "FourFiveSeconds" and the solo outing "Bitch Better Have My Money." When Anti finally emerged, on January 28, 2016, it was initially a TIDAL exclusive via Westbury Road/Roc Nation, before being given a wider release. Since then, lead single "Work," another collaboration with rapper Drake, became the Barbadian singer's 27th Top 10 hit and more or less soundtracked 2016, cementing its reputation as one of the best Rihanna songs of all time. It was shortly followed by "Kiss It Better."
In November 2016, Rihanna became the first artist to surpass more than 100 million Gold and Platinum song certifications, including nine-times multi-Platinum sales for "We Found Love," six-times multi-platinum sales for "Stay," "What's My Name?" and "Only Girl (In The World)," double multi-Platinum sales for "FourFiveSeconds" and a Platinum award for "Bitch Better Have My Money." Any one of these could top the list of a fan's best Rihanna songs; in a career that's been nothing but incredible, the singer boasts a success rate rarely seen elsewhere. Her ability to stay true to her roots is what has kept her original fanbase loyal, while her continual reinventions and explorations of different genres pull in new listeners with every album. What stands out across these 20 songs is her diversity: actress, singer, and philanthropist, Rihanna is also an unpredictable talent who leaves us eagerly anticipating her next move.