The Great American Soulbook: An Awe-Inspiring Collection Of Songs
Motown's songwriters were the foundations of the Great American Soulbook, an imaginary, but nonetheless awe-inspiring collection.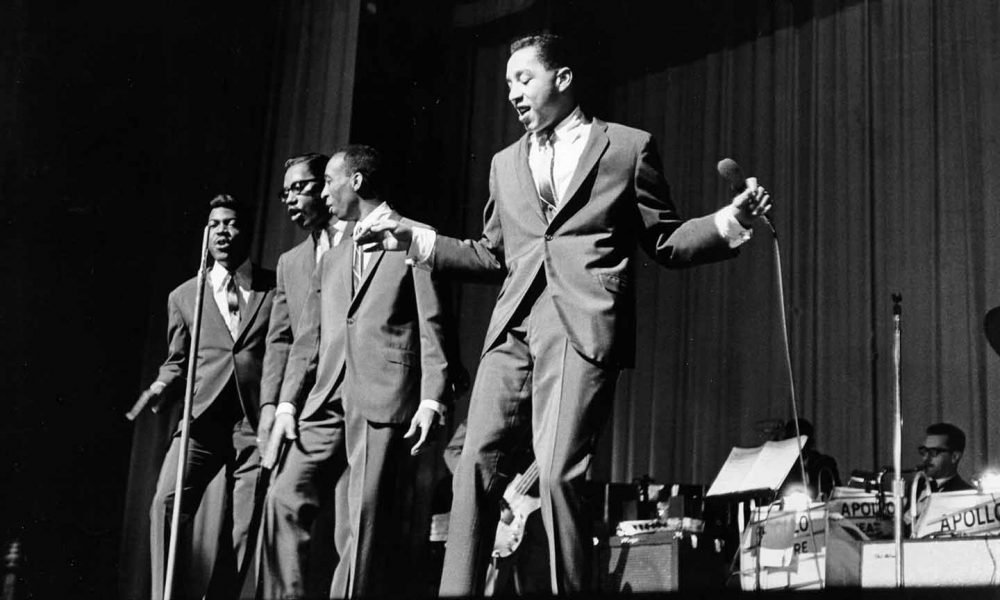 The Great American Soulbook? That's hard to define exactly, but what we can say is: Great songs need melodies you can remember and lyrics that stick in your head. They need to be about something you can identify with. They need drama, wit, tragedy, twists, resolution. Once you've heard them, you must not feel they've done all they can do. But an entry for The Great American Soulbook often requires one extra thing that's not obligatory in other genres. Most soul songs make you dance. In this article, we're going to take you on a whirlwind tour of some of the greats that did it best.
Listen to the best Great American Soulbook songs on Spotify.
Tamla Motown knew the way to a fan's heart was via the feet, and one of its greatest songwriters was Smokey Robinson. Smokey wrote his first song at the age of six. He'd written 100 before he met Jackie Wilson's songwriter at an audition. Wilson's songwriter was Berry Gordy, who listened to 20 of Smokey's compositions – before turning them down. But Gordy liked Smokey's voice. In 1959 he made The Miracles the first signing to his label, Tamla, and helped Smokey put his songs in order. "I had five songs going on within one song," the Miracle-worker admitted to Jon Wilde in 2016. Gordy got Smokey to think about songs as a whole and focus on the subject matter. A good pupil, Smokey outstripped the master. Bob Dylan called him America's greatest poet, but he was more than that. Smokey Robinson wrote songs that moved the body and the soul. "Get Ready" (The Temptations), "One More Heartache" (Marvin Gaye), "Shop Around" (The Miracles) – all were exhortations to the dancefloor. When times changed, Smokey did too, helping shift soul towards its What's Going On era in the 70s with "Still Water (Love)" (Four Tops) and giving an entire soul subgenre a title with his own "Quiet Storm". Smokey had it all… including competition.
Holland-Dozier-Holland: Motown's first truly great songwriting team
Holland-Dozier-Holland (HDH) was Motown's first truly great songwriting team, pairing brothers Eddie and Brian Holland with Lamont Dozier. All three had had solo careers at Motown and its subsidiaries in the late 50s and early 60s; when they began working together they really clicked. Early hits with Martha & The Vandellas ("Heat Wave"), The Marvelettes ("Locking Up My Heart") and The Miracles ("Mickey's Monkey") led to assignments to ignite the careers of two Motown acts that had the talent but not the material: The Supremes and Four Tops. HDH were on the way to becoming songwriting legends. "Baby I Need Your Loving," "Baby Love," "I Can't Help Myself (Sugar Pie Honey Bunch)," "Come See About Me," "It's The Same Old Song"… the records the trio created for the two vocal acts defined mid-60s Motown.
While these began as simple four-chord ditties, HDH songs rapidly became mini-symphonies of love, heartache, and outright loss, such as "Seven Rooms Of Gloom," "You Keep Me Hanging On" and "Reflections" for The Supremes – the latter one of the first soul records to get to grips with psychedelia. They co-wrote R Dean Taylor's "There's A Ghost In My House," Martha & The Vandellas' "Jimmy Mack" and the sole hit for The Elgins, the sublime "Heaven Must Have Sent You." In 1969, the awesome threesome quit Motown and launched their own Invictus and Hot Wax labels. At Invictus they co-wrote "Give Me Just A Little More Time" and "Everything's Tuesday" for Chairmen Of The Board, and "Band Of Gold" and "Unhooked Generation" for Freda Payne. But Invictus did not become the next Motown, and Lamont Dozier quit in 1973. While all three members of the team enjoyed success in their own right, such as Eddie Holland's much-covered "Leaving Here" and Brian Holland's co-written "Please Mr Postman" for The Marvelettes, and Lamont Dozier's "Going Back To My Roots," the whole was more than the sum of its parts.
Motown enters the counterculture
Though Motown didn't let HDH leave without a fight, it could have been forgiven for saying "There's too many fish in the sea." Motown was blessed with talent. Norman Whitfield and Barrett Strong took over as the company's most dynamic songwriting team in '67. Young, smart and driven, Whitfield wrote his first hit with lyricist Barrett Strong in 1962, Marvin Gaye's "Wherever I Lay My Hat" (the vocalist was also credited with composition). Whitfield assumed production duties for The Temptations in 1966, and transformed them from sweet-sounding romantic hitmakers to the closest thing Motown had to counterculture psychedelic stars. Initially, (with Eddie Holland) he wrote them "Ain't Too Proud To Beg," which matched the cheerful material Smokey Robinson had fashioned for the group. But the tone took a darker turn with "I Know I'm Losing You" and "I Wish It Would Rain." The latter was co-written with Roger Penzabene and Barrett Strong, and Whitfield and Strong came up with an all-time classic when they created "I Heard It Through The Grapevine," a No.1 for Gladys Knight & The Pips when it was issued in 1967. It was fresh, funky, and exciting, but compared to the revolution the two men would unleash the following year, it was tame.
Soul had begun absorbing hippie counterculture. The multiracial Sly & The Family Stone blended rock and funk; according to George Clinton, who wrote songs at Motown in the psych era, Whitfield went to watch his rock-funk band Parliament. But Whitfield managed to create a sound that was fully psychedelic and totally soulful, starting with The Temptations' "Cloud 9." It suggested escape through psychedelic substances, or perhaps madness, though in typical Whitfield style, made it clear the world was the crazy thing, justifying escapism. It was followed up by the equally far-out "Runaway Child, Running Wild" and "Don't Let The Joneses Get You Down," both bearing a current of social comment, while "Psychedelic Shack" and the chaotic "Ball Of Confusion" put The Temptations at pop's cutting edge. However, the Tempts themselves were not certain about this new material, preferring love ditties. Lead singer Dennis Edwards was particularly troubled by "Papa Was A Rolling Stone," an epic Whitfield/Strong ditty that portrayed them as the sons of feckless men.
Ball Of Confusion (That's What The World Is Today)
The Temptations weren't Whitfield's only stars of the era: he penned "War" for Edwin Starr, "It Should Have Been Me" for Gladys Knight & The Pips, "Too Busy Thinking About My Baby" for Marvin Gaye, and many more. When he quit Motown, Whitfield created the soundtrack for Car Wash, putting together Rose Royce to perform it, hitting with the title track and "I Wanna Get Next To You" (1976). He also masterminded funky divas Stargard, who scored with his "Theme Song From Which Way Is Up" (1978). Whitfield cut hits for 27 years.
Ashford & Simpson: the husband-and-wife powerhouse
Motown's factory required many writers – Henry Cosby, Sylvia Moy, Janie Bradford, Johnny Bristol, and Mickey Stevenson among them. But our final choice from their catalogue is a husband and wife team, Nick Ashford and Valerie Simpson. Meeting at a Harlem church, they cut their teeth writing for Ray Charles ("Let's Go Get Stoned," with Jo Armstead of The Ikettes) and Maxine Brown ("One Step At A Time") in the mid-60s, though their own singles were flops. Nevertheless, the pair had the knack of making material that fitted the fashions of the 60s. When they switched to Motown in 1966, things picked up when they were assigned writing duties for Marvin Gaye & Tammi Terrell. They hit paydirt in 1967 with "Ain't No Mountain High Enough," a gospel-ish song they'd kept back for such a break. (A Diana Ross solo version was a US No.1 in 1970; Amy Winehouse later used it as the basis for "Tears Dry On Their Own.")
Ain't No Mountain High Enough
"The Onion Song" (1969) gave Marvin and Tammi a hit with the kind of surreal metaphors the likes of The Beatles and Bee Gees specialized in, and "Ain't Nothing like The Real Thing" and "You're All I Need To Get By" showed Ashford & Simpson's affinity for the duo's skills – after all, they were a male-female duo themselves. Their material, which frequently displayed a sunny disposition, often found a life beyond its intended purpose. For example, "California Soul," a B-side for The Messengers, was covered by Marvin and Tammi, The 5th Dimension, and Marlena Shaw, and became an anthem for Motown's move from Detroit to the West Coast.
A terrible setback occurred when Tammi Terrell died from a brain tumor. Rumors spread that Simpson had sung her parts on some of her final records, which the songwriter denies. But Ashford and Simpson continued to write passionate, uplifting songs for Diana Ross, such as 1970's "Reach Out And Touch (Somebody's Hand)" and the elegant "Remember Me." Two solo albums from Simpson were comparable to the best singer-songwriter material of the era, but they flopped, and Ashford & Simpson relaunched their career as performers in 1974. They retained their winning touch, offering social comment on "Bourgie Bourgie" (1977), later a hit for Gladys Knight, and scoring with their own "Solid" (1984), "Stuff Like That" for Quincy Jones and Chaka Khan (1976), and the latter's anthem, "I'm Every Woman" (1978).
People get ready: Curtis Mayfield
Detroit and Motown did not have a monopoly on musical genius. In Chicago, one of the greatest songwriters in African-American music began to make his mark as Motown was getting going. The impression Curtis Mayfield left on The Great American Soulbook was profound.
Mayfield's debut chart hit as a composer was "He Will Break Your Heart," written in 1960 for and with Jerry Butler. They'd been together in The Impressions, and when Butler went solo, Mayfield hit the road with him. Though ostensibly a simple ballad warning a girl that her new boyfriend did not love her the way the narrator did, the song had hidden depths. Driving to a gig, Mayfield and Butler knew that when they arrived in town, women would want them because they were performers. Yet, Mayfield reasoned, those women had guys who loved them, and throwing their affections at pop's passing show was stupid. It was the first evidence of Mayfield's ability to think beyond soul's boundaries.
His music had a gentle side, perhaps necessarily because his falsetto voice was not exactly powerful, yet his singles, once he rejoined The Impressions, made a lasting impact. "Gypsy Woman" (1961), "Grow Closer Together" (1962), and "I'm So Proud" (1963) laid down a marker. "Keep On Pushing" (1964) added a message, "People Get Ready," "I've Been Trying" (1965), and "We're A Winner" (1967) showed it was no fluke. The trio created records that were heavily admired by black America and modernist Britain, and Mayfield's material was plundered in Jamaica, where his songwriting had a profound effect on Bob Marley, whose Wailers group was modeled on The Impressions.
As if this wasn't enough, Mayfield kept an array of artists stocked with material: Jerry Butler ("Need To Belong"), Jan Bradley ("Mama Didn't Lie"), Major Lance ("Um Um Um Um Um Um"), Gene Chandler ("Rainbow," "Nothing Can Stop Me") and more. Mayfield left The Impressions in 1970, becoming a soul superstar thanks to "Move On Up" (1971), "Freddie's Dead" and "Superfly," the latter pair from Superfly, one of several movie soundtracks he wrote. He continued to write for other acts such as Linda Clifford, Gladys Knight, and Mavis Staples: the logo of his Mayfield label was a pen. He also mentored other Chicago artists in the late 60s and early 70s, such as Five Stairsteps, Leroy Hutson (who replaced him in The Impressions), and Donny Hathaway, the pianist-vocalist who cut some of the most passionate records of 70s soul, such as his fabulous Live album. Hathaway and Hutson wrote "The Ghetto," a funky groove that somehow had a message without need of lyrics as such. Hathaway also co-authored the anthemic "Someday We'll All Be Free," which has attracted numerous covers. His instrumental "Valdez In The Country," famously versioned by George Benson, is a jazz-soul classic.
Soul citadels
Many cities in America were soul citadels, some, such as Philadelphia in the 70s, become dominant as musical fashions shift to the style it specializes in. Others, such as New Orleans and Memphis, function on their own terms whether on trend or not. Throughout the 60s and the first half of the 70s, New Orleans' center of gravity was Allen Toussaint, a precise, funky, dapper piano player who was one of the greatest songwriters and producers in black music. If it made an impact, Toussaint had a hand in it. His songs were plundered by British R&B bands, such as The Rolling Stones, Yardbirds, and The Who, but the versions he created for the artists under his care contained the Crescent City in every quaver. Ernie K Doe ("Mother In Law," "Here Come The Girls"), Lee Dorsey ("Working In The Coal Mine," "Yes We Can"), Betty Harris ("Ride Your Pony"), Herb Alpert ("Whipped Cream") and The Meters ("Hand Clapping Song") all benefited from his talent between 1960-1975. He produced Labelle ("Lady Marmalade") and Dr. John ("Right Place, Wrong Time") and created acclaimed solo albums in the 70s. Toussaint was a one-man music industry.
Memphis had been a musical hub throughout the first half of the 20th Century, delivering Bobby Bland, BB King, Rufus Thomas, and some cat called Elvis to jukeboxes worldwide. But in the 60s, it brought Southern soul, strong, spirited, and sassy to the charts, thanks to Stax. While the company was blessed with inventive composers, such as William Bell ("Born Under A Bad Sign," "Private Number") and Booker T Jones ("Green Onions," "I Never Found A Girl"), the writing team that made Stax eminent was Isaac Hayes and David Porter.
Hayes is widely known as the man who purred the "Theme From Shaft," nowadays a kind of funky cliché, though there was nothing hackneyed about his work. His writing covered a broad emotional range, with his melodies and often complex arrangements beautifully complimented by David Porter's lyrics. The pair united in 1966 and scored heavily with Sam & Dave, ("Hold On I'm Comin'," "Soul Sister, Brown Sugar" and "Soul Man"). Carla Thomas' "B-A-B-Y" and Mable John's "Your Good Thing (Is About To End)" showed that their magic worked with female singers, and they also wrote for Rufus Thomas, Johnnie Taylor and The Emotions. When Hayes went solo, his "Do Your Thing" was covered by numerous artists, and "Joy" helped create the entire "Soul II Soul beat" that drove their career as the 80s became the 90s. Hayes was heavy.
Philadelphia International
Philadelphia's chapter in The Great American Soulbook centers on the 70s, when the city delivered soul's dominant sound: a sophisticated, heartfelt style bridging the gap between Motown and disco with a side order of doo-wop. The latter surfaces in the work of The Stylistics and The Delfonics, who found fame through the skills of Thom Bell. Bell created The Delfonics' breakthrough "La-La (Means I Love You)," a throwback to a more innocent era in 1968, following it with "Ready Or Not Here I Come (Can't Hide From Love)" and "Didn't I (Blow Your Mind This Time)," all co-authored with the group's soaring lead singer William Hart.
In 1971, Bell began writing and producing for another group with a strong high tenor (Russell Thompkins Jr), The Stylistics, and crafted stately records that showed the silky side of black America. "Stop, Look, Listen To Your Heart," "You Are Everything," "Betcha By Golly Wow," "You Make Me Feel Brand New"… the run of hits took the group to 1974, though it was not all silk and champagne: each Stylistics album featured a darker, funkier tune, such as "People Make The World Go Round" and "Payback Is A Dog." Lyricist Linda Creed was on hand for these gems, and Bell and Creed also delivered hits for Motown refugees The (Detroit) Spinners, including "Ghetto Child" and "The Rubberband Man." Creed later wrote "The Greatest Love Of All" with Michael Masser, though her career was cut short when breast cancer took her life in 1986 at the tragically young age of 37.
Bell also worked with the owners of Philadelphia International, the record company at the core of the city's soul success. Gamble & Huff were extraordinary songwriters and producers, making hits for The O'Jays ("Love Train"), Jerry Butler ("A Brand New Me"), Billy Paul ("Me And Mrs Jones"), and The Jacksons ("Show You The Way To Go"). The O'Jays and Billy Paul in particular had been recording for years to little avail: the songs made the success.
The Great American Soulbook: further reading
One of the least likely figures to sign into The Great American Soulbook is Rod Temperton, a keyboard player from Cleethorpes, Lincolnshire. He made his mark with Heatwave, the UK's most credible disco act, who hit with "Boogie Nights" and "Always And Forever." These pricked up the ears of Quincy Jones and he hired Temperton to write for the acts he was producing, including James Ingram & Michael McDonald ("Yah Mo B There"), Rufus ("Masterjam") and a high-voiced chap called Michael Jackson. Temperton offered a few songs to the kid – 300 of them; some made a handy impact on his 1979 Off The Wall, such as the title track and "Rock With You." Temperton came up with the idea of "Thriller" during a taxi ride. He wrote "Stomp" for The Brothers Johnson, George Benson's "Give Me The Night" and a catalogue of tunes for Herbie Hancock, Donna Summer, and anyone who was anyone at the upper echelons of soul-dance in the early 80s. Cleethorpes, you got soul.
Like many folk with humble roots, soul struggled during the aspirational 80s, usurped by hip-hop and house but finding refuge in modern R&B, where vocals were valued amid crunching beats. Jimmy Jam and Terry Lewis emerged from Prince's side project The Time to produce and write for a lengthy roll-call of talent: their first hit was The SOS Band's "Just Be Good To Me" (1983, aka Beats International's "Dub Be Good To Me"), followed by Alexander O'Neal ("Fake") and Cherrelle ("Saturday Love," with O'Neal). In '86, Jam & Lewis accepted the account of Janet Jackson, making her a major star with "What Have You Done For Me Lately" and 'Nasty," and delivering the best album of her career, Rhythm Nation 1814. Their CV reads like an A-Z of electronic dance-groove, including everyone from The Human League ("Jam") to Ralph Tresvant ("Sensitivity"). It's not all soul, but much of it is.
One of the few production teams that could compete with Jam & Lewis in the late 80s and 90s was LA & Babyface, (Antonio Reid and Kenneth Edmonds), who composed and produced for a slew of artists and were credited with developing new jack swing, aka swingbeat, a music style that bridged the gap between hip-hop and modern R&B. "Baby-Baby-Baby" by TLC, "End Of The Road" by Boyz II Men, "I'm Your Baby Tonight" by Whitney Houston, Bobby Brown's "Don't Be Cruel"… it may not be soul as The Temptations knew it in the 60s, but the music always changes, as Motown was fully aware.