Barry White
The undisputed king of boudoir disco, a master of soul and popular R&B, White was also an accomplished multi-instrumentalist, a grade A producer, a singer-songwriter and arranger with impeccable credentials.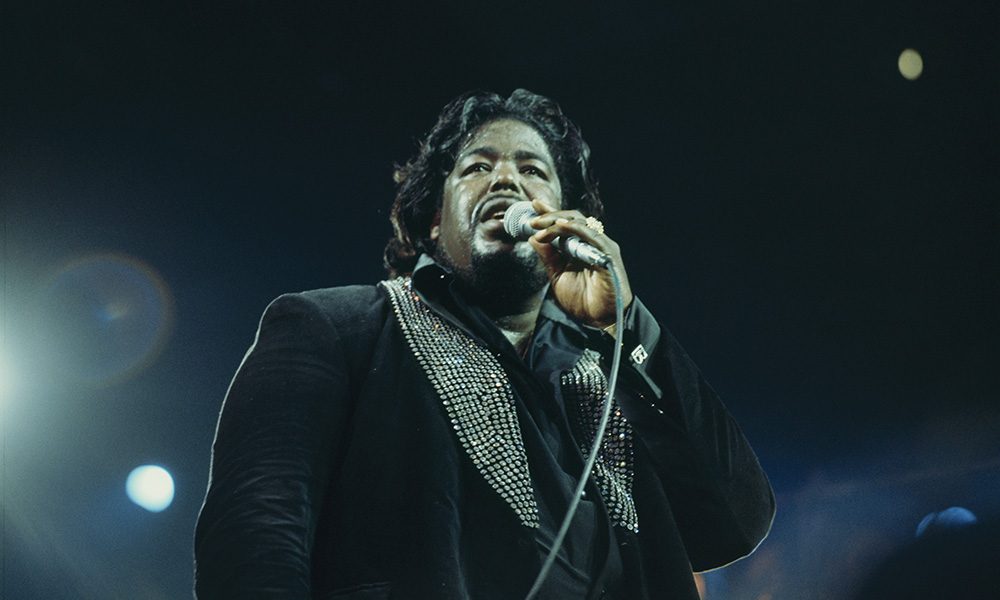 Born in Galveston, Texas in 1944 Barry White was taken from us far too early in 2003 when to paraphrase one of his own lines – he had so much more to give. The undisputed king of boudoir disco, a master of soul and popular R&B, White was also an accomplished multi-instrumentalist, a grade A producer, a singer-songwriter and arranger with impeccable credentials, White moved the sound of Motown and Holland-Dozier-Holland into the modern era. Well used to hit and chart success with the wonderful girl trio Love Unlimited, Barry and his accomplice Gene Page honed a West Coast answer to Gamble and Huff's revolutionary Sound of Philadelphia with the plush assistance of the Love Unlimited Orchestra and once the big man stepped upfront with that immortal bass-baritone – surely the most recognizable voice on the planet – resistance was futile. He scored so many hits, enjoyed so many Gold and Platinum discs (singles and albums) and took to the rostrum three times as a Grammy Award winner that it's fair to say he is that rare thing, a true cultural icon. With combined worldwide record sales exceeding 100 million – a fat chunk of those in his lifetime – it's a fact that Barry White is one of the world's best-selling artists and we're delighted to have his classics in our catalogue.
Born in Texas but raised on the mean streets of South Central Los Angeles, Barry Eugene Carter. His initial forays into the music business began in the early 1960s. He arranged songs for Felicity Taylor and Bob & Earl (both popular in the UK on the Northern Soul circuit) before getting his break when he discovered the girls of Love Unlimited. The album From a Girl's Point of View We Give to You…Love Unlimited was a million-seller and kicked off Barry's penchant for intriguingly elaborate song titles.
Encouraged to make his own demos Barry was going to call himself White Heat but at the last moment decided to adopt the stage name Barry White for his first solo album, 1973's I've Got So Much to Give. A Billboard R&B topping smasheroo this album contains signature White songs, especially the title cut and "I'm Gonna Love You Just a Little More Baby", stone bedroom anthems both, though as a mark of respect, and as a way of passing on the flame, Barry actually kicks his solo arrival off with a cover on Holland, Dozier, Holland's "Standing in the Shadows of Love".
Still in '73 the prolific White gifts us Stone Gon' – more epic and lengthy soul with the added frisson of "Never, Never Gonna Give Ya Up", all breathy seduction, strings hitting peaks and a gorgeous undercurrent of synthesized keys that herald the birth of disco as far as we know. Genius. As is Can't Get Enough (1974). The ever-sultry "Can't Get Enough of Your Love, Babe" and the almost spiritually life-affirming, "You're the First, the Last, My Everything", confirmed White as a master of romance who could also push forward the boundaries of technical excellence.
The formula doesn't need tinkering with on Just Another Way to Say I Love You (stand out cut is the single "What Am I Gonna Do With You"). Mid-seventies and our man is making Platinum discs on a full-time basis. If you need to play a little catch-up then his first Greatest Hits album is clearly recommended because you get ten essential White spells, most embroidered with his phone line raps.
Let the Music Play, Is This Whatcha Won't? And the return to the magnificence of Barry White Sings for Someone You Love all enjoyed a renaissance when they were remastered for CD and the trio still sounds vital today. Indeed he keeps his R&B crown intact as the 1970s draw to a close and there is an unshakable belief in the healing powers of soul to be heard on The Man and I Love to Sing the Songs I Sing – his final album for 20th Century-Fox Records.
We will pick him up again in 1987 as he delivers an R&B plus Latin mélange called The Right Night & Barry White with Gene Page providing strings and class sidemen like Nathan East and Melvin "Wah Wah" Watson putting the licks behind that rich and creamy bass-baritone. The ensuing The Man is Back! does not lie but we're really grooving on Put Me in Your Mix (1991) where he teams up with NiteFlyte man Howard Johnson while Isaac Hayes – a kindred spirit – joins him for the duet on "Dark and Lovely (You Over There)".
By now it was clear that White was worthy of serious re-evaluation – he'd been taken for granted for too long. His real comeback is The Icon is Love album (1994), which is critically acclaimed, Grammy-nominated and bang up to date in his choosing to work with Jam and Lewis. The flashpoint for this disc is "Practice What You Preach". Dig yourself up a copy.
Sadly, Staying Power will be White's final album. Judging by his version of War's rumbling "Low Rider" and Sly Stone's Thank You" he had plenty left in reserve.
Of course with an artist of this stature and importance, we have a selection of hits and anthologies. All-Time Greatest Hits is satin soul perfection thanks to "Love's Theme" followed by over an hour of magic hit songs. The 2-CD The Ultimate Collection comes in our Icon series and sounds simply magnificent. White Gold: The Very Best of Barry White (2005) delivers on every front: lushly detailed strings, enchanting lyrics and vocal arrangements to seduce.
Sorely missed by the soul loving fraternity and sorority Barry White left us with some of the most definitive and sensual sounds in the R&B canon. Posthumously inducted into the Dance Music of Fame in New York, White would also receive the coveted star on the Hollywood Walk of Fame at 6914 Hollywood Blvd. Not bad going for a kid who'd survived the gang culture of So Central LA. But then not so surprising when one considers that this man was a perfectionist with an ear and eye for what keeps the public purring.
In his case, it's invidious to second-guess where the best music lies. The compilations are mighty strong but then the albums are packed with lesser-known items that continue to pique interest. Anyone who desires a crash course in how R&B mutated into disco should start with his work with Love Unlimited, the girls and the Orchestra and then keep on going. Ecstasy awaits.
Words: Max Bell
Format:
UK English