Best Songwriting Partnerships: The Dream Teams That Made The Hits
From the Jazz Age through to modern rock, great songwriting partnerships have provided some of popular music's finest moments.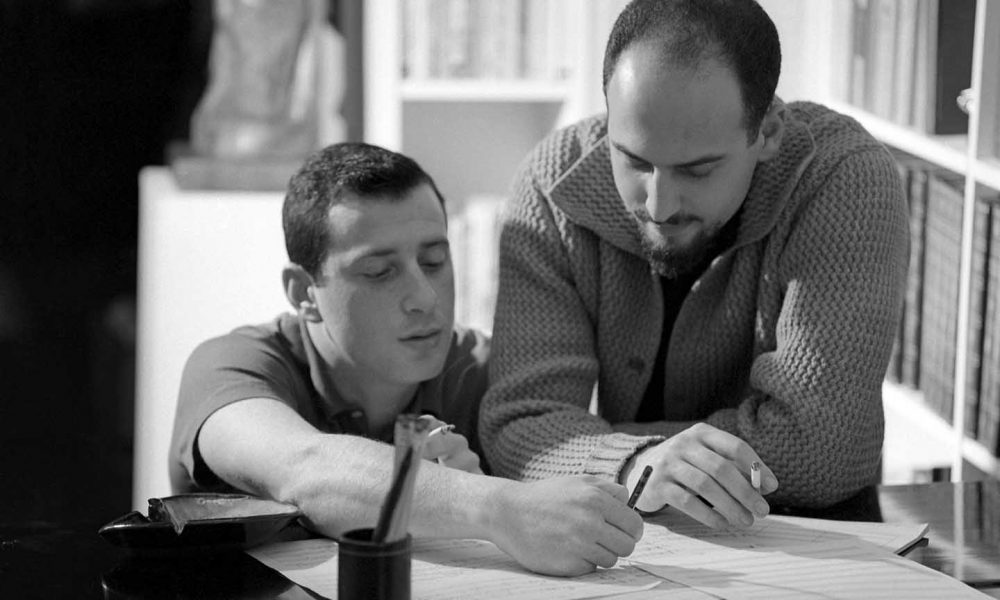 From the Jazz Age through to modern rock, great songwriting partnerships, including Lennon–McCartney, Bacharach-David, and Leiber-Stoller, have provided some of popular music's finest moments.
Here is our pick of eight of the best, with a selected track for each…
George and Ira Gershwin
Few songwriting partnerships have managed to give a musical identity to a time as successfully as George and Ira Gershwin did with their sumptuous tunes during America's Jazz Age, in the 1920s. Among the instantly recognizable compositions from these sons of Russian Jewish immigrants are "I Got Rhythm," "The Man I Love" and "Someone to Watch Over Me," a track sung with such style by both Ella Fitzgerald and Frank Sinatra. The opening clarinet glissando to "Rhapsody In Blue" is still capable of bringing tingles to the spine. The Gershwins wrote more than two dozen scores for Hollywood films and Broadway musicals, and both songwriters were awarded Congressional Gold Medals for songwriting.
Selected track: "Embraceable You" (1928)
"Embraceable You" was originally written for an unpublished operetta called East Is West and the classic version by jazz singer Billie Holiday was inducted into the Grammy Hall Of Fame in 2005.
Gerry Goffin and Carole King
When Gerry Goffin died in 2014 he left behind a remarkable catalogue of songs, many co-written with former wife Carole King; the tunes were sparkling gems of melody and syncopation. Goffin learned his trade as part of the classic Tin Pan Alley school. The 22-year-old who co-wrote "Will You Still Love Me Tomorrow" came up with a string of hits in the 60s after he teamed up with King, forming one of the classic songwriting partnerships of the decade. Their songs included "Take Good Care Of My Baby" (Bobby Vee), "Up On The Roof" (The Drifters), "I'm Into Something Good" (Herman's Hermits), "Don't Bring Me Down" (The Animals) and "(You Make Me Feel Like) A Natural Woman" (Aretha Franklin).
Selected Track: "The Loco-Motion" (1962)
This pulsating pop song has made the Top 5 in the American charts in three separate decades: in 1962, by the American pop singer Little Eva; in 1974, by Grand Funk Railroad; and in 1988, by Australian singer and actress Kylie Minogue.
The Loco-Motion (Remastered 2002)
Burt Bacharach and Hal David
The duo were introduced by Eddy Wolpin, the man who ran the celebrated Famous Music agency in New York's Brill Building. The late David was an experienced writer and Bacharach was just starting out when they were paired to write a couple of afternoons a week. But they soon gelled and wrote some of the finest pop songs of the 50s and 60s, including "Raindrops Keep Fallin' On My Head," which won the Oscar for Best Original Song in the film Butch Cassidy And The Sundance Kid. They also wrote "Do You Know the Way to San Jose?" and "The Look Of Love," cementing their status as one of the greatest songwriting partnerships of all time.
Selected Track: "Walk On By" (1964)
This beguiling song has been recorded by artists as diverse as Dionne Warwick, Isaac Hayes, British punk band The Stranglers, and Seal.
Eddie Holland, Lamont Dozier, and Brian Holland
Motown is known for its catchy songs, and when these three former performers turned to songwriting, they all found they preferred that craft to being center-stage. Eddie Holland, who had his own hit with "Jamie," suffered badly from stage fright but became a key part of the trio known as H-D-H. The three wrote and produced 25 No.1 hit singles, including "Heat Wave" for Martha And The Vandellas and "Baby Love," "Stop! In The Name Of Love" and "You Keep Me Hangin' On" for The Supremes.
Selected track: "How Sweet It Is (To Be Loved by You)" (1964)
Marvin Gaye's Motown Holland-Dozier-Holland classic was also a hit for James Taylor.
How Sweet It Is (To Be Loved By You)
John Lennon and Paul McCartney
One of the most important songwriting partnerships in all of music, it's hard to beat the songwriting combination that was the driving force behind the The Beatles' success. The different styles of the Liverpudlian pair (Lennon said of his writing partner that Paul "provided a lightness, an optimism, while I would always go for the sadness, the discords, the bluesy notes") and their unique viewpoints produced 20 No.1 hits and scores of complex and potent songs, including "A Hard Day's Night" and "A Day In The Life."
Selected track: "Day Tripper" (1965)
You can take your pick from so many wonderful Lennon-McCartney songs, but evidence of their class is that even great musicians can find something different to bring out of a Beatles classic, as, for example, Otis Redding does with his version of "Day Tripper," a tune the pair wrote in quick order when a Christmas single was needed.
Day Tripper (Remastered 2015)
Jerry Leiber and Mike Stoller
One of the iconic songwriting partnerships of the rock'n'roll era, as young men these two Jewish songwriters, who met in Los Angeles when both were just 17, used to hang out with jazz musicians such as Dexter Gordon and Lester Young. "We were both turned on by black culture," said Stoller. In 1954 they hooked up with R&B pioneer Johnny Otis, who wanted a song for one of his artists, Big Mama Thornton. They dashed off "Hound Dog" in under a quarter of an hour. It was the song that would do so much for Elvis Presley.
Leiber and Stoller made their name writing songs for The Coasters – many of them comic outings such as "Yakety Yak," "Charlie Brown" and "Poison Ivy." They also wrote for The Drifters and co-wrote the beautiful "Stand By Me," the soul song that was a massive hit for Ben E King. For Presley, they wrote "Jailhouse Rock," "Treat Me Nice" and "Love Me."
Selected track: "Is That All There Is?" (1967)
A beautiful, mournful song. Leiber said that his favorite version of any of their songs was Peggy Lee's take on "Is That All There Is?" The song won Lee a Grammy and the lush orchestration was overseen by Randy Newman.
Mick Jagger and Keith Richards
Unlike Lennon and McCartney, Jagger and Richards were a little more reluctant to take up the pen and compose their own lyrics. Thankfully, they were persuaded to try, and their classic songs have kept coming for more than half a century. The Rolling Stones went gold with their US debut album in 1964; the following year, the powerful, anthemic song "(I Can't Get No) Satisfaction" topped the charts on both sides of the Atlantic, after it had been written in a hotel room in Clearwater, Florida, while the pair were improvising over a guitar riff.
Selected track: "Honky Tonk Women" (1969)
The single was released in Britain the day after the death of founding member Brian Jones. The creative power of Jagger-Richards as songwriters is perhaps shown in the fact that the B-side was the stunning "You Can't Always Get What You Want."
Barrett Strong and Norman Whitfield
Another pivotal figure in Motown's formative years was songwriter Barrett Strong, a key member of Berry Gordy's inner circle. During the late 60s and early 70s, Strong collaborated with Norman Whitfield on some memorable songs, including "I Heard It Through The Grapevine," "Too Busy Thinking About My Baby" and "War."
Selected track: "Papa Was A Rollin' Stone" (1971)
Strong and Whitfield's song was first recorded by The Undisputed Truth, but when Whitfield produced a 12-minute version by The Temptations a year later, a psychedelic soul classic was born.
Elton John and Bernie Taupin
Asides from The Beatles and the Stones, successful bands such as ABBA, The Clash, The Smiths, and Led Zeppelin have used collaborations, but when the chemistry is just right, songwriting partnerships can be unique. Music-mad Elton John and Bernie Taupin, a teenager who had left school without any qualifications, blended imagination and sensibility to create a body of work that balanced catchy pop melodies with moving, elegiac lyrics. Their friend Gary Osborne once revealed how they worked together, saying: "Bernie would send Elton a sheaf of what were, at that stage, poems, really. Elton would start doodling around and be on the piano, editing until he had a song. He told me that he wrote every tune on the Yellow Brick Road album in one weekend." Their classics include "Rocket Man," "Goodbye Yellow Brick Road," "Daniel" and "Your Song."
Selected track: "Sorry Seems To Be the Hardest Word" (1976)
Elton John and Bernie Taupin's classic weepie was also a hit in the 90s for Joe Cocker.