Jane's Addiction
Jane's Addiction are a Los Angeles hard rock band fronted by Perry Farrell with albums like Ritual De Lo Habitual and Nothing's Shocking.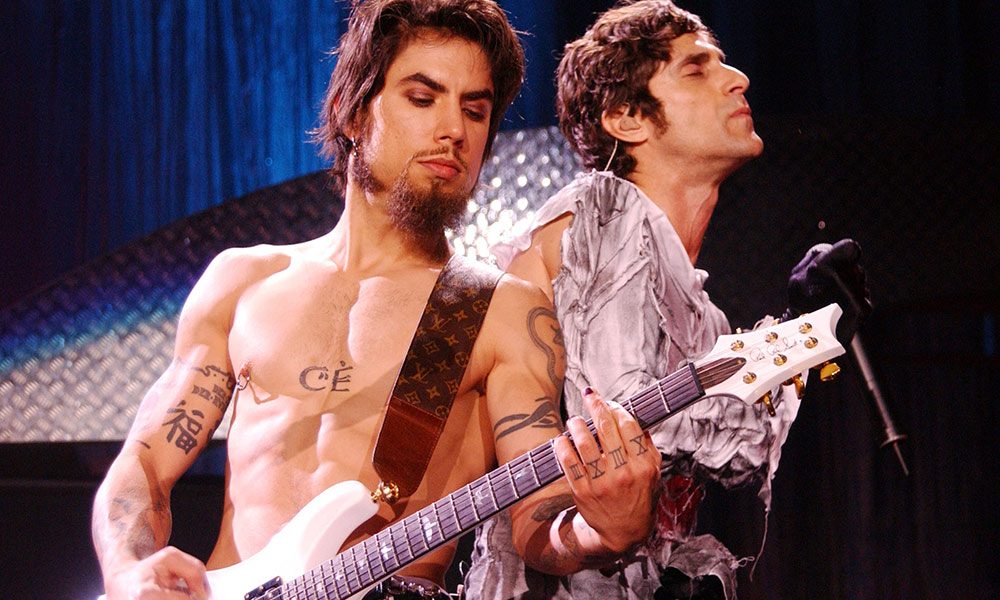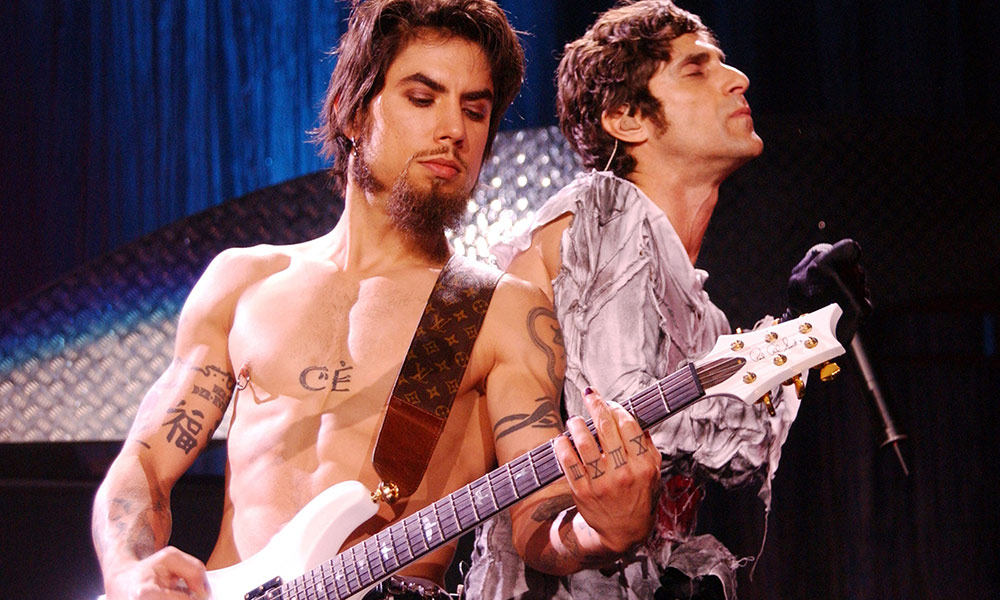 Calling Jane's Addiction an alternative metal rock and funk band is to simplify the impact that Perry Farrell, Stephen Perkins, Dave Navarro and Chris Chaney have exerted on the mainstream of grand modern American music. Founding member and father figure Farrell is a force of nature and an iconoclast. Like Trent Reznor, he has forged the concept of the alternative nation and is considered by many to be as influential as Nirvana were. The early albums, Nothing's Shocking and Ritual de lo Habitual are perennial classics that wowed critics on release and drew a fan base that has served them well to the current day. Farrell's involvement in the vital Lollapalooza festival tour helped launch the careers of other acts and he is now a wise elder statesman of 56 years whose experience has given him the right to involve himself in many charitable enterprises that have seen him rub shoulders with politicians and relief workers. He is also a champion of environmental and ecological causes.
Back at base Jane's Addiction have sold a lot of albums over a long period of time so that platinum status may have come slowly but has been richly earned. They even took a long hiatus away from new studio work but still issued plenty if live and compilation material in the interim before returning with a bang in 2003 with Strays, the disc that includes their biggest single hit to date, "Just Because". Suitably energised the fourth studio release, The Great Escape Artist, saw them move into darker, art-rock territory somewhat influenced by Radiohead and Muse.
The roots of the band are complex but go back to Farrell's time in Los Angeles band Psi Com. As that project faltered he began to cast for different players and enlisted original Addiction bassist Eric Avery, a fellow Velvet Underground and Joy Division lover. Drummer Perkins and guitarist Dave Avery completed the line-up that made them a sensation on the local club scene and persuaded their new label bosses to let them record the self-titled debut live at The Roxy with additional sessions carried out at The Edge Studio with producer Mark Linett, more usually associated with The Beach Boys. While this album dipped its toe in the water it still contains fine versions of the Velvets'' "Rock n Roll" (from Loaded), the Rolling Stones song "Sympathy" (for some reason they omitted the "For the Devil" on the cover) and the early signature tune "Jane Says" something they still play regularly and often close out on live. The track is about and is dedicated to Jane Bainter, the band's namesake and mentor in the beginning.
"Jane Says" also appears on the first true studio disc, Nothing's Shocking, where they move their operation to Eldorado Studios and enlist producer Dave Jerden. (Chosen partly because of his engineering feats on the David Byrne/Brian Eno masterpiece My Life in the Bush of Ghosts. A re-recording of "Pigs in Zen" and the chance to hear the older track "Mountain Song" make this a must-hear. Special guests are Angelo Moore on sax and Red Hot Chili Peppers stalwart Flea on trumpet! There are some other curiosities on this disc: "Standing in the Shower…" and "Ted, Just Admit It…[**]" are further reasons why the album has become revered as one of the greatest releases of the 1980s.
Just as their star started to burn Jane's Addiction imploded around the time of Ritual de lo Habitual, though that title contained the sub-text for their misgivings. Personal problems and the demands of constant touring took a heavy toll but they still took part in the inaugural Lollapalooza circuit.
Ironically they made it big here with "Been Caught Stealing" (chosen as a Desert Island Disc on the radio programme of that name by the legendary Alice Cooper) and "Stop!" and so 1990 and 1991 were classic JA years. Inspirational, committed and liable to self-destruct the band were an example of what happens when too much fame gets in the way of the main objective. But that doesn't detract from the amazing songs within, of which "Three Days" stands out thanks to Navarro's amazing guitar solo.
Jane's first album for Capitol, the mighty Strays, came out in 2003 with a new bass player, Chris Chaney, and a Bob Ezrin production. Ezrin was called on because of his reputation for having worked on Lou Reed's Berlin and the metal years of the Alice Cooper Band, also Pink Floyd and Kiss, different strands of the music Farrell and co. grew up on.
The Grammy-nominated "Just Because" is famous of course but the nu-metal mood is enhanced by orchestration, horns, backing vocals and a taste of country provided by John Shanks on mandolin.
Ever eclectic, they maintained their old hard rock core but added layers of subtlety that repay discovery today. And so no surprise that it takes another eight years before The Great Escape Artist arrives in 2011. With David Andrew Sitek helping out on bass, programming and guitars and the Master Musicians of Joujouka (once employed in an earlier guise by Brian Jones of the Stones) adding percussion to the epic "End to the Lies" this is a comeback album of importance. Check out the brilliant "Irresistible Force (Met the Immovable Object)" with its haunting synths and electronic soundscapes and the Duff McKagan collaborations like the dark "Ultimate Reason".
Deep within the grooves though, the old playfulness, humour and genre-busting continue to exact a hold. This is a fine disc for the current era. Check it on the Best Buy Deluxe edition where a live disc offers a virtual greatest hits of favourites.
We also recommend 2013's Live in NYC and the Best Of – Up From the Catacombs. Those with endless fascination will gravitate to the box set A Cabinet of Curiosities, "a really nice fetish object" according to Perry and one stuffed full of rarities, demos, memorabilia and all the associated tricks and treats the true fan demands.
While their career has been divided into segments in the thirty years they've been extant Jane's Addiction are a force for good. Their side-projects, Porno for Pyros, Deconstruction, Banyan, The Panic Channel and The Satellite Party have kept the various members keen and honest. Their legacy is felt in everyone from Korn and Smashing Pumpkins to System of a Down and Strapping Young Lad. Just as they looked up to their idols back in the day the Addiction men are now heroes in their own right. Time to join the habitual ritual and get addicted to Jane.
Words: Max Bell
Format:
UK English