Best Rob Zombie Songs: 20 Essential Tracks
The best Rob Zombie songs take a trip through the eye-opening career of the larger-than-life heavy metal legend.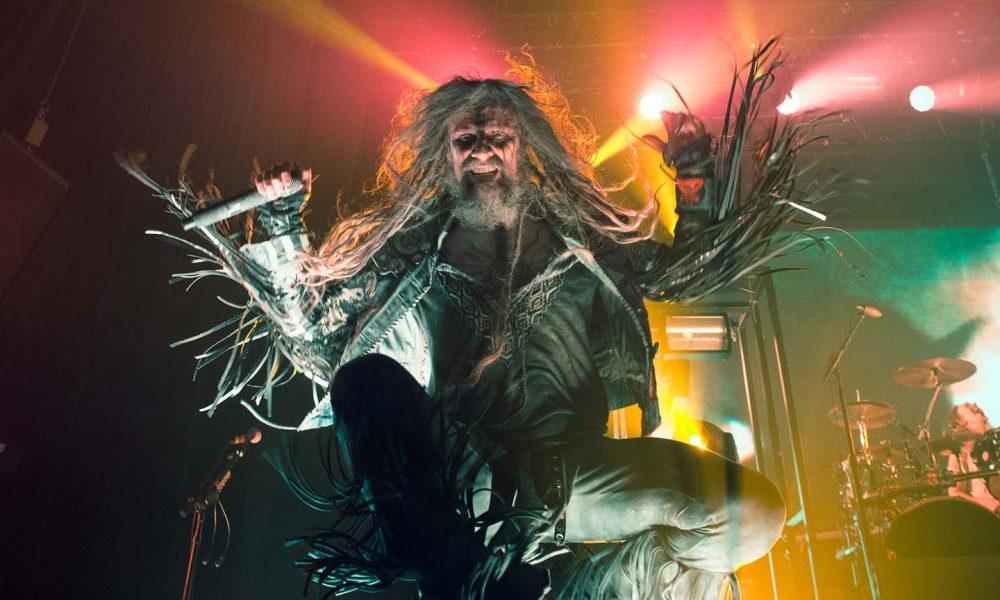 As a pioneer of avant-garde metal, the larger-than-life Rob Zombie has achieved more than your average heavy metal musician. Born on January 12, 1965 and known as Robert Cummings to his family and close friends, Zombie has a fantastically dark and twisted mind that's spawned a loud and bloody legacy of cinematic and recorded brilliance spanning almost three decades. The best Rob Zombie songs invade the consciousness, burrowing deep and refusing to leave.
An early fascination with horror and the macabre, combined with the classic 70s output of rock legends Blue Öyster Cult, KISS, and Alice Cooper, provided the ingredients for Zombie's persona and, later, the creation of the now legendary band White Zombie. Moving to New York at the tender age of 18, to pursue a career as an artist in Parsons School Of Design, Cummings slowly began to evolve into his alter ego.
Listen to our playlist of the best Rob Zombie songs now.
A regular punter at the infamous CBGB club in the city's then-dilapidated East Village, he witnessed a vast array of punk and metal bands take to the stage, though most failed to grab his attention. Rob felt the razzmatazz and showmanship of the New York underground art-rock scene lacked innovation, and, by the mid-80s, he and his then-girlfriend, Shauna Reynolds (AKA bassist Sean Yseult), developed the blueprint for White Zombie, named after the 1932 horror film of the same name – now considered the world's first feature-length zombie movie. Their motive was to push the boundaries of experimental rock/art noise in both sound and performance.
Zombie's unpredictable career began to unfold thanks to his outsized presence on the New York club circuit. Having accomplished a steady amount of local support, White Zombie began to bleed into the growing mid-80s metal scene, opening for bands such as Anthrax, Danzig, and Megadeth. Though audiences didn't know what to make of the band's apocalyptic, punk-inspired noise, there was still something enthralling about White Zombie. The release of their third EP, 1989's God Of Thunder, caught the interest of Geffen's then A&R executive, Michael Alago, who'd previously signed Metallica. In 1992 the band issued their third album, the career-defining moment in Rob Zombie's legacy, La Sexorcisto: Devil Music, Volume 1, which featured the likes of "Thunder Kiss '65″ and "Black Sunshine."
White Zombie - Black Sunshine ft. Iggy Pop
White Zombie's major-label debut was an innovative breakthrough, embedding horror B-movie audio samples within industrial electronic undertones and snarling aggression. This bastardized cross-pollination of underground music spiked interest from die-hard metal, punk, and alt.noise fans around the globe, resulting in double-platinum recognition for sales of over two million.
By late '93, Zombie had relocated to LA and found himself in a position of creative power with a substantial budget at his disposal. What followed was a groundbreaking album that further pushed the boundaries of sound and composition, reinventing a formulaic cycle within the heavy and alternative subgenres of the mid-90s.
Released in April 1995, Astro Creep: 2000 followed in the footsteps of Pantera's groundbreaking 1992 album, Vulgar Display Of Power, and achieved multi-platinum status. But though it entered the history books as one of the biggest-selling rock/metal albums of the 90s (thanks in no small part to the inclusion of singles "Super-Charger Heaven" and the US No.10 "More Human Than Human"), it was the last studio album White Zombie would release, the band's rigorous touring schedule taking its toll. However, the split was perhaps inevitable, as Zombie himself had become a bonafide rock star; as 1996 came to a close, Robert Cummings faced a new dawn.
White Zombie - More Human Than Human
The sudden death of White Zombie gave Cummings time to reflect and reignite his passion for movies. At the end of the late 90s, a screenplay he had written for iconic goth-inspired franchise The Crow was accepted with the intention of going to production. This ultimately never came to pass (Zombie's movie career took off a few years later), and so the focus was very much back on music. Preceded (by a day) by lead single "Dragula," Zombie released his debut solo album, Hellbilly Deluxe, on August 25, 1998 – a collection that still contains many of the best Rob Zombie songs of the 90s. It featured "Meet The Creeper" and second solo single, "Living Dead Girl."
Not a million miles away from the White Zombie template, as a solo artist Rob Zombie explored his fascination with B-movies and 70s trailer-trash horror. Featuring Mötley Crüe drummer Tommy Lee, Hellbilly Deluxe quickly became a concrete statement regarding its creator's newfound creative freedom; now switching between musician and screenwriter, he began writing his full-length directorial debut, House Of 1,000 Corpses.
Zombie's sophomore solo album, The Sinister Urge, surfaced in 2001, featuring a host of guest appearances, including Ozzy Osbourne, Chris Chaney (Jane's Addiction), Beastie Boys' DJ Mix Master Mike, Kerry King (Slayer) and Tommy Lee, who once again handled some drum duties. Featuring the likes of "Go To California," "Scum Of The Earth," "Never Gonna Stop (The Red, Red Kroovy)," and "Bring Her Down (To Crippletown)," the album achieved global success and platinum status.
Rob Zombie - Never Gonna Stop (The Red Red Kroovy)
Zombie's market value was at an all-time high, and, after having shot the film in 2000, House Of 1,000 Corpses finally saw the light of day in 2003. His second film, The Devil's Rejects, soon followed, in 2005, with Zombie's third solo album, Educated Horses, following hot on its heels the following year. Though it displayed Zombie's most obscure work within the context of his overall career ("American Witch" nestling up to the likes of single "Foxy Foxy"), the album nevertheless did well, reaching No.5 in the US.
A pattern was forming: Zombie switching from musician to filmmaker with each new project. Over the course of the next decade, his accomplishments as both a director and recording artist would be indisputable, with a highly successful 2007 remake of the 70s slasher movie Halloween sitting alongside albums such as 2010's Hellbilly Deluxe 2 (featuring the singles "Sick Bubblegum" and "What?") and 2013's Venomous Rat Regeneration Vendor (whose perplexing title extended to album cuts such as "Teenage Nosferatu Pussy," "Ging Gang Gong De Do Gong De Laga Raga," "The Girl Who Loved The Monsters," and "Lucifer Rising"). Riding high in charts around the world, the albums were further proof that the best Rob Zombie songs carried an element of mystery and intrigue that continued to attract the record-buying public.
Rob Zombie - Ging Gang Gong De Do Gong De Laga Raga (Audio / Live)
He shows no sign of slowing down. The January 2016 release of arguably his most disturbing film, 31, was swiftly followed by "Well, Everybody's Fucking In A UFO," the first taste from Zombie's 2016 album, The Electric Warlock Acid Witch Satanic Orgy Celebration Dispenser. His sixth solo album, it suggested that he had plenty more to add to the ever-growing list of the best Rob Zombie songs. Robert Cummings' dark and fabulously twisted mind continues to help Zombie reign supreme as a rock'n'roll visionary and modern-day creative pirate.
Follow the Rob Zombie playlist for more of the best Rob Zombie songs.