'Hellbilly Deluxe 2': Taking Another Wild Ride With Rob Zombie
With 'Hellbilly Deluxe 2,' Rob Zombie stuck his flag more deeply in the rock mountain than he had in some time, taking fans on his wildest ride yet.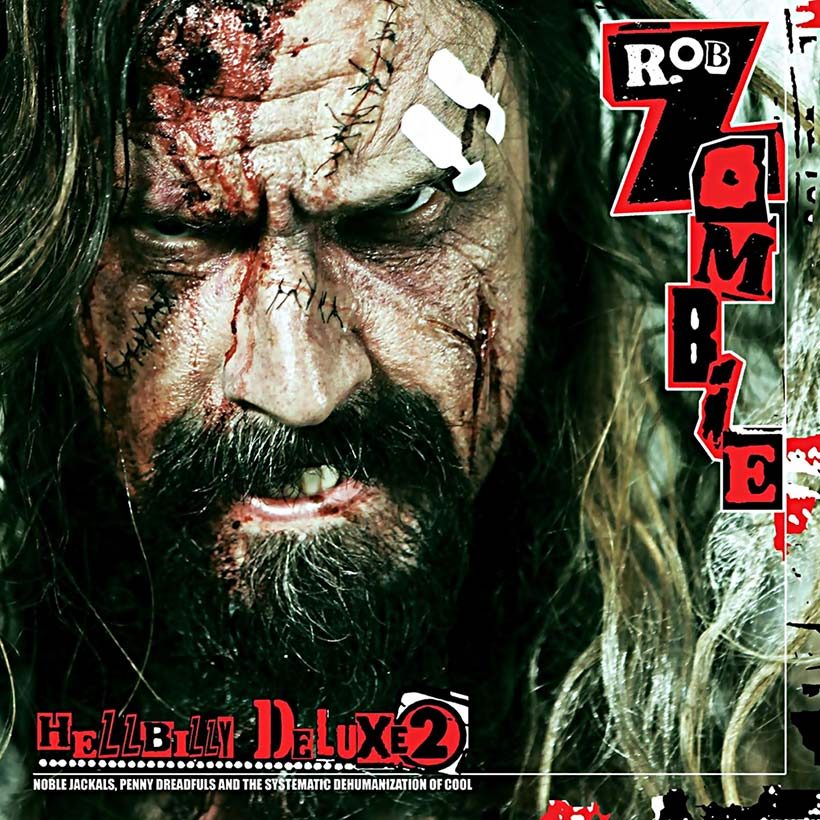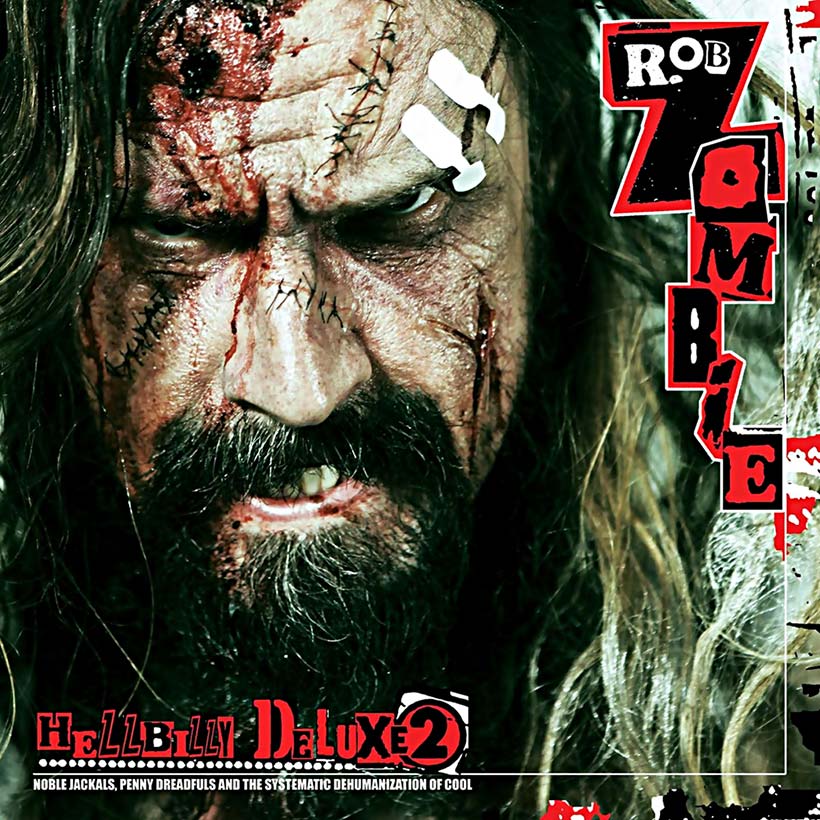 Take a look at the cover for Hellbilly Deluxe 2 and compare it to the artwork of Rob Zombie's previous record, 2006's Educated Horses. A pretty damn sizable change, right? If you were unfamiliar with Zombie as a character and a pop culture figure, you could easily look at the Educated Horses art and mistake it for some kind of introspective acoustic album, the only clue being the slightly jagged font in which Zombie's name is written. In 2006, he looked about as clean and normal as he ever has, and he seems to gaze pensively into the distance, pondering one thing or another. On the cover of Hellbilly Deluxe 2, however, Zombie stares you down directly with blood on his face, horrific scars on his skin, and his teeth bared; the bold and brazen logo surrounding his profile frame him like a panel out of a comic book. The message is clear: this is going to be one wild ride.
Given the album's follow-up status to Rob Zombie's original psychedelic nightmare hit-factory, it couldn't be any other way. Album sequels are often a dangerous idea. So many heritage artists have to contend with their new work constantly being compared to their early achievements, regardless of the fact that those past albums were often made in wholly different circumstances, in a different time and by fundamentally different people. Many naturally do their best to distance themselves from that idea, highlighting their growth and evolution.
So you decide to bill your new album as a sequel to your renowned classic? You're just asking for comparisons, and the scrutiny is going to be more intense than ever. Added to that, the original Hellbilly Deluxe isn't comparable to something like King Diamond's Abigail, where there is a clear story and concept that can flow into a new work, making its follow-up a narrative necessity. Hellbilly Deluxe is just a collection of massive, horror-themed metal club bangers, and Zombie could continue making those under any name he pleased.
It was almost a shock, then, how much of a success Hellbilly Deluxe 2: Noble Jackals, Penny Dreadfuls And The Systematic Dehumanization Of Cool (to give it its full title) actually ended up being. This was the most unrelentingly schlocky record Rob Zombie had made in ages, with plenty of carnival thrills up its sleeve. Opener "Jesus Frankenstein" simply slams, creeping in at first with eerie guitar flourishes before that verse riff finally snaps into place like a broken neck in one of Zombie's films. Its chanted chorus is incredibly simplistic, but that just makes you want to shout it all the louder. Likewise, "Sick Bubblegum" has all the makings of an archetypal Rob Zombie stomper, and the first single "What?" is an absolute riot, Zombie demonstrating just how much fun he's having straight from his opening "Alright!"
To describe this album as a hard reset would be an exaggeration, as tracks such as "Mars Needs Women" and the manic hard rock hoedown of "Werewolf, Baby!" showcase some of the increased bluesy elements he'd played with on Educated Horses. What it does see, though, is Zombie writing with his actual touring band for the first time in such a collaborative fashion. The result is to almost give Hellbilly Deluxe 2 a garage feel, less that of an industrial metal album and more in tune with the 70s shock-rock that Zombie grew up with, just with more delirious bells and whistles thrown on top as he makes an album as wild-eyed and deviant as is feasible. "Werewolf Women Of The SS" feels like it could be the ludicrous cartoon theme tune to Zombie's frankly mental animated movie El Superbeasto. Then, as the album closes on "The Man Who Laughs," a typical grooving Rob Zombie riffs rides underneath string arrangements that add an element previously rather alien to Zombie's music: sophistication.
Rob Zombie - Sick Bubblegum
Throughout the 00s, Zombie showed far more interest in making his beloved horror movies than penning another collection of depraved dancefloor hip-shakers, to the point of leading fans to wonder whether he'd ever bother coming back to music at all. Solely in terms of the amount of people he reached, it'd be hard to blame him. More people saw Zombie's Halloween remake than had picked up his albums, the film pulling over $80 million at the box office. There was a five-year gap between The Sinister Urge and Educated Horses, and a four-year gap between that album and Hellbilly Deluxe 2. Recording for the latter had wrapped up by late 2008, but it wasn't until February 2, 2010, that the album saw the light of day, because Zombie was busy working on Halloween's sequel.
In contrast, since Hellbilly Deluxe 2, Rob Zombie has reliably released an album every three years, and remains a staple on the festival circuit. It's not too much of a stretch to suggest that Hellbilly Deluxe 2 is the album that brought Zombie firmly back into the musical world as a constant and dependably freaky presence – a moment that saw Zombie reclimb the mountain of rock and entrench his flag more deeply at the top than he had in some time, no matter what opportunities Hollywood threw at him. For that alone, the album's sequel billing to his breakthrough classic seems apt in a way we perhaps hadn't predicted at the time.
Listen to the Best Of Rob Zombie on Apple Music and Spotify.