Joan Armatrading
Joan Armatrading is a British singer-songwriter with a 50 year career that includes classic songs like Drop The Pilot and Love and Affection.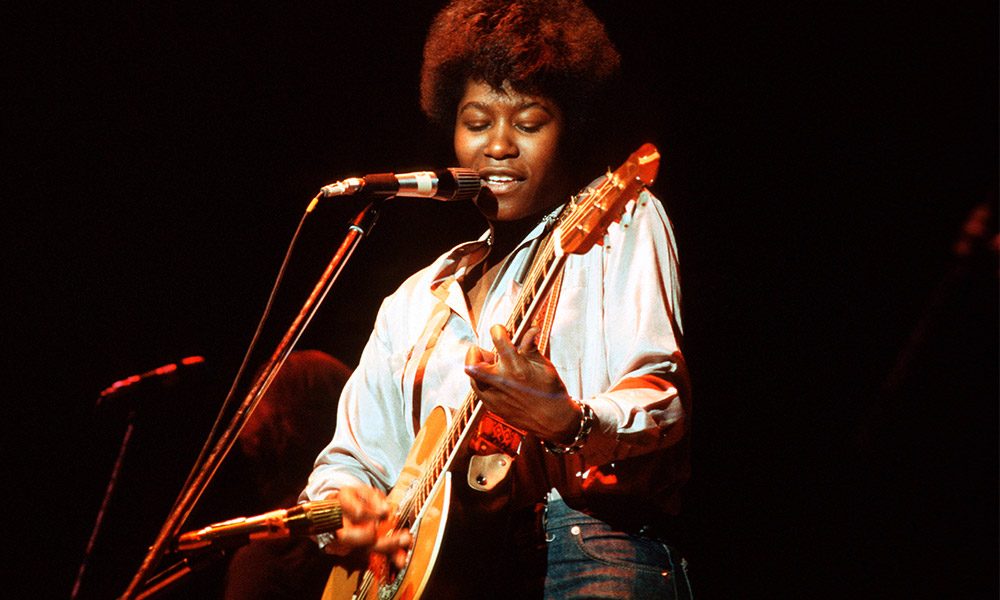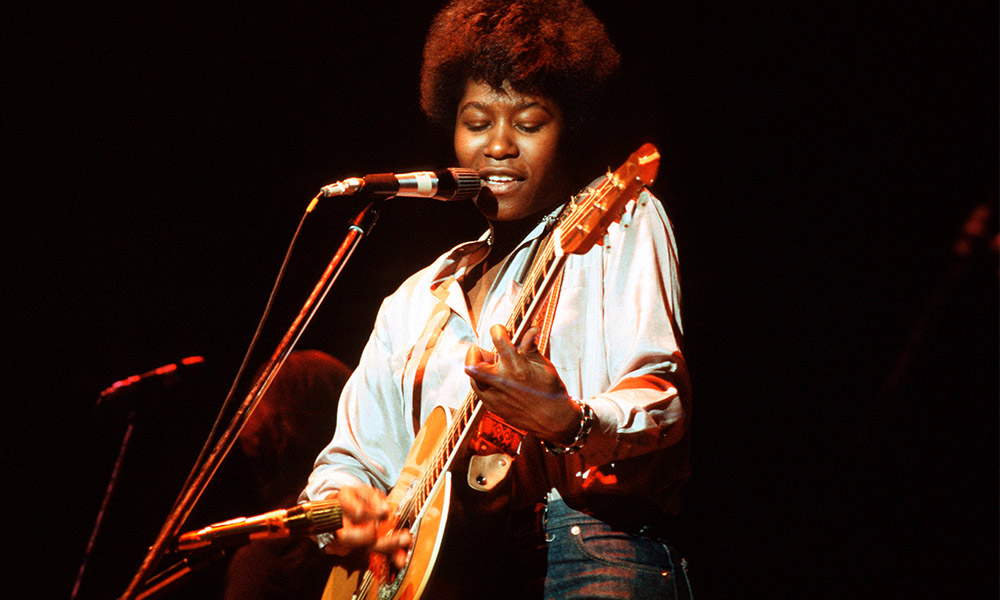 The first black female singer-songwriter to enjoy major commercial success in her native Britain, Joan Armatrading's career has so far spanned more than four decades. A dedicated artist who values her privacy offstage, she's released 18 studio albums, obtained a litany of industry awards (including an Ivor Novello and three Grammy nominations), received an MBE in 2001 and still commands a devoted fanbase.
Birmingham proudly claims Armatrading as one of its own, though she was actually born (as Joan Anita Barbara Armatrading) in Basseterre, on the Caribbean Island of Saint Kitts, in 1950. Her parents relocated to the UK with her five siblings when she was just three, but Joan stayed on with her grandmother in Antigua until she was seven, when she joined her parents in the Birmingham district of Brookfields. Much of this area has now been absorbed into Handsworth, the part of the city later immortalised by much-loved reggae act Steel Pulse on their landmark Handsworth Revolution LP.
Music assumed an increased significance in Joan Armatrading's life in her early teens. She initially set her self-penned poems and limericks to compositions she made on the old piano in her family home but made greater strides when her mother acquired her an acoustic guitar from a local pawn shop – reputedly in exchange for two prams.
Working up her own material, but keen to help support her family, Joan left school at 15 and began working a series of local jobs. Yet she wasn't to be discouraged from performing. She first set foot on stage at Birmingham University, playing her own songs (and a cover of Simon & Garfunkel's 'The Sound Of Silence') at the age of 16, before paying her dues the hard way: gigging locally in pubs and taverns and becoming accomplished on both guitar and bass.
Armatrading's first important break came in 1970 when she joined a local repertory theatre production of the counterculture-related stage musical Hair. While involved in this performance, she met a talented local lyricist Pam Nestor, and the two began working up songs together as a duo.
Nestor and Armatrading had built up a repertoire of around 100 songs by 1972 when their early demos came to the attention of music publisher David Platz. Previously the co-founder of the Fly imprint, Platz had already made a mark in the industry, with Fly has been responsible for releasing hit 45s from The Move and John Kongos (the latter's 'He's Gonna Step On You Again', later famously reworked as 'Step On' by Happy Mondays), in addition to T.Rex's breakthrough No.1 LP, Electric Warrior.
At this point, Nestor and Armatrading had thought of themselves as a duo, though it was primarily Armatrading's highly expressive contralto vocal that attracted Platz and his new label, Cube. As a result, while Platz was keen to bankroll their first LP, 1972's Whatever's For Us, he released and marketed the album as Joan Armatrading's solo debut, even though Nestor co-wrote all but three of the LP's 14 songs.
Cube spared no expense with Whatever's For Us. Overseen by Gus Dudgeon (producer of David Bowie's 'Space Oddity'), the tracks were laid down at the rural French studio Château d'Hérouville, using session aces such as guitarist Davey Johnstone, Elton John percussionist Ray Cooper and Fairport Convention/Fotheringay drummer Gerry Conway. Broadly an accomplished folk-rock LP, the record featured tracks such as 'City Girl' and 'It Could Have Been Better', which later appeared on Armatrading's anthology collections, and it received positive press on release in November 1972, with Mark Plummer's review in Melody Maker even comparing Armatrading's voice to Nina Simone's. The LP failed to chart, however, and while Armatrading sang and played the guitar on all the tracks, Pam Nestor was conspicuous by her absence, despite co-writing 11 of the 14 songs. This led to tensions which resulted in Armatrading and Nestor dissolving their writing partnership.
Armatrading thus made her first appearance as a solo artist in late 1972, at London's renowned Ronnie Scott's Jazz Club. This was followed by a residency at the same venue, a solo tour of US folk clubs, and a two-week tour supporting José Feliciano in 1973. Armatrading was, however, keen to free herself from her Cube contract after Whatever's For Us' uncomfortable pregnancy, and she signed to A&M for 1975's Back To The Night. Though it again missed the Top 40, the record featured a far stronger collection of songs, with highlights including the sensitive, Moog- and piano-driven ballad 'Dry Land', and two fine, jazz-inflected numbers, 'Cool Blue Stole My Heart' and 'Come When You Need Me'.
The LP was promoted by a well-received tour featuring Armatrading backed up by a jazz-pop sextet, The Movies (who also recorded for A&M and CBS), but her commercial breakthrough came with the following year's Joan Armatrading. Featuring a clutch of Armatrading's most resonant vocal performances, the LP had a more mainstream rock/pop sound and it benefitted from a crisp, punchy production from highly regarded studio wizard Glyn Johns ( The Who; The Rolling Stones). The glorious 'Save Me' and the country-flavoured 'Down To Zero' were among its many highlights, but, for most, the album's touchstone was the feisty, string-kissed ballad 'Love & Affection', which provided Armatrading with her lone UK Top 10 hit. The critically acclaimed parent album also charted highly, rising to No.12 in the UK Top 40 and earning Armatrading a gold disc in the process.
The success of her eponymously titled third elevated Joan Armatrading to the ranks of rock's leading female artists and she released a string of big-selling discs in its wake. Again produced by Glyn Johns and charting in the UK Top 10, 1977's gold-certified Show Some Emotion once more spawned a pair of memorable, radio-friendly singles in 'Willow' and the popular titular song, while 1978's To The Limit (UK No.13) included a couple of glorious ballads ('Baby I'; 'Your Letter') and the playful, reggae-tinged 'Bottom To The Top'.
The release of 1979's 9-track live LP, Steppin' Out, meanwhile, showcased Armatrading at the peak of her powers onstage. Positively received by the critics on release, Steppin' Out garnered further critical reappraisal when it was granted an expanded DVD reissue in 2004, featuring two complete concerts, filmed and recorded in Cologne and Essen, for German TV channel WDR, in 1979 and 1980, respectively.
Armatrading scaled her commercial pinnacle, however, with 1980's Me Myself I. Helmed by former Blondie producer Richard Gottehrer, the album featured contributions from guitarist Chris Spedding and saxophonist Clarence Clemons, the latter on loan from Bruce Springsteen's E Street Band, and the results were notably rockier than anything Armatrading had previously released. The LP's title cut (which provided her second UK Top 30 hit) was a riff-heavy, new wave-style number, while the album also included a clutch of polished pop-rock numbers, including 'Ma Me O Beach' and the infectious 'Is It Tomorrow Yet?', as well as the yearning ballad 'All The Way From America', which harked back to her folksy early days. The record's upbeat, radio-friendly approach did the trick on both sides of the Atlantic, with Me Myself I reaching No.5 in the UK (going gold in the process), but also climbing to an impressive No.28 on the US Billboard 200.
A similar cycle of critical acceptance and commercial success greeted Armatrading's next two LPs, 1981's Walk Under Ladders and '83's The Key. Again buffed up to a radio-friendly sheen by Steve Lillywhite's bright, no-nonsense production, the former consolidated on the ground gained by Me Myself I and yielded two minor UK hits, 'No Love' and the optimistic 'I'm Lucky'. It also won a fifth gold disc for Armatrading, charting at No.6 in the UK Top 40. The Key, though, was a smidgen more adventurous, taking in Stax-style horn arrangements, R&B and even the aggressively punky anthem '(I Love It When You) Call Me Names', featuring a wild, squealing guitar solo from David Bowie/Talking Heads alumnus Adrian Belew. On the strength of the brash, catchy UK Top 20 hit 'Drop The Pilot', the album gained another gold certification and went to No.10 on the UK Top 40.
Though The Key would be Joan Armatrading's last gold-selling album until A&M's self-explanatory greatest hits set, The Very Best Of Joan Armatrading (1991), she subsequently recorded a string of critically acclaimed LPs, all of which charted in the UK Top 30 and gained silver certifications. Produced by Mike Howlett (OMD; The Comsat Angels), 1985's Secret Secrets was an eclectic outing, veering from the crunchy, anthemic title cut to the jazz-inflected 'Talking To The Wall' and 'Persona Grata': a sweeping, arena-sized rock epic with swooning strings. 1986's Sleight Of Hand, meanwhile, was a well-crafted, self-produced affair (and the first LP recorded at Armatrading's own Bumpkin Studio) and '88's stripped-back The Shouting Stage included cameos from Dire Straits' frontman Mark Knopfler and Big Country drummer Mark Brzezicki.
Despite a slightly lower profile in the marketplace, Armatrading also released a bunch of highly commendable LPs during the 90s. While the UK Top 40 was inundated with indie-dance remixes, 1990s Hearts & Flowers was a solid, but largely unsung set that charted at No.29, while '92's Square The Circle (UK No.34) proved to be her final release through her long-standing label, A&M. Co-produced by David Tickle (Blondie/Department S), 1995's What's Inside was Armatrading's only LP for her next label, RCA, and – to date – is her final major-label release.
An elegant and mature collection featuring string arrangements from the London Metropolitan Orchestra, What's Inside included tempting, jazz-flavoured tracks such as 'In Your Eyes', along with two blues numbers ('Back On The Road' and 'Lost The Love') prefiguring Armatrading's 2007 LP, Into The Blues. Yet, despite this dynamic, beautifully realised material and shoulda-been hit single 'Can't Stop Loving You', What's Inside mystifyingly stalled at No.48 on the UK Top 75.
Armatrading stayed out of the public eye for a while, but she re-emerged in the new millennium and has since delighted her substantial fanbase with new releases and regular touring. She played most of the instruments herself on 2003's poignant, assured Lover's Speak (released through the Denon imprint), which was hailed by the critics as her best album for years. It was followed in style by 2007's Into The Blues: an accomplished modern blues LP that debuted at No.1 on the Billboard's Blues Chart.
Nominated for a Grammy Award in 2008, Into The Blues attracted a slew of enthusiastic critical notices, with Record Collector moved to describe it as "the most complete portrait yet of an often underrated singer-songwriter". With her profile at its highest since her 80s heyday, Armatrading was much in demand once again; turning in a critically hailed performance on Later… With Jools Holland and sharing the stage with Cyndi Lauper on the latter's True Colors tour of 2008.
Armatrading has since released two further critically lauded studio sets. Promoted with an extensive international tour, including a rapturously received date at London's prestigious Royal Albert Hall, 2010's folk-rock-inspired This Charming Life peaked at No.4 on the US Billboard Folk Albums chart, while, for 2012's jazzy Starlight, Armatrading undertook a 56-date UK tour wherein she invited 56 local singer-songwriters to open for her in their respective home towns before the tour's main support, English folk musician Chris Wood, took to the stage.
Though she has confessed on her own website that she will "never retire", Joan Armatrading announced in October 2013 that the solo tour she was about to embark on would comprise her last ever major bout of gigging. Though her devoted fanbase was understandably saddened, the dates have since morphed into a remarkable trek which has continued for almost two years, with Armatrading gigging in territories as far-flung as South Africa, Oceania, Scandinavia and North America, as well as several lengthy trawls around the UK.
Delving deep into one of pop's most remarkable songbooks, Joan Armatrading has performed these dates with just piano, guitar and her instantly recognisable voice, thrilling audiences and playing in front of packed houses virtually every night. She has already succeeded in her quest "to capture a unique memory for both myself and audience" by undertaking this astonishing run of shows, and if it does prove to be her final lap of honour, Armatrading leaves the building with applause ringing in her ears, and her singular reputation very much intact.
Format:
UK English