Eric Church
Eric Church can do mainstream very well but he's also something of a maverick who might slip in some Led Zeppelin-inspired riffs for the arena crowd or a blast of psychedelia for the club folks.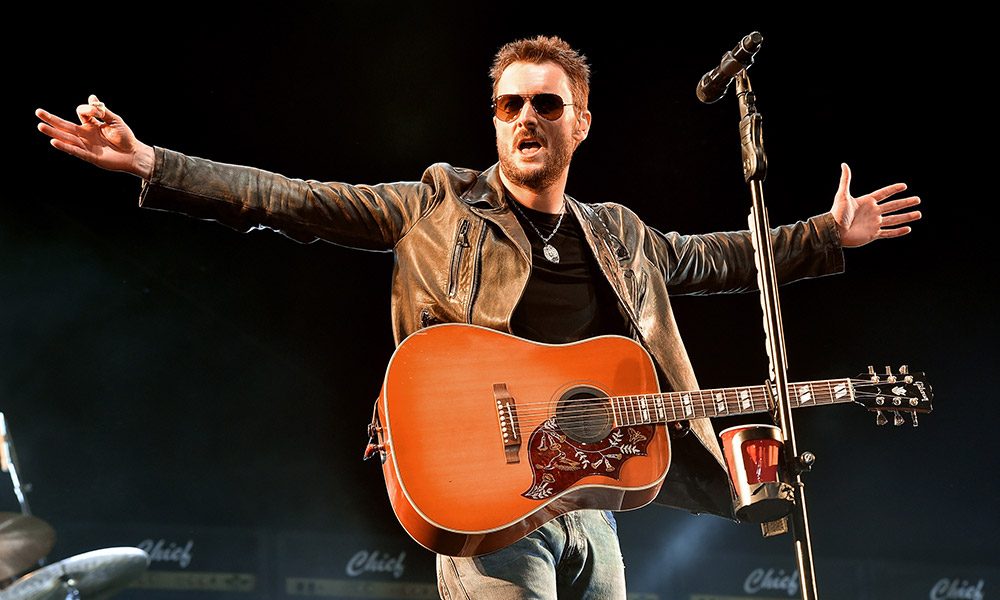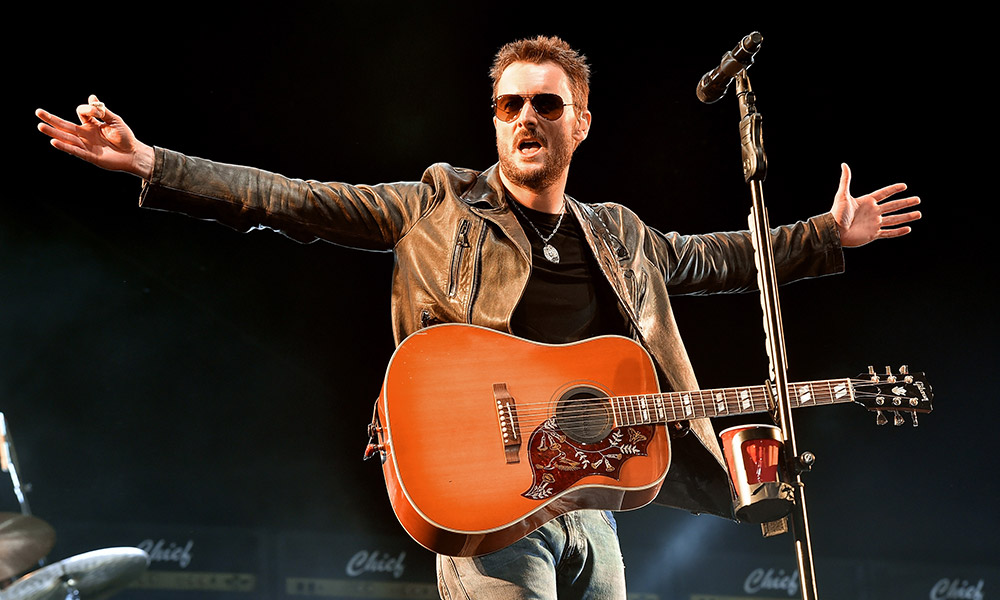 The man in the trademark Aviators and Von Dutch cap is one of the best of the new Southern country-rock breed. Eric Church has released four fine albums on Capitol Records Nashville since 2005 with the third, Chief, rising to the top slot and spinning off two #1 singles, "Drink in My Hand" and a tribute to his idol that he simply calls "Springsteen" where he references several of The Boss's classic albums while wrapping his narrative around a teenage romance. As a thank you, Bruce sent Eric a handwritten note expressing his delight on the back of a very long setlist! Church is evidently a follower of cultural events since his 2014 album The Outsiders includes "Like a Wrecking Ball". In his words "I've never been a big fan of being cute and using a lot of innuendoes. I think if you're talking about sex, you should just talk about sex." The album is conceptual and should be discovered in its given running order for maximum enjoyment.
His latest hit was preceded by the exceptional duet "Raise 'Em Up", written with Eric in mind by Australian country star Keith Urban. The collaboration served both men well as the track topped the US Country Airplay chart and has sold in excess of 250,000 copies. Following two Gold certifications on the debut, Sinners Like Me and the follow-up Carolina, his most recent discs, Chief and The Outsiders have turned to Platinum.
Renowned for his insistence on using traditional country instrumentation and the occasional synthesizer, Church keeps it real. He can do mainstream very well but he is also something of a maverick who might slip in some Led Zeppelin-inspired riffs for the arena crowd or a blast of psychedelia for the club folks. He may not be the best known in the UK yet – though he garners great reviews – if you like your country real then Eric's got something worth discovering.
Born Kenneth Eric Church in 1977 in the small town of Granite Falls, North Carolina (unsurprisingly he's that burgh's most famous resident) our man was writing songs as a teenager and trying them out with a few old Jimmy Buffett tunes in the local clubs. Turning his gaze to Nashville Eric hung around the South long enough to graduate from Appalachian State University, emerging with a handy business degree. After penning material for Terri Clark and Dean Miller (Roger's son) he came into contact with the man who signed Taylor Swift, one Arthur Buenahora, a major player who pushed him through the door at Capitol Nashville. That was a smart move because Church's debut single "How 'Bout You" was the teaser hit for Sinners Like Me, a disc that was so well received he soon made his first appearance at the Grand Ole Opry.
The album features guest slots from Mickey Raphael (Willie Nelson) on harmonica and Merle Haggard who crops up on the downright odd "Pledge Allegiance to the Hag". The canny blend of traditional country instrumentation – Dan Dugmore on Dobro and pedal steel – horns and fiddles struck a chord. Sinners…  sailed into the Top Country chart and spawned four big singles.
Sticking with producer Jay Joyce (The Wallflowers, Emmylou Harris, Cage the Elephant) Eric's paean to his home state, Carolina, featured all-original songs, strong Southern rock grooves and enough outlaw attitude to pique interest in those who might otherwise have passed much modern country music by. The authentic twang of "Love Your Love the Most" and the hooky "Hell on the Heart" have a blend of sincerity and with that confounds the critics, Eric attains a universality in his nod to Willie Nelson on "Smoke a Little Smoke" and his vocals are outstanding on the plaintive "Those I've Loved".
The breakthrough comes with Chief  – once people noticed that "Springsteen" song, which has gone on to enjoy sales of 2.4 million in the US and 160,000 in Canada where Church is treated like a superstar. The old school "Put a Drink in My Hand" and shades of Tony Joe White that slink through "Creepin'" prove equally arresting.
Being in the happy position of not really having to please anyone other than himself and his fans Eric got into character for The Outsiders whose cover art is an update on The Highwaymen. Describing the title track as a cross between Waylon Jennings and Metallica (nice!), Eric and the band take the sledgehammer approach and make it rock out when the main riff kicks in.
"I really see this album as a game-changer for us," he says.  "I want people to understand that we're here and that we will be reckoned with." No doubt. The organ-driven "Like a Wrecking Ball" has echoes of another Eric hero, Gregg Allman. There's a cover of Shel Silverstein's "The Devil and Billy Markham" (based on the play of the same name that was first published in Playboy in 1979) and the rootsy "Devil, Devil (Prelude: Princess of Darkness)", which is unlike anything else he's attempted.
Recognition is now coming thick and fast. Eric was recently honoured at the ACM Awards, held in the Ryman Auditorium and must have felt his career come full circle when Holly Williams, daughter of Hank Williams Jr., sang his track "Like Jesus Does". Hank Jr. is another idol but then the man has taste: he also cites Little Feat, The Band, Kris Kristofferson and Metallica as musical role models. Maybe the coveted Grammy will come soon, who knows but Eric isn't in this for the backslapping. He's in it for the long haul. Flock in and discover him.
Words: Max Bell
Format:
UK English