Best Eric Church Songs: 20 Country Essentials
The singer-songwriter is one of country music's biggest stars. Here's where to start.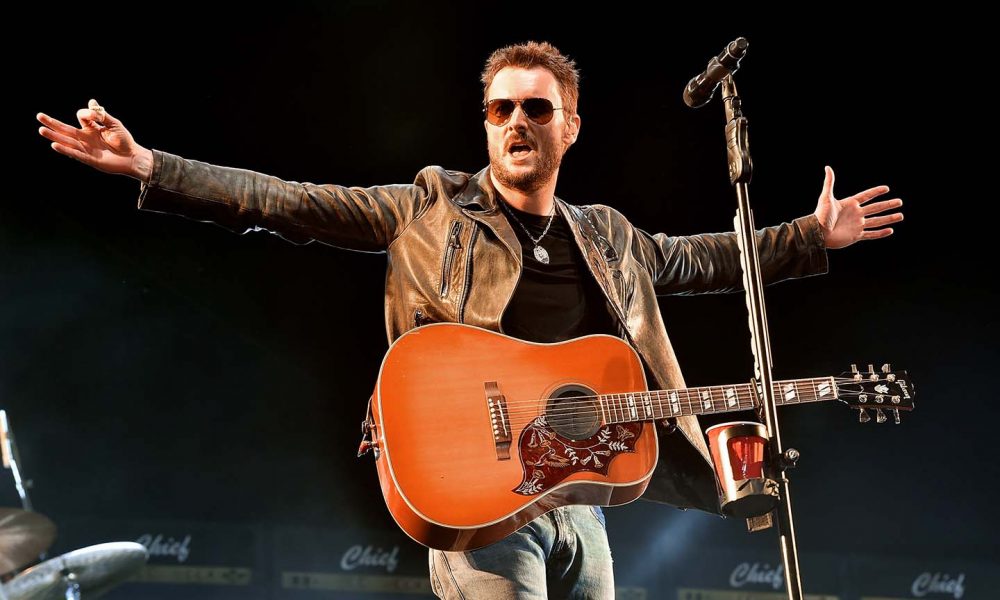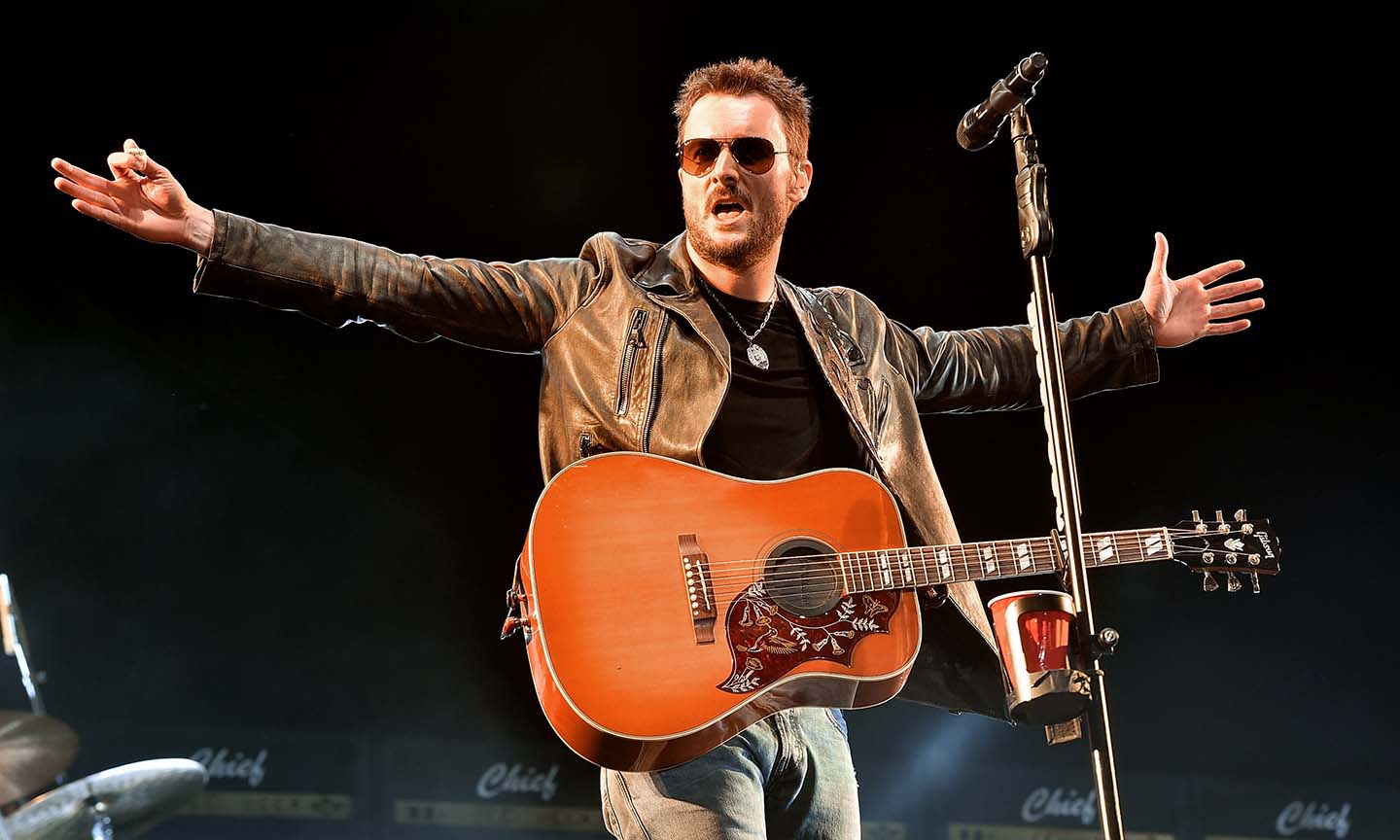 He may be a North Carolina native, but the best songs of Eric Church would make you believe he was born and bred in Nashville. The singer-songwriter has always balanced the two elements of that title equally. In an early profile in the New York Times he said, "If you gave me a choice two years ago, I would've been a songwriter instead of a singer," he said. "I'm a craft guy."
That attention to craft has served him well over the years, leading to enormous Country airplay success, countless Billboard chart-toppers, platinum records, and Grammy nominations to his name. Working closely with producer Jay Joyce throughout his career, Church has cultivated a rugged sound that has contrasted just enough with Nashville orthodoxy to make him beloved inside and outside the world of country music.
Listen to Eric Church's best songs on Spotify or Apple Music.
20: Smoke a Little Smoke
Willie Nelson is country music's leading proponent of smoking marijuana, but this straight-ahead ode to the plant shows that Eric Church loves it too. Given the subject matter, it's no surprise to hear the production take some liberties along the way as well.
Eric Church - Smoke A Little Smoke (Official Music Video)
19: Jason Aldean feat. Luke Bryan and Eric Church – The Only Way I Know
One of Eric Church's best songs is a collaboration with a few modern country compatriots, Jason Aldean and Luke Bryan. The mid-tempo rocker is a heavy tune in which each artist takes a turn letting listeners know how they do things.
18: Kill a Word
Written with his guitarist Jeff Hyde and Luke Dick, "Kill a Word" showcases clever lyricism throughout. "If I could kill a word and watch it die/I'd poison never, shoot goodbye/Beat regret when I felt I had the nerve." But what takes the studio version of this song over the top is the heavenly harmonizing with frequent collaborator Joanna Cotten.
17: How 'Bout You
Taken from his debut album, "How 'Bout You" was a scene-setting single from Church that explained to listeners what he was all about. Asking plenty of questions along the way, it's clear that he had live shows in mind when he wrote this one.
16: Two Pink Lines
Sung in the time it takes to learn the results of a pregnancy test, the production on "Two Pink Lines" keeps things moving swiftly. But the trick of the song is that it could work just as well (if not better) as a ballad.
15: The World Needs a Drink
One of Eric Church's earliest writing credits, "The World Needs a Drink" was first recorded in 2006 by Terri Clark, who made the song semi-famous. More than a decade later, Church released his own rendition of the tune on the live collection, 61 Days in Church. Reflecting on his love of songwriting in an interview with the New York Times, Church revealed, "I must've rewrote [that song] eight or nine times," even after Clark released her version.
14: Heart on Fire
"Heart on Fire" has plenty of references to Eric Church's favorite music from yesteryear, including Elvis, Guns N' Roses, and Don McLean's "American Pie." It's a raw rocker that more than earns its place as the opening song on his 2021 triple album, Heart & Soul.
Eric Church - Heart On Fire (Official Music Video)
13: Like Jesus Does
"Like Jesus Does" is a rarity in Eric Church's discography. It's one of the few songs that he's put on an album that he didn't have some hand in writing. No matter. Church convincingly takes on the role of the narrator, thankful that his partner accepts him for who he is.
12: Round Here Buzz
While many of his country contemporaries were busy celebrating the high life (and High Life), Eric Church was happy to focus on down-and-out character studies. "Round Here Buzz" is one of his best, presenting a narrator content with catching a round here buzz "ever since you caught that out there bug."
11: Carolina
The title track to Eric Church's second album, Carolina, is a love letter to his home state. The musical backing is understated throughout, letting Church's vocals take center stage throughout, climaxing with the heartfelt delivery of the line "you keep calling me home."
10: Give Me Back My Hometown
An ode to the way things used to be, "Give Me Back My Hometown" sees Eric Church wondering if it's even possible to go back. With thick production and lots of wordless "whoooos" thrown in, it's wistful in all the right ways.
Eric Church - Give Me Back My Hometown (Official Music Video)
09: Keith Urban feat. Eric Church – Raise 'Em Up
Some of Eric Church's best songs are sung with other huge male country stars. A case in point: "Raise 'Em Up," a beautiful duet with Keith Urban that has lush, cinematic production propelling its lone acoustic guitar.
08: Like a Wrecking Ball
Taken from Eric Church's fourth album, The Outsiders, "Like a Wrecking Ball" is a low-key country song about sex. Its understated production is key to its success, leaving more than enough to the imagination.
07: Some of It
This ode to the short time we have on Earth has some of Church's most beautiful lyrics, but it's also buoyed by unconventional production. The song eventually became one of Church's biggest hits from Desperate Man.
06: Hell of a View
It's not every day you come up with a line like "caught your wings on fire when I smoked my Bronco tires out of that town." When Casey Beathard and Monty Criswell presented it to Church, they got to work on writing and recording the song that same day. It's since become one of the biggest hits from Soul.
Eric Church - Hell Of A View (In Studio Performance)
05: Guys Like Me
One of the biggest hits from his debut album, Sinners Like Me, "Guys Like Me" finds Eric Church explaining exactly who he is: "So rough around the edges/It's hard to believe that girls like you/Love guys like me."
04: Drink in My Hand
One of the great entrants in the huge catalogue of country drinking songs, "Drink in My Hand" keeps things simple with lyrics built to be sung along to. Unsurprisingly, it hit No.1 on the US Billboard Hot Country Songs chart.
03: Record Year
A standout cut from his fifth studio album, Mr. Misunderstood, Eric Church celebrates country music history on "Record Year." Loaded with references to greats like George Jones, Waylon Jennings, and Hank Williams, Church even pays tributes to folks like James Brown and Stevie Wonder as well.
02: Talladega
Eric Church's best songs take a small idea and universalize it, and "Talladega" is no exception. It takes the memory of a trip to the famed speedway and blows it up into a bigger message about friendship and the limited time we all have together.
01: Springsteen
The best-known tune from 2011's Chief, this song was co-written with Jeff Hyde and Ryan Tyndell. It features plenty of references to Bruce Springsteen's lyrics throughout as Church details a teenage romance. It continues to stand as one of Church's most loved songs.
Eric Church - Springsteen (Official Music Video)
Did we miss one of Eric Church's best songs? Let us know in the comments below.