Steve Earle
The country singer-songwriter from San Antonio, Texas is critically beloved for his raw and honest songwriting.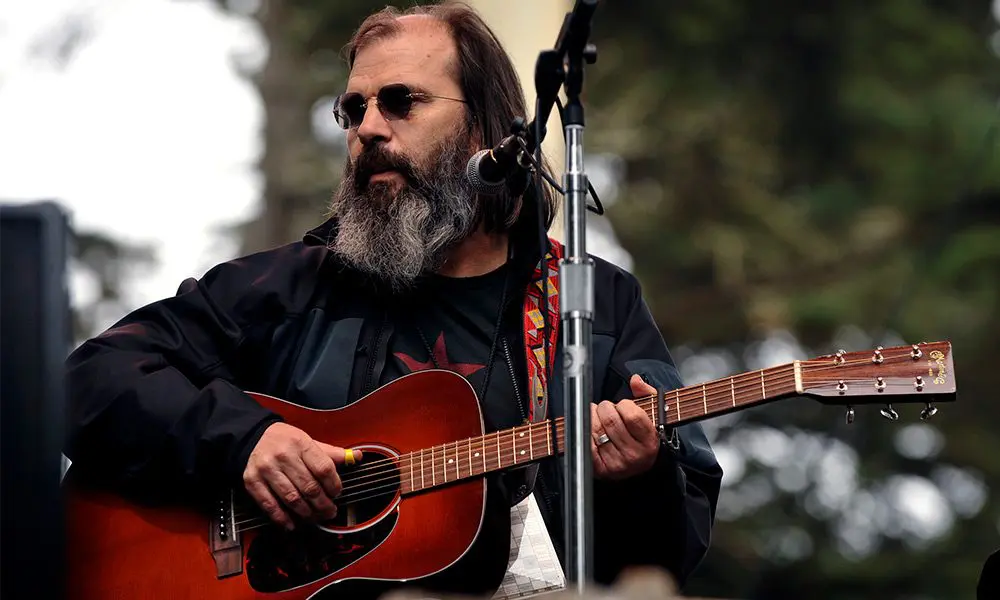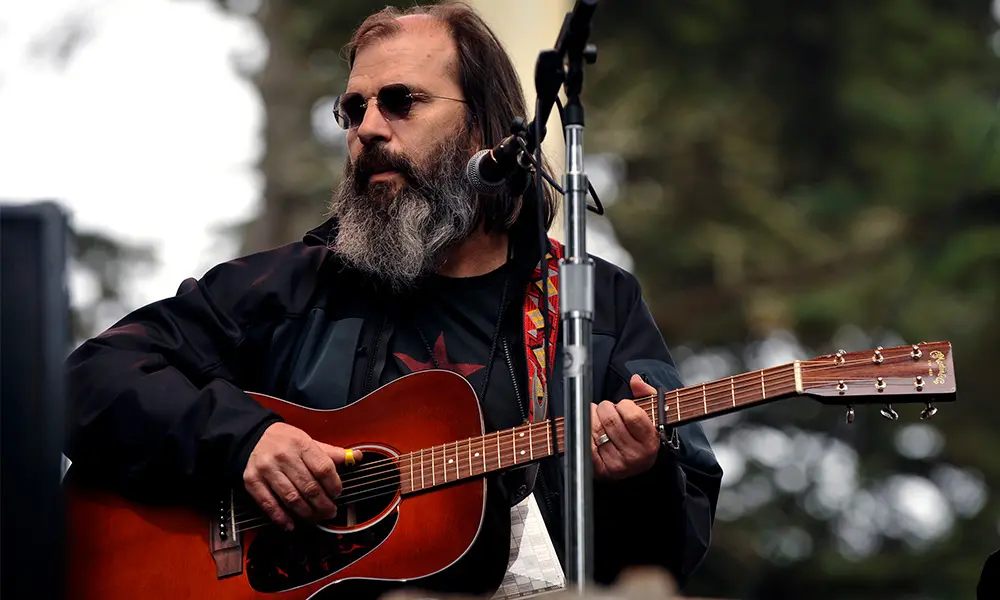 Call him alt.country, roots-rock Americana guru, Hell-bound rockabilly Wildman… it doesn't matter. All that counts with Steve Earle is the integrity and passion of his music, and he's been making stacks of the good stuff since the early 70s. A Virginian raised in Texas, Earle was initially besotted with the late, great Townes Van Zandt, who he followed round the US like a road-trip kid. If Townes was a mentor, then Guy Clark, Del McCoury and Lucinda Williams are also kindred spirits; likewise Lyle Lovett and Rodney Crowell. Steve's own successes are punctuated by hard-living excesses and rebellious behaviour – just what you want from an old-school country star who represents the antithesis of attorney-led, attaché-case country.
Earle's first albums for MCA include a run of classics – Guitar Town, Exit 0 and Copperhead Road. These did great guns in both the States and Europe, where Earle built a solid fan base, while a lot of his followers would also argue that 1990's The Hard Way is his masterpiece. Among these and plenty of compilations, the Shut Up And Die Like An Aviator live album is also worth discovery.
Once Earle quit the label and decamped to Warners, then E-Squared and New West, his career didn't peter out. 2015's Terraplane is singer-songwriter country at its contemporary best, as is 2013's The Low Highway. Meanwhile, the inevitable tribute album, Townes, won Earle the Best Contemporary Folk Album award at the 52nd Grammys, and he has applied his love for different genres to albums that tip the hat to Warren Zevon, Alejandro Escovedo, Gram Parsons and others.
A generous musical spirit and a pioneering attitude keep Earle relevant as he hit his 60s. A gifted electric and acoustic stringed-instrument player blessed with a keen and compellingly urgent vocal style, it's nonetheless his songcraft that continues to impress. As sidelines, Earle he has done TV and film work, written a novel, a well-regarded play and a book of short stories, and also lent his weight to socialist causes and the Civil Rights organisation. His aforementioned Grammy is just one of three, the others arriving for 2004's The Revolution Starts Now and its 2007 follow-up, Washington Square Serenade. As one of his biographers succinctly notes, "Today, Steve Earle is regarded for successfully bridging the rock-country music gap, blending the two genres to create a new, beautifully unique style that few musicians have been able to replicate." 'Nuff said.
Born Stephen Fain Earle in Fort Monro, Virginia, 1955, young Steve was already an accomplished guitarist at age 13. His departure to Nashville followed the classic course: seek out the publisher guys, pitch some songs, play some sessions. He made his name doing all three and developed his own blend of folk-rock protest and rockabilly attitude in the tough clubs surrounding Music Row – places not always known for their liberal views.
Now here comes this wild-eyed, long-haired maverick digging into the establishment: in such cases, you either sink or swim. Fortunately, Steve is good in the water.
His earliest efforts were compiled on Early Tracks, including a solid cover of Dennis Linde's 'What'll You Do About Me' and John Hiatt's 'The Crush'. The collection was released to capitalise on the success of his studio debut proper, the remarkable Guitar Town. This 1986 gem, co-produced by Emory Gordy, Jr, Tony Brown and Richard Bennett, ripped up the rulebook and made Earle one of MCA's hottest new alt.country properties, ideally placed for media attention, being a witty and voluble interviewee. Guitar Town was a natural success, scoring Earle a No.1 Billboard Country slot. Performed with a crack band including Gordy, Bennett and pedal steel virtuoso Bucky Baxter (later the go-to touring musician for Bob Dylan), the songs oozed the right stuff, with the title cut and 'Goodbye's All We've Got Left' cementing an immediate reputation for country poesy. The 2016 vinyl reissue is worth discovering, thanks to a souped-up sound.
The equally rambunctious Exit 0 maintained a high standard, with 'Nowhere Road' and 'Sweet Little '66' honed by months of solid touring. Word of mouth aside, Earle broke through with Copperhead Road, the album that really introduced him to a growing European audience. With reviewers comparing him to Bruce Springsteen, Randy Newman and Waylon Jennings, all the ingredients fell into place, not least the title track, which is a grand storytelling narrative about a moonshiner who changes his output to grow something more fragrant. The best way to discover this disc is to invest in the 2008 deluxe edition, which contains the parent album and a live collection that features guests The Pogues, Telluride and a wraparound selection of choice material such as the Stones' 'Dead Flowers', The Flying Burrito Brothers' 'Wheels' and a spot-on visit to Springsteen's 'Nebraska'.
Earle's fourth and final studio album for MCA was The Hard Way, after which he took a lengthy sabbatical to deal with a few personal issues. Even so, it was a grand way to draw one chapter to a close. Including a couple of collaborations with Maria McKee, The Hard Way is packed with doomed romanticism and hardcore country rock-blues, exemplified by 'This Highway's Mine (Roadmaster)', a trucking lament for all ages.
Rejuvenated after his hiatus, Steve returned with a slew of well-received Warner Bros albums, including Train A-Comin', I Feel Alright and the ambitious El Corazón. The latter was well received by the LA Times' Natalie Nichols, who noted, "Earle crafts these spare songs from a palette of folk, country, blues and rock. The music is unified by a pervasive melancholy that not even the gritty 'NYC', featuring Seattle punks Supersuckers, fully escapes." Emmylou Harris appears on the epic and tragic racism song 'Taneytown', while The Fairfield Four light up 'Telephone Road'.
Earle's output from the 00s onwards includes the important Jerusalem (2002) and The Revolution Starts Now (both featuring Harris): country for new discovery; the Grammy-winning Washington Square Serenade (recorded after Steve moved to New York City) features Allison Moorer. Of course, seek out Townes: if you love Van Zandt half as much as Earle does you'll get to hear an eclectic mix of his material, from 'Pancho & Lefty' to 'Loretta' and '(Quicksilver Daydreams Of) Maria'.
Earle's novel, I'll Never Get Out Of This World Alive, also inspired an album of the same name, released in 2011. The Low Highway and acclaimed Terraplane (which achieved high chart positions in Folk, Blues and Country lists) bring him up to date.
There are also collections in the shape of The Essential Steve Earle, Ain't Ever Satisfied: The Steve Earle Collection and the 12-track digest, 20th Century Masters: The Millennium Collection: The Best Of Steve Earle. The 2006 album, Live At Montreux 2005, is a charismatic solo triumph that's a deep catalogue and probably best approached after immersion in the early albums. Whatever comes next, rest assured, if it has Steve Earle's name on the cover it'll be worth listening to over and over again.
Words: Max Bell
Format:
UK English