The Best Female Guitarists: An Essential Top 25 Countdown
The best female guitarists of all time prove that the guitar isn't just for phallic fretwork and cock-rock grandstanding.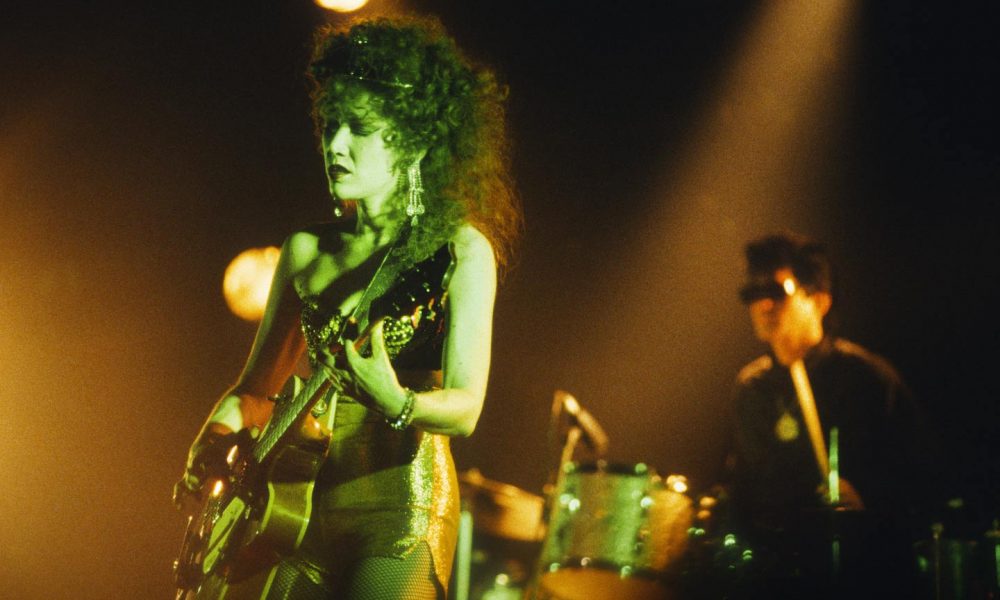 The good news about the best female guitarists is that there are too many to fit on a list of 25 – the tradition goes back to the formative days of gospel, country, folk, and rock. Your favorite female guitarist may not be on this list, but we've tried to include the ones who blazed the brightest; who either created an unmistakable style, played a key role in a great band or laid down tracks for others to follow. This list of the best female guitarists includes some of the most influential players who ever recorded, and a few that the male guitar heroes copped their licks from.
If you're bored of phallic fretwork and cock-rock grandstanding, this list of the 25 best female guitarists of all time is for you.
While you're reading, listen to our Girl Pwr playlist here.
25: Sarah Lipstate (Noveller)
Lipstate is all about soundscapes, using her looping devices to create grand textural atmospheres, in the tradition of Rhys Chatham (with whom she's performed) and Robert Fripp. She also maintains an indie rocker's sense of songcraft; the melodic logic in her pieces may be hidden under layers of feedback, but it's there. No wonder some of the braver rock types, including St Vincent and even Iggy Pop, have booked her on their tours.
24: Carrie Brownstein and Corin Tucker (Sleater-Kinney)
Carrie Brownstein gets most of the glory since she played the solos, but the real wonder of Sleater-Kinney as a guitar band was the way the two guitarists played off each other. There was no bass guitar but there were basslines, which Tucker played through a harmonizer when she wasn't playing the trademark choppy rhythms. The guitar interplay is a model of both mathematical precision and controlled fury. Tucker also got to show off her chops on a number of Eddie Vedder solo albums.
23: Felicia Collins
Most US folks will remember Felicia Collins as the lead guitarist in the house band for Late Night With David Letterman. Though a funk specialist, she mastered the TV orchestra's trick of plugging into every guest's wavelength. Before joining that group, she was part of the extended Nile Rodgers axis, playing with many of his clients, including Madonna, and making a few P-Funk guest appearances as well. If Thompson Twins sounded funky at Live Aid, Collins was the reason.
22. Vicki Peterson (The Bangles)
Unlike their crosstown rivals The Go-Go's, who drew from the vocal-oriented "girl group" tradition, The Bangles were rooted in mid-60s garage rock. Their earliest shows sported covers of The Yardbirds' "I'm Not Talkin'" and The Seeds' "Pushin' Too Hard," both of which were carried into the group's hit-era shows. Peterson's lead playing was their oft-overlooked secret weapon and, as the band evolved, she got more versed in power-pop jangle, power chords, George Harrison-esque leads, and whatever the songs called for, more than earning her place among the best female guitarists. She was no slouch as a writer either.
21: Wendy Melvoin (The Revolution, Wendy & Lisa)
You can't overstate the importance of Wendy Melvoin and her keyboardist partner Lisa Coleman had when they came into Prince's orbit. They were the ones who got Prince listening to psychedelic music, and the movie Purple Rain forever cemented her as one of the best female guitarists to pick up the instrument, underlining her importance in creating the title song. On later Wendy & Lisa albums, Melvoin proved Prince wasn't the only funky riffmaster – or hot soloist – in The Revolution. She's turned up in some interesting places since then, like Madonna albums and Neil Finn's first solo band.
20: Joni Mitchell
Joni Mitchell's lyrical acoustic playing on the early albums was enough to earn her a mention among the best female guitarists, and as she gradually went electric, heavy-hitters the likes of James Burton and Larry Carlton were added to the mix. But as Mitchell's music got more sophisticated, outside players had more trouble getting around the complexities of what she was writing. She wound up playing about half the leads on Hejira (including the great jazz riffs in "Coyote"), all but one on Don Juan's Reckless Daughter, and all the leads on Mingus, while holding her own among the finest jazz players alive, including Wayne Shorter and Jaco Pastorius. Enough said.
19: Dot Wiggin (The Shaggs)
So you think it didn't take a real musician to play The Shaggs' guitar parts? Great, now you go ahead and try to play them. At this point, it hardly matters whether The Shaggs – a late-60s sisters' garage band that defied all musical logic – were raw prodigies or simply a lucky accident. As female guitarists, they proved more influential than hundreds of more conventional bands, and the way Dot sang and played in entirely different rhythms (while the drummer was off on a third one) took some serious concentration. And the longstanding tradition of female indie-rock trios with a second guitar instead of a bass? They started that too.
18: Melissa Etheridge
Melissa Etheridge is probably the modern guitarist who most embodies the Pete Townshend tradition of throttling an acoustic guitar like it's a fully-amped electric (or your worst enemy). Credit that to her years playing coffeehouses, but that closely-miked acoustic guitar provides the instrumental hook on most of her hits. And though her band always has a (male) lead guitarist, he tends to take a backseat when she's feeling the spirit.
17: Anne Clark (St Vincent)
On her tour in support of Masseduction, St Vincent was undoubtedly the first lead guitarist to use a different DayGlo pastel-colored guitar on every number (all variations on the custom signature guitar that Ernie Ball designed for her). And her playing was as vivid as the guitars themselves. She's a free-flowing soloist in the Fripp/Zappa tradition, where the solos hinge on intricate melody lines. But she's also a master dance-pop songwriter, using her tasty rhythm riffs to bring you to the "Slow Disco."
16: Joan Jett (Joan Jett And The Blackhearts)
Joan Jett has never claimed to be a lead guitarist, and never had a band without one. But the very essence of punk guitar – rhythm chords pounded out with urgency and precision – is embedded in her DNA. While she's not credited as such often, it's arguable that her guitar work is as just as influential as co-Runaway Lita Ford. But, as always, Jett is too busy rocking to worry about accolades surrounding the best female guitarists.
15: Orianthi
Though she first raised eyebrows playing with Carrie Underwood (and would likely have done the same on Michael Jackson's final tour), this Australian guitarist's main achievement is breaking down the walls of classic rock. She's tough enough to play lead with Alice Cooper, trade licks with Steve Vai, and then form the duo RSO alongside Richie Sambora. And her take on "Hellbound Train" is the best Savoy Brown cover done by anyone, male or female. Word broke recently that she and Sambora had parted ways, but Orianthi is a one-woman force on her own.
14: Bonnie Raitt
You'd have to do a lot of combing through the heroes of 70s rock to find a slide guitarist with a more identifiable sound than Bonnie Raitt. One of her main competitors, Little Feat's Lowell George, was both a collaborator and a big fan. Though Raitt always keeps a foot in the singer-songwriter world, her guitar is the connection with her blues roots. While her band usually has a guitarist to take care of the lyrical passages, the scorching moments are invariably her own.
13: Nancy Wilson (Heart)
The first female guitarist to lead a chart-topping rock band, Nancy Wilson, along with her sister Ann, are the only consistent members of Heart. And while the band has seen other lead players, the first (and arguably most) iconic guitar moment in their catalogue went to Nancy – namely, that acoustic transition from "Dreamboat Annie" into "Crazy On You." It's thanks to Nancy that Heart's artful acoustic side has always coexisted with their loud electric side, even in their 80s arena phase. She also had a hand composing nearly every famous track they ever recorded.
12: Poison Ivy (The Cramps)
Poison Ivy was arguably the most recognizable guitarist in all of US punk. You can tell it's a Cramps song long before lead singer Lux Interior starts singing. Poison Ivy reconnected punk with its primal roots in trash and twang, and helped the likes of Link Wray and The Ventures' Nokie Edwards get rediscovered. She earns her place among the best female guitarists thanks to those sleazy riffs that Cramps songs were built on, and became a skilled soloist as the albums went on. And nobody ever did more with reverb than her. Ivy's been underground since the loss of her partner Lux, and she's been missed.
11: Marnie Stern
With a shredder's fast fingers and an indie rocker's sensibility, Marnie Stern is the modern definition of a guitar hero. You don't even have to love guitar playing to appreciate her concept album, The Chronicles Of Marnia, which is full of cleverly-turned pop hooks. But if you do love guitar playing, you'll marvel at the imagination in her fast runs and her sense of economy. After five albums, she's yet to cut a song longer than four and a half minutes. If Eddie Van Halen had been a member of Sleater-Kinney… well, it probably still wouldn't have been this good.
10: Kristin Hersh (Throwing Muses)
A perpetually underrated figure, Kristin Hersh ranks with the likes of Bob Mould and J Mascis as a pioneering indie-rock guitarist, with a sound that's recognizable from a mile away. Easily one of the best female guitarists of the 80s and 90s, she can play furious leads and melt your mind with distorted power chords, then pick up an acoustic and play some of the most elegant stuff you've heard. She came into her own around the time that Throwing Muses stripped down to a three-piece (that band's later albums are textbooks in revitalizing the power-trio format), though her more recent solo albums, in which she also plays bass, show the range of sounds at her disposal.
9: Susan Tedeschi (Tedeschi Trucks Band)
Any jam-band enthusiast will tell you that the Tedeschi Trucks Band isn't a band featuring female and male guitarists or a married duo, it's a band with two great guitarists, period. What's notable is how much they've both grown as players since finding each other. Tedeschi has picked up her partner's jazz leanings while Derek Trucks has tuned into her R&B sensibilities. For a good slice of Tedeschi at her best, look up the clip where she plays "Crossroads" alongside Eric Clapton at his festival, and note the wide grin that Clapton breaks into after her solo.
8: Kaki King
Unique among the best female guitarists of all time, King is more properly a modern composer who happens to be a guitar virtuoso. Her pieces run deep with touches of modern classical, progressive jazz, and occasional, satisfying trips into pop. Whether working with classical or rock players, she takes acoustic guitar to a new level, with a percussive technique that's part flamenco and part Van Halen. She could have easily built a career on cheap thrills, but her latest work – including the recent concept piece The Neck Is A Bridge To The Body – shows she's got higher ideals in mind.
7: Peggy Jones
Better known as Lady Bo, Peggy Jones was the first female guitarist in a major rock'n'roll band, joining Bo Diddley's group at age 16 and playing on most of his classic singles, including "Mona," "Crackin' Up" and "Bo Diddley's A Gunslinger." She later played on a number of singles prized by record collectors, including Les Cooper's "Oowee Baby" and The Soul Rockers' "Wiggle Wobble," and even did a stint in James Brown's band for a time. She was still performing as Lady Bo up till her death in 2015.
6: Liona Boyd
The London-born and Toronto-raised classical guitarist was both a musical sensation and a TV celebrity in the 70s. Promoted as the "first lady of the guitar," she was an early protégé of Andres Segovia and played Carnegie Hall in 1975. Boyd later became a familiar face on Canadian TV (and, though it wasn't widely known at the time, the romantic partner of Prime Minister Trudeau). Many will prefer her classical recordings, the best of which appear on her 20th Century Masters volume, but she gradually moved into New Age music, turning more to vocals after a neurological condition affected her playing.
5: Emily Remler
Like most guitarists from New Jersey, Remler grew up playing rock, but her world opened up after she studied at Berklee College Of Music and discovered the music of Charlie Christian and Wes Montgomery. Soon, she became one of the great modern guitarists in the bop tradition, approaching standards with a fluid tone and boundless imagination. Remler recorded prolifically during her brief career, collaborating with the likes of Larry Coryell and Astrud Gilberto. She also played with a couple of funk and R&B bands during her brief stay in New Orleans, though no recordings survived. Like Montgomery, she left us too soon, and we can only wonder what she could have done if addiction hadn't taken her at 32.
4: Memphis Minnie
One of the earliest pioneers of pickers, Lizzie Douglas (better known as Memphis Minnie, taught herself how to play guitar and banjo, and cut her teeth in the legendary Beale Street blues scene in Memphis. Columbia, Checker, Decca, and Okeh – she cut records for them all and was instrumental in the urbanization of the blues. Easily one of the best female guitarists in history, the fearless blueswoman even went toe-to-toe with Blues greats Big Bill Broonzy and Muddy Waters in many a cutting contest – and won.
3: Elizabeth Cotten
The trailblazing folk and blues musician originated her distinctive style by accident. Elizabeth Cotten was left-handed but initially learned to play by turning her right-handed brother's banjo upside down. When she switched to guitar, she still had the instincts of a banjo player, and since the instrument was still upside down, she fingerpicked the bass strings while using her thumb for the melodies. This style of "Cotten picking" is especially tough to master, which may be why no two versions of her signature tune, "Freight Train," sound quite the same.
2: Mother Maybelle Carter
A significant influence on country guitar, Mother Maybelle earns her place among the best female guitarists thanks to her invention of the style known variously as thumb brush, the church lick, and, most famously, as Carter Family picking. Possibly inspired by banjo techniques, Maybelle used her thumb to pick a tune on the bass strings while strumming rhythms on the higher strings; the result made the trio sound like they had a few guitars backing them. Greats the likes of Doc Watson, Chet Atkins, and her eventual son-in-law Johnny Cash all took notice.
1: Sister Rosetta Tharpe
No, the devil didn't have all the good songs, or even all the great guitarists. Heading this list of the best female guitarists in history, this early gospel artist really did invent a lot of the distorted tones that blues and rock players would later adopt – but before she did, Sister Rosetta Tharpe recorded some of the most fluid acoustic leads on record. On the 1945 hit "Strange Things Happening Every Day" she blurs the lines between country, jazz, and gospel, all in the service of some sanctified testimony. You want to be astounded, go find the live video of her performing "Up Above My Head (I Hear Music In The Air)." There's no solo on the original 1948 single, but on this live take, circa 1963, she absolutely proto-shreds while a full choir claps along. There's a bit of Muddy, a bit of Chuck, and a whole lot of jubilation before she calls out "Let's do that again!" Yes, Sister, please do.
Discover more about the female musicians who changed the world.