Memphis Minnie – The Best Thing Goin' In The Woman Line
Memphis Minnie's legacy is not just that she recorded across four decades, she was practically the lone female voice in the increasingly male dominated 1930's urban Blues scene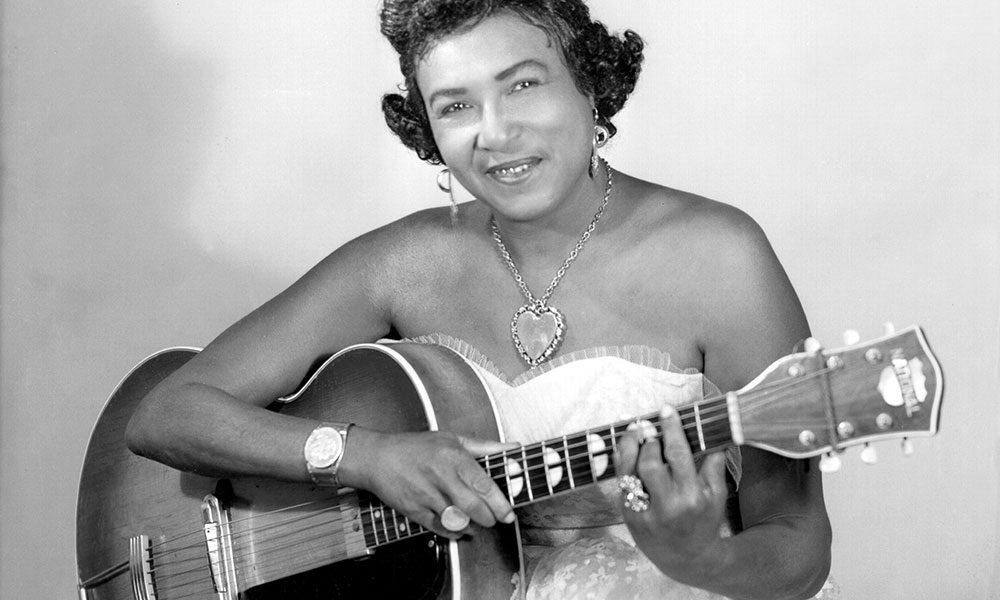 Whether or not Will or Casey Bill Weldon are one in the same person has been the subject of much debate by blues historians down the years. What's also open to debate is which one of them was ever married to Memphis Minnie is also open to conjecture. What is irrefutable is the fact that Casey Bill recorded with Minnie. On the same day as the bluesman cut his first Bluebird sides in October 1935 he backed Minnie on four numbers.
Memphis Minnie's legacy is not just that she recorded across four decades, she was practically the lone female voice in the increasingly male dominated 1930's urban Blues scene. The blues since the early days of the great vaudeville blues women, Ma Rainey, Bessie and Mamie Smith, had largely become the preserve men… but the woman born Lizzie douglas in Algiers, Louisiana in 1897 gave them a serious run for their money.
Her style was rooted on the country but flowered in the vibrant pre war Chicago music scene, which is where she recorded the majority of over one hundred pre-war releases. She worked with a whole host of excellent blues performers, which bears testament to her talent, she is even supposed to have beaten Big Bill Broonzy in a musical cutting contest. Among those that recorded with her were, Joe McCoy her husband from the late 1920's, the Jed Devenport Jug Band, Georgia Tom, Tampa Red, Black Bob, Blind John Davis and Little Son Joe. She also sat in with Little Son, Bumble Bee Slim and the Memphis Jug Band. She also worked live with Big Bill Broonzy, Sunnyland Slim and Roosevelt Sykes. By 1935 Minnie and Joe McCoy had split up, and Minnie married Little Son Joe in the late 30s.
Me And My Chauffeur Blues
Minnie was an early convert to the electric guitar which she used to good effect in her biggest hit, 'Me and My Chauffeur Blues', recorded in 1941 with Little Son. The song, which used the same tune as 'Good Morning Little Schoolgirl', became influential to many that heard it. Koko Taylor said, "it was the first Blues record I ever heard." Lightnin' Hopkins even 'answered' Minnie with his 1960 song, Automobile Blues. Chuck Berry based his 'I Want to be Your Driver on the Chauffeur', while Jefferson Airplane adapted it as 'Chauffeur Blues' on their 1966 debut album. Unfortunately Jefferson Airplane neglected to acknowledge Minnie's recording and failed to pay any royalties as a result.
The longevity of Minnie's career meant that her records cover a wide range of subject matter. Many of her songs, like 'Bumble Bee', 'Dirty Mother For You' and 'Butcher Man', were openly sexual, all delivered in her confident, sassy way. Others like 'Ma Rainey' and 'He's in the Ring (Doing That Same Old Thing)' were about celebrities. 'Ma Rainey' was recorded just 6 months after the vaudeville blues singer's death, while the other was a 1935 tribute to the boxer Joe Louis. In her songs Minnie also tackled crime, voodoo, trains, health and the perennial subject of chickens! Minnie was constantly touring, playing jukes and fish fries, which certainly helped in maintaining her popularity. She stayed in touch with her audience, singing about what they both knew, and understood.
The lady who was at the forefront of transforming the blues into 'Pop Music' continued to record up until 1954. By then her health was failing, after she and Little Son Joe retired to live in Memphis. Little Son died in 1961 and soon after the woman who was remembered by many of her musical contemporaries from Chicago as "a hard drinking women" had a stroke.
Jo Ann Kelly the British Blues singer who recorded in the late 1960s and 70s always claimed Memphis Minnie as an inspiration. She and her brother raised money for Minnie at a Blues club benefit and arranged for a Memphian Blues fan deliver it to her in the nursing home.
Her sister looked after her for a while and then she moved into a nursing home. Despite her huge popularity and considerable record sales Minnie had little or no money, but after various magazines printed appeals fans began sending her donations. Minnie, who Bukka White described as "the best thing goin' in the woman line", died on 6 August 1973.
Listen to the Memphis Minnie Vol. 5 collection on Apple Music and Spotify to hear her complete works from 1940-1941.
Format:
UK English