Walking In Memphis: A Guide To The Birthplace Of Rock'n'Roll
Hailed as the birthplace of both the blues and rock'n'roll, Memphis, Tennessee, is a must-visit city for music lovers around the world.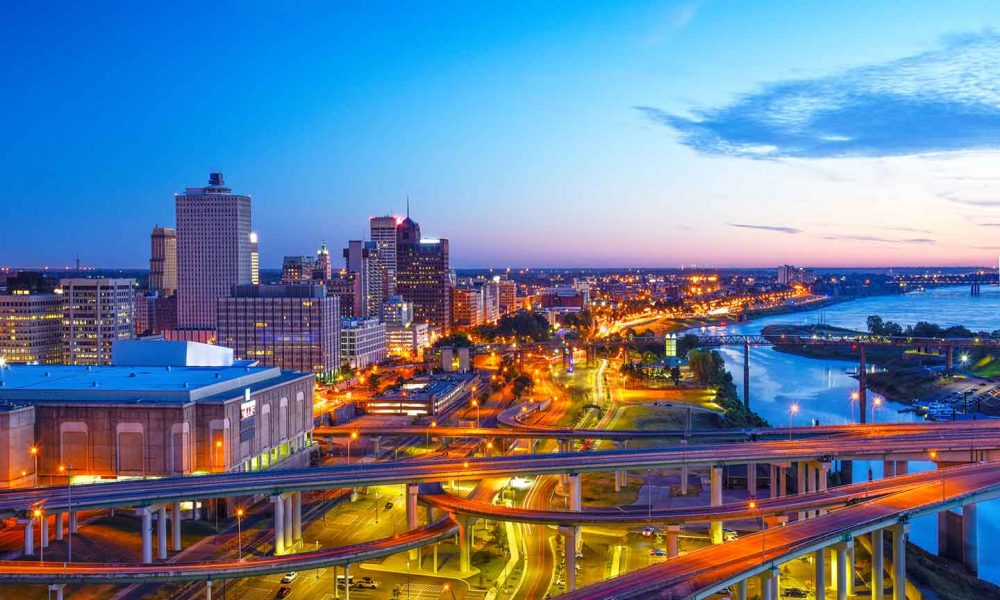 Of all the great cities that had a hand in the development of popular music in the 20th Century, none compares to Memphis. Sure, Liverpool's Beatles had the biggest global impact of any musical artist in history, while New York could make a claim for having the greatest number of truly international megastars, but look at the roots of rhythm'n'blues, rock'n'roll, country, gospel, soul, blues, and so on, and the story always leads back to the same city: Memphis, Tennessee.
As with most things in life, there is a reason for Memphis's role in the evolution of the music we love. A natural crossroads, the city stands on the site of river trails used by Native Americans, and the place has been inhabited since at least the first millennium AD. As Europeans took over the country, it was a key strategic position, much sought-after during the domination of tribes such as the Chickasaws, who had long called it their home.
A melting pot
Memphis lies on a Mississippi River bluff, founded there deliberately almost 200 years ago by, among others, future president of the United States Andrew Jackson. Safe from the flooding that defines the Delta to the south, Memphis soon established itself as a trading center, where slaves and cotton were bought and sold.
Memphis was always going to be a melting pot. As commodities were brought up from the south, so traders came down from the north. Over the centuries, black and white cultures have mixed in Memphis in a way unlike much of the rest of the United States. And among the commodities traded there, music was always among the most important to the city.
The jazz of New Orleans was born a mere 400 miles to the south, while the home of country music, Nashville, is just a couple of hundred miles to the east. The Mississippi Delta (which can be comfortably visited on a day trip from Memphis) gave the world countless legendary blues musicians.
"Memphis music is a concept"
In his book It Came From Memphis, Robert Gordon explains: "People who come to Memphis notice cultural collisions. Other cities may have similar black and white populations that interact or segregate themselves exactly as Memphis does, but something about this city tunes our antennae to such things. Whether knowing its history we project it, or we are drawn to it by forces we cannot see, race relations, also known as music, is the lifeblood of Memphis. The first song to top the pop, country, and rhythm'n'blues charts came from Memphis… Carl Perkins' 'Blue Suede Shoes.' Memphis music is a concept, not a sound."
"Blue Suede Shoes" truly put Memphis on the map, defining the sound of 50s rock'n'roll while being covered by everyone from Elvis Presley to Buddy Holly and Eddie Cochran.
It was the fusion of styles and cultures described by Gordon that gave birth to the Memphis blues, sometime around 100 years ago. Musicians such as Furry Lewis and Memphis Minnie sang and played guitar, while Memphis Jug Band popularized a style played on kazoos, washboard, and guitars, with the bass created by blowing across the tops of jugs.
But while such music enjoyed a passionate local following, it was WC Handy who is generally credited with having popularized the blues and taking it to the world at large. Known as the Father Of The Blues, his "Memphis Blues," published in 1912, was a game-changer. By Handy's own admission, his was an attempt to apply primitive, southern tendencies to use flattened thirds and sevenths in a major key, and bring it to a more sophisticated audience. These flattened notes became known as the "blue notes." "This was a distinct departure," Handy wrote, "but as it turned out, it touched the spot."
Beale Street
The popularity of the blues grew, but in the aftermath of World War II, things began to change quickly. As more and more musicians fled the extreme poverty of the south in search of fame and fortune, the city's Beale Street became flooded with blues clubs and bars, where hopefuls would plug in their guitars and play louder, more-driven blues.
Today, Beale Street remains the focus for most tourists to the city looking for a bowl of jambalaya, or a plate of the city's famous BBQ, a glass of bourbon or rum, and, most importantly, an authentic Memphis blues act. As well as big-name venues like BB King's Blues Club and Jerry Lee Lewis' Café And Honky Tonk (where there's always a whole lotta shakin' goin' on) there are local institutions such as the Rum Boogie Café's Blues Hall Juke Joint, part of the Rum Boogie Establishment, which opened in 1985 and now occupied 174-182 Beale Street.
However, there's plenty more to Beale Street than just the juke joints. A visit during the day begins where Beale Street intersects with South Main Street (where delightful vintage tram cars seem more for show than any practical transportation). Once you've had the compulsory photo next to the statue of Elvis shaking his hips, cross the road to the Hard Rock Café, home to the Memphis Music Hall Of Fame Museum. From there, the neon signs beckon you down into the pedestrianized zone (banners warn "no vehicles, bicycles, skates, skateboards, glass containers, animals or reptiles"). Maybe even pop into A Schwab, the only original store left on Beale Street, whose motto is "If you can't find it at A Schwab, you're probably better off without it!"
Continue down Beale Street and next to the police station at 340 is the WC Handy Memphis Home And Museum. Or, for something a little larger, double back on yourself and hang a left, and next to the FedExForum you'll find the Memphis Rock'n'Soul Museum, a Smithsonian museum that tells the full story of music in the city. Exhibits include original studio equipment and instruments, stage costumes from the likes of Elvis Presley and Johnny Cash, and displays that recreate everyday life in the South. Across the road is the Gibson factory, which offers tours showing how these great American guitars are made.
Among those artists plying their trade in the Beale Street clubs were BB King, Howlin' Wolf, Rufus Thomas, and Ike Turner, all of whom were given their break by Sam Phillips, who recorded them, and many others, at his Memphis Recording Service, which would later achieve global fame as Sun Records. A free shuttle bus service runs from outside the Memphis Rock'n'Soul Museum to 706 Union Avenue, which has been reconstructed into the original studio where legends such as Elvis Presley, Carl Perkins, Roy Orbison, Jerry Lee Lewis, and Johnny Cash made their name. Today, the site is a museum, offering tours, and a well-stocked gift shop, as well as remaining a functioning recording studio, where artists including U2 and John Mellencamp have recorded in more recent times.
Sun Studio
Sun Studio was opened by Phillips in 1950 and quickly cemented its place in history when Jackie Brenston And His Delta Cats, led by Ike Turner, recorded "Rocket 88" there, considered by many to be the first rock'n'roll recording.
The American writer Peter Guralnick explained Sun's unique approach: "According to more than one observer, rock'n'roll music began at the Sun Studios in Memphis, Tennessee. Sun was founded by Sam Phillips, one of the first white men to record black rhythm'n'blues artists like Howlin' Wolf and the first to record the black-influenced music of young white southerners such as Elvis Presley, Jerry Lee Lewis, and Carl Perkins."
What made Memphis such a unique melting pot was that few musicians, producers, or engineers cared what color anyone else's skin was. In a south conditioned by racial segregation, where lynchings remained a brutal part of the landscape, and where laws determined which shops, restaurants, public spaces, and transportation were for whites and which for blacks, it was unusual – to put it mildly – to find an industry where black and white people worked together harmoniously. The result was that blues, country, and gospel fused to create new sounds – rock'n'roll, rhythm'n'blues, soul.
None had greater success than Elvis Presley, who had moved to Memphis from Tupelo, Mississippi, at the age of 13. Presley's break came in 1954. As Sun receptionist Marion Keisker recalled, "Over and over I remember Sam saying, 'If I could find a white man who had the negro sound and the negro feel, I could make a billion dollars.'" Presley proved to be that man, with "That's All Right" the first of a number of records he made for the label.
The studio today offers the chance to pose with what it claims to be the original microphone Elvis used on that session, and is packed with other memorabilia.
Graceland
Elvis would soon outgrow Sun, but lived in Memphis for much of the rest of his life, and his Graceland mansion is one of the most-visited tourist sites in the United States. (It"s also one of the city's accident hotspots, as drivers passing the mansion can't take their eyes off the King's house, with inevitable consequences). Hop back on the shuttle bus from Sun and the next stop is Graceland.
Even the most casual of Elvis fans should allow a good few hours here. A tour of the house is remarkable enough, but the site has plenty more to offer, with exhibitions of Elvis' planes, cars, stage suits, guns, gold discs, and clothing – including his army fatigues and wedding outfit. The most dedicated fan can even get married at Graceland.
Stax Studios
Sun wasn't the only groundbreaking studio from Memphis, and perhaps the best museum in town is the Stax Museum Of American Soul Music. Though the original Stax building was knocked down some 30 years ago, an exact replica was opened as a museum in 2003. Fittingly, your visit begins in church, as a powerful film tells the story of the rise of gospel music in the south, how it became secular as rhythm'n'blues, which in turn became soul music, a key part of the Civil Rights struggle that culminated in Martin Luther King's assassination in Memphis, in 1968.
Like Sun, Stax was a colorless environment, with its legendary house band, Booker T & the MGs, the perfect example – two white guys and two black. Stax was also home to Otis Redding, Isaac Hayes, Sam & Dave, The Staple Singers, and Johnnie Taylor, to mention but a few, and was instrumental not just in the development of soul music, but is arguably the most pivotal place in the history of Black American music.
It's fitting, then, that the museum is designed not just as a tourist attraction, but as a living part of the neighborhood's regeneration. Before the museum opened, this part of Memphis had become extremely depressed. Dubbed "Soulsville," in honor of the great music made at Stax and nearby Royal Studios (of which more later), the project to rejuvenate the district involves plowing back money made from the museum into local projects. Not least of these is the Stax Music Academy, located next door to the museum. Places at this fantastically equipped school are available only to locals, mostly poor, black children, who receive an education their families could previously have only dreamed of – which includes learning to play soul music, under instruction from great Memphis musicians.
It would be easy to think that the story of making records in Memphis revolves around these two studios – Sun and Stax. The reality, however, is far from that straightforward. For while those two giants of the local tourism industry can lay claim to some of the city's most defining sounds, they are merely the tip of the iceberg.
Ardent Studios
John Fry had been tinkering with wires and components in his parents' garage since the late 50s, but it was when he and his pals combined their love of electronics with a passion for music that things started happening for the young Memphian. His high school friends would move on (his original partner, Fred Smith, would utilize his love of airplanes to found another Memphis institution – FedEx) but Fry launched his own record label, Ardent, to put out the sounds he was capturing in the garage. "I had an interest both in music and in electronics… We started getting our hands on the equipment, then asking, 'What can we do with this?' Well, we can record music. 'What are we going to do with the music?' Well, we could try to sell it." As the nearby Stax label grew, more and more of its output was farmed out to other studios to accommodate demand, and Fry's Ardent Studios can boast having recorded some 20 percent of the label's output down the years. Indeed, only Otis Redding of the Stax stars didn't record at Ardent, and many of the label's most important records, such as Isaac Hayes' groundbreaking Hot Buttered Soul, were made under Fry's roof.
By The Time I Get To Phoenix
After upgrading premises a couple of times, the studio found its current home on Madison Avenue in 1971. The large but homely environment has attracted most of the biggest names in music history, from Bob Dylan and James Taylor to R.E.M. and The White Stripes. The studio balanced a professionalism and dedication to the sound, with an understanding of the musicians' need to cut loose. Fry recalled how only Primal Scream had matched Led Zeppelin in the hell-raising stakes down the years.
One of Memphis's most successful rock bands is forever associated with the studio. Big Star were formed in 1971, featuring the remarkable vocal talents of Alex Chilton, who had scored a No.1 hit at the age of just 16 with "The Letter," as a member of another Memphis group, The Box Tops. Big Star were produced by Jim Dickinson, something of a local institution himself. Over the 40-plus years since they first split, the group have taken on legendary status as one of the most influential cult bands in music history, with everyone from Teenage Fanclub to KISS citing them as an influence. Drummer Jody Stephens, the only surviving member of the band, has worked as CEO of Ardent for many years.
History on every corner
Across town, just a few blocks from Stax, Royal Studio is on Willie Mitchell Boulevard, a road named for the studio's founder. Like Stax, Royal was a converted theatre. Mitchell believed the venue possessed a hit-making sound: "Something about the floor. As you go down the slope, the music gets bigger, it separates." Today, the studio is still run by the Mitchell family, and its rough-and-ready décor and furnishings belie the wealth of hits made there. As the home of Hi Records, Royal was host to a whole host of stars in the 70s, including Al Green, Ann Peebles and OV Wright, not to mention Mitchell himself. Keith Richards made himself at home there, enthusing about the sound coming from one particular booth. It's also served well for acts including Solomon Burke, Chuck Berry, Tom Jones, The Staple Singers, De La Soul and Wet Wet Wet, who recorded their The Memphis Sessions collection there in 1985.
If you take a tour of Memphis, you will also pass by the former homes of Meteor Records, a short-lived label who put out records by Rufus Thomas and Elmore James, and the now-defunct American Sound Studio, whose credits include Elvis Presley's last No.1 hit, "Suspicious Minds," Neil Diamond's "Sweet Caroline" and "Raindrops Keep Falling On My Head" by BJ Thomas, as well as more soulful cuts the likes of Dusty Springfield's exceptional Dusty In Memphis LP. The list of places where great records were made in Memphis just goes on.
In Memphis, it feels like music history is on every corner. Aretha Franklin was born in the city, as was Justin Timberlake. And it was in the Mississippi River in Memphis that the singer-songwriter Jeff Buckley drowned.
For some of the less obvious sites, you could do a lot worse than book in with Tad Pierson's American Dream Safari for the ultimate way to turn back time and see the sights. Tad knows everybody and everything when it comes to Memphis' musical history, and he offers tours in his '55 Cadillac. There's no finer way to pull into a juke joint on the outskirts of town, where the current crop of blues and soul musicians ply their trade, often for dollar bills stuffed into a jug passed around during their set. If you're lucky, you might catch the sensational guitar playing of Lightnin' Malcolm, often accompanied by tub-thumper Cedric Burnside, grandson of the legendary RL Burnside. But watch out – the pair's forceful, infectious electric blues might see you stuffing more than just the occasional dollar bill into that jug.
Tad's Cad will also take you to the places of legend that only local knowledge can uncover. For example, when you stop at a bar for a drink with Tad, he'll tell you, "You know that line in 'Honky Tonk Women' – 'I met a gin-soaked bar-room queen in Memphis/Who tried to take me upstairs for a ride'? Well, these here are the stairs she tried to take him up." The bar in question turns out to have been a brothel in a former lifetime, and one popular with touring musicians. This was where The Rolling Stones hung out after a show in town, and the song drew on that experience. Or so the story goes.
Meanwhile, just across South Main Street is The Arcade Restaurant. The vintage neon frontage of the oldest café in Memphis (it opened in 1919) may ring a bell if you've ever seen movies such as Mystery Train or Walk The Line, and its history is entwined with the city's music scene. Known as Elvis' favorite diner, the staff will point out Presley's booth at the farthest end from the entrance. Elvis, they'll tell you, could see in the mirrors if fans came in, and he could quickly flee to safety by prior arrangement through the kitchen door.
History is everywhere in Memphis, and one of the biggest chills comes a short step back up South Main, as the National Civil Rights Museum gives way to the view of the famous Lorraine Motel balcony where Martin Luther King was assassinated on April 4, 1968.
Hop back into Tad's Caddy and continue your tour. Tad can show you the historic homes of musicians such as Memphis Minnie. Notable is the former childhood home of bluesman Memphis Slim, a dilapidated old shack that has recently been transformed into the Memphis Slim Collaboratory, and now includes rehearsal and recording studio space as well as classrooms – further evidence that Memphis is looking not just to its past, but to the future. As it approaches its 200th birthday, the city is far from a museum piece.
In It Came From Memphis, Robert Gordon explains, "Memphis music is an approach to life, defined by geography, dignified by the bluesmen. This is a big city surrounded by farmland, where snug businessmen gamble on the labor of fieldhands, widening the gap between them, testing the uneasy alliance. Memphis has always been a place where cultures came together to have a wreck: black and white, rural and urban, poor and rich. The music in Memphis is more than a soundtrack to these confrontations. It is the document of it. To misquote WC Handy's 'Beale Street Blues,' if the Mississippi River could talk, a lot of great folks would have to get up and walk."
Planning a trip? Here are the must-see sights in The Birthplace Of Rock'n'Roll.
A tourists' guide to Memphis' musical landmarks
BB King's Blues Club
143 Beale Street; www.bbkings.com/memphis
Jerry Lee Lewis' Café & Honky Tonk
310 Beale Street
Rum Boogie Café
182 Beale Street, Memphis; www.rumboogie.com
Memphis Music Hall Of Fame Museum
126 South Second Street; www.memphismusichalloffame.com
WC Handy Memphis Home And Museum
352 Beale Street; www.wchandymemphis.org
Memphis Rock'n'Soul Museum
191 Beale Street; www.memphisrocknsoul.org
Gibson Factory
145 Lt George W Lee Ave; www.gibson.com/Gibson/Gibson-Tours
Sun Studio
706 Union Avenue; www.sunstudio.com
Graceland
Elvis Presley Boulevard; www.graceland.com
Stax Museum Of American Soul Music
926 East McLemore Avenue; www.staxmuseum.com
Ardent Studios
2000 Madison Avenue; www.ardentstudios.com
Royal Studios
1320 Willie Mitchell Boulevard; www.royalstudios.com
The Arcade Restaurant
540 South Main Street; www.arcaderestaurant.com
Memphis Slim Collaboratory
1130 College Street; www.memphisslimhouse.com