Detroit Rock City: A History Of Motor City Music
A history of Detroit music is wider-ranging than almost any other city's. Everything from blues to soul and techno calls Motor City home.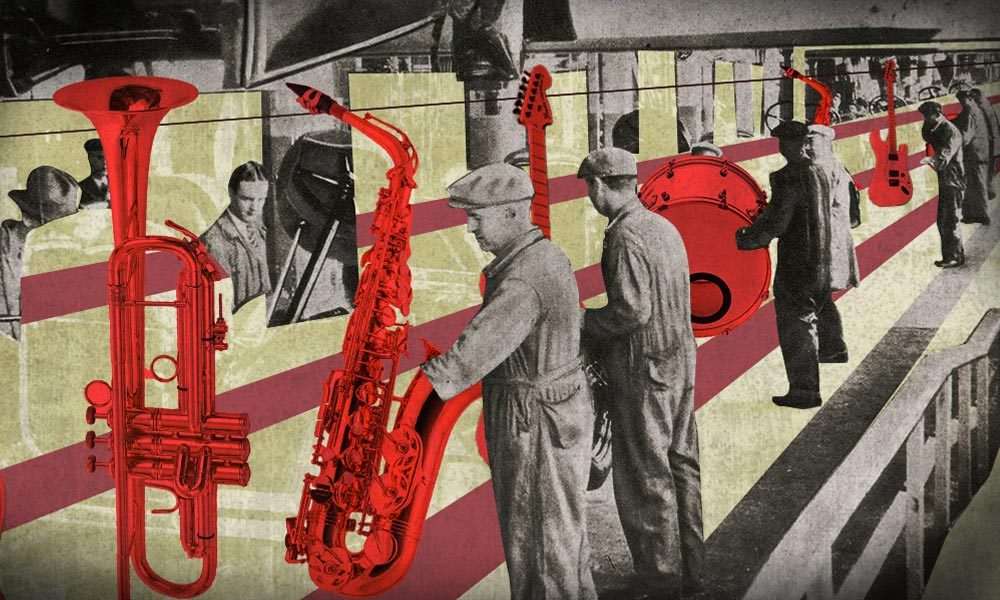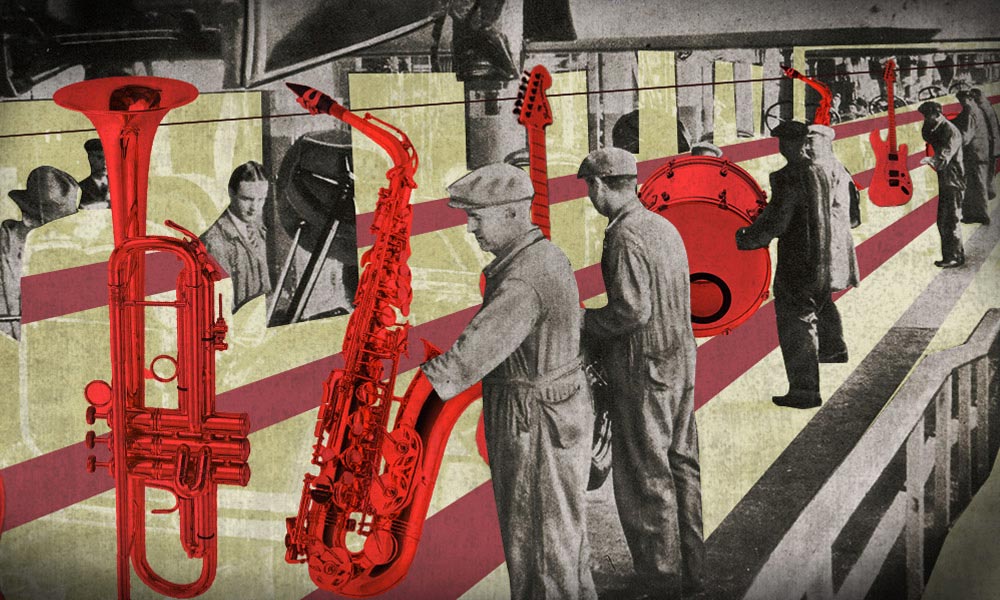 Few cities in the world match the musical heritage of Detroit, the home of Motown. Though the flagship city of Michigan state is renowned for its soul music, the history of Detroit music is also rich in jazz, blues, gospel, country, rock, techno, and, more recently, rap. "There was a jambalaya of cultures in Detroit," says native Don Was, the guitarist who co-founded Was (Not Was) and is now president of Blue Note Records. "We were exposed to everything – without judgment."
The birth of Detroit music
When construction began on the celebrated Orchestra Hall in June 1919 – a venue that is thriving again as home to the world-famous Detroit Symphony Orchestra – there were just under one million residents of a bustling port city that spans 143 square miles. A third of Detroit's population were foreign-born. The hall opened in the mid-20s, by which time jazz was starting to dominate popular music across the US.
Detroit's McKinney Cotton Pickers, who recorded with Coleman Hawkins, were one of the pioneers of big band music in The Jazz Age. In 1924, during a visit to America, the future King Edward VIII sat in with William McKinney's band, playing drums – surely the only occasion English royalty has jammed with a Detroit band. By the 30s and early 40s, Orchestra Hall (presenting as Paradise Theatre) was hosting renowned jazz musicians Louis Armstrong, Ella Fitzgerald, Count Basie, Billie Holiday, and Duke Ellington.
Detroit: A jazz hub
Detroit is well known as the birthplace of soul stars such as Jackie Wilson, Smokey Robinson, and Diana Ross, but it was also where numerous top jazz musicians – many of whom recorded for Blue Note Records – were born. The stellar list includes guitarist Kenny Burrell, trumpeter Donald Byrd, harpist Alice Coltrane, pianist Tommy Flanagan, trombonist Curtis Fuller, vibraphone player Milt Jackson and drummer Louis Hayes. Detroit even inspired non-natives. Jazz guitar maestro Wes Montgomery composed an instrumental in the 60s called "Goin' On To Detroit."
The city's reputation as a jazz hub continued into the post-war era, when saxophonist Charlie Parker helped make The Blue Bird Inn one of the most influential bebop venues of the time. Parker's work in Detroit drew a new wave of modern jazz talent to the city, including John Coltrane, Sonny Stitt, Ahmad Jamal, and Horace Silver.
The Motor City
At the time, booming Detroit was often referred to as "the Paris of the West," praised for its picturesque broad river, wide boulevards, Grand Circus Park, and the architectural delights of its buildings, including the Central Train Depot, Masonic Temple, Institute Of Arts, Guardian Building and Fisher Building. Despite its visual attractions, Detroit has always been gritty as well as glamorous. "There are cities that get by on their good looks, offer climate and scenery, views of mountains or oceans, rockbound or with palm trees. And there are cities like Detroit that have to work for a living," said crime novelist Elmore Leonard.
As Michigan-born Henry Ford grew his automobile dynasty in the early 20th Century, the Paris of the West gradually became Motor City. For decades, Detroit was the assembly line for most of the world's automobiles. There were hundreds of car factories, including top plants by Ford, Hudson, Packard, Studebaker, Chrysler, and General Motors. Oscar-winning director Francis Ford Coppola was not only born in Henry Ford Hospital, he received his middle name as a tribute to the carmaker: Coppola's flautist father, assistant orchestra director for The Ford Sunday Evening Hour radio show, wanted to honor a generous sponsor of classical music.
Detroit's blues heritage
During the Second World War, Detroit became a center for armaments manufacture. The Ford Motor Company made tank engines, army Jeeps, and nearly 7,000 B-24 Liberator Bombers. One man who worked as a laborer at Ford's Rouge Steel Mill during the conflict was blues musician John Lee Hooker, who moved to Detroit as a teenager, joining a fresh wave of migration at the start of the 40s.
The Motor City Is Burning
Hooker was attracted to the city by the prospect of steady employment, and the belief that there was less competition between blues singers in Detroit than in Chicago. He was aware of the city's blues heritage.
In the 20s, Blind Blake wrote "Detroit Bound Blues" ("I'm goin' to Detroit, get myself a good job"), a song that foreshadowed the story of Big Maceo Merriweather, who left Georgia in the Deep South to work as a handyman for Ford. The pianist penned a tribute song to his new home called "Detroit Jump." Big Bill Broonzy ("Detroit Special") and Tampa Red ("Detroit City") also wrote songs honoring the city.
Hooker became a key part of the resurgent Detroit blues scene, hanging out with T-Bone Walker on Hastings Street. That famous thoroughfare was a lively place for musicians to find work and socialize at the black-owned shops, clubs, restaurants, gambling dens, and bordellos.
Calvin Frazier, Sonny Boy Williamson II, Washboard Willie, Eddie Kirkland, and Bobo Jenkins were among the Detroit bluesmen who played gigs at the so-called "black and tan" venues that allowed customers of all races to hear music together.
Hooker's 1948 single "Boogie Chillen" paid tribute to this now lost Detroit locale, as he sang, "When I first came to town, people, I was walkin' down Hastings Street/Everybody was talkin' about the Henry Swing Club." Hooker's single became the first "down-home" electric blues song to reach No.1 on the R&B chart. He was also inspired to write another hit song by the greeting he received from a bartender at the Apex Bar: "Hello, Boom Boom," the man used to say, as Hooker entered the bar. Hooker never found out the reason for his nickname.
In the 50s, the entertainment districts of Paradise Valley and Hastings Street (now called the Chrysler Freeway) were razed as part of an urban renewal program. Hooker, along with many of the visiting blues musicians, returned to Chicago in the early 60s, at a time that Chess Records was taking off.
Detroit, country, and rock 'n' roll
Country music was popular in Detroit in this period, too, with bands such as Eddie Jackson And The Swingsters building on the appeal of the western swing of Chief Redbird. In the 30s and 40s, massive migration from the Appalachian states brought a bluegrass influence to Detroit music. In December 1953, The Motor City Jamboree made its debut at the 1,800-seater Madison Ballroom in Grand Circus Park. These radio broadcasts increased the popularity of country music, and the experience of displaced southern rural workers inspired Bobby Bare's song "Detroit City" ("By day I make the cars/By night I make the bars"), one subsequently covered by Dean Martin, Dolly Parton, and Chris Stapleton.
Bobby Bare - Detroit City (Audio)
The rise of rock'n'roll also had a significant impact on jazz, blues, and country. Bill Haley was born in the Highland Park suburb of Detroit and his parents passed on some of the musical influences of the city. But Detroit left a permanent reminder in less happy ways. When four-year-old Haley went for an operation to remove a mastoid behind his ear, the hospital surgeon botched the procedure and severed an optic nerve, leaving Haley blind in his left eye. Haley remained fond of the city, though, and returned twice in triumph, in 1956, to play Detroit's Olympia Arena, showcasing his recent million-selling hit "(We're Gonna) Rock Around The Clock."
Rock'n'roll swept through Detroit in the wake of Haley's hit and the rise of Elvis Presley, who played the stunning Fox Theatre in 1956. That year, the city became home to Detroit Teen Life, the first newspaper written exclusively for teenagers. The Federation Of Teen Clubs was also set up in Detroit. "All that rock music put a whippin' on the blues," said guitarist and harmonica player Eddie Burns, who recorded with Hooker. "The DJs played a big part. If you didn't have the kind of record they wanted, you didn't get no plays, which is how your record would make it."
Detroit and Motown
In the late 50s, rock'n'roll ruled the airwaves in Detroit. But one remarkable man would change all that: Berry Gordy, Jr. Gordy, the seventh of eight children, had been interested in the music business since the age of ten. One of his first songs was a ditty for the family business, Gordy Printing, and he spent a lot of time roaming Hastings Street. His promising boxing career was ended by his draft into the army, and he served in Korea from 1951 to 1953. After he was discharged, Gordy returned to Detroit and opened a jazz record store. When that failed, he worked on the assembly line at the Ford Lincoln-Mercury plant, earning $86.40 a week.
A career in music remained his deepest ambition, however, and he kept his hand in writing songs. His first memorable efforts were for Detroit-born singer Jackie Wilson. Gordy co-wrote Wilson's first six singles, including "Reet Petite" and "Lonely Teardrops," which went to No.1 on the R&B charts. After serving time in a juvenile correction facility, Wilson had also made a name for himself on the Detroit amateur boxing circuit. "I didn't want to leave boxing. I won the Golden Gloves at 16," recalled the singer. "One day my mother grabbed me by the hair and said, 'No more.'" His mother, Eliza Mae, had been a good church choir singer and believed her son possessed outstanding vocal skills.
Wilson's hit singles were recorded for Brunswick and Gordy earned little in terms of royalties. He came to the conclusion that the only way he would ever make substantial money was to produce records for his own label. He wanted to strike out on his own and turned down the chance to work with his sisters Gwen and Anna Gordy at Anna Records.
On January 12, 1959, Gordy founded Tamla Record Company, taking the first part of the name from Debbie Reynolds's character in the film Tammy And The Bachelor. His first Tamla recording was Marv Johnson's "Come To Me." Gordy cut the track at United Sound Systems Recording Studios on Second Avenue, an iconic venue where Charlie Parker had worked and where Hooker's "Boogie Chillen" was made.
Motown opens for business
Gordy was 29 when he used an $800 loan from his family to put down a deposit on a small two-story wooden house at 2648 West Grand Boulevard. His neighbors in the run-down district included a funeral home and a beauty parlor. Gordy and his first wife, Thelma, lived upstairs and converted the garage into a recording studio and the kitchen into a control room. Over the front door, he put an ambitious sign: "Hitsville USA."
In August 1959, his co-written song for Barrett Strong – the aptly named "Money (That's What I Want)"– made it to No.2 on the charts and gave Gordy the cash injection he needed to expand. On April 14, 1960, Tamla was incorporated as Motown Record Corporation. Motown was a cannibalization of "Motor Town," a nickname for Detroit that Gordy knew would be recognizable throughout America.
Money (That's What I Want)
"Hitsville" was an accurate description. Gordy built a hit-making empire that produced some of the most joyful and enduring popular music ever recorded. The box set Motown: The Complete No.1s highlights the impact Gordy made. Among the staggering total of 208 chart-topping hits are indelible classics such as Four Tops' "I Can't Help Myself', Marvin Gaye's "What's Going On," Jackson 5's "ABC," Martha & The Vandellas' "Dancing In The Street," The Marvelettes' "Please Mr. Postman," Diana Ross' "Ain't No Mountain High Enough," Smokey Robinson And The Miracles' "I Second That Emotion," The Supremes' "Where Did Our Love Go," The Temptations' "Ain't Too Proud To Beg" and Stevie Wonder's "Signed, Sealed, Delivered (I'm Yours)."
Smokey Robinson
One of Gordy's key early signings was 19-year-old Robinson, a born entrepreneur, who helped get Tamla and Motown records played on influential Detroit radio stations such as WJLB, WWJ, and WCHB. The success of rock'n'roll had shown that DJs had a huge say in making or breaking musicians. The big stations, such as WWJ, reached half of eastern America and vast areas of Canada. Gordy cultivated DJs and made sure Motown produced music that would play well on low-fidelity car radios.
Gordy described Robinson as "the soul of Motown." The singer, who was christened William and nicknamed Smokey as a child, had grown up in poverty in the North End area of Detroit. Robinson composed the Motown company song, which was sung at company parties and picnics: "We are a very swinging company/Working hard from day to day/Nowhere will you find more unity/Than at Hitsville USA!" His lyrical skills were put to better use on hits such as "My Girl," "Tracks Of My Tears" and "I'll Try Something New."
In an interview with AARP in 2018, Robinson talked about growing up in a musically fertile city. "There were thousands upon thousands of talented people in Detroit. We used to have group battles on the street corners. There were groups that would out-sing me and The Miracles," he said. "I believe there are talented people in every city, every town, every township, every village, every nook in the world. But Berry Gordy was the difference. He gave us an outlet."
The secrets to Motown's success
Gordy built his company along lines that mimicked Ford in its division of labor and focus on a product suitable for a mass market. His Motown studio worked almost 20 hours a day, assembling hundreds of possible releases. Gordy imposed a system of strict quality control. At 9 am each Friday, he chaired a "product-evaluation meeting." Producers and songwriters would pitch for their recordings to be issued. "If you had a dollar, would you buy this record, or buy a sandwich?" Gordy would ask the panel. Only the best music made the cut.
Many of his musicians, such as Billy Henderson, Henry Fambrough, Pervis Jackson, James Edwards, and CP Spencer, were from the city's public housing projects. This quintet of friends, who became The Detroit Spinners, were living in Herman Gardens when they came to sign for Motown. Like many of his recruits, they had talent but were raw.
Gordy hired the formidable Maxine Powell, who had run her own Finishing And Modelling School, to run Motown's Artists' Development department. Powell, a pioneer who had persuaded motor companies to use black models at trade shows, schooled the aspiring musicians in elocution and decorum. In addition, veteran choreographer Cholly Atkins taught the Motown musicians complicated dance moves – including hand movements and steps – that would look impressive on television. Atkins' routines helped groups such as the Temptations and The Supremes win legions of new fans.
The Best of The Supremes on The Ed Sullivan Show
Something in the Detroit air seems to foster good music. The list of singers and musicians born in the city is impressive. As well as Motown stalwarts such as Four Tops (Abdul Fakir, Lawrence Payton, Renaldo "Obie" Benson, Levi Stubbs), the city was also the birthplace of key songwriters such as Lamont Dozier and Brian and Eddie Holland. Singer Marcella Levy was so immersed in the city's music as a teenager in the 60s that she changed her surname to "Detroit." As Marcella Detroit, she went on to co-write "Lay Down Sally" for Eric Clapton.
The car industry's impact on music in Detroit
The indelible link between the car industry and the city's musicians carried on into the 60s and 70s, through rock stars such as Suzi Quatro and Bob Seger. Quatro's father, Art, was a semi-professional musician who worked at General Motors. Seger's father, Stewart, was a medical technician for Ford. He played several instruments and exposed his son to the blues and soul of Detroit from an early age.
In 1968, after signing for Capitol Records, Seger broke through with his first national hit, "Ramblin' Gamblin' Man." A year later, he was a proud participant in a special ten-hour concert, The Detroit Pop Festival, at the Olympia Stadium. Seger, along with Mitch Ryder (who fronted a band called The Detroit Wheels), helped establish inner-city Detroit as one of the key places in rock music innovation in the 70s.
Other Detroit natives include Marshall Crenshaw, Johnny Desmond, Glenn Frey (of Eagles), Ray Parker, Jr, Sixto Rodriguez, and King Gordy. Singer-songwriter Rodriguez, who was the subject of the Oscar-winning documentary Searching For Sugar Man, about his strange popularity in South Africa, still lives in Detroit's historic Woodbridge district and sometimes plays venues such as The Old Miami on Cass Avenue.
Gospel music in Detroit
Before the dominance of Motown, gospel was the main musical export of Detroit. Churches acted as incubators of numerous great singers, including Jackie Wilson. Though Aretha Franklin was born in Memphis, she started out singing gospel at New Bethel Baptist Church, where her musical father, Clarence LaVaughn Franklin, was the minister. Martha Reeves, who was born in Alabama, also learned her trade singing gospel. She was still a baby when her family moved to Detroit. Her grandfather, Reverend Elijah Reeves, was a minister at Detroit's Metropolitan Church.
Stevie Wonder, who was born in Saginaw, Michigan, was four when his mother divorced his father and moved with her children to Detroit. The young prodigy was the star of a choir at the Whitestone Baptist Church and said he was filled with blues and jazz by listening to a radio show in Detroit called Sundown. Bettye LaVette, who is having a late-career renaissance with Verve Records, was also raised in Detroit. Madonna was brought up in the suburbs of Pontiac.
Madonna, Swae Lee - Crave
Iconic Detroit music venues
Musicians in Detroit had venues worthy of these highest talents. The Michigan Palace, Masonic Temple, Eastown Theatre, Sherwood Forest Rivera, The 20 Grand nightclub, Paradise Theatre, Baker's Keyboard Lounge, Graystone Ballroom, and Flame Show Bar are just a handful of the gorgeous, historic sites that have played a key role in Detroit's musical history.
Iggy Pop
In the early 60s teenagers were going to clubs like the Fifth Dimension, in Ann Arbor, to hear what was described as garage rock bands. The groups who rose up at the time included The Underdogs, The Fugitives, and ASTIGAFA (featuring a young Marshall Crenshaw). One of the key bands to emerge was The Stooges, featuring frontman Iggy Pop , who went on to become one of the most influential figures in punk. Born James Jewel Osterberg, Pop grew up in a Detroit trailer park. After dropping out of the University Of Michigan after just one semester, he started out in the music business as a drummer for soul bands in Chicago.
Pop was drawn back to Detroit by the underground rock scene which was growing, despite the impact of Motown. He recruited Ron and Scott Asheton, on guitar and drums, respectively, for his band, and took on the name Iggy Stooge. The group's live shows were memorable, with Pop taking performance to new extremes, in ways that sometimes included self-harm. When he played Detroit's Grande Ballroom in the early 70s, he performed in a long white christening robe, wearing a chrome headdress constructed from iron and starched strips of Reynolds Wrap.
The group's self-titled debut album was produced by The Velvet Underground's John Cale, and two songs, "No Fun" and "I Wanna Be Your Dog'," became punk favorites. Iggy Pop said he was playing the music that reflected the "time and place" he grew up in.
George Clinton
At the same time that Iggy Pop rose rising to fame, George Clinton was establishing a reputation that would ultimately be honored in May 2019 with a Grammy Lifetime Achievement Award that recognized his contribution to American music.
Clinton, who started as a songwriter for Motown, revolutionized R&B with a blend of soul and funk. His debut band The Parliaments had their first hit in 1967 with the single "(I Wanna) Testify" for the Detroit-based Revilot Records. A year later, the band was recording as Funkadelic. In the 70s, Clinton put together a collective of over 50 musicians and recorded the ensemble under various names, including Parliament and Funkadelic, plus spin-off acts like Bootsy's Rubber Band. He continued to produce innovative music for the next four decades and influenced musicians as diverse as Prince and Wu-Tang Clan. Clinton also collaborated with rapper Kendrick Lamar on the 2015 album To Pimp A Butterfly.
P-Funk (Wants To Get Funked Up)
Detroit as musical inspiration
The city continues to be a source of musical inspiration in the 21st Century. In 2013, Michael Bolton recorded Ain't No Mountain High Enough: A Tribute To Hitsville. He said that one of the reasons he wanted to celebrate the music of Detroit was because the city is such a melting pot of music. "People think primarily of Motown, but diversity is key to the story of Detroit," said Bolton.
In July 2018, the boss of Blue Note Records, along with saxophonist Dave McMurray, hosted the 11th annual Don Was Detroit All-Star Revue, at a packed Orchestra Hall. Guitarist-vocalist Wayne Kramer, of MC5 fame, was among those paying tribute to Detroit's rock legacy.
Detroiter Alice Cooper released an album in 2021 based around the music of his home city. "There's a certain Detroit sound we're looking for," Cooper said. "It's indefinable. There's a certain amount of R&B in it. There's a certain amount of Motown in it. But then you add the guitars and you add the attitude and it turns into Detroit rock." Cooper has asked Quatro and Seger to be part of his new album.
The struggles of Detroit
The story of Detroit is not one of continual success, however. In the years following Motown's inauguration, the city has been through traumatic times. It even, reportedly, came close to being wiped out in October 1966. There was a near disaster at the Enrico Fermi Nuclear Generating Station in Monroe, about 30 miles outside Detroit, an incident that prompted Gil Scott-Heron to write the song "We Almost Lost Detroit" (which gave John G. Fuller's 1975 exposé its title), a track that was covered by Detroit indie band JR JR in 2011.
Social and economic factors also put Detroit at risk of being a lost city. The riots of July 1967 exposed again the deep racial tensions in the city. After five days of violence and looting, 43 people had died, more than 7,000 locals had been arrested and 3,000 buildings had been burnt to the ground. The riots fuelled the so-called "white flight" out of Detroit. The population fell from nearly two million in 1950 to 677,000 in 2015, wrecking the city's tax base and playing a part in the mess that ended up with Detroit in $18 billion in debt.
Even during the bleakest times, Detroiters continued to turn to music. Motown played their part in the civil-rights movement. The song "Respect" – which was written as a ballad by Otis Redding – became Aretha Franklin's signature song and an anthem for feminism and equal rights after it rocketed to No.1 following its release in April 1967. "I don't think it's bold at all. I think it's quite natural that we all want respect – and should get it," Franklin told Detroit Free Press at the time of the riots. "Dancing In The Street," by Martha And The Vandellas, was part of the soundtrack to the summer of 1967, played regularly by protestors.
Evolution and survival
Even during the relentless economic decline of the 80s and 90s, the musical reputation of the city continued to evolve and deepen. In the 80s, Detroit was one of the world leaders in electronic music. Juan Atkins, Derrick May, and Kevin Saunderson (a trio who were dubbed "The Belleville Three") are considered the founders of techno. The high school friends from Detroit's Belleville suburb experimented by mixing disco, dance, and house music, and their fusion spread from the Detroit and Chicago club scene to become popular around the world.
In 1997, Detroit gained another feather in its musical cap when Jack White, along with fellow Detroit native and then-wife Meg, founded The White Stripes, who became one of the leading indie bands of the era. The Grammy-winning singer-guitarist retains strong links with the city. In 2013, White paid $142,000 in taxes owed by the Masonic Temple to head off foreclosure. The venue's Cathedral Theatre has since been re-named the Jack White Theater.
In the 21st Century, Detroit has been an integral part of hip-hop's evolution. Eminem, who admitted that his city was a "rough" place in which to grow up, starred in the acclaimed film 8 Mile in 2002. The movie, filmed in the city, showed how Detroit was still a breeding ground for new musicians and styles, despite its economic decline and rivalries. The film's soundtrack album debuted at No.1 on Billboard's pop chart and Eminem won an Academy Award for Best Original Song, for "Lose Yourself."
In November 2014, Eminem was joined by Royce Da 5' 9", Big Sean, Danny Brown, Dej Loaf, and Trick-Trick to make the single "Detroit vs Everybody." The six Detroit rappers sang about their struggles to succeed and their pride in representing their ailing home city. At the time of the single's release, Detroit had an estimated 70,000 abandoned buildings. The once-great city looked derelict. In the past five years, however, Detroit has shown an ability to bounce back and navigate the problems of regeneration and gentrification. Downtown Detroit has seen a vast increase in real-estate investment and "The D," as the city is affectionately known by locals, is beginning to revive.
The legacy of Motown
Motown Records remains central to Detroit tourism, and with the likes of Erykah Badu, Lil Yachty and Migos on its roster, the label continues to focus on the sound of young America. In December 2017, the Motown Museum announced a $50 million expansion, while retaining the seven houses which made up the label's original headquarters. A new building, set for completion later this year, will use interactive exhibits to tell the story of Gordy's empire. "Motown and music obviously are one and the same," said museum boss Allen Rawls. "This is where voices were lifted in song and spirit and love, and this is where the dream was born that went out into the world."
Big Sean, who sang on "Detroit vs Everybody" and has worked with Drake, has held fund-raising events for the project. "Support from people like Big Sean is critical, because we've got to talk to another generation," said the Museum's CEO, Robin Terry.
Migos - Walk It Talk It ft. Drake (Official Video)
Detroit and the Motown Museum seem back on the right road, 60 years after Gordy vowed to change the world. "Berry Gordy sat four of us down," recalled Smokey Robinson. "He said, 'I'm going to start my own record company. We are not just going to make black music – we're going to make music for the world.' That was our plan, and we did it."
A Guide To Detroit's Must-See Musical Landmarks
Hitsville USA
2648 West Grand Boulevard
An essential part of any visit to Detroit has to be a trip to Hitsville USA, the famous headquarters of Motown Records. You can check out the studio where stars such as Smokey Robinson, Stevie Wonder, and Gladys Knight recorded their songs. The museum, which is undergoing a renovation, is full of photographs, costumes, and memorabilia of its hit-making artists. On weekends in the summer and autumn, there are Motown dinner trips on the Detroit Princess riverboat, offering food, drink and live renditions of the label's classic hits.
United Sound Systems Recording Studios
5840 Second Avenue
The famous wooden house, with its blue-painted windows, is still a working studio. There are museum tours available for one of the most important music-making sites in the world. United Sound Systems Recording Studios was established in 1933 by Jimmy Siracuse and was the place where Charlie Parker, Max Roach, and Miles Davis recorded bebop standards; where John Lee Hooker recorded "Boogie Chillen;'' where Berry Gordy recorded Tamla's first release, in 1959; and where Marvin Gaye recorded "What's Going On.'' In the 70s it was used by Bob Seger. It is also where George Clinton discovered Red Hot Chili Peppers, who went on to write an ode to the city, "Detroit.'' It was also the place where Eurythmics joined Detroit native Aretha Franklin in 1985 to cut "Sisters Are Doin' It For Themselves.''
The Majestic
4126-4140 Woodward Avenue
There are lots of major music venues in Detroit, including Little Caesars Arena, the beautiful Fillmore, The Music Hall Center For The Performing Arts and Ford Field Stadium, the home of The Detroit Lions and a place where Taylor Swift, Beyoncé, and Jay Z have performed. One of the most impressive venues is The Majestic Theatre, located Midtown and which was listed on the National Register Of Historic Places in 2008.
Third Man Records Cass Corridor
441 West Canfield Street
Third Man Records Cass Corridor is more than just a music venue. It is a record store, novelties lounge, in-store performance stage, record booth, and vinyl record pressing plant, which you can witness in action through viewing windows, pressing the very records available for purchase. The store, originally founded by Jack White, is at 441 West Canfield Street.
Fox Theatre
2211 Woodward Avenue
You can take a backstage tour of the magnificent Fox Theatre, which hosted Frank Sinatra, Aretha Franklin and the Radio City Christmas Spectacular, and opened in 1928 as a flagship movie palace. A 45-minute walking tour will take you through the dazzling lobby, where you can see the 13-foot-diameter chandelier and gold décor from around the world.
Hart Plaza
Every year on Memorial Day weekend in May, thousands of people from around the world congregate at Hart Plaza to celebrate the birthplace of techno and the musical heritage of Detroit. Movement Music Festival, which started in 2006, is one of the longest-running dance music events in the world. The festival takes place on Detroit's spectacular riverfront destination.
Saint Andrew's Hall
431 East Congress Street
Saint Andrew's Hall, which was built in 1907, was originally the meeting place for the Saint Andrew's Scottish Society Of Detroit, and has since been a key venue for breakthrough acts such as and Eminem.
Saint Andrew's is one of a number of thriving music venues in the modern Motor City. Other atmospheric venues worth checking out are Cliff Bell's, a recently-restored downtown jazz club; Old Miami, El Club, PJ's Lager House, Northern Lights Lounge and Tires. The vibrant Smalls, in Hamtramck, is run by musicians including Dave and Melody Malosh.
Masonic Temple
500 Temple Street
Detroit's Masonic Temple (The Masonic), on Temple Avenue, is the largest building of its kind in the world. Construction on this architectural marvel began in 1920. It is still a home to live music and The Avett Brothers are among the acts playing there in 2019, following in the footsteps of greats such as Jimi Hendrix, The Who, and The Rolling Stones. The main theatre holds nearly 5,000 spectators, but there is also a recently restored Jack White Theater, which holds 1,500 people and boasts a magnificent lobby entrance.
DTE Energy Music Theatre
33 Bob Seger Drive
If you want to get out of an urban setting, the impressive DTE Energy Music Theatre, which is about 30 miles outside Detroit, in Clarkston, is surrounded by forests and lakes. The venue, originally called the Pine Knob Music Theatre, houses a 15,274-seat outdoor Amphitheatre. Lionel Richie, who had Motown hits with his band Commodores, will be playing the venue in June 2019, as part of the venue's celebrations of Hitsville.
Looking for more? Discover how Berry Gordy and Motown pioneered African-American businesses.