Red Hot Chili Peppers
Red Hot Chili Peppers are one of the most successful rock bands of the last several decades, with a catalog of critically acclaimed albums and hit singles.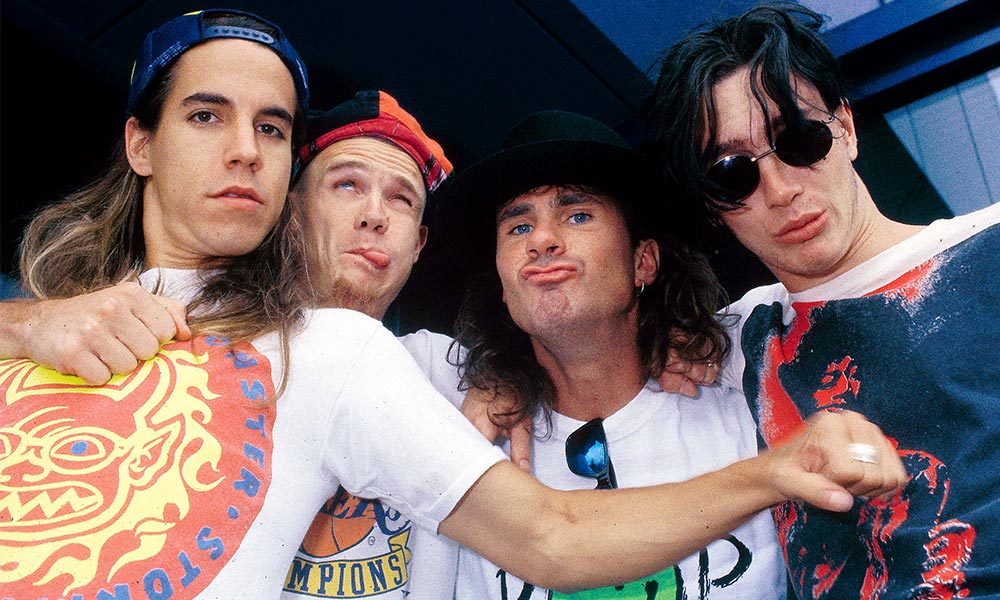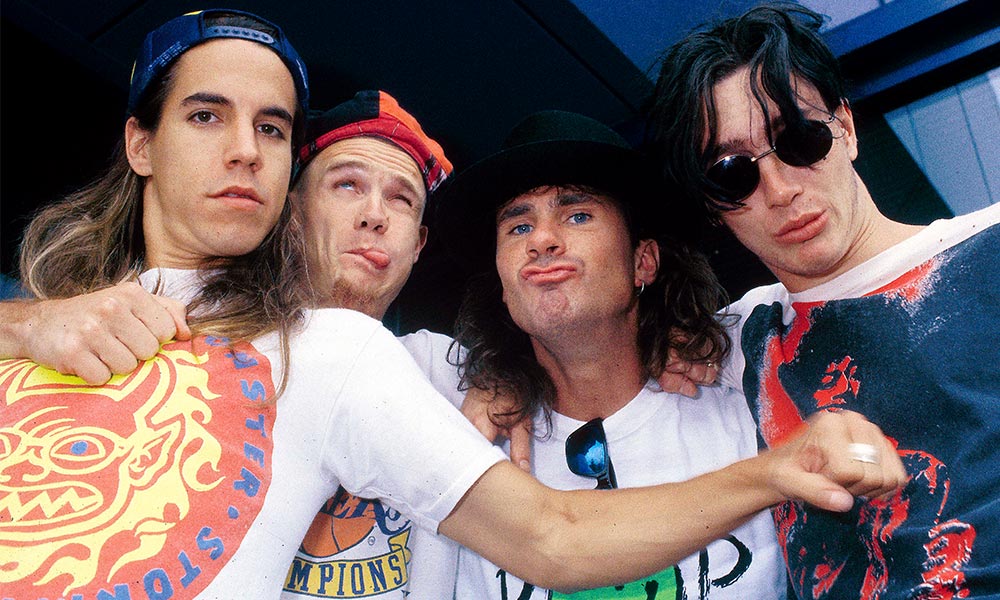 Strange as it now seems the Red Hot Chili Peppers took a while to turn themselves into stadium packing superstars. Their brilliant early albums were critically acclaimed and won them a fanatical cult following in various pockets of North America and Europe but it wasn't until their fourth disc, the outstanding Mother's Milk, that the Chili peppers began to see a return on their investment in hardcore rock mixed with blues, stellar funk and supercharged sexuality that turns their live shows into scenes of bacchanalian splendour. During an ongoing career stretching from the mid-80s to today, they've rectified that initial underachievement by clocking up sales over the 80 million mark. They've won a creditable six Grammy Awards and mutated into a modern Californian supergroup, their various members being in-demand as musical specialists, producers and mentor/consultants. We have a select grab of their repertoire, including those esoteric first four essential albums, a live disc and the must-have What Hits?. But first let's take a trip back in time to Los Angeles, dateline 1983.
In the beginning, the word was Red Hot Chili Peppers with the accent on red-hot. They began life as a psychedelic hard rock troupe with plenty of funk and hip-hop grooves to call on. Founding members Anthony Kiedis (vocals and lyrics), super bassist Michael 'Flea' Balzary, drummer Jack Irons and guitarist Hillel Slovak emerged from a schoolmate's thing at Fairfax High – in those days they were rapping and rocking and performing improvised live sets that soon won them a following outside the school hall. In 1983 their reputation was so word-of-mouth that they signed an unprecedented seven-album deal –  with Slovak and Irons making way for Cliff Martinez and Jack 'Jewfro' Sherman. Their debut album, The Red Hot Chili Peppers (1984) produced by Gang of Four's guitarist Andy Gill in Hollywood nailed down a brand of funk-rock and rap that became the blueprint for the next few years. Writers and hard-core rockers loved the album's dense textures and atmospheric vocals and the Chili Peppers built a strong college and FM radio basis. Outstanding cuts like  'True Men Don't Kill Coyotes', 'Get Up and Jump' and a weird enough cover of Hank Williams' 'Why Don't You Love Me' ensured the album won raves and this item has long been regarded as a well-kept secret amongst the fan base, who would also have noted that Gwen Dickey from '70s soul disco outfit Rose Royce provided backing vocals on the haunting 'Mommy, Where's Daddy?'
1985's equally punchy Freaky Styley captured the mood of the decade with a fierce amalgam of white rock riffs and in the groove soul-funk, all of it expertly overseen by none other than George Clinton of Parliament-Funkadelic fame – a pretty inspired choice considering the RHCP's propensity to take their sound out to the edge. The core fans were also thrilled to find that Slovak returned to chop his guitar antics into a rhythmic mash-up. It was and is a unique blend of styles, aided by copious amounts of Clinton's tall tales and his alchemical approach to recording. Made in Detroit, Freaky Styley, is a down and dirty disc enlivened by the controversial  'Catholic School Girls Rule' and the band's fiendish reworking of a Meters strut now named  'Hollywood (Africa)'. Adding a blowsy New Orleans flavoured coating to their West Coast thrust did the Peppers no harm, nor did the addition of high-class horn parts from Maceo Parker and Fred Wesley, while Clinton used his clout to persuade Gary Shyder and Andrew Williams to add a vintage sheen to the modernist mood. The Meters themselves also turned up for their showpiece as did Sly Stone, composer of 'If You Want Me To Stay' (listen to the original on Sly and the Family Stone's epic Fresh album).
The sound so thick it stuck to the ribs and having a live intensity to match took a toll on various band members but The Uplift Mofo Party Plan (1987) didn't suffer since various band changes enabled the original group to convene on an album that tricks reggae grooves into a molten heavy metal melange and this became their first Gold seller. Often reckoned by the band members to be the rockingest thing they've done, it is certainly a wildly eccentric garage grinder. They cover Bob Dylan's 'Subterranean Homesick Blues' and remove all the folk to replace it with sparse funk. The overall tone of the album deals with band tensions, life in Los Angeles and sexuality, but if tracks like 'Love Trilogy' aren't for the faint-hearted, so much the better for those with stronger constitutions. Other highlights are regular live faves – 'Me & My Friends' and 'Behind the Sun'.
After wowing everyone with their The Abbey Road E.P (where they infamously march across the zebra crossing made famous by The Beatles naked save for strategically placed socks) RHCP were devastated by the death of Slovak and the departure of Irons but regrouped again by adding guitarist John Frusciante (a Slovak devotee) and drummer Chad Smith. Producer Michael Beinhorn maintained his insistence on alternative heavy rock with a commercial edge and finally, there was pay dirt thanks to 'Higher Ground', 'Knock Me Down' and 'Taste the Pain' which helped establish the group as festival killers and won them admiration for their unstintingly honest approach to being in a hard-living rock act with all the hedonism and tragedy that might prevail. They also nailed their colours to the soul and psych mast with exhilarating versions of Stevie Wonder's 'Higher Ground' and Jimi Hendrix's 'Fire', ambitious choices both but an indication of their actual prowess as players when heard. No good tackling this kind of thing if you don't have the guts and ability to carry the conceit off –  but they do and did. This album is also notable for the immaculate array of backing singers who lend a spiritual touch to even the most claustrophobically warped numbers. It's all punk rock classics though and when experienced in remastered mode it'll knock your sox off. Even the sweetly acoustic 'Pretty Little Ditty' sounds like nobody else on earth. This is the album where the Chili Peppers silence all the doubters and turn their groove into golden currency.
Just before superstardom beckons our charges away we'd like to point you in the direction of What Hits? where classic tracks from the fab first four albums are augmented by the huge single hit  'Under the Bridge' from the runaway smash Blood Sugar Sex Magik, and the rare 'Show Me Your Soul' as used in the soundtrack to Pretty Woman.
Our other compilation is the excellent Out in L.A. (1994) where rarities abound as do demos, alternative versions and some fine live numbers – check their version of 'Castles Made of Sand', the Thelonius Monk homage 'F.U.' and the outtake 'Blues for Meister' where the esteemed Flea steps up to the microphone.
All taken this is a heavy heady mix but seeing as how the Red Hot Chili Peppers ascent has been nothing short of miraculous – remember that they dragged audiences into their way of thinking rather than pander to prevailing trends – it's all we've come to expect from this sublime exemplar of Californication. Take it to the bridge, Pepper boys.
Words: Max Bell
Format:
UK English