Marilyn Manson
The hard rock singer and songwriter is best known for albums like Mechanical Animals and Antichrist Superstar, as well as songs like 'The Beautiful People' and 'The Dope Show.'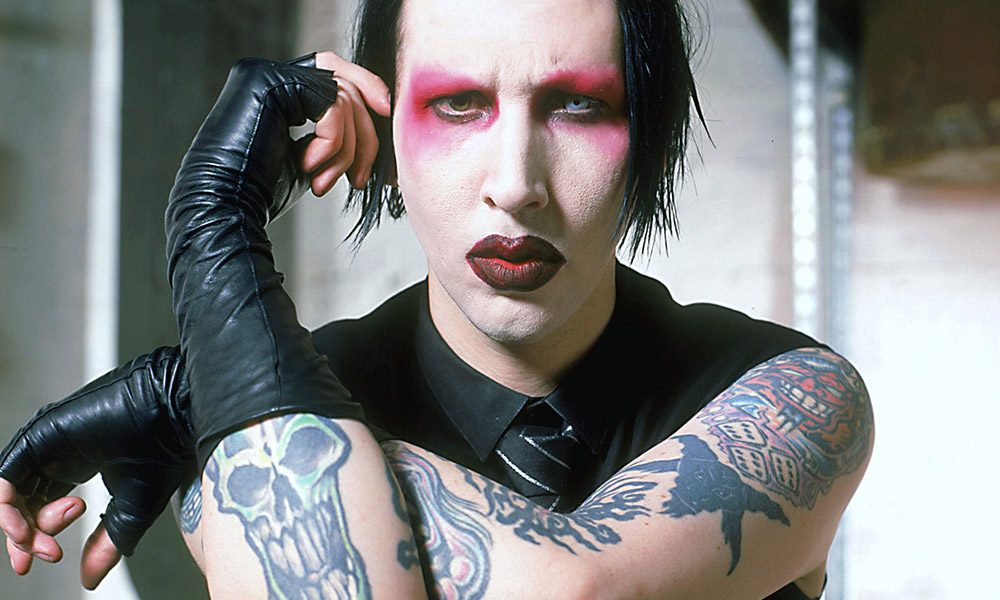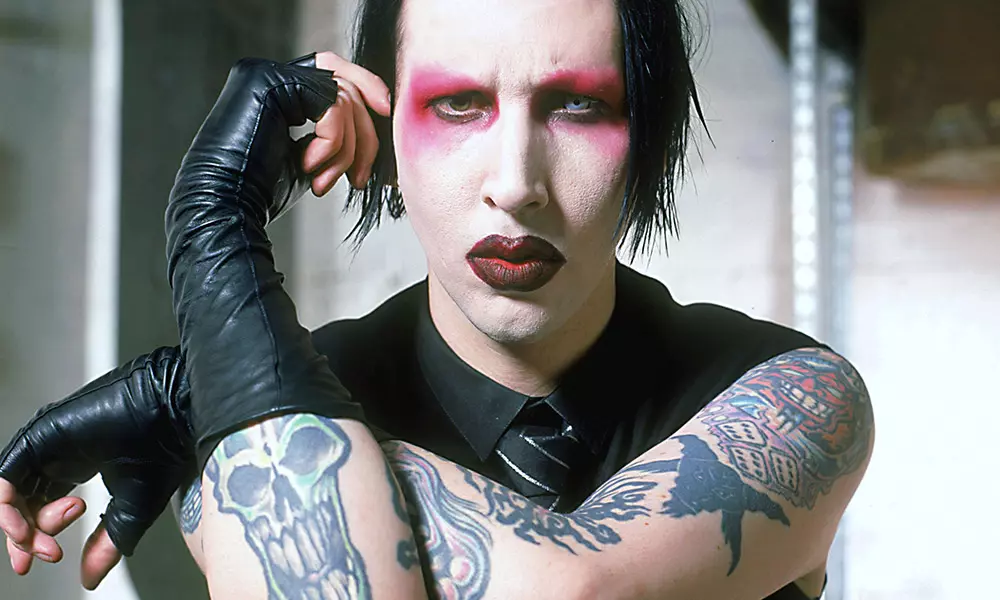 With a run of seven classic albums on the Interscope label, the majority going top ten in markets worldwide – two US #1 placing's and Silver, Gold and Platinum all over the place – Marilyn Manson are the industrial metal band of their era. Ever since their breakthrough EP, Smells Like Children, sold over a million copies Marilyn Manson has latched on to the psyche of the age thanks to audacious songwriting that turns a mirror on America and is allied to musical muscle.
Rocking out of Fort Lauderdale in 1989 they have gone on to sell in excess of 50 million records with special mention going to the magnificently audacious Antichrist Superstar, Mechanical Animals and Holy Wood (In the Shadow of the Valley of Death). Influenced by the arch exemplars of Glam – David Bowie, Queen and Roxy Music – but with a crunchy Stateside twist and bags of original theatricality – this group has never shied away from controversy and has turned everyday bad news into a kind of hyper-reality that demands attention. And beneath the make-up and the extravagant costumery lies a truly grandiose and over the top hard rock group, as relevant to their epoch as Jim Morrison and Alice and the New York Dolls and Iggy were to their people. Confronting the allure and myth of fame and infamy Marilyn Manson pick up where Nine Inch Nails and the Jim Carroll Band leave off – creating their Nachtkaberett and intriguing us with a fiercely proud intelligence and literary flair that references everyone from Oscar Wilde to the Marquis De Sade. Ready to enter their world?
Brian Warner (who is to Marilyn Manson what Deborah Harry is to Blondie – the perceived namesake and icon, regardless of democracy elsewhere) might have joined the ranks of journalism had he not pursued a more musical bent – sharing a fascination for Nine Inch Nails with his first accomplice Scott Putesky, better known as Daisy Berkowitz, and the cold glare of synthesiser music as evoked by the distant cool of Gary Numan and Soft Cell. On deciding to adopt stage aliases based around a macabre parlour game wherein one chooses a female superstar and serial killer dual persona, the two 20-year olds formed The Spooky Kids, adding Stephen Bier (Madonna Wayne Gacy) and Brad Stewart (Gidget Gein) with drummer Fred Streithorst (Sara Lee Lucas) bringing up the rear. Fusing darkness and brains with performance art and promotional shock tactics the more intriguing band name Marilyn Manson came to Trent Reznor's attention and on joining his Nothing Records label work began on the far from folksy Portrait of an American Family, interesting for its arcane material if not its sonic impetus.
Blending Willy Wonka imagery with Gothic glee and venturing into experimental, graphic rock the new look MM – Twiggy Ramirez on bass and Ginger Fish percussion – unleashed Smells Like Children, ostensibly an EP despite its lasting nearly an hour. Dealing in the combined polarities of abuse and corruption this magnum opus contains their version of Eurhythmics' "Sweet Dreams (Are Made of This)", very cleverly interpreted, and covers of Patti Smith and Screamin' Jay Hawkins.
Rock and roll spells now cast Marilyn Manson found themselves with a hit item but it's second album proper Antichrist Superstar that does the trick. Spilling out the hits "The Beautiful People" and "Tourniquet" this New Orleans based metal masterpiece fused rock operatic structures to skewed hard-core riffs, triple guitars and even a touch of pan flute! It is a great place to start discovering the Marilyn Manson family. Reznor's guiding hand is professional and deft and the sound is deadweight heavy. 1,900,000 Americans have since concurred and the Mexicans and Brits love it to bits.
Mechanical Animals (featuring a Diamond Dogs androgynous Marilyn cover) does pay a huge homage to David Bowie, circa 1973 but in "The Dope Show", "Rock Is Dead", "I Don't Like The Drugs (But The Drugs Like Me)" and the almost wistful "Coma White" the band lays claim to its own life force and the disc will zoom straight to #1 on release. A huge noise in 1998, the music was backed up by Manson's tour to promote his witty autobiography, The Long Hard Road Out Of Hell. Satirising his own image to an extent and viewing himself as a Lucifer figure, evicted from heaven, Manson and the band's second part of their triptych is a double-platinum gem with co-producers Michael Beinhorn and Sean Bevan ensuring that they fulfil Bill Corgan's advice – don't just hint at it, go all the way, The LA Weekly called it one of the greatest albums of the decade and we can't disagree.
As the title implies The Last Tour on Earth is a live capture and summary of their magnificent stage act 1998-1999 with "Get Your Gunn", "Lunchbox", "The Beautiful People" et al bolstering a five star epic with one new track "Astonishing Panorama of the Endtimes" being nominated for Best Metal Performance Grammy in 2001. It should have won that as well.
The millennium album Holy Wood (In the Shadow of the Valley of Death) was recorded in Death Valley, California and returns the sound to the abrasive industrial noise of before. Finding himself cast as a spokesman for alienation, and a household name in mainstream circles guaranteed to get right up certain noses, Mr Manson goes hell for leather here and nine million sales indicate he's got followers for the fight ahead. Key tracks are "The Nobodies", addressed to the perpetrators of the awful Columbine High School massacre of 1999, the Beatles/"Revolution" inspired "Disposable Teens" (the single was backed both by John Lennon's "Working Class Hero": and The Doors incendiary "Five to One") and the spoof sports anthem "The Fight Song", a careful dissection of pumped up jock culture. More rave reviews ensue and we'd commend this for discovery for fifteen years on, it sounds more pertinent than ever.
The Golden Age Of Grotesque (2003) took its time arriving; leading to speculation that Marilyn Manson himself was about to move into different pastures. He didn't exactly but the theatricality does take a diversion into Weimar Republic themes and is smothered in burlesque imagery. One that separates opinion, Grotesque actually endures well with "mOBSCENE", "(s)AINT" and "This is the New Shit" acting as breath-taking diatribes that imply we're all in this nonsense together, so suck it up. Anyhow it went straight to the top of the chart, powered along by John 5's virtuoso guitars and MM's most strident vocalese to date.
Newcomers to the party could well investigate the greatest hits album Lest We Forget: The Best Of, a celebration, if that's not a misnomer, of a decade packed with alt.post-industrial wonderment plus a fine version of Depeche Mode's "Personal Jesus".
Eat Me, Drink Me – very Alice in Wonderland/Through the Looking Glass – deals with vampirism and Christianity with a side order of cannibalism thrown in for good measure. All good, clean fun. And just as certain snooty crits were questioning MM's relevance, hey presto this disc whacks into hitherto unconquered markets – Estonia, Turkey and South Korea – while still doing the business in the UK and USA. Sometimes judged to be a farewell, since it was made by Manson with producer/co-writer and multi-instrumentalist Tim Skold, this Eat Me document is a fine thing and during "Putting Holes in Happiness" and "You and Me and the Devil Makes 3" sounds suspiciously classic. One for the cognoscenti, for sure.
The High End Of Low is his last through Interscope and it's certainly a magic number 7, referencing Michael Powell's The Edge of the World, Goya, and Nazi Germany and the selling of false hopes. It's all summed up pretty well in "Arma-goddamn-motherfuckin-geddon", one of his angriest lyrics, and the ostensibly down-home nightmare "We're from America". Political and polemical as ever, the faithful were delighted to hear the old quartet mood again and a whiplash taste of glam rock to boot.
While sales still stood up to scrutiny Manson decided to move to a different outlet thereafter but he's left us with a fabulous body of work and even as he hits 46 our hero is making grand music – see the recent The Pale Emperor.
In many ways the man Marilyn has been vindicated by time – he is a significant character actor in rock circles, quite entitled to stand next to older heroes like Alice Cooper and the venerable Ziggy. He's also pulled off the not inconsiderable trick of attaining mainstream success and acclaim while retaining a cult figurehead status. Brian Warner would be proud of him. Discover Marilyn Manson – go on, we dare you.
Words: Max Bell