Marilyn Manson In 20 Songs: The Antichrist Superstar's Most Twisted Triumphs
Charting his progression from public enemy to Antichrist Superstar and beyond, the best Marilyn Manson songs reveal a unique mind and uncompromising artist.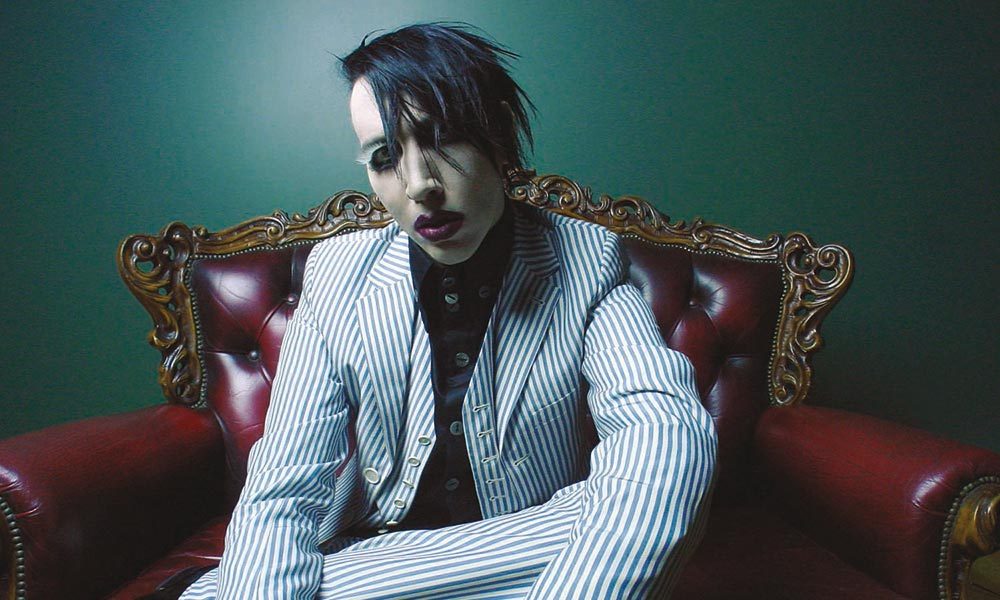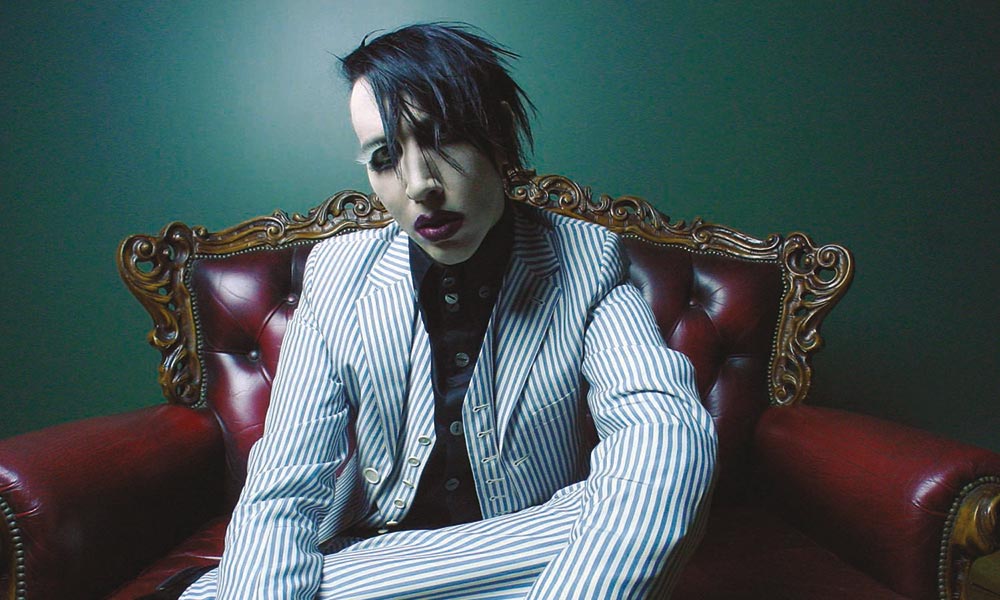 If the state of Florida is a breeding ground of questionable behaviour, one of its crowning achievements is begetting Marilyn Manson, the most twisted of all rock acts. In 1989, the band's titular frontman, Brian Warner (born January 5, 1969), teamed with his local Fort Lauderdale friend, the late guitarist Scott Putesky (aka Daisy Berkowitz), to form the goth-metal Marilyn Manson And The Spooky Kids. Over the years, Warner – a visually assaulting frontman of outsize ego – would remain the band's only constant, evolving alongside an ever-changing line-up of musicians and producers. And the best Marilyn Manson songs would chart the furthest extremes of his artistic progression to Antichrist Superstar and beyond.
Think we've missed one of yours? Can't live without "Mobscene" or "The Fight Song?" Let us know in the comments section, below.
Listen to the best of Marilyn Manson on Apple Music and Spotify, and scroll down for our 20 best Marilyn Manson songs.
It began with a gimmick: each band member adopting a name that disturbingly aligned a glamour figure with a serial killer. But what was once a rebellious confection rooted in Alice Cooper shock grew into weightier themes and theatrics aimed at dismantling conventional familial life, in particular that of god-fearing conservatives (hence, songs like "Personal Jesus" and "The Reflecting God").
Endeavouring to flesh out his new label with provocative acts, Nine Inch Nails' Trent Reznor signed the band – their name now shortened to Marilyn Manson – to Nothing Records in 1993. Their union was as much Reznor's bragging right as countercultural curator as it was Manson's willingness as a gifted button-pusher to be his mentor's most twisted success story.
Marilyn Manson soon dropped Portrait Of An American Family, their Reznor-produced debut album, which was at turns cheeky (sampling John Waters dialogue) and aggressively anthemic. Its opening song, "Cake And Sodomy," a gleefully depraved singalong, set this tone, with Manson introducing himself thusly: "I am the god of f__k."
Marilyn Manson - Get Your Gunn
This assault on suburban life extends to abortion clinics with "Get Your Gunn," a track about the murder of Dr David Gunn, by an anti-abortionist zealot. It also visits schools with "Lunchbox," which opens with a kid dropping profanities and culminates in a guttural chorus about exacting revenge on bullies. "Dope Hat" takes it even further with a critique on the allure of drugs for everyday people.
In 1994, Salt Lake City attempted to ban the already infamous band, claiming that their act promoted "indecent, obscene, immoral conduct" and was "publicly obscene and lacking in good taste." Nevertheless, Reznor invited them to be his opening act at Salt Lake City, where Manson proceeded to rip pages from the Book Of Mormon. That same year, occultist Anton LaVey made Manson a reverend in his Church Of Satan.
Though infamous, the group didn't technically become successful until releasing its Smells Like Children EP, which featured a dirge-like cover of the Eurythmics' "Sweet Dreams (Are Made Of This)." Loosely themed around darker children's movies such as Chitty Chitty Bang Bang and Willy Wonka And The Chocolate Factory, the EP went platinum. It also served as aural aperitif to the crisper, more industrial sound of their break-out album, Antichrist Superstar, a record with songs like "Angel With the Scabbed Wings" and "Irresponsible Hate Anthem," envisioned by producers Reznor and Dave Ogilvie (of Skinny Puppy, a clear influence on Marilyn Manson's early sound).
Marilyn Manson - The Beautiful People
"The Beautiful People," a militant, anti-establishment battle cry that stacks sharp guitars against Manson's subterranean vocals, was Antichrist's crowning achievement – and remains one of the best Marilyn Manson songs. New territory was successfully traversed, too. The darkly ambient "Tourniquet" was the closest the band has ever gotten to a love song, and the avant-industrial "Cryptorchid" was their askew take on art-rock. As producer, Reznor would repurpose the latter's off-kilter, droning aesthetic for "Apple Of Sodom," the Manson track that landed on his soundtrack for David Lynch's Lost Highway.
Stakes were deliberately raised. The tour that accompanied Antichrist Superstar featured a set design that nodded to fascist propaganda, inviting more social criticism. Congress accused Marilyn Manson of promoting violence through its lyrics; shows were cancelled by promoters, and venue owners and religious groups picketed outside live shows.
By 1998, the band released Mechanical Animals, a sequel to Antichrist Superstar and the first Marilyn Manson album to debut at No.1 on the Billboard album chart. Manson and Nine Inch Nails affiliate Sean Beavan (who also contributed to Antichrist) produced the album, theming it around fame and substance abuse, and the result was a collection that many fans still rate among the best Marilyn Manson songs, including "Great Big White World" and "Rock Is Dead."
Marilyn Manson - The Dope Show (Official Music Video)
Mechanical Animals toyed with expectations. Its first single, "The Dope Show," mingled industrial with glam rock, earning the group a Grammy nomination for Best Hard Rock Performance. Another single, "I Don't Like The Drugs (But The Drugs Like Me)," also inched towards pop, clearly referencing David Bowie's "Fame" and bolstering its sound with a gospel choir. Still, Mechanical Animals closes with perhaps Manson's most (inadvertently) shocking track, "Coma White," an empathetic ballad dedicated to his then-girlfriend Rose McGowan.
These strides towards the mainstream, however, were muddled in 1999 after the Columbine High School massacre. Amid criticism from politicians and media alike, Manson cancelled a handful of touring dates. Just six months later, the band's jackhammering single "Astonishing Panorama Of The Endtimes," examining pop culture and violence, appeared on the soundtrack for MTV's stop-motion wrestling series Celebrity Deathmatch, subsequently earning them a Grammy nod for Best Metal Performance.
In wake of Columbine, the band's next album, the critically acclaimed and widely banned Holy Wood (In The Shadow Of The Valley Of Death), became its most anticipated release. A retort to media incrimination, the album opens ominously to sound of heavy boots and cocking guns. Never ones to stand down, the band delivered vivid, gutsy singles. The unrepentant, angsty "Disposable Teens," which subverts The Beatles' lyrics ("You say you want a revolution") sits against a wall of grinding sound. The melancholic "The Nobodies" takes on the press ("We fed machines and then we prayed… You should have seen the ratings that day"), later figuring into Michael Moore's Bowling For Columbine documentary, in which Manson defended his band's creative content.
Marilyn Manson - No Reflection (Official Video)
Three more albums followed in the 00s (The Golden Age Of Grotesque, Eat Me, Drink Me (featuring the excellent first single "Heart-Shaped Glasses") and The High End Of Low), before a new decade dawned with Manson dropping Born Villain, and its explosive single "No Reflection," in 2012. Co-produced by ex-Nine Inch Nails member Chris Vrenna, Born Villain earned descriptors like "comeback" and "return to form." And they weren't exaggerations: tracks such as the glitchy, jagged "Overneath The Path Of Misery" felt as if they could've been Antichrist deep cuts, and immediately took their place among the best Marilyn Manson songs.
This, alongside a chance meeting with soundtrack producer Tyler Bates, at an industry party, seemingly reset Manson's output. Their bluesy, hook-ridden The Pale Emperor album (2015) dropped three years later. The creative partnership with Bates yielded the swaggering, darkly alluring "Slave Only Dreams To Be King," "Deep Six," and "Third Day Of A Seven Day Binge," an opium-den fever dream with a simmering chorus.
Marilyn Manson - WE KNOW WHERE YOU FUCKING LIVE (Official Music Video)
Manson's work with Bates has continued with his tenth album, Heaven Upside Down. The goth-groove "Saturnalia," in particular, shows off Manson's deepening ambitions for a career beyond ghoulish gimmicks. The beguiling track is his answer to Bauhaus' "Bela Lugosi's Dead," all menacing bass, nocturnal atmospherics and baritone vocals.
That doesn't mean he's given up on shock. Heaven Upside Down's foreboding, industrial single "We Know Where You F__ing Live" goes straight for the jugular like the best Marilyn Manson songs. And we'd expect nothing less. Marilyn Manson may no longer be the god of f __k, but he's still a damn fine bogeyman.
Looking for more? Discover the Best Marilyn Manson Videos: 10 Essential Clips From The God Of F__k.