Best Nine Inch Nails Songs: Essential Trent Reznor Tracks
An introduction to the man that revolutionized industrial music and wrote the soundtrack for a generation.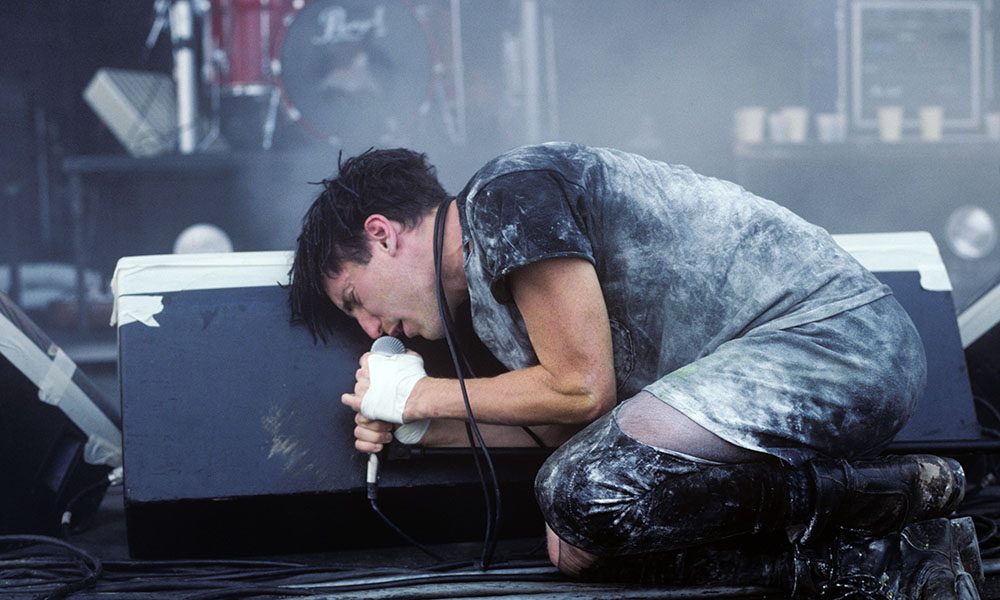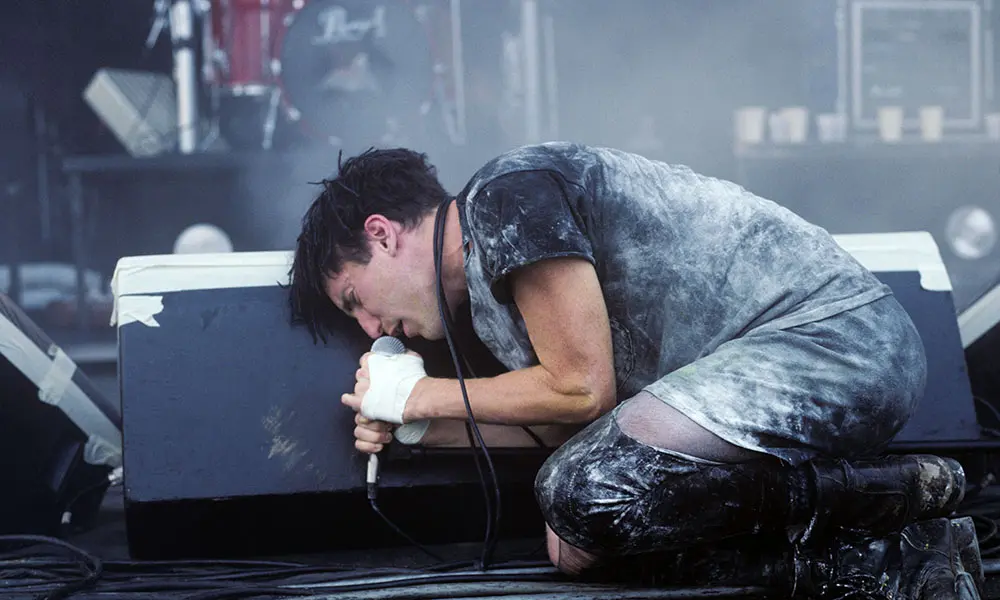 Starting out as an uncompromising industrial rock band, Nine Inch Nails has evolved over the course of decades into something far more complex. Nine Inch Nails' best songs tend to have darkness at their heart, but Trent Reznor has explored that darkness from every angle possible. The only guiding constant? Attention to production detail that borders on obsessive.
Born on May 17, 1965, Reznor threw himself into music early on with a few different bands but, finding few others around him that shared a similar aesthetic, he simply decided to do it himself. Luckily, he's equally adept as instrumentalist, songwriter, producer, and, of course, frontman. (One of his earliest inspirations, surprisingly, was Prince, in addition to the perhaps more obvious ones like Gary Numan or Alice Cooper.)
Over the course of an incredible career, Reznor has had plenty of collaborators and, eventually, an official bandmate in Atticus Ross. That gradual opening up is the result of folks attracted to a singular, dark vision that, somehow, found enormous pop success along the way. Indeed, early on, it seemed like the darker and more boundary-pushing the songs, the bigger the response. But, as this list of the best Nine Inch Nails songs shows, Reznor's work is so much more than the big hits.
Listen to the best Nine Inch Nails songs on Apple Music and Spotify.
Pretty Hate Machine
Founding Nine Inch Nails in 1988, Reznor's concept for the group was loosely based on a darker subgenre of industrial music, as found on the Nettwerk and Wax Trax! labels, and pioneered by the likes of Throbbing Gristle, Ministry, Gary Numan, Depeche Mode, and Australian post-punk avant-garde outfit Foetus. Technological advancements around this time allowed Reznor to express himself more easily without having to rely on other musicians. And, as a result, the best Nine Inch Nails songs from this era laid a formidable blueprint for any band that set out to achieve sonic annihilation with a combination of angst and sampler technology.
Reznor played in several bands and worked a multitude of jobs in Cleveland until he eventually found work as an assistant engineer at Right Track Studios. It was there that Reznor began recording Nine Inch Nails' revolutionary debut, Pretty Hate Machine, thanks to an agreement with the studio's owner, who allowed Reznor to work after hours on his own material.
Released in 1989, Pretty Hate Machine spewed forth an unrelenting whirr of snarling drum samples and heavy-handed synth-led arrangements. Like the bastard child of disco and punk, NIN grabbed the mainstream by the neck and refused to let go, offering a collection of dark, menacing tracks that were sometimes loaded with vile lyrical content considered taboo during the late 80s. This self-released debut contained tracks that still number among the best Nine Inch Nails songs, among them "Head Like A Hole" and "Down In It": songs that earned Reznor appearances at Lollapalooza, opening slots for Guns N' Roses on their 1991 European tour, and plenty of airplay for the music videos on MTV.
Nine Inch Nails - Head Like A Hole
Broken and The Downward Spiral
Soon signing to major label Interscope, Reznor recorded the Broken EP, released, in agreement with the label, through his own Nothing imprint. Broken featured production from Mark "Flood" Ellis (who also provided engineering and production work on Pretty Hate Machine) and Adrian Sherwood, and saw Reznor deliver a more focused take on the NIN concept. Tracks such as "Wish" and "Happiness In Slavery" stand out among the best Nine Inch Nails songs, dripping with ear-splitting riffs, screaming vocals, and beautiful orchestral interludes, making the Broken EP the perfect transition from Nine Inch Nails the underground heroes to Nine Inch Nails the burning-hot global icons.
By 1994, Nine Inch Nails had become one of the most talked-about bands on the planet, and on March 8 they released the hugely anticipated The Downward Spiral. Not only considered to be the quintessential Nine Inch Nails album, it also brought the true breadth of Reznor's capabilities to light across a majestic collection of 14 tracks.
Though albums such as Nirvana's In Utero and Soundgarden's Superunknown brought cathartic, emotionally raw music into the charts, The Downward Spiral led listeners to far more disturbing places. Singles "March Of The Pigs" and the sexually deviant "Closer" left a peculiarly addictive taste in the mouths of a generation for whom mainstream pop culture was represented by hit sitcom Friends and the fuzzy, warm ramblings of Counting Crows. The album also contained heartbreaking anthem "Hurt" – not only one of the best Nine Inch Nails songs, but an instant classic that would later be covered by country icon Johnny Cash. Coupled with plenty of incredible music videos, The Downward Spiral set Nine Inch Nails on a course for global stardom and platinum sales.
Nine Inch Nails - Hurt (VEVO Presents)
Recorded in the infamous house where Hollywood actress Sharon Tate was brutally murdered by Charles Manson's "family" back in 1969, The Downward Spiral was about as dark as music got during the 90s. But instead of basking in the success of the album, Reznor continued to tour (including a memorable jaunt with David Bowie) and write new songs for what would become the band's third studio album.
To break the gap between albums, a small collection of remixes emerged in 1995, Further Down The Spiral, which pacified Reznor's burgeoning fanbase, and he also worked on writing film scores for Oliver Stone's controversial Natural Born Killers and David Lynch's bizarre Lost Highway, both of which featured exclusive Nine Inch Nails tracks ("Burn" and "The Perfect Drug," respectively).
The Fragile
As the millennium came to a close, the mesmerizing double-album The Fragile was released to rave reviews, gaining Nine Inch Nails a new level of respect and appreciation. Considered a landmark within industrial music, The Fragile offered a complex and melancholic journey. Written during a time of personal crisis, tracks such as "The Day The World Went Away" and the brilliant "We're In This Together" displayed lyrical helplessness wrapped in undeniably powerful soaring choruses, while "Starfuckers, Inc" revealed Reznor's feelings towards people who had become anathema to him during this dark period of his life. "La Mer" and "Into the Void," meanwhile, show his range: The former is a largely instrumental lilt that builds to a white noise climax, while the latter is somehow depressing, sleazy, and funky all at once.
Nine Inch Nails - We're In This Together
While continuing to tour and record with Nine Inch Nails, Reznor presented the world with another remix album, 2000's Things Falling Apart, before retreating to begin the writing process for With Teeth, which was finally released in 2005.
With Teeth And Year Zero
Having traversed one of the most difficult periods of his life, Reznor emerged with a more accessible sound on With Teeth. Individual instruments were easier to identify on tracks such as "The Hand That Feeds" and "Every Day Is Exactly The Same," while guest drummer Dave Grohl made his presence known throughout, giving the impression that this iteration of Nine Inch Nails was a much more organic musical unit than ever before.
Just two years later, Year Zero emerged as the first concept album – and arguably the most easily digestible – in Nine Inch Nails' catalogue. Loaded with tracks that lean away from Reznor's previous angst-ridden compositions, the likes of opener "Capital G" and "The Beginning Of The End" could even be described as uplifting.
Soundtrack Work and Beyond
Subsequently free from his record label commitments, Reznor further spread his wings with 2008's atmospheric 36-track instrumental opus, Ghosts I-IV, whose four movements were broken into nine smaller sections. Just a few months later, Nine Inch Nails' seventh studio album, The Slip, was released. In keeping with what had become tradition, the album was front-loaded with faster melodic tracks such as "Discipline" and "Echoplex," before shifting into a fractured and introspective mood.
Since then, Reznor has also focused his attention on scoring films, earning himself an Oscar for 2010's The Social Network and 2020's Soul. Both were written with fellow composer Atticus Ross, the latter also including Jon Batiste. Reznor also won a Grammy for 2012's The Girl With The Dragon Tattoo, and a credit for the score to Ken Burns' 10-part documentary The Vietnam War. Reznor also worked with his wife, Mariqueen Maandig, and Atticus Ross on the How To Destroy Angels project. The album Welcome Oblivion emerged in 2013.
Nine Inch Nails continues as well: 2013's Hesitation Marks successfully expanded upon the NIN formula with the likes of "Copy Of A" and "Came Back Haunted." The album Bad Witch, meanwhile, added saxophone to the mix. EPs such as 2016's Not The Actual Events and the following year's Add Violence, along with a collection of The Fragile-era outtakes, instrumentals, and alternate recordings, The Fragile: Deviations 1, suggest that there's always another cache of material to add to the best Nine Inch Nails songs. Even as Reznor celebrated his 2020 induction into the Rock & Roll Hall Of Fame, it's clear Nine Inch Nails has plenty more in store for a fanbase that rivals the most devoted in the world.
Nine Inch Nails - Came Back Haunted
Looking for more? Discover the story behind Trent Reznor's dizzying classic, The Downward Spiral.