Counting Crows
This much-loved troupe of classic yet alternative American rockers made an immediate impact with their debut album, the astonishing August and Everything After, which yielded the global smash single hit 'Mr. Jones'.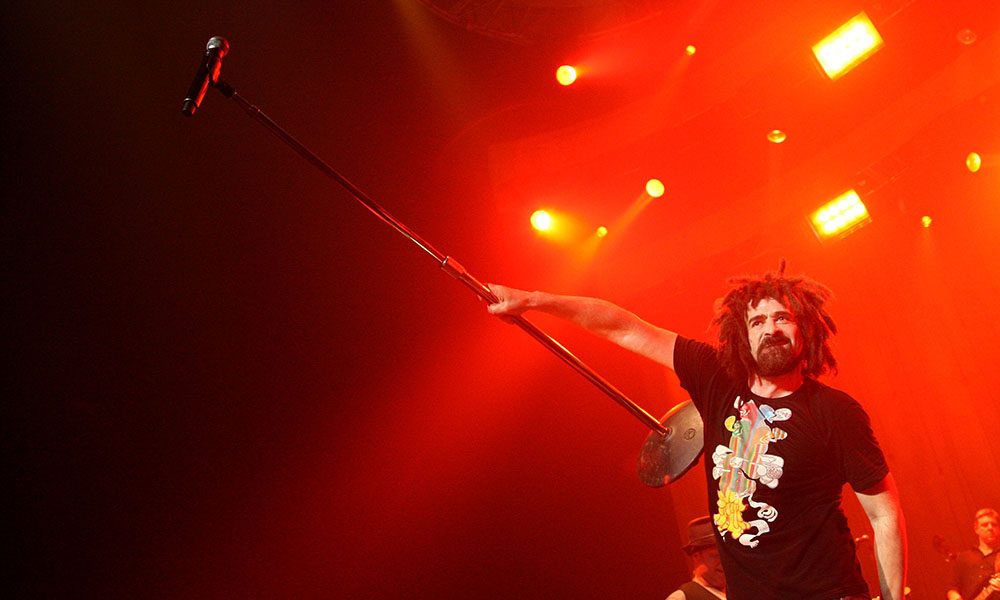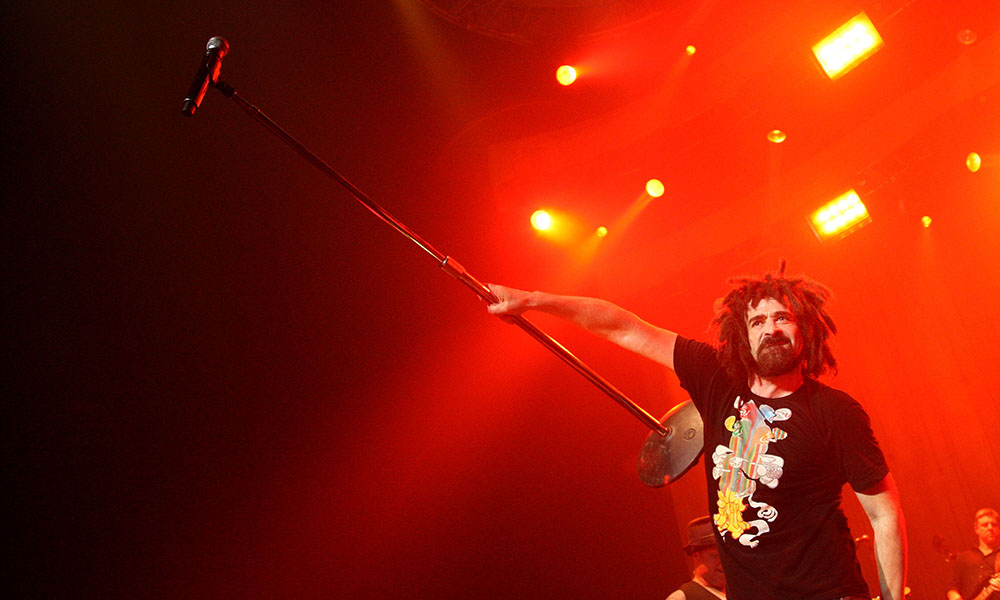 This much-loved troupe of classic yet alternative American rockers made an immediate impact with their debut album, the astonishing August and Everything After, which yielded the global smash single hit "Mr. Jones" and went on to sell 7xPlatinum in 1993. Obviously they were a phenomenon and the music world has been eager for the Crows magic ever since and since we have their catalogue of the studio, live and compilation discs we'd like to share a glance at their career and reckon you will find them worthy of discovery.
Having maintained a pretty steady line-up since their formation in Berkeley, CA in 1991 – singer/writer/pianist Adam Duritz and guitarist David Bryson have been in for the long haul – Counting Crows have maintained a high-quality output and retained a fanatical following who view them with a similar affection that that enjoyed by the band's more apparent influences, namely R.E.M., Van Morrison, Bob Dylan (and The Band) and Nirvana.
Pretty much everything they do hits the spot and highlights include Recovering the Satellites, a mighty double live album and the epic Hard Candy right up to the current Somewhere Under Wonderland, their first batch of original material in six years. They have sales to match their accolades as well and show no signs of dropping their standards. Indeed, their most recent album is as well crafted and deeply considered as their debut.
The origins of the group lie in the coffee houses of San Francisco when Duritz and Bryson took their name for their duo from a variation on the superstitious nursery rhyme 'Magpie'. Close friend David Immergluck participated in their early sessions before Matt Malley (guitar), Charlie Gillingham (keyboards) and Steve Bowman (drums) completed the early picture.
The debut album for Geffen Records, who beat off strong competition to secure the Crows signatures, is the extraordinary August and Everything After, was produced by T-Bone Burnett (Bob Dylan's Rolling Thunder Revue, The Alpha Band, Alison Krauss and Robert Plant etc. etc.). Starting with the coffee bar days favourite "Round Here" this highly accomplished disc features strong guests like Jayhawks founders Gary Louris and Mark Olson and the great vocalist Maria McKee.  Built on a foundation of classic Americana with an emotive alternative bedrock this is one of those albums whose durability is not in question thanks to famous songs like "Rain King", "Omaha" and the surprise hit "Mr. Jones" which hit the top slot in the USA in the same week of Kurt Cobain's death, an event that had a profound impact on Duritz's writing and inspired him to compose the lovely "Catapult" which would kick off their second album, Recovering the Satellites.
In the meantime August and Everything After is recommended in the deluxe edition where six demos are teamed with a bonus selection recorded live in Paris in 1994 during a wildly successful European tour.
Recovering the Satellites was produced by Englishman Gil Norton and saw the arrival of new drummer Ben Mize and additional member Dan Vickrey, a fellow San Franciscan and a fine guitarist and songwriter. Typically eager to bare his soul Duritz might have confounded certain critics by now but his hold on an audience was assured. Key pieces are "Angels of the Silences" and "A Long December" (the video features Courtney Cox, a former Duritz date).
Across a Wire: Live in New York City is a double affair that assimilates the highlights to date before they return to California to make the downhome This Desert Life. Now adding strings courtesy of arranger and orchestrator David Campbell (Beck's father) Counting Crows third studio album was a highlight of 1999 with "Hangin Around", "Mrs. Potter's Lullaby" (inspired by the actress Monica Potter) and the sprawling  "St. Robinson in His Cadillac Dream" filling an abundant canvas, aided by a smart production job courtesy of Cracker's David Lowery and Throwing Muses confidante Dennis Herring.
A return to crisper, taut writing comes with 2002's suitably named Hard Candy where you can hear echoes of The Band and the Byrds and will also find the 'hidden' track, a cover of Joni Mitchell's "Big Yellow Taxi". The guitar playing is excellent on this disc with Vickrey and Immergluck excelling. Certainly, look out for the bonus edition where they cover Dylan's countrified "You Ain't Going Nowhere".
The compilation Films About Ghosts (The Best Of…) features material from all the above discs as well as unreleased gems like "She Don't Want Nobody Near" and a reverential take on The Grateful Dead's "Friend Of The Devil." Wrapping up over a decade of success is the New Amsterdam: Live at Heineken Music Hall February 4-6, 2003 where the Crows situate themselves at the margins of rock and draw themselves back in on the delightful "Richard Manuel Is Dead", the Dutch hit "Holiday in Spain" (featuring Blof) and the bonus tracks including folk classic "Blues Run The Game" and a crackling version of "Mr. Jones".
With increasingly evident echoes of country starting to infiltrate the sound again Saturday Nights & Sunday Mornings – the addition of dobros, banjo and folkier melodies abound on the Sunday Mornings side – this 2008 album took Counting Crows back into the Top 3. With songs that reflect what Duritz referred to as his downward spiral this is an intensely personal set that has impressed many with its universal insights into loss and anguish.
After two independently released live albums and a studio album of cover songs the Crows return with Somewhere Under Wonderland, produced by their old friend Brian Deck, and written during a flurry of renewed activity on the summer tour of 2013. Thank heaven all the familiar Duritz tropes are here but there is a sense of a band that has aged up well on "Elvis Went to Hollywood" and "Palisades Park". Musically they are at a new peak with Immergluck excelling on pedal steel guitar and mandolin and Charlie Gillingham's array of keyboards adding lusher textures than most bands aspire to. The deluxe edition contains a couple of fine demos while the album is available in top-quality vinyl. As a neat way of wrapping things up, for now, this album was recorded at Fantasy in Berkeley where it all began. Listen to them on top form during "Scarecrow" and if you chance upon the vinyl then enjoy the hardcover book that accompanies it.
Counting Crows are no ordinary group. They are ripe for rediscovery and for simple listening enjoyment. Start at the beginning and then… everything after.
Words: Max Bell
Format:
UK English