Best R.E.M. Songs: 20 Defining Hits From The Alt.Rock Heroes
If ever a band proved you can play rock'n'roll and retain your integrity, that band was R.E.M. as the best R.E.M. songs prove.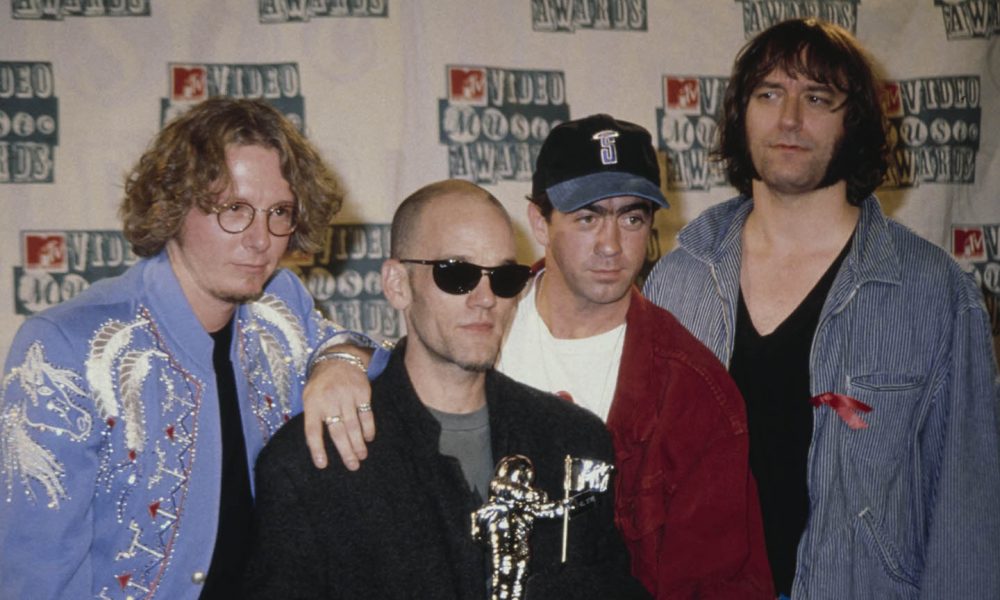 If ever a band proved that you can play rock'n'roll and retain your integrity, then surely that band was R.E.M. Starting at the bottom playing soul-destroying club gigs, the Athens, Georgia, quartet's dedicated work ethic ensured they rose steadily through the ranks and made the leap from cult heroes to fully-fledged rock stars without ever sacrificing their credibility as the best R.E.M. songs show. An electrifying live act, they amassed an equally formidable catalog of studio recordings, with their 15 superlative LPs stretching from 1983's idealistic Murmur to 2011's critically hailed swansong Collapse Into Now.
Listen to the best of R.E.M on Apple Music and Spotify, and scroll down for our 20 best R.E.M. songs.
The band originally began after vocalist Michael Stipe met guitarist Peter Buck at Wuxtry Records in Athens, where the latter was gainfully employed in his early 20s. Discovering a mutual passion for punk and proto-punk artists such as Patti Smith and Television, the duo drafted in fellow University Of Georgia students Mike Mills (bass) and Bill Berry (drums), and R.E.M. was born. Playing their first gig in April 1980, the band quickly built up a following among the local college fraternity, with fans often praising Stipe's eccentric, mumbled vocals and Buck's ringing, Byrds-esque guitar sound.
Released by local independent label Hibtone in 1981, the band's critically endorsed debut 45, "Radio Free Europe," led to a deal with Miles Copeland's IRS label, who released August '82's mini-LP Chronic Town and R.E.M.'s eagerly awaited full-length debut, Murmur, in April the following year. Brittle, fresh, and mysterious, Murmur included fan favorites such as the folk-flecked "Talk About The Passion" and the otherworldly ballad "Perfect Circle," built around a haunting piano melody brought in by Bill Berry.
Murmur surpassed commercial expectations, winning Rolling Stone's prestigious Album Of The Year award for 1983, and peaking at No.36 on the US Billboard 200. Popular with North America's college rock network, the band's sophomore release, 1984's Reckoning, was recorded in just 12 days, but its contents – which vacillated from the yearning folk-rock of "So. Central Rain" to the country-flavored "(Don't Go Back To) Rockville" – were rarely less than beguiling, and the album eventually climbed to No.27 on the Billboard 200.
Overseen by ex-Fairport Convention/Nick Drake producer Joe Boyd, 1985's Fables Of The Reconstruction proved to be a "difficult" third album in that it was recorded during a harsh British winter with the band suffering from homesickness. With hindsight, though, it's something of a flawed masterpiece and includes firm fan favorites such as the strident "Driver 8," the brass-enhanced "Can't Get There From Here" and the dense, string-assisted "Feeling Gravity's Pull."
Helmed by John Cougar Mellencamp producer Don Gehman, 1986's Lifes Rich Pageant was, by comparison, brash and direct. Stipe's vocal delivery was noticeably more confident and, on some of the album's stand-out tracks, such as "Cuyahoga," the urgent "These Days" and the glorious, acid-rain-related "Fall On Me," his previously elliptical lyrics lent towards political and ecological issues for the first time.
Climbing to No.21 on the Billboard 200, Lifes Rich Pageant won R.E.M. their first gold disc, though it was out-performed by their fifth LP, Document, which was released in September 1987. The first of six R.E.M. albums to be produced by Scott Litt (Counting Crows, The Replacements), Document was long on muscular, mainstream-inclined rock anthems such as the ironic, exuberant "It's The End Of The World As We Know It (And I Feel Fine)," "Finest Worksong" and "The One I Love." With the latter providing the band with their first major hit in North America, Document climbed to No.10 on the Billboard 200 (where it obtained a platinum certificate) as well as cracking the UK Top 30.
R.E.M. - The One I Love (Perfect Square '04)
R.E.M. signed with Warner Bros for their sixth album, Green, released in October 1988. Greeted with considerable critical acclaim and promoted with a highly publicized 11-month world tour, this satisfyingly diverse record incorporated edgy, politically inclined rockers ("Orange Crush," "Turn You Inside Out"), catchy pop songs ("Stand," "Pop Song 89") and pastoral, folk-flecked numbers such as "You Are The Everything" and "Hairshirt."
Awarded platinum status in the US, Canada, and the UK, Green was the commercial breakthrough R.E.M. had been working towards for almost a decade. They left cult status behind for good, however, with 1991's Out Of Time, which went to No.1 on both sides of the Atlantic and sold 18 million copies worldwide, even though the band decided against a promotional tour in support of it. Dexterously blending elements of folk and pop (plus country on the enigmatic, pedal steel-assisted "Country Feedback"), the album spawned a brace of hit 45s and included the group's biggest US hit, "Losing My Religion," launched by Peter Buck's distinctive mandolin riff.
R.E.M. - Losing My Religion (Official Music Video)
An intimate, but consummate record frequently dealing with loss and mourning, 1992's Automatic For The People also hit critical and commercial pay dirt, selling 18 million copies worldwide and featuring six enduring hit singles including the moody, monochromatic "Drive," the tear-jerking ballad "Everybody Hurts" and the joyous Andy Kaufman tribute "Man On The Moon," with its tongue-in-cheek Elvis Presley vocal inflections from Stipe.
R.E.M. returned with a no-holds-barred rock record courtesy of 1994's hard-edged, grunge-inflected Monster, which was trailed by the churning UK Top 10 hit "What's The Frequency, Kenneth?" The band celebrated the record's multi-platinum success with a lengthy but ill-fated world tour wherein drummer Bill Berry suffered a brain aneurysm onstage in Switzerland. Happily, Berry survived, but he quit the band after R.E.M. had re-signed with Warner Bros and cut 1997's New Adventures In Hi-Fi. Arguably the group's most underrated disc, this sprawling but compelling LP included gems such as the mesmeric, Patti Smith-assisted "E-Bow The Letter" and the gorgeous pre-millennial hymn "Electrolite."
R.E.M. - What's The Frequency, Kenneth? (Official Music Video)
Instead of officially replacing Berry, R.E.M.'s three remaining members chose to draft in additional musicians, including Minus 5 multi-instrumentalist Scott McCaughey, and drummers such as Joey Waronker (Beck) and later Bill Rieflin (Ministry, Swans) for studio and/or live work. Recorded with new producer Pat McCarthy, the band's first post-Berry outing, 1998's Up, was a transitional record, but it included the delightful, Beach Boys-esque "At My Most Beautiful."
Rather more successfully realized was 2001's lush, melodic Reveal, which housed enduring UK Top 10 hit "Imitation Of Life" and the dreamy "All The Way To Reno (You're Gonna Be A Star)." It was a solid seller, though it was eclipsed by 2003's self-explanatory In Time: The Best Of R.E.M. 1988-2003, a well-chosen, multi-platinum-selling anthology cherry-picked from the band's Warner Bros catalog and featuring two stand-alone hits, "Bad Day" and "The Great Beyond," the latter having previously featured in director Miloš Forman's Andy Kaufman biopic Man On The Moon, starring Jim Carrey.
R.E.M. - Leaving New York (Video)
R.E.M. returned to the fray with 2004's introspective Around The Sun, which rose to No.1 in the UK Top 40 and included Michael Stipe's affecting tribute to his second home, "Leaving New York," which also broached the UK Top 5. The band then went back to basics for 2008's Accelerate, hooking up with U2 producer Jacknife Lee and unleashing some of their most stripped-back rock'n'roll in years. Fans rapidly seized on aggressive anthems such as "Man-Sized Wreath" and the crunching, séance-related "Supernatural Superserious," while critics tripped over themselves to hail the album as a return to form.
Buck, Mills, and Stipe had, however, discussed calling time on R.E.M. even before they set out on the lengthy tour to support Accelerate in 2008, and they split definitively after recording 2011's Collapse Into Now, again with Jacknife Lee at the controls. The resulting album touched base with all R.E.M.'s strengths, from affecting, slow-burning anthems ("Überlin") to crunching rockers ("Alligator_Aviator_Autopilot_Antimatter") and heartfelt ballads such as "Oh My Heart"; collectively, Collapse Into Now sounded like the perfect parting shot from the consummate rock band who superfan Kurt Cobain once told Rolling Stone were "the greatest… and they keep delivering great music."
Think we've missed one of the best R.E.M. songs? Let us know in the comments section below.