Woodstock And Beyond: How the Modern Music Festival Came To Be
Music lovers will always yearn to see their favorite band at huge music festivals. But how did the modern music festival come to be?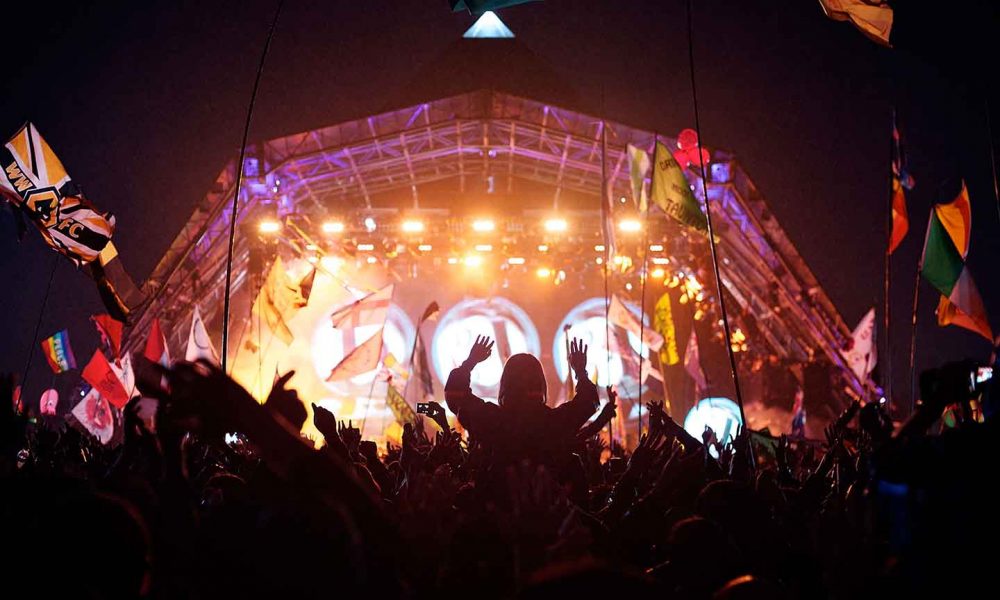 Music lovers will always yearn to retreat to an open field with their favorite band – and 100,000 other people. But how did the modern music festival come to be? Even decades later, the most mythic festival remains Woodstock, that three-day August 1969 celebration of peace, love, music, and mud. Not only does it remain the most famous festival of all time, but it may also be the best documented. By the spring of 1970, everyone who'd missed Woodstock could get a vicarious thrill from a three-hour movie and three-LP soundtrack, both epics for their time.
Listen to the Festival Favorites playlist on Spotify.
The mythology of Woodstock
Woodstock wasn't by any means the only massive festival of its time, but it remains the touchstone. The mythology holds that Woodstock changed lives and transformed the world, and what promoter wouldn't want to claim that? Events such as the massive California Jam in April 1974 aimed to outdo Woodstock for cultural impact, or at least to make more money (and, in the latter case, easily succeeded).
And Apple co-founder Steve Wozniak's "US" Festivals of 1982-83 aimed to define their generation the way Woodstock had, pointing the way to a utopian high-tech future (the fest's name was meant to signal an end to the "me" generation). Whether they managed this is highly debatable, but at least The Police and Talking Heads played great sets.
The early 90s brought a resurgence of great bands at club level and a new culture around MTV, making the old days of crowding into a field look like old hat. But just when it seemed like the age of the festival might be winding down, along came Woodstock… again.
Woodstock for the MTV generation
Co-produced by Michael Lang, who'd helmed the original festival, Woodstock '94 was in some ways a throwback to the original. Joe Cocker even got to open the first day with his Woodstock '69 anthem, a cover of The Beatles' 'With A Little Help From My Friends'. Held 15 miles away, in Saugerties, New York, the '94 festival was actually closer to the town of Woodstock than the original (which took place at Max Yasgur's farm in Bethel, a good hour's drive away). Once again, Woodstock became a free festival by mistake, as the overflow crowd figured out how easy it was to jump the fences. Likewise, there was plenty of naked frolicking in the grass (which the pay-per-view TV cameras were only too glad to catch), followed by a rainstorm and mud dancing. As David Crosby quipped onstage in '94 before playing one of Crosby, Stills & Nash's late 60s anthems, "It's like 'Déjà Vu' all over again."
While Woodstock '69 was spiritually aligned with the anti-war movement, Woodstock '94 formally partnered with Greenpeace and identified corporate greed as the era's great injustice. Greenpeace set up an "Eco-Village" at the festival, demonstrating the potential of solar heating and recycling. But it also did something gutsier by pointing fingers directly at corporate offenders. In press releases before the fest, Greenpeace took aim at Time magazine for using polluting paper mills and even scolded the festival's own sponsor, Pepsi, accusing them of sending plastic bottles to Asian landfills rather than recycling them, as the company claimed. This kind of activism would be incorporated into Lollapalooza and other fests to come. It was partly a nod to Woodstock's countercultural roots, but it also showed the influence of modern-day stars such as U2, Bruce Springsteen and R.E.M., who were all giving lobby space and onstage shout-outs to progressive organizations at their shows.
Woodstock '94 also showed how much crowd expectations had changed. Alcohol had largely replaced that notorious brown acid as the drug of choice. The audience (estimated at 350,000) was no longer content to know there was a stage out there somewhere. They at least wanted a fighting chance to see and hear the bands. Woodstock '94 doubled those chances by having two stages, which minimized the long delays between acts, and outdoor amplification had come a long way since 1969. And no more hamburgers from those local vendors across the street, fans came with credit cards to spend on higher-priced food and bottled water (though where those cards went during the naked mud dances is anybody's guess).
Cynics at the time complained that Woodstock '94 would be a mere cash in, or that the crowds would get out of control. But that largely didn't happen – at least, not until they raised Woodstock one more time in 1999. For the time being, peace and love still ran the day and the two generations of concertgoers seemed fine with taking in each other's music – Bob Dylan and Traffic for the baby boomers, Metallica and Nine Inch Nails for Gen Xers, Peter Gabriel and Aerosmith for everybody. The breakout stars of the fest were, however, Green Day, who played in the wake of a rainstorm and turned their set into a mud-throwing extravaganza; this scene was repeated at Green Day shows for years afterward.
The first Lollapalooza
Meanwhile, another festival was making a play to become a new generation's Woodstock. Never a man known for understatement, Jane's Addiction frontman Perry Farrell founded Lollapalooza to give his band a proper send-off; the first Lollapalooza, in 1991, doubled as the farewell tour for the band (until their reunion six years later). That first line-up brought together bands that had inspired Jane's Addiction, alongside bands they'd toured with and bands they just liked: Nine Inch Nails (who weren't superstars yet, but fast getting there), Ice-T (debuting his notorious metal band, Body Count), Living Colour, Siouxsie & the Banshees, Violent Femmes and more.
While Lollapalooza became synonymous with "alternative" culture in the 90s, the definition was inclusive. There was always a metal band, a rap act, and usually a trailblazing punk act (including Ramones, who delayed their break-up for a few months so they could do Lollapalooza in 1996). You probably couldn't hear George Clinton on mid-90s alternative radio, which was still shamefully thin on black artists – but you could see him and the P-Funk crew at Lollapalooza in 1994, sharing the same bill with his spiritual heirs Beastie Boys. Lollapalooza even had its own dramas and intrigues – many of them involving Courtney Love, who played with Hole during her wildest days in 1995. Love's misadventures on that tour included a physical altercation with Bikini Kill's Kathleen Hanna (who later pressed charges), verbal squabbles with headliners Sonic Youth, and quite a few loose-cannon performances. The sudden departure of a troubled Sinead O'Connor midway through the tour also made the '95 Lollapalooza the most dramatic one.
But Lollapalooza wasn't just about the music: Farrell was sharp enough to recognize a certain edgy Generation X aesthetic, and worked out how to both reflect and market toward it. Lollapalooza was one of the first places where concertgoers discovered virtual-reality games, and we can only guess how many future tech leaders that inspired. The producers also had progressive social causes set up with tables at every show, and a smaller stage where local indie bands got their first breaks. And few can forget the extreme antics of the Jim Rose Circus Sideshow, which blew your mind, grossed you out – or both. After a few on-and-off years, Lollapalooza remains a lucrative festival, happening in Chicago and internationally. But during the 90s it was a full-blown rite of passage.
Jam band nation
For some audiences, the 90s weren't about alternative culture; they were more about jamming. Fans of Grateful Dead were already used to the idea of a concert as community experience: for Deadheads the parking-lot parties became as essential to the event as the band's performance. The Dead world would never be the same after Jerry Garcia's death in 1995, but that didn't mean the party was over. By summer of '96, the remains of the Dead (temporarily rechristened The Other Ones) were back on the road with the Furthur Festival, named for a misspelled sign on Ken Kesey and The Merry Pranksters' legendary hippie bus. Despite some post-Garcia growing pains, Furthur served notice that the Dead's music, and the parking-lot gatherings, would go on.
The Vermont band Phish, the modern band of choice for many Deadheads, went high-concept with its string of festivals, usually held on exotic terrain such as Air Force bases and Native American reservations. Instead of multi-band bills they offered much more Phish, with multiple sets over the course of a weekend, and enough environmental happenings – air shows, massive art installations, circus acts – to transform the atmosphere. Phish outdid themselves with their millennial festival, held in Florida and known as Big Cypress. Their turn-of-the-calendar set was the longest one the band (and possibly any rock band) ever played: seven and a half hours, starting just before midnight – and it was only one of five sets they played over that weekend.
The jam band nation also had its own traveling festival. Founded by Blues Traveler in response to Lollapalooza, the HORDE (Horizons Of Rock Developing Everywhere) tour debuted one year later, in 1992, and became an alternative to the alternative. Most of the bands associated with the jam movement played during the seven HORDE tours, but that covered a lot of ground – from free-flowing improvisers the likes of Phish and Widespread Panic to traditionally styled rockers Melissa Etheridge and The Black Crowes. In terms of defining HORDE's music, all bets were off by 1997, when the line-up included Beck and Neil Young, two wildly idiosyncratic artists who fit in everywhere and nowhere.
The mid-90s also saw the birth of the Warped Tour (now officially the Vans Warped Tour), a punk institution to this day. Warped found its niche by presenting punk and ska bands – upstarts and veterans alike – in a relatively laidback, family-friendly setting. After 22 years, it's the longest-running touring fest there is, and plenty of young punks who dragged their parents to Warped in the 90s are bringing their own kids now.
Lilith Fair
If the above line-ups seem a little testosterone-heavy, there was an antidote for that too. Feeling that women had been marginalized in music for too long, Canadian songwriter Sarah McLachlan created the Lilith Fair in 1997. The three-year touring fest (revived briefly in 2010) used the Lollapalooza model of multiple stages, rotating line-ups and all-day events, drawing exclusively from female artists and female-fronted bands (many of whom were making big commercial waves at the time, such as Suzanne Vega, Sheryl Crow, Tracy Chapman and Indigo Girls). McLachlan's instincts tilted toward gentler singer-songwriters, which drew some complaints from female punk bands (especially the band L7, which flew a banner reading "Bored? Tired? Try L7" over a Lilith show in Pasadena). That didn't keep Lilith from becoming one of the top-grossing US tours during its 1997-99 run, and McLachlan did make a point of pulling in a few edgier artists, such as Liz Phair, The Pretenders, and Luscious Jackson, for later editions.
The infamous Woodstock '99
Woodstock was back one more time in 1999 – but, unfortunately, this time it was more like The Rolling Stones' infamous Altamont show of 30 years earlier. Once again the line-up was wildly eclectic, but the heavier acts – Korn, Bush, Limp Bizkit, Metallica, and Megadeth – were in the majority. And this time, the old hippie magic didn't work. Faced with overcrowding, broken bathroom fixtures, and temperatures soaring above 100 degrees Fahrenheit, the crowd took their anger out on the facilities – and on each other. There was rioting, one death from heatstroke, and at least two reported cases of sexual assault. To be fair, the violence probably involved just a few hundred of the 400,000 people who attended – but then, a few hundred people can do a lot of damage. Among the casualties were Woodstock itself, which never returned for an encore; and the reputation of Limp Bizkit, whose song 'Break Stuff' was played at exactly the wrong time.
Bonnaroo, Coachella, and the modern festival
As the new millennium dawned, Bonnaroo and Coachella came forward as the fests that reigned supreme. The roots of Bonnaroo are in New Orleans, where the Superfly production team (which started Bonnaroo) would promote late-night, jam-heavy shows as an adjunct to the city's annual Jazz & Heritage Festival. Though Bonnaroo takes place in a rambling park space in Tennessee, the New Orleans inspiration ran deep when the festival began in 2002. The early line-ups were heavy on Crescent City heroes and Jazz Fest favorites, and even the festival's name came from a beloved Dr. John album, Desitively Bonnaroo, which is Doctor-speak for something really great.
The crowds grew larger (up to 100,000) as the headliners got bigger, but Bonnaroo managed to maintain an atmosphere of laidback good vibes, where you could splash on a waterslide or play hacky-sack between sets. The vibe prevailed even when the headliners were far outside the hippie/jam realm (Metallica and Nine Inch Nails in 2008 and 2009, respectively). Eyebrows were raised in 2015 when the Live Nation conglomerate acquired a controlling stake in Bonnaroo, and the headliners turned into mainstream superstars the likes of U2 and Red Hot Chili Peppers. But look further down the line-up and you'll find the Preservation Hall Jazz Band and the Louisiana Cajun rock band Sweet Crude, still a nod to the festival's roots.
The surprising origins of Coachella
But Coachella is now the biggest and splashiest US festival, routinely drawing a capacity crowd of 90,000 – and, for many fans, is the musical peak of the year. Ironically enough, the festival was indirectly started by Pearl Jam, who always had a mixed relationship with huge events and rock stardom. During their early 90s feud with Ticketmaster, the band opened up the Empire Polo Club in Indio, California, as an alternative concert space. This worked so well that Coachella made its debut in October 1999 – just three months after Woodstock '99, for which it aimed to be a more peaceful, better-run antidote (while featuring one of the same headliners, Rage Against The Machine). Over the years, Coachella has managed the trick of being mainstream and cutting-edge at once, with hugely popular headliners (this year it was Lady Gaga, Radiohead, and Kendrick Lamar) alongside late-night raves and hot UK and European acts.
In 2016, Coachella's producers used the same space for Desert Trip, which aimed to be the ultimate baby boomer festival, and pretty much succeeded: When you have a Beatle, The Rolling Stones, and Bob Dylan on the same weekend, you've got the demographic represented. Dubbed "Oldchella" by skeptics, Desert Trip wound up offering a few small bits of musical history: Neil Young jamming with Paul McCartney, Dylan dusting off some 60s numbers he'd long abandoned, and the Stones playing The Beatles' "Come Together" for the first time.
No matter what festival you might attend, however, there's always a chance that something just as special might happen. Such is the power of a well-run, musically diverse festival. When done right, they're an incredible thing to behold.