Soundgarden
The Seattle rock band co-founded by Kim Thayil and Chris Cornell were regarded as one of the biggest acts in grunge.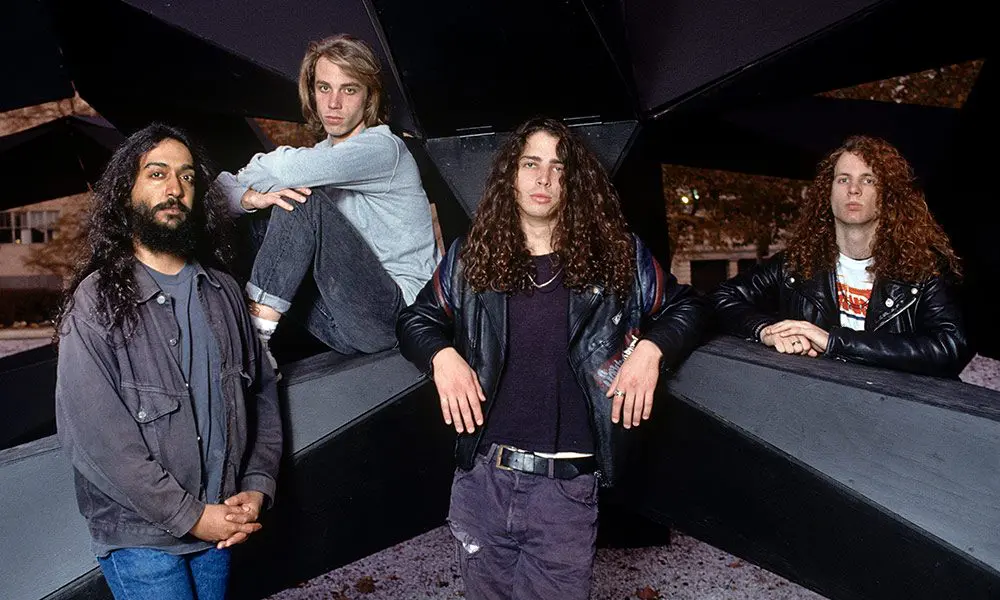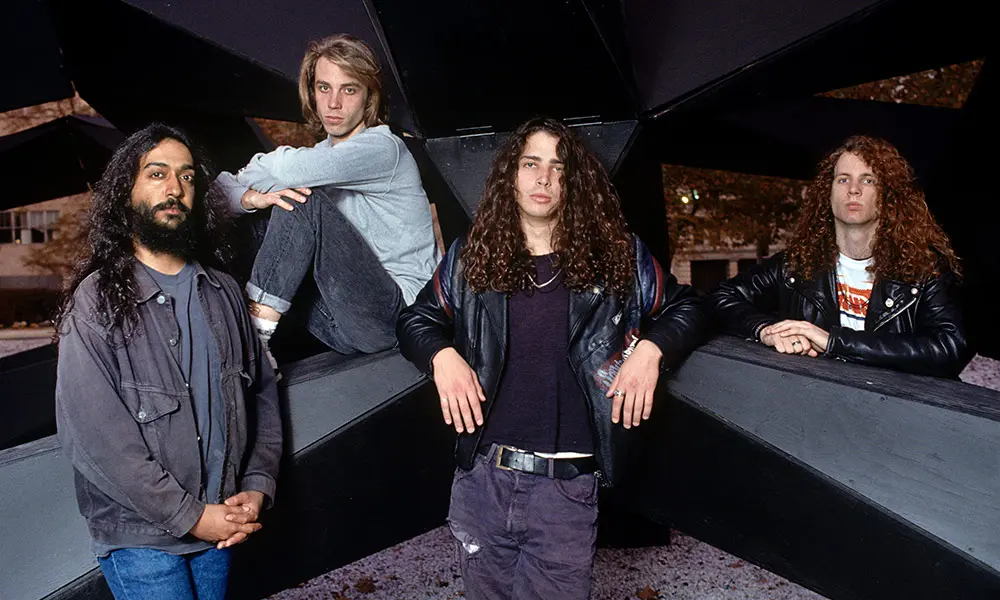 Another Seattle-based band who were seminal in the creation of Grunge – and the first to sign to a major label when A&M Records signed them in 1989 – was Soundgarden. They are at the heavier end of the Grunge spectrum and can trace their influences all the way back to The Stooges, via Led Zeppelin and Black Sabbath to Killing Joke.
Their debut for A&M and second album was the Grammy-nominated, Louder Than Love which has been described as "the MC5 and The Stooges meet Led Zeppelin." With drummer turned vocalist Chris Cornell and guitarist Kim Thayil theirs is very much a sound of their own creation. Their follow-up was 1991's Badmotorfinger which at the time, despite strong critical acceptance, only made No.39 on the US album charts. Hindsight seems to say that Nirvana's Nevermind sucked some of the sales oxygen from Soundgarden's release, yet Badmotorfinger did a great deal to grow their reputation and it's now acknowledged as a near-perfect album.
Superunknown, their 1994 release, faltered not one bit and went straight to No.1 on the Billboard chart and reached No.4 in the UK. It included the Grammy-winning single Black Hole Sun and went on to sell 3 million copies. In 1996, Down On The Upside made No.2 on the album charts and went Platinum, but its sales were affected by a shift away from Grunge among some music fans; it's a fine album, which shows a change in style but not in quality. The following year, amidst some infighting and general band burn out, they split up, with the members pursuing their own musical routes. However by 2010, Soundgarden had reunited and at the same time, Chris Cornell completed his own solo tour, which resulted in the excellent live album, Songbook.
Soundgarden made a place for heavy metal in alternative rock. Their fellow Seattle rockers Green River may have spearheaded the grunge sound, but they relied on noise rock in the vein of the Stooges. Similarly, Jane's Addiction were too fascinated with prog rock and performance art to appeal to a wide array of metal fans. Soundgarden, however, developed directly out of the grandiose blues-rock of Led Zeppelin and the sludgy, slow riffs of Black Sabbath. Which isn't to say they were a straight-ahead metal band. Soundgarden borrowed the D.I.Y. aesthetics of punk, melding their guitar-driven sound with an intelligence and ironic sense of humour that was indebted to the American underground of the mid-'80s. Furthermore, the band rarely limited itself to simple, pounding riffs, often making detours into psychedelia. But the group's key sonic signatures — the gutsy wail of vocalist Chris Cornell and the winding riffs of guitarist Kim Thayil — were what brought them out of the underground. Not only were they one of the first groups to record for the legendary Seattle indie Sub Pop, but they were the first grunge band to sign to a major label. In fact, most critics expected Soundgarden to be the band that broke down the doors for alternative rock, not Nirvana. However, the group didn't experience an across-the-board success until 1994, when Superunknown became a number one hit.
For a band so heavily identified with the Seattle scene, it's ironic that two of its founding members were from the Midwest. Kim Thayil (guitar), Hiro Yamamoto (bass), and Bruce Pavitt were all friends in Illinois who decided to head to Olympia, Washington, to attend college after high-school graduation in 1981. Though none of the three completed college, all of them became involved in the Washington underground music scene. Pavitt was the only one who didn't play — he founded a fanzine that later became the Sub Pop record label. Yamamoto played in several cover bands before forming a band in 1984 with his roommate Chris Cornell (vocals), a Seattle native who had previously played drums in several bands. Thayil soon joined the duo and the group named itself Soundgarden after a local Seattle sculpture. Scott Sundquist originally was the band's drummer, but he was replaced by Matt Cameron in 1986. Over the next two years, Soundgarden gradually built up a devoted cult following through their club performances.
Pavitt signed Soundgarden to his fledgeling Sub Pop label in the summer of 1987, releasing the single "Hunted Down" before the EP Screaming Life appeared later in the year. Screaming Life and the group's second EP, 1988's FOPP, became underground hits and earned the attention of several major labels. The band decided to sign to SST instead of a major, releasing Ultramega OK by the end of 1988. Ultramega OK received strong reviews among alternative and metal publications, and the group decided to make the leap to a major for its next album, 1989's Louder Than Love. Released on A&M Records, Louder Than Love became a word-of-mouth hit, earning positive reviews from mainstream publications, peaking at 108 on the charts, and earning a Grammy nomination. Following the album's fall 1989 release, Yamamoto left the band to return to school. Jason Everman, a former guitarist for Nirvana, briefly played with the band before Ben Shepherd joined in early 1990.
Soundgarden's third album, 1991's Badmotorfinger, was heavily anticipated by many industry observers as a potential breakout hit. Though it was a significant hit, reaching number 39 on the album charts, its success was overshadowed by the surprise success of Nirvana's Nevermind, which was released the same month as Badmotorfinger. Prior to Nevermind, Soundgarden had been marketed by A&M as a metal band, and the group had agreed to support Guns n' Roses on the fall 1991 Lose Your Illusion tour. While the tour did help sales, Soundgarden benefited primarily from the grunge explosion, whose media attention helped turn the band into stars. The band was also helped by the Top Ten success of Temple of the Dog, a tribute to deceased Mother Love Bone singer Andrew Wood that Cornell and Cameron recorded with members of Pearl Jam.
By the spring release of 1994's Superunknown, Soundgarden's following had grown considerably, which meant that the album debuted at number one upon its release. (A year before its release, Shepherd and Cameron released an eponymous album by their side project, Hater.) Superunknown became one of the most popular records of 1994, generating a genuine crossover hit with "Black Hole Sun," selling over three million copies and earning two Grammys. Soundgarden returned in 1996 with Down On The Upside, which entered the charts at number two. Despite the record's strong initial sales, it failed to generate a big hit and was hurt by grunge's fading popularity. Soundgarden retained a sizable audience — the album did go platinum, and they were co-headliners on the sixth Lollapalooza — but they didn't replicate the blockbuster success of Superunknown. After completing an American tour following Lollapalooza, Soundgarden announced that they were breaking up on April 9, 1997, to pursue other interests.
During the late '90s and 2000s, each member kept very busy. Cornell released three solo albums, also recording and touring as Audioslave with former members of Rage Against the Machine. Cameron toured his Wellwater Conspiracy project, and also played and recorded with Smashing Pumpkins and Pearl Jam. Thayil collaborated with a wide range of artists, including Cameron, Dave Grohl, Steve Fisk, and Boris. Meanwhile, Shepherd helped out with Wellwater Conspiracy, and also played and recorded with Mark Lanegan of Screaming Trees. Finally, in 2010, the band announced a reunion with a few live shows during the summer (including that year's edition of Lollapalooza) which preceded a compilation, Telephantasm, in the fall. In 2011, Soundgarden released their first live album, Live On I-5, which featured material recorded during the band's supporting tour for Down on the Upside. All of this activity would be the prelude to Soundgarden's full-on return in 2012, when they released their sixth album, King Animal, in the fall of that year. Sadly, after the tragic passing of Cornell in 2017, the band officially disbanded but their legacy lives on through their rich catalogue. 
Format:
UK English