Audioslave
A fully fledged 21st Century supergroup, star-studded Los Angeles-based quartet Audioslave rose from the ashes of two of the 90s' most successful alt.rock outfits.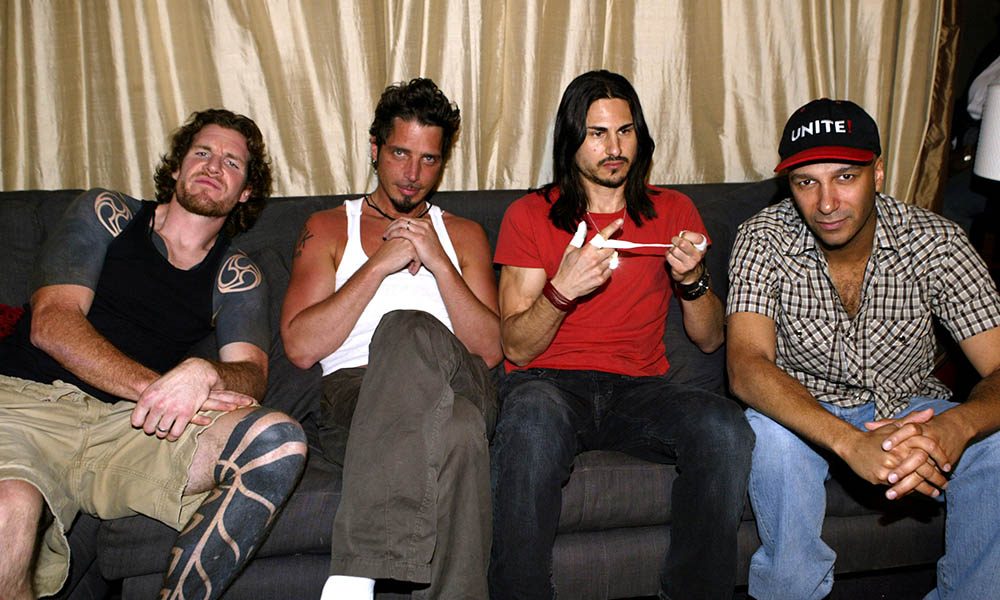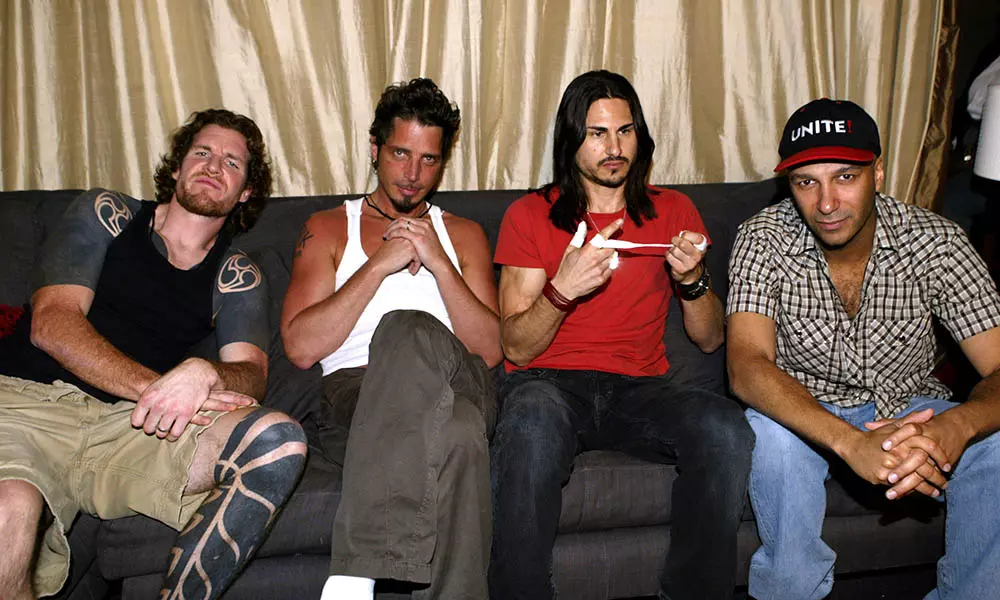 A fully-fledged 21st Century supergroup, star-studded Los Angeles-based quartet Audioslave rose from the ashes of two of the 90s' most successful alt.rock outfits.
Vocalist Chris Cornell had previously fronted Soundgarden, who emerged from the late 80s Seattle grunge explosion which also sired Kurt Cobain's globally successful but ill-starred Nirvana. Soundgarden were initially labelmates with Nirvana, with the rival bands releasing early, critically acclaimed slabs of vinyl through Bruce Pavitt and Jonathan Poneman's hip Seattle imprint, Sub Pop. By 1988, though, Soundgarden had embraced the mainstream, signing to major label A&M. They later enjoyed multi-platinum success with 1994's nine-million-selling Superunknown before splitting in 1997 after a tense, emotional world tour in support of 1996's Down On The Upside.
Guitarist Tom Morello, bassist Tim Commerford and drummer Brad Wilk, meanwhile, had already worked together for a decade as three-quarters of the politically aware Californian rap-rock sensations Rage Against The Machine. Fronted by live-wire vocalist Zack de la Rocha, RATM scored monster hits with angry, outspoken anthems such as the expletive-stuffed 'Killing In The Name' and 'Bulls On Parade', while both their self-titled 1992 debut LP and 1996's Evil Empire achieved triple platinum sales.
Rage's third LP, The Battle Of Los Angeles, also performed strongly, but the band's progress ground to a halt when de la Rocha quit in October 2000. In response, Morello, Commerford and Wilk elected to continue working together and began searching for a new vocal foil, with Cypress Hill rapper B-Real among the candidates reputedly in contention. However, after the trio eventually decided not to work with another rapper – or anyone who sounded even remotely similar to de la Rocha – their friend and influential producer Rick Rubin introduced them to Chris Cornell.
Playlist: Audioslave Essential
The creative chemistry between Cornell and the former Rage trio was apparent to all concerned from the get-go, so the (still unnamed) band wrote around 20 new songs during three weeks of intensive rehearsals. On a roll, they elected to begin recording their first album, with Rubin producing.
Settling on their new name, Audioslave, the group's eponymous debut was released in November 2002. The band deliberately shied away from embellishments and unnecessary overdubs, so, despite Rubin's state-of-the-art production, Audioslave still sounds like a classic early 70s hard rock LP, with Cornell adopting his most primal, Robert Plant-esque roar on the LP's mean first 45, 'Cochise', and Morello's menacing, Tony Iommi-style riffing driving 'Show Me How To Live'. Elsewhere, though, there was light and shade aplenty, not least on the rugged, emotional ballad 'I Am The Highway' and the philosophical, existentialism-wracked 'Like A Stone'.
Housed in a cover featuring a memorable image of an eternal flame designed by Storm Thorgerson of Hipgnosis (the highly respected team previously responsible for many of Pink Floyd's legendary LP sleeves), Audioslave met with a mixed critical response, but quickly connected with fans. It entered America's Billboard 200 at No.7, selling 162,000 copies in its first week, and was certified gold within a month of release, eventually going on to achieve triple-platinum status.
To support the album, Audioslave embarked on a series of high-profile promotional performances, including a brief but well-received set on the roof of the Ed Sullivan Theatre, on Broadway, New York, for The Late Show With David Letterman, in November 2002. They later toured extensively during 2003, turning in critically acclaimed performances at the (then recently revived) Lollapalooza touring festival in the US.
The band took a break throughout 2004, during which time Morello worked on his solo project, The Nightwatchman. Audioslave next reconvened towards the end of the year, when they began work on their second album, Out Of Exile, with Rick Rubin again manning the console in the studio. During the run-up to the LP's release, the band undertook a tour of small rock clubs across the US, where they performed a few of Soundgarden and Rage Against The Machine's most enduring hits, including 'Black Hole Sun' and 'Bulls On Parade'. They also became the first US rock outfit to perform an open-air concert in the socialist republic of Cuba, when they played a free show to an estimated 50,000 people at La Tribuna Antiimperialista Jose Marti, in Havana, on 6 May 2005.
Released that same month, the band's second album for Epic/Interscope, Out Of Exile, was again a formidable presence in the charts, debuting at No.1 on the US Billboard 200, topping the Canadian charts, and climbing to No.5 in the UK. Content-wise, most of the record's best moments ('Your Time Has Come'; the abrasive titular song) consolidated on the anthemic, radio-friendly sound of Audioslave rather than breaking new ground, though Cornell weighed in with a couple of his most affecting vocal performances on 'Doesn't Remind Me' and the redemptive, Screaming Trees-esque 'Dandelion'.
Audioslave again embarked on a round of promotional duties following the release of Out Of Exile. First off, they toured in Europe (appearing at the Live 8 benefit concert in Berlin, on 2 July) before embarking on a headlining arena tour of North America, which stretched from September through to the end of November 2005. Featuring the band's rapturously received Havana concert, the Live In Cuba DVD was issued while the tour was still rolling, and it was certified platinum within two months of release.
Keeping the pressure on, Audioslave returned to the studio to write a fresh batch of songs between their European and US tours of 2005, and, by January 2006, they were back in the studio laying down the tracks for their third album, Revelations, this time with Brendan O'Brien (who had mixed Out Of Exile) occupying the producer's chair.
Released in September 2006, Revelations again breathed plenty of Audioslave's trademark rock'n'roll fire, though it also successfully incorporated some unlikely 60s and 70s soul and funk influences into the mix. Kick-started by Morello's 'Theme From Shaft'-esque wah-wah guitar, 'One And The Same' also featured a feverish, Sly Stone-inflected wail from Cornell, while the LP's infectious second single, 'Original Fire', was propelled along by Wilk's stomping, Motown-style backbeat.
Lyrically, Cornell was stretching himself too. Previously, his songs had dealt almost exclusively with personal themes ranging from love to hedonism and spirituality, yet one of Revelations' most resonant tracks, 'Wide Awake', (which commented on George W Bush's administration and the devastating Hurricane Katrina) featured politically charged invective far more redolent of Rage Against The Machine.
Overall, Revelations was perhaps Audioslave's most satisfying release to date, but with Cornell preoccupied working with composer David Arnold on 'You Know My Name' – the theme song for the 2006 James Bond film, Casino Royale – Audioslave opted not to tour and instead went on indefinite hiatus. Rumours that Cornell was leaving the group were initially denied, but, in February 2007, he officially quit the band and recorded his second solo LP, Carry On, with U2 producer Steve Lillywhite.
Revelations performed well, going on to sell almost a million copies worldwide even without the band tour in support of it. After Audioslave disbanded, Morello, Commerford and Wilk reformed Rage Against The Machine with Zack de la Rocha for the 2007 Coachella Festival, though they have yet to record any new material. In 2010, Soundgarden, too, reunited, with Chris Cornell back at the mic, and released an acclaimed new album, King Animal, in 2012.
In 2013, Cornell and Morello shared the stage at the Rock And Roll Hall Of Fame, and, on 26 September 2014, Cornell made a guest appearance at a Seattle solo show of Morello's, their set including several Audioslave numbers. The band reunited for the last time at Prophets of Rage's Anti-Inaugural ball in January of 2017. Cornell passed away a few months later in May, closing the chapter on one of rock music's most celebrated supergroups.
Tim Peacock
Format:
UK English