Weezer
Weezer can always to be relied upon for a memorable power-pop melody, a sticky rock hook and an often witty turn of lyrical phrase.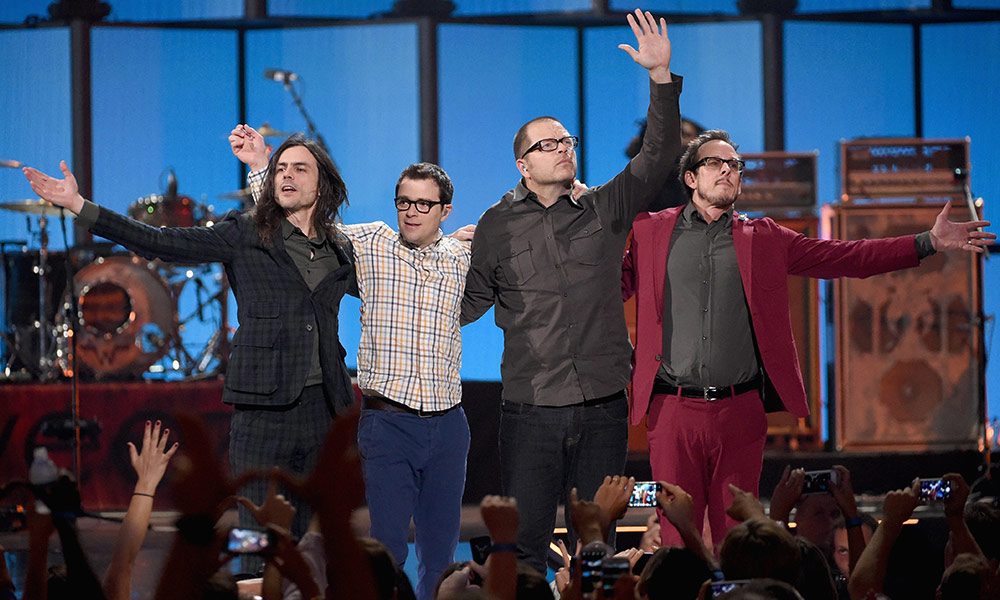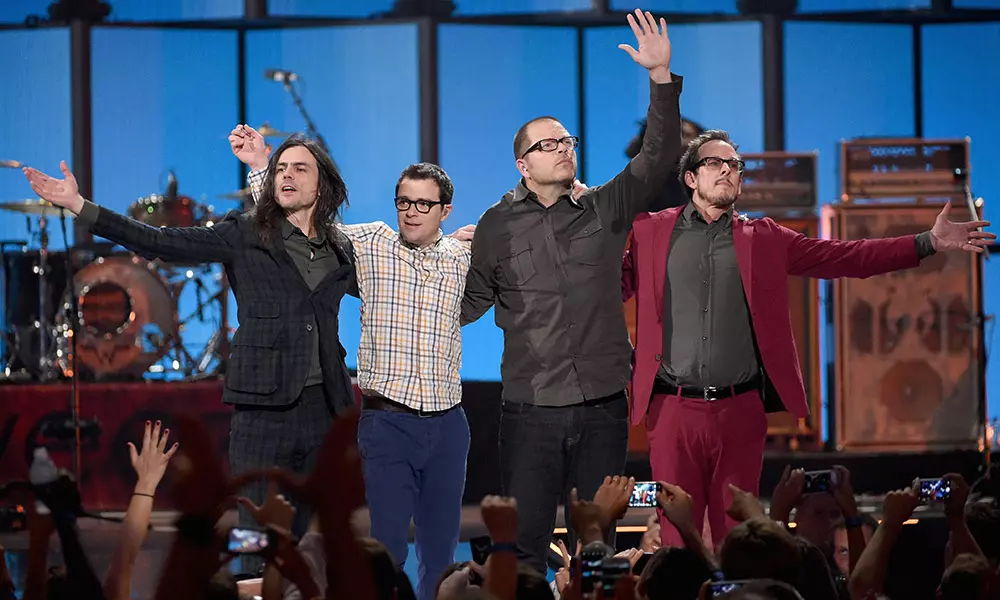 The great American rock group Weezer are one of those acts whose reputation grows more secure with each passing year. Always to be relied upon for a memorable melody, a sticky hook and an often witty turn of lyrical phrase the songs of Rivers Cuomo and his accomplices have graduated from power pop, through indie to metal, often within the framework of a single number. They began by making clever and often nostalgic music with a contemporary twist: they were sharp but never too arch.
The classic albums, from the self-titled triple Platinum debut, via Maladroit, Make Believe, Pinkerton and the most recent Everything Will Be Alright in the End, have kept track with prevailing trends and often ambushed them. Brilliant singles like "Buddy Holly, "Undone – The Sweater Song" (both with iconic pop videos directed by Spike Jonze) "Say It Ain't So" and "Pork and Beans" tend to defy trends and categorization but they have durable appeal meaning that Weezer are just as hip with younger audiences now as say, Nirvana or Ben Folds. On the other hand, they've retained a fanatical long term following. We are delighted to have the majority of their studio albums as well as the excellent compilation Death to False Metal (featuring Robert Pitt's startling cover work). All their discs have charted in the US and UK. Pinkerton has sold in excess of 3,600,000 worldwide: Make Believe slightly more, so while they haven't always scaled the heights as a singles act – Lord knows why – they have maintained their trajectory. The most recent single is "Go Away", featuring Best Coast's Bethany Cosentino and it is an alluring mix of 1960's pop, grunge chords and doo-wop. Go figure, but don't think too hard. Weezer is a band to love and cherish; analysis is a side issue.
Weezer formed in Los Angeles in 1992 when Rivers Cuomo, son of jazz drummer Frank and mother Beverley, teamed up with Patrick Wilson (drums), Matt Sharp and later Scott Shriner (bass) and rhythm guitarist Brian Bell. That ensemble would be largely responsible for sales of 17 million-plus albums worldwide. Named Weezer because of River's asthma they made their debut (sometimes called The Blue Album) with Cars man Ric Ocasek as the perfect production foil, for their weird take on pop music. Geffen released "Undone – The Sweater Song" as the first single and it was an immediate hit. The geeky "Buddy Holly" with its infernally catchy oo-wee-oo chorus name-checking the subject and the American actress Mary Tyler Moore was even more successful while the poignant "Say It Ain't So" completed a trilogy of teenage angst tracks that connected with their natural audience and amused older hands. Looking back certain critics noted that Weezer had pre-empted the whole emo movement but you could hardly cast them in that scope for long since they were determined to hit the arenas with something thrilling. That album lit up many a collection in 1994 and is now totally recommended for discovery. The combination of Cheap Trick and Raspberries class tunes and the punky distillation of metal influences have kept it fresh. Try the 2004 Deluxe edition where a bonus disc, Dusty Gems and Raw Nuggets, collates some rarities and the band's early demos aka Kitchen Tape plus a couple of pre-Ocasek pre-production numbers.
Pinkerton (1996) was created while Cuomo was finishing his studies at Harvard University. Somewhat darker and moodier than the debut Pinkerton still throws up grandeur: "The Good Life", "El Scorcho" and the sexually charged  "Pink Triangle" were now self-produced and if one reads between the lines many of the ideas are filtered via an original desire to make a conceptual rock opera a la Madame Butterfly (Pinkerton is the name of a character in Puccini's masterpiece). Another unholy collusion between Big Star and Brian Wilson this album was underrated on release but listening to the Deluxe edition (2010) proves that Cuomo was creating some of his finest work while Weezer were also on fire as a live act – check the inclusion of tracks recorded at that year's Reading Festival where they blew the place apart.
Following a considerable hiatus and further studies Cuomo got the gang back together for album #3, also confusingly called Weezer (but known to all as The Green Album). Ever keen on synchronicity Weezer reunited with Ocasek and went back to basics, fusing hard rock tracks like "Hash Pipe" to poppier alternative rock on "Islands in the Sun" which has a Beach Boys euphoria in the groove. New bass player Mikey Welsh provided a short-lived replacement for Sharp who left to focus on The Rentals.
Maladroit (2002) maintains the standard. Shriner is now full-time bass player but you wouldn't spot the join on key cuts like "Dope Nose" and the gloriously paranoid "Keep Fishin'". Short and sweet Maladroit may be, but it packs intense melodies into 33 minutes of sheer pop magic. Following limited edition EP The Lion and the Witch Cuomo and company hooked up with Rick Rubin to produce the consistent selling Make Believe (2005). The controversial social commentary of  "We Are All On Drugs" proved that Rivers was still bent on rattling cages and ruffling feathers, the mainstream may be at his disposal but he doesn't allow Weezer to dilute themselves. The very El Lay flavoured "Beverley Hills" has a video featuring a cameo from Hugh 'Playboy' Hefner but isn't entirely intended to poke fun at Hollywood excesses – or is it?
In 2008 Weezer made their sixth studio album and called it…Weezer (aka The Red Album). Rubin remains in the console hot seat with Jacknife Lee and the band chipping in. The fantastic "Heart Songs" is a nostalgic nod to Cuomo's heroes; Gordon Lightfoot, Cat Stevens, Bruce Springsteen, Debbie Gibson and Nirvana are all referenced. Experimental in places, it's well worth hunting this down for "Pork and Beans",  "Troublemaker" and the Aerosmith-fired "The Greatest Man That Ever Lived (Variations on a Shaker Hymn)" where you'll find more tops o' the hat to Nirvana, Elvis, Green Day, Slipknot and Jeff Buckley plus a police siren and one of River's trademark falsetto vocals. Good stuff.
An increased interest in hip-hop, albeit filtered via the Weezer pop medium, makes Raditude (2009) another dead cert for discovery. With plenty of synth noise and guests including Lil Wayne, Kenny G, Josh Freese and Nishat Khan this is possibly the bands most off the wall project. Metalman Butch Walker, from SouthGang, is game from the get-go and Jacknife's influence is apparent in the move towards programming and treated keyboards. A #1 on the US Alternative chart this is also their most collaborative disc but the smart commercialism of "(If You're Wondering If I Want You To) I Want You To" and the psych riffy "I'm Your Daddy" are outstanding. The Deluxe Edition Bonus includes fan favourites "Run Over by a Truck" and "The Prettiest Girl in the Whole Wide World" while the iTunes Pass offers club mixes and a crunchy live take on The Clash classic "Should I Stay or Should I Go".
If it's abundantly clear that Weezer doesn't conform to most people's idea of the norm then Hurley and the hybrid Death to False Metal hammer the point home. Back to the main event and Everything Will Be Alright in the End (2014) where the team are in cahoots with Ric Ocasek, seeking out "the sound and the energy" of their early discs. Highlights are the revolutionary war epic "The British Are Coming" and the oddball "Da Vinci" although long time fanatics are all over "Cleopatra", which could almost have been on that debut. Whatever, this is another must-discover item.
Total Cuomo nuts will want to check the man's home recording trilogy Alone 1, 11 and 111 and his Not Alone –Rivers Cuomo and Friends: Live at Fingerprints (2008). Alone: The Home Recordings of Rivers Cuomo is a peach with a cover of Greg Alexander (New Radicals) "The World We Love So Much" and the deeply emotional "Wanda (You're My Only Love)".
One thing is for sure, whenever you see the fingers held aloft in honour of the Weezer 'W' or trip back in time to their own version of Happy Days, The Beach Boys and uplifting neo-metal pop you will realise you are in the presence of a great American rock band. Which is where we came in.
Words: Max Bell
Format:
UK English