The Tubes
The San Francisco rock band are known for their glammy sound as well as their unique songwriting and appearances in popular culture.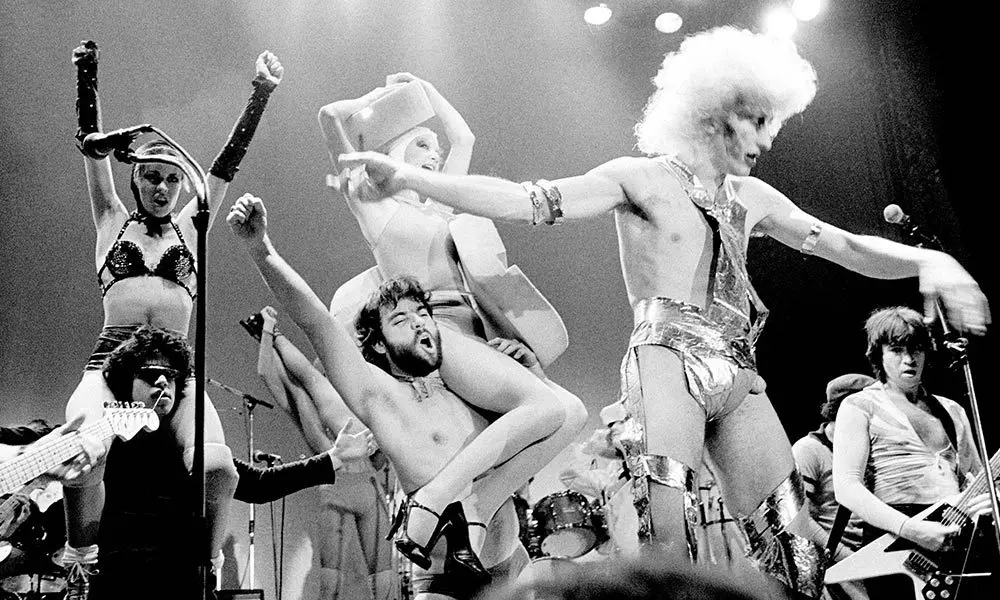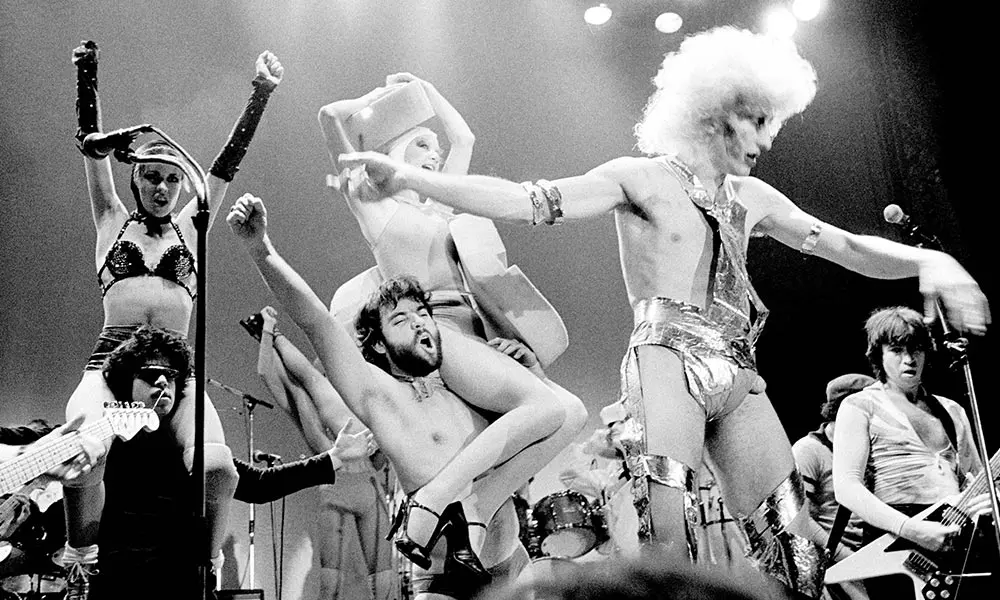 When The Tubes lead singer Fee Waybill sang 'What Do You Want From Life?' on the San Francisco based band's self-titled debut album, The Tubes (1975) he was asking a rhetorical question laced with a great deal of sardonic intent. Acting as a kind of fulcrum between Steely Dan at their most venomous and New Radicals at their name-calling peak, The Tubes offered a virtual rock cabaret with delicious asides, lashings of erotica, amazing musicianship and drop-dead funny lyrics. Another of their best-known tracks (they should all be) is the anthem 'White Punks On Dope' which turned a mirror on the West Coast's most pampered, in much the same way that the Dan had done on 'Showbiz Kids'.
But it takes more than out and out humour to make a great band. The Tubes paid the genre the utmost respect. They were sticklers for fine detail and understood that, after all, they were part of the consumer culture they threatened to behead. They had to wait years to receive their just desserts, 'She's A Beauty' became their first number-one single and attendant album. Outside Inside awoke a whole raft of folks to their stylish sound. But they were great in 1975 and fantastic in 1983 when they opened for David Bowie on his Serious Moonlight tour. They played with Dolly Parton and Cher (on the latter's TV Special) and got them to take part in an outrageously camp and dramatic episode called 'The Musical Battle to Save Cher's, Soul Medley'; they headlined at Knebworth with Frank Zappa and Peter Gabriel, toured with Todd Rundgren (one of their many fine producers) and played various shows under such pseudonyms as Metal Corpses. If you've never made a visit to Tubes-land, we'd suggest that could be rectified.
Though based on the West Coast for logistical reasons (San Francisco's underground culture was their oyster) most of The Tubes were actually high school and college friends from Phoenix and neighbouring Scottsdale, Arizona. They were an amalgamation of two groups – The Beans and The Red, White and Blues – spending five years working up an act with songs to match their grandiose visions. Lead singer Fee Waybill would be Kway Lewd, the obnoxious, drugged and drunken rock star wannabe, while his female accomplice Re Styles strutted like a leading actress in an adult movie. With Prairie Prince on drums, future Grateful Dead pianist Vince Welnick the MC, Roger Steen and Bill Spooner in charge of axe work and stellar riffs, and Michael Cotton lending an Eno-like synthesiser charisma (let's not forget bassist Rick Anderson, the butt of many an on-stage prank), The Tubes built such a reputation that Al Kooper (Bob Dylan, Blood Sweat and Tears etc) was hired as a producer and made a damn fine job of it. The Tubes (1975) starts with a sublime bubbling melody for 'Up From The Deep' and the moods change constantly, all to the good. 'Mondo Bondage' and guitarist Bill Spooner's 'Boy Crazy' are further highlights.
Follow-ups Young and Rich and Now coincided with The Tubes turning their attentions to the European market and the superb 'What Do You Want from life?' (recorded at London's Hammersmith Odeon in 1977) collates all the goodies to date with a class and élan that is beyond the ken of lesser mortals and predicates the rise of New Wave as the coming dawn. Definitely one of the great overlooked live doubles is this. It even includes a version of John and Paul's 'I Saw Her Standing There'. Way cool.
The Todd Rundgren produced Remote Control was hailed as a masterpiece in some quarters and slagged in others, but if you were on message and on-trend there was nothing to dislike here. Same goes for The Completion Backward Principle where they work with Toto's David Foster and Steve Lukather on a smart pastiche of management jargon and motivational syndrome, then sweeping the world via Japan. The re-mastered version is the way to go here. This album spawned the monster hit  'Talk to Ya Later', showing everyone that The Tubes were also masters of the multi-media video in long or short form.
Outside Inside (1983) is widely considered to be another classic. Boasting a cast of dozens, including specialists like Lukather, Bill Champlin, Jay Graydon, Curtis Mayfield and Chuck Finley, Tubes recouped with 'She's A Beauty' (number one) and  'The Monkey Time' and embarked on a successful world tour. Their final album from this original era is another Todd Rundgren gem, Love Bomb, a quasi-satirical concept about relationships. Ironically, soon as it was done, Todd nicked Welnick and Prairie Prince for his own band.
We also have a slew of top compilations. These include The Best of The Tubes, a handy primer of all later the creamy stuff, and companion disc, equally slick. The Best of the EMI Years which taken together should give you extra insight into this truly eccentric outfit. When you see their name on an album you're guaranteed entertainment and enlightenment. Great music, plenty of humour. Exactly what you want from The Tubes. The best advice here is to start at the beginning. Up from the deep and off you go.
Words: Max Bell
Format:
UK English