Florence + The Machine
Proving that art-rock is alive and well and living at the heart of the music industry, with her unforgettable persona Florence Welch became the darling of the critics and the public alike in the early 2010s.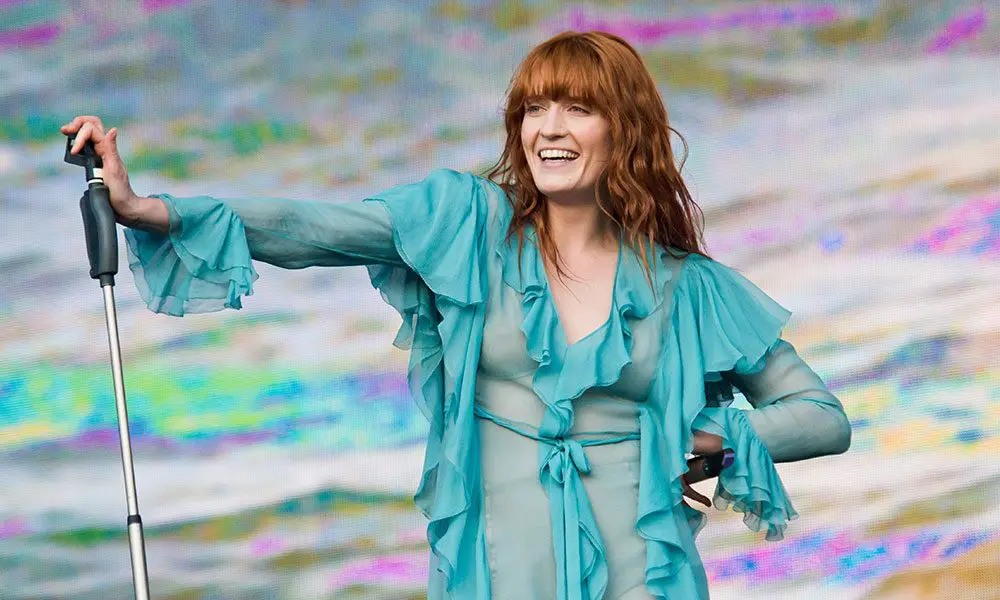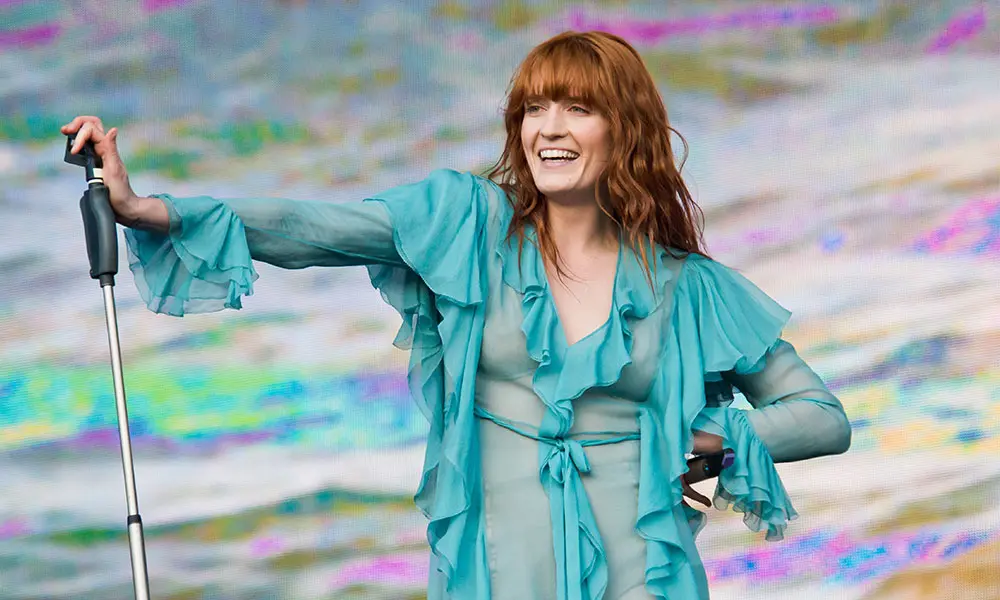 Described as a heady mix of rock and soul the band is Florence with a revolving cast of artists providing the backdrop to her vocals. Even before the band found fame they were already popular with the BBC, and when the band's debut album, Lungs, was released in July 2009 it was a massive seller, ultimately remaining in the top forty in the UK for sixty-five consecutive weeks. The second studio album, Ceremonials, released in October 2011, debuted at number one in the UK and number six in the US.
"I want my music to sound like throwing yourself out of a tree, or off a tall building, or as if you're being sucked down into the ocean and you can't breathe. It's something overwhelming and all-encompassing that fills you up, and you're either going to explode with it, or you're just going to disappear." – Florence Welch
Proving that art-rock is alive and well and living at the heart of the music industry, with her unforgettable persona Florence Welch became the darling of the critics and the public alike in the early 2010s. Her standing is thus that the Rolling Stones, the band she danced around her house to as a child with her father, asked her to duet 'Gimme Shelter' with them on their 50th Anniversary show at London's 02 Arena.
Florence Mary Leontine Welch was born in 1986 to Evelyn, an American professor of art history, and father Nick, who worked in advertising. She grew up in South London and soon became immersed in her father's record collection. After attending Alleyn's School in Dulwich, she went to Camberwell College of Arts, where her musical taste developed further. She began singing publicly while at college, writing songs in her spare time, some of which would carry forward onto her debut album.
She knew how to write melodies but needed a collaborator to make these sketches real. She dallied with two groups, Toxic Cockroaches and Ashok, actually signing a contract with the latter. She realised that she was in the wrong band and extricated herself from the contract. She met keyboard player Isabella Summers and the two began playing together, initially going under the name Flo Robot/Isa Machine. Realising this would be a rather cumbersome and gimmicky name, it evolved into Florence + the Machine. A band coalesced around the two of them, with a fluid line-up. Finally, Welch's dreams could be realised and the Machine remains a fluid line-up: Rob Ackroyd (guitar and backing vocals), Summers on keyboards, Chris Hayden (drums), Mark Saunders (bass guitar and backing vocals) and Tom Monger (harp) have supported Welch in various combinations since this time.
Welch found manager Mairead Nash in December 2006. Drunkenly, she followed Nash into club toilets and proceeded to sing for her. Nash was astonished; she had never heard a voice quite like it. It was a perfect fit. Nash, as one half of DJs Queens Of Noize, had the whole of the London underground scene at her fingertips. She realised that Florence + the Machine needed to be seen and quickly put them to work. Playing gigs around London, they were championed by the BBC, which led to a string of 2008 festival appearances, as well as supporting MGMT on a European tour.
With this growing interest, Florence + the Machine signed to the independent label Moshi Moshi Records, releasing a debut single 'Kiss With A Fist' in June 2008. Produced by ex-Joe Strummer and the Mescaleros member Richard Flack and Pulp's Steve Mackey, it was an incredible collision of rockabilly, punk, folk with a stylised vocal that seemed a marriage of madrigal and hip-hop. By November 2008 Florence + the Machine had signed to Island Records, and soon they were the name on everyone's lips and won the 2009 Critics' Choice award at the BRITs. It was easy to see that there was something very different at play here, innovative music topped off with Welch's striking appearance. The Sunday Times said, "Florence Welch actually is – a bamboozling concoction of a cake-berserk seven-year-old child, mystical soothsayer and will-o'-the-wisp for whom life is 'a constant acid trip'."
Lungs proved to be an enormous success on its initial release in July 2009.  It was a skilful balance of the songs she had been singing for the past few years, married to the production skills of Paul Epworth and James Ford – 'The Drumming Song' located Welch perfectly as a successor to Kate Bush, with music that evoked Tears For Fears and Talk Talk. With her immense wall of layered vocals, it sounded very different from other bands. Six singles were ultimately taken from the album, including 'Dog Days Are Over' and 'Rabbit Heart (Raise It Up)' but it was the cover of 'You Got The Love' that was absolutely inspired. It added a post-punk veneer to the glorious electro-soul of The Source ft. Candi Staton's original. With that one song, Welch leapt out of her usual audience and introduced the wider music-loving public to her highly individual vocal style and her unmistakable stage presence.
Lungs went to No. 1 in the UK. After an initial digital release in the US, it was released physically in October, and Florence + the Machine played their first gig in the US at the legendary Bowery Ballroom in New York that month, as well as appearing on TV staples The Late Show With David Letterman and Jimmy Kimmel Live!.
Lungs won MasterCard British Album of the Year at the BRITs 2010, and the band was also nominated for the coveted Best Newcomer award that year. Lungs stayed in the UK charts for 65 weeks, becoming one of the biggest-selling albums of 2009 and 2010. The Sunday Times called it "a drum-driven, primal serenade to love, death and the twisted foibles of human nature – eyes gouged out, beds on fire, animals as a human metaphor."
Florence + the Machine worked tirelessly to support the album; as further singles were released, it kept selling – Island released Between Two Lungs, which brought together b-sides and the separately available iTunes Live: London Festival '10, a perfect capture of this first phase of the band's success as well as Florence's towering BRITS collaboration with Dizzee Rascal, 'You Got The Dirtee Love.'
America loved them, too. Rolling Stone identified with Florence's beautiful, wayward nature, saying her music was akin to "being chased through a moonless night by a sexy moor witch." Supporting U2 on their 360º tour in North America in 2010 reinforced the band's acclaim. A concert from the band's own tour at the Wiltern Theatre recorded in November 2010 was released in June 2011 on iTunes, ahead of the new album they had been recording in London as well as vocals in studios in America.
Trailed by the anthemic, euphoric 'Shake It Out', follow-up album Ceremonials, again largely produced by Epworth, was released in October 2011. It was a remarkably assured work, sounding more unified than their debut. It went straight to the No. 1 position in the UK, and into the Billboard charts at No. 6. idolmag.co.uk spoke for many when they said, "Now that Florence and the Machine possess a sound so purified and singular it's impossible to predict how it will evolve, or what its next permutation will be, but it's an exciting prospect." To demonstrate how far they had leapt into the American consciousness, Florence + the Machine were nominated for Best New Artist at the 53rd Grammy Awards. In 2012, Calvin Harris remixed Ceremonials album track 'Spectrum (Say My Name)' which became their first UK No. 1 single. Welch returned the favour by singing on a track from his album, 'Sweet Nothing', which gave her her second No. 1 of the year.
The final show on the world tour to support Ceremonials was on 12 December 2012 in Dublin. The live-work that their manager pushed them into early on has truly paid dividends, for many believe that this is where the band truly come to life. Fine concerts are available to discover, from the German TV recording Auf den Dächern, to MTV Presents Unplugged: Florence + the Machine and the live capture of the Ceremonials tour – Live at Hackney Empire, 2011.
In 2015, Florence dropped her third studio album, How Big, How Blue, How Beautiful, a stunning response to her hiatus that encompasses blues, rock and gospel, and includes 'What Kind Of Man', 'Queen Of Peace' and 'Delilah'. The eight-leg world tour that accompanied the album was also a triumph.
Seemingly on another hiatus, Florence is now a true celebrity (she even has her own jewellery range), yet her music often remains unusual, uncompromising and original. Though hers is still a modest discography, if you have only heard a few of the singles, there is so much more to discover. The deluxe version of How Big… adds five tracks, including a demo of the title piece. Beautiful, indeed.
Format:
UK English