Smokey Robinson & The Miracles
Smokey Robinson and the Miracles were an R&B vocal group led by Smokey Robinson who were often referred to as Motown's "soul supergroup".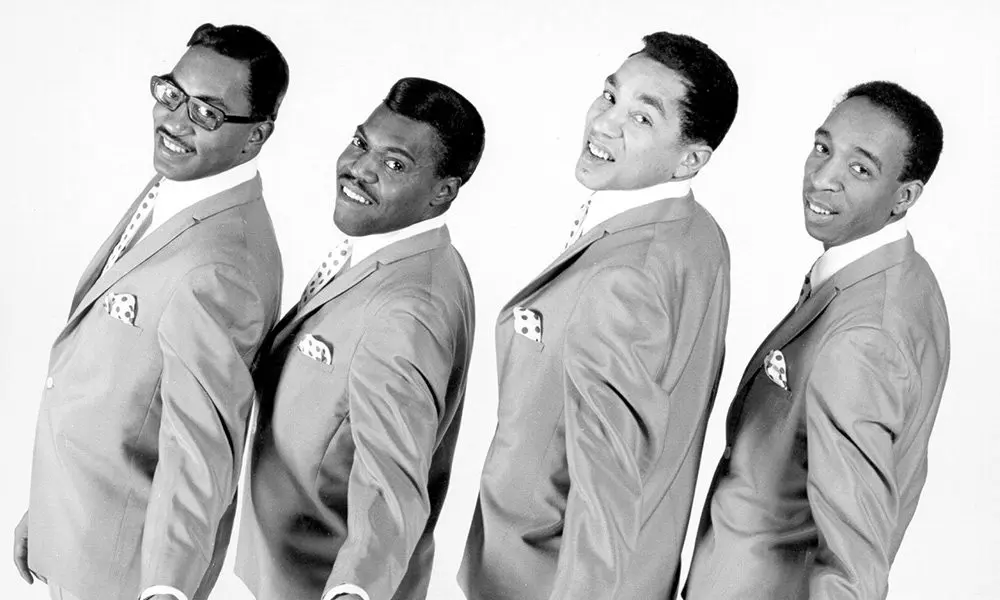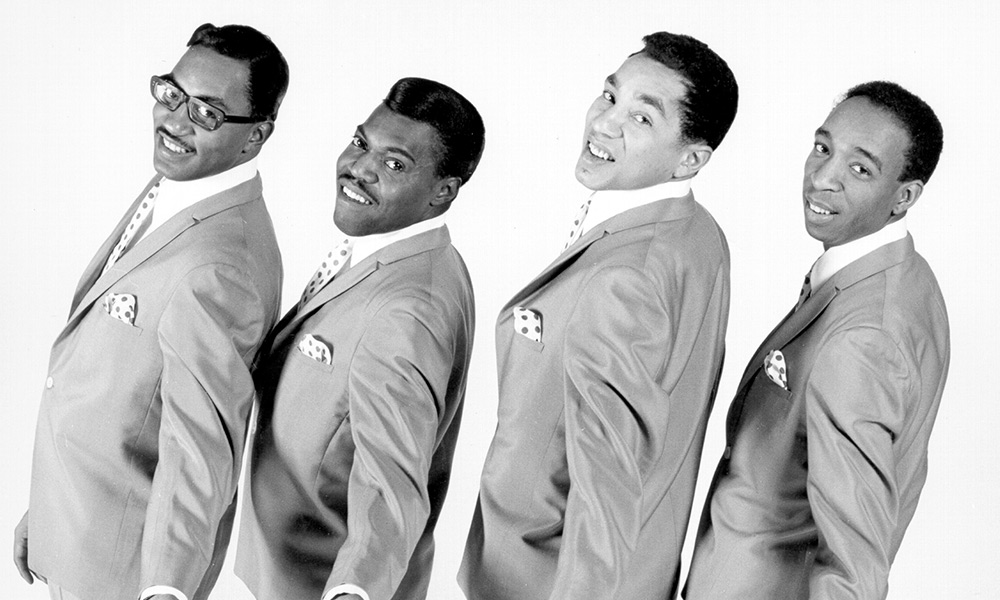 "Hey, hey, LBJ, how many kids did you kill today?" The anti-Vietnam War chant resonates across the years, still taunting the late President Lyndon B. Johnson, who prosecuted the conflict in the 1960s and oversaw the deaths of tens of thousands of Americans and Vietnamese. Johnson was inaugurated on 20th January 1965 – the same day that William "Smokey" Robinson began recording, for the Miracles, the most compelling song of his life and our times: 'The Tracks Of My Tears.'
"I started off as the teacher and became the pupil, listening to his songs, which became so much better than mine. Because of Smokey, there were so many other talented people that came to Motown… As far as I'm concerned, he was the leader of shaping the Motown sound." – Berry Gordy Jr.
Tragedy past and future bracketed that date. Sam Cooke had been murdered 40 days earlier;  cancer-afflicted Nat "King" Cole was to die 26 days later. The contemporary poem by Conrad Kent Rivers about Cole's passing (I disagree with a death that strikes down the makers of songs/There are so many things waiting for silence/Like the bombs waiting for doors to open) became even more poignant when LBJ began sending B-52 bombers to Vietnam that June.
Yet Smokey can be forgiven if the inauguration in Washington passed him by. Motown Records – for which he now wore a vice president's stripes – was experiencing explosive growth. His latest production for The Temptations, 'My Girl,' was looming as a crossover giant. He was already working on its follow-up while prepping for recording sessions with Marvin Gaye.
Only in his mid-twenties, Smokey had by this time been responsible for a series of memorable hits by his group, and by Mary Wells and The Temptations. These gave Motown – which Robinson had encouraged Berry Gordy Jr. to start – a firm foundation, and the promise of a bright future.
In Robinson's past, there had been a piano. "Mama had an old upright at home," he wrote in his 1989 autobiography, "and I'd be banging it, figuring out simple melodies and chord combinations." He also bought songbooks, "with people like Snooky Lansen and Dean Martin on the covers because I wanted to know the words of the current tunes that were popular. I would buy those rather than candy."
His interest extended to R&B performers such as Billy Ward's Dominoes, and Nolan Strong and the Diablos. Robinson cited the Dominoes' Clyde McPhatter as a major influence; his high-pitched vocals reassured the teenager that his own falsetto singing style was worthy of pride.
Soon, young Smokey and school friends Ronnie White, Pete Moore and Bobby and Sonny Rogers formed their own group, the Matadors, singing in and around Detroit. In August 1957, they heard of a local audition being staged by Jackie Wilson's manager to hear new talent with recording potential. Group member Sonny Rogers' decision to join the army complicated matters, but a replacement was found in his sister, Claudette Rogers, also a singer.  (In 1959, she and Smokey were to marry.)
The Matadors' performance of several numbers at the audition failed to impress Wilson's manager, but did attract songwriter Gordy, also present, who asked about one tune in particular, 'Mama Done Told Me.' Learning of Robinson's authorship of that and dozens of other songs, the future founder of Motown Records offered the teenagers advice and work as backup vocalists on some of his independent productions.
What happened next is familiar to almost anyone with an interest in popular music of the past six decades. Gordy signed and recorded the Miracles, placed the results with several US independent labels, and then set up Tamla Records in January 1959 to take control of their own destiny. That, and to collect more than the $3.19 cheque he was sent by one indie company as earnings from the sales of a Miracles single.
In late 1960, the quintet – Smokey, Claudette, Ronnie, Bobby and Pete – made 'Shop Around,' their first million-seller. "We received our gold record in February 1962 at the Michigan State Fair," remembered Claudette proudly in notes for the Miracles' 35th Anniversary Collection, their definitive anthology. That success led to more hits:  'What's So Good About Goodbye,' 'I'll Try Something New,' 'You've Really Got A Hold On Me,' 'Mickey's Monkey.' In each new record, Smokey's aching falsetto seemed more soulful. In each new song, the imagery of his lyrics became more adventurous, more sophisticated.
'You've Really Got A Hold On Me' also travelled abroad, catching the ears of a young British rock band weaned on American rhythm & blues. The Beatles covered the song for their second album, and John Lennon named the Miracles as his favourite group.
The fivesome's popularity was enhanced by participation in the Motortown Revue, Berry Gordy's touring package – with as many as ten acts per show, with the Miracles usually the headliners – which crisscrossed America week after week, month after month in the early 1960s. The revue regularly broke attendance records and fuelled Motown's pursuit of the LP market with a series of Recorded Live On Stage albums. The Miracles' in-concert album came out in May 1963, their fifth release after Hi We're The Miracles, Cookin' With The Miracles, I'll Try Something New, and The Fabulous Miracles.
By 1964-65, Smokey was composing more frequently with members of the group, and with the sixth Miracle, guitarist Marv Tarplin. Robinson's strength has always been in lyrics, and it's arguable that the increased collaboration with others provided a better melodic foundation for that strength. Tarplin's contribution, especially, was critical to the peerless intensity and depth of the Miracles' work over the next several years – 'Ooo Baby Baby,' 'The Tracks Of My Tears,' 'My Girl Has Gone,' 'Going To A Go-Go,' 'The Love I Saw In You Was Just A Mirage' – and the accompanying albums, Going To A Go-Go, Away We A Go-Go and Make It Happen.
Claudette Robinson gave up touring in 1965 to start a family but continued to record with the Miracles. The third R&B No. 1 of their career, 'I Second That Emotion,' was the follow-up to 'More Love,' which Smokey wrote for his wife after the death of prematurely-born twins. Battling the blues, he went Christmas shopping in downtown Detroit with Motown colleague Al Cleveland.
At Hudson's department store, Robinson avoided the toys and baby department, opting for the jewellery counter, selecting pearls for his wife and hoping aloud that she'd like them. "I second that emotion," said Cleveland. The two men laughed at the verbal slip, but it stayed in Smokey's thoughts. "That afternoon, we wrote the song," reminisced Robinson. 'I Second That Emotion' was a certified smash, and Al Cleveland became a potent if critically overlooked, partner for Smokey. The pair went on to write seven of the next eight Miracles singles, showcased in such albums as Special Occasion (1968), Time Out For Smokey Robinson & The Miracles and Four In Blue (both 1969).
The group's most popular recording was an even more unlikely tale than the slip of a tongue. In 1970, the Tamla-Motown label manager at EMI in London, John Reid, was looking for a hit. The group's new US singles were proving unsuitable for the UK market, and their only major seller there was a 1969 reissue of 'The Tracks Of My Tears.'
For help, Reid turned to the head of Motown's UK fan club, Karen Spreadbury. She said he threw the Miracles' Make It Happen LP – by that point, three years old – across his office with a challenge: find a single. Tucked away as the last track on side two was 'The Tears Of A Clown.'  Spreadbury recalled, "It stuck out like a sore thumb because it was so different."
Robinson originally heard the song as an instrumental track co-created by Stevie Wonder. Striving to find lyrics for the circus feel of the music, he chose a similar motif to 'The Tracks Of My Tears': the clown. "Everybody loves him as Pagliacci the clown, but he doesn't have someone who loves him as a man." Vocals for the completed song were laid down in November 1966.
Three years later, John Reid took Karen Spreadbury's advice and shipped it as a single. By mid-September 1970, Smokey & the Miracles were clowning around at No. 1 in the British charts. In Detroit, Motown swiftly followed that lead, and netted the group's single most successful chartrider, worldwide. Can there be an intro more recognisable in popular music than this 'Clown'?
Until then, Robinson – tired of touring, above all – had been planning to go solo. The Miracles' renewed popularity obliged him to delay the exit for a couple more years, but in January 1972, Smokey declared that he would quit after a summer farewell tour of the US. And leave he did, bowing out by way of 1957-1972, a double-album live package which contained many of his group's hits.
Smokey's subsequent solo sessions are almost as celebrated as many of the sides he cut as a Miracle. 'Baby That's Backatcha,' 'A Quiet Storm,' 'Cruisin' ' and 'Being With You' hardly require an introduction. The remaining Miracles had a tougher time, even with a new, young, lead vocalist, Billy Griffin, and a brace of hit tracks, 'Do It Baby' and 'Love Machine.' Their Smoke-free Motown albums Renaissance, Do It Baby and City Of Angels are still in the catalogue, deservedly.
Among other career milestones, Smokey and the Miracles have been inducted into the Rock & Roll Hall of Fame, honoured with stars on the Hollywood Walk of Fame, and have seen 'Shop Around,' 'You've Really Got A Hold On Me' and 'The Tracks Of My Tears' drafted into both the Grammy Hall of Fame and the Rock & Roll Hall of Fame. To this day, Robinson continues to be a standard-bearer for Motown, and everything it created.
Perhaps all that remains is to give thanks for mama's upright piano, the childhood choice of songbooks over candy, and the Miracles' sweet harmonies.
Format:
UK English