John Lee Hooker
John Lee Hooker was a Mississippi blues guitarist known for playing Delta blues, as well as singles like 'One Bourbon, One Scotch, One Beer'.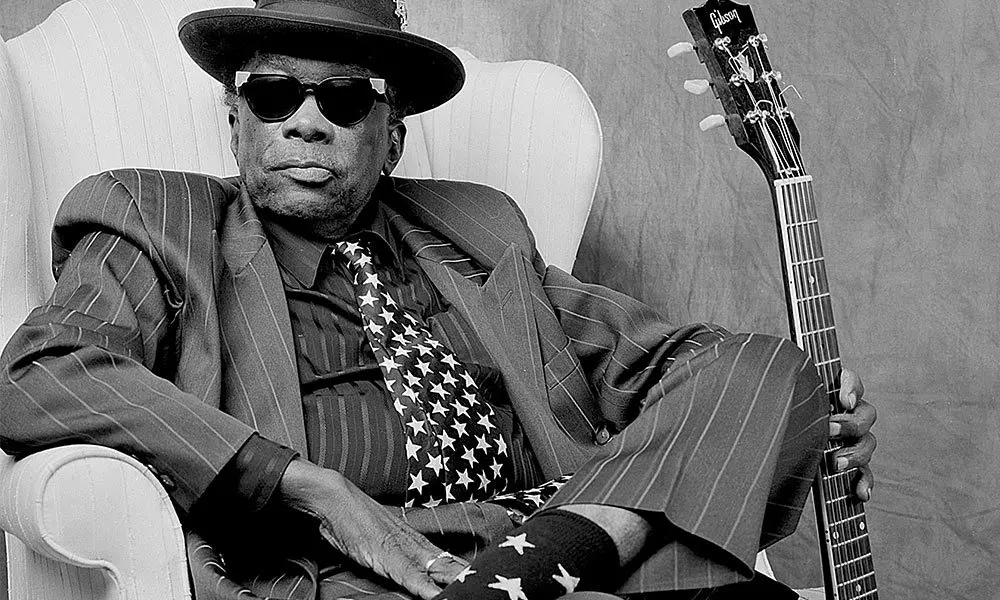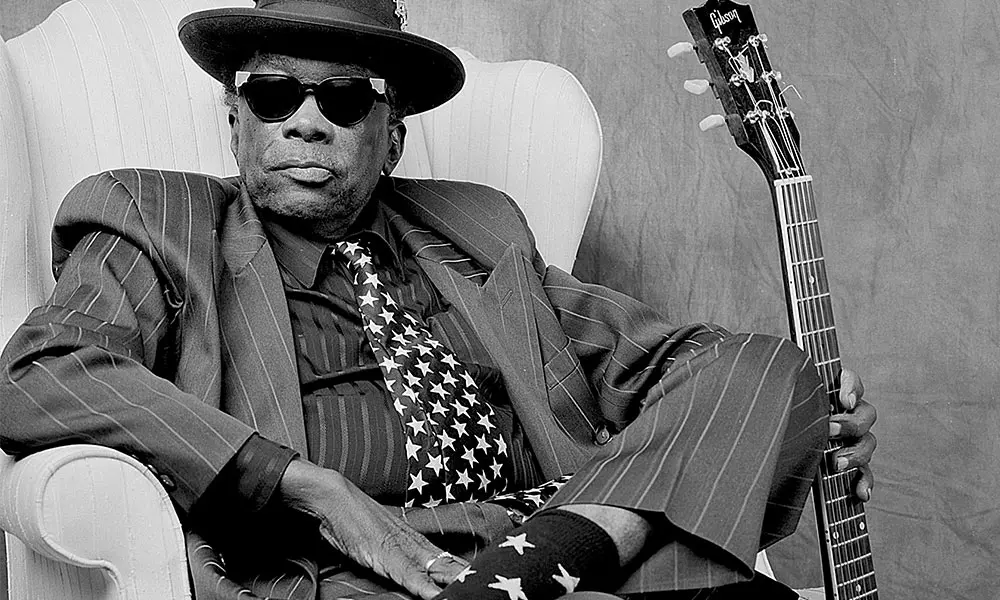 For many people who heard his music in the 1980s and 1990s for the first time, John Lee Hooker was their personal invitation to enjoy the blues. He was of an age that made him accessible to many rock music fans that were anxious to explore the roots of the genre, especially his hard-edged electric guitar playing coupled with his forceful voice. While some have considered some of what he did late in his career a compromise, the four times Grammy winner, was a true original that brought people into his blues tent – what they found inside was never less than authentic.
"His chanting voice, inventive guitar, and insistent foot-tapping make for a one-man orchestra which is hard to beat" Blind Al Wilson, Canned Heat
John Lee Hooker was born in the heart of the Mississippi Delta and having been influenced by Charlie Paton and Tommy McClennan, lived long enough to influence just about everyone who has played the Blues ever since. He first recorded in 1948 for Modern Records and made the charts the following year with 'Boogie Chillen'.
Hooker had his biggest hit when 'I'm in the Mood' went to No.1 on the R&B chart in 1951. Tracking his recorded output is a tricky business, as Hooker, like many other bluesmen, recorded under numerous pseudonyms for a variety of different labels. 'Boom Boom' was one recorded under his own name and made the R&B chart in the summer of 1962; Hooker is backed by three of the 'Funk Brothers' who later did so much to create the Motown Sound.
His 1959 album for Chess, House of Blues, was, as well as being a quintessential album, the inspiration for the chain of Blues clubs that sprung up in North America in the 1990s. Two years later his Plays and Sings the Blues album was one of the best of his career; it's filled with tracks from earlier in his career and shows just what a powerful performer he was.
As an all-around introduction to the music of this innovative Bluesman, his Blues Greats album is full of his signature sound including 'In the Mood', the fabulous 'Stella Mae' and 'I Cover the Waterfront', blues that will make your neck hairs stand on end.
"Every song I sing is something that happened to my life or somebody else's life. That's why everybody digs the blues… it has more feeling than other music. When I sing these songs I feel them down deep and reach you down deep." John Lee Hooker
John Lee was his Mother Minnie's fourth child, who recalled his grandfather teaching him the rudiments of the guitar when he was a young boy. He grew up on the farm, where his stepfather, Will Moore, taught him the unusual foot-stamping, guitar playing technique that Hooker made his own. Like many of his contemporaries, he, first of all, sang gospel music, but the blues soon took hold. Shortly before his fifteenth birthday, Hooker tried to join the army and spent three months in Detroit before they found out his real age; they sent him home to Mississippi, John Lee was firmly against a life spent working on the farm, so he took to the road.
Hooker's first stop was Memphis, where he tried to establish his musical career whilst working as an Usher in the Beale Street Theatre. Whether the competition was too tough, in the city that was the first stop north of the Delta – he was after all just a teenager, or there were simply too many blues players, no one knows. Hooker left Memphis and went to Cincinnati, where he worked in a variety of jobs; at night he played juke joints and house rent parties, he also returned to sing gospel music, working with The Fairfield Four and The Big Six. In 1943 he went to Detroit, where there was good-paying war work available and a burgeoning music scene on Hastings Street. Hooker became a big draw and was soon playing the Monte Carlo Club, Sporty Reed's Show Bar and the more upmarket Lee's Sensation.
Hooker acquired a manager, Elmer Barbee and in 1948, he engineered an introduction to Bernard Besman, the Ukrainian born owner of Detroit's Sensation label. Besman decided to record Hooker, but interestingly, he decided to lease his first two sides to Modern Records, a company with a far better distribution system. 'Sally Mae' was originally to be the A-side, but the B side 'Boogie Chillen' quickly captured the record-buying public's imagination; it was a shrewd move in retrospect, as 'Boogie Chillen' went to No.1 on the R&B chart in January 1949.
Hooker or 'The Boogie Man', as he had been christened, had three more top ten hits in 1949, as his career took off with 'Hobo Blues', 'Hoogie Boogie' and 'Crawling King Snake'. Then in 1951 he again topped the chart with the classic, 'I'm In The Mood', written with Jules Taub, Hooker overdubbed his vocal three times, which helped to give the recording such a powerful resonance.
In early 2000, a CD featuring John Lee Hooker playing in a Detroit house in 1949 had its first release. Gene Deitch, a keen music fan, heard Hooker play in a club and invited him for dinner and then recorded him singing and playing acoustic guitar. It is remarkable that the tape survived, it demonstrates the influences that Hooker had already taken on board, in developing his unique 'electric blues' sound. He performed 'Catfish Blues', which Hooker was to cut many times in his career, as well as standards like 'Trouble in Mind', 'How Long Blues' and 'In the Evenin' When The Sun Goes Down'. Spirituals like 'Moses Smoke The Water' and the folk standard 'John Henry' in which Hooker created his own melody.
Hooker recorded at a prodigious rate, tracking his recordings is tricky as he, like many others, recorded under numerous pseudonyms for a variety of different labels; he was probably the busiest blues-recording artist of all during the early 1950s. Despite being under contract to a number of labels he recorded for a variety of independent labels as Texas Slim, John Lee Cooker, Delta John, Birmingham Sam, Johnny Williams, The Boogie Man, John Lee Booker, John L. Hooker, John Lee Hooker and even, Little Pork Chops. "I cannot accurately recollect how many times I have cut records. I think that I've made discs for about thirty different labels" he admitted in the summer of 1964 while touring Britain with John Mayall's Bluesbreakers.
In 1962, Hooker visited Europe as part of the First American Folk Blues Festival. Seen by many of Britain's young musicians, he became a major influence for the aspiring blues players who would help create Rock music. Around the time of his first trip to the UK, he recorded 'Boom Boom', another of his best-known tunes for Vee-Jay. He left the label in 1964 going on to record for a number of labels that included Chess and Verve-Folkways.
1964 was a time when the blues were making a big impact on the record buyers in Britain. Howlin' Wolf's 'Smokestack Lightning' entered the chart in early June. A week later John Lee Hooker's 'Dimples', originally cut for Vee-Jay in 1956, charted and spent the rest of the summer in the lower reaches of the chart. The week after Hooker charted, he supported the Stones at a gig at in Magdalen College, Oxford, which must have been a thrill for the band who did so much to introduce rock into the mainstream. Four days later, Hooker and John Mayall's Bluesbreakers played with the Stones at an all-nighter at London's Alexandra Palace. Hooker even got to appear on the TV show Ready Steady Go. In 1965, he recorded with the Groundhogs, a British blues band; unfortunately, it was a poor choice.
Hooker's influence spread in unusual ways. The Zombies, with Colin Blunstone's angelic vocals, recorded a song called 'She's Not There', which ostensibly has little to do with the blues. However, as Rod Argent, the group's keyboard player and the song's writer revealed. "If you play John Lee Hooker's song, "No One Told Me' from the Big Soul of John Lee Hooker album, you'll hear him sing 'no one told me it was just a feeling I had inside'. There's nothing in the melody or the chords that's the same, it was just that little phrase." A decade later, Santana was to record 'She's Not There' which provided an interesting link to Hooker.
By 1970, Hooker had teamed up with Canned Heat to recorded Hooker n Heat, it became his best selling album in years. During the lean blues years of the 70s and early 80s, Hooker recorded and continued to tour, before making a cameo appearance in the 1980 Blues Brothers movie; but by this time his was a career built on past glories, not new triumphs. That is, until 1989, when he recorded an album entitled The Healer with guest musicians, including, Bonnie Raitt, Keith Richards and Carlos Santana on the title track. The album is assessed as the biggest selling blues album of all time. 1991 Mr. Lucky reached No.3, making John Lee Hooker the oldest artist ever to climb as high on the UK album chart; it too featured guest artists, including Van Morrison, Ry Cooder and Albert Collins. In 1992, Levi Jeans used a re-recorded 'Boom Boom' for a TV commercial, it subsequently made No.16 in the U.K. singles chart.
In 1994, Hooker, following a hernia operation, decided to slow down. Hooker spent the second half of the 1990s in semi-retirement, recording sporadically, but spending much of his time at home in the San Francisco Bay area of California. In 1997 he opened a club in the city that was named John Lee Hooker's Boom Boom Room.
The blues reaped rewards far greater than his contemporaries could have imagined. He told a Newsweek reporter in 1995 "I got chauffeurs. I got a long stretch black limousine. Bar in it. VCRs, telephone, everything. I got a suit for every day of the week." It was a long, long way from Clarksdale. In 2001 just before he was about to start a tour of Europe, Hooker fell ill and died shortly afterwards. He was 83 years old. On his very last recording, which he made with the Italian singer, Zucchero, Hooker sang the words, "I lay down with an angel." John Lee Hooker lifted many people's spirits with his unique approach to playing the blues.
He may also have been the busiest blues-recording artist of the post-war era, who later crossed musical paths with a whole host of modern-day guitarists and musicians in creating the now ubiquitous duet albums.
Format:
UK English