George Thorogood
One of rock's most celebrated ex-roadies is prodigiously-talented boogie blues guitarist George Thorogood, who has sold over 15 million albums worldwide since the release of his band's debut album.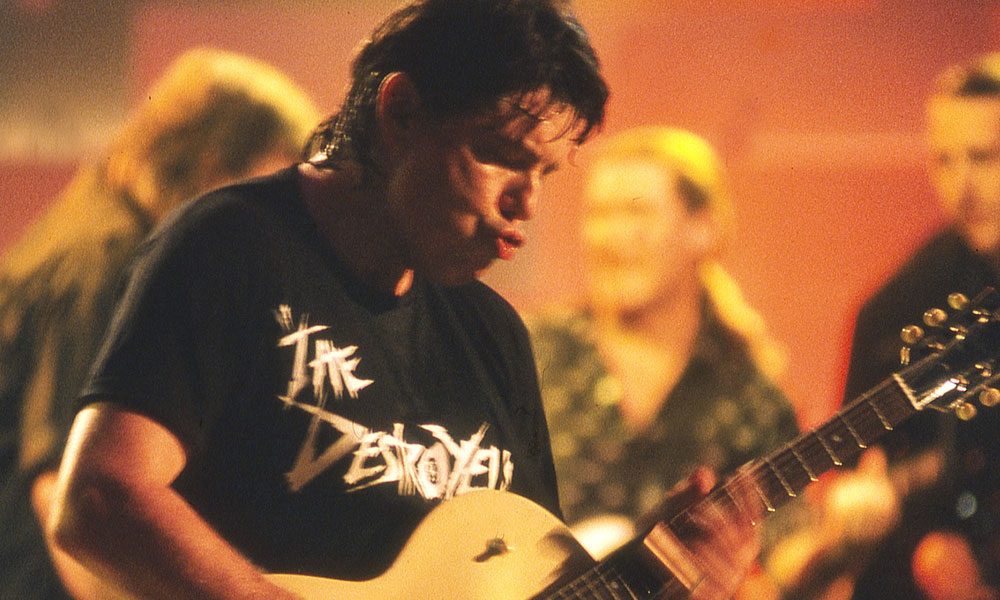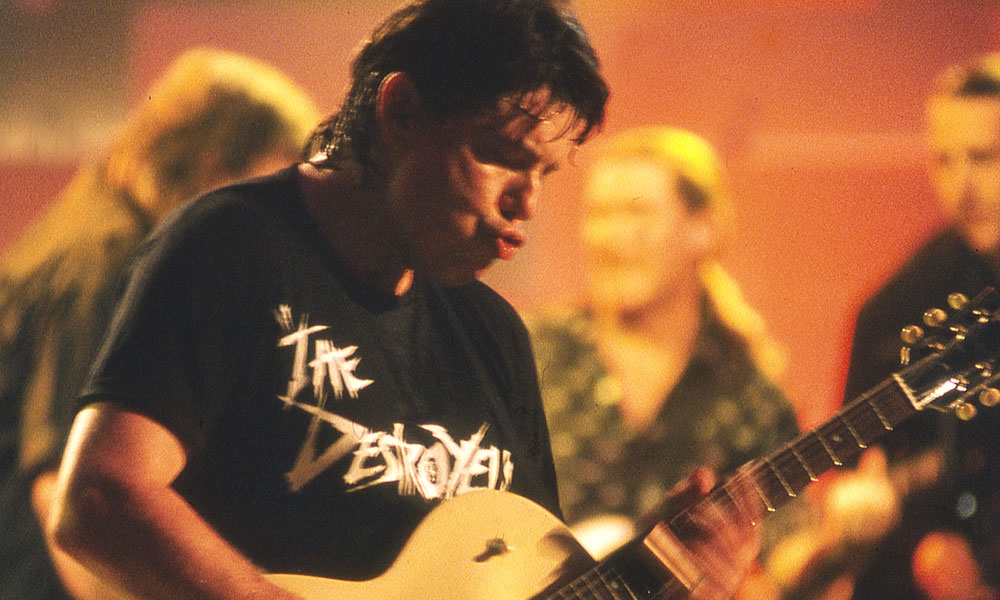 They're usually paid a pittance for services rendered and their job requires the strength and stamina of an ox, yet roadies are nonetheless a vital cog in the rock'n'roll machine.
Often friends and confidantes to the stars themselves, some members of the hard-living road crew fraternity have, however, successfully made the move from backstage to centre stage. Indeed, while the likes of Noel Gallagher and Motorhead frontman Lemmy have gone on to sell millions of albums worldwide, they both started out loading Transit vans and lumbering under the weight of flight cases.
Another of rock's most celebrated ex-roadies is prodigiously-talented boogie blues guitarist George Thorogood, who has sold over 15 million albums worldwide since the release of his band's debut album.
By the early 70s, however, Thorogood was supplementing his income by working as a roadie for another of his heroes, Elmore James-esque slide guitarist Theodore Roosevelt 'Hound Dog' Taylor. Though hailing from Natchez, Mississippi, Taylor had spent years playing Chicago's black neighbourhoods and at the city's famous open-air Maxwell Street Market (where John Lee Hooker memorably performed in The Blues Brothers), before his fame began to spread after Alligator Records issued his well-received Hound Dog & The House Rockers LP in 1971.
Thorogood first encountered Taylor when the latter played in Boston. Taylor built up a solid following in the city in the early 70s and Thorogood helped carry his gear while he formed his own band – originally known as The Delaware Destroyers but later simply just The Destroyers. Having relocated to Boston full time, Thorogood recruited his old high school buddy Jeff Simon as the long-term drummer, but other musicians inevitably came and went as Thorogood punted Taylor's gear around and his new band crafted their own sound, drawing from Chicago blues, R&B and hard-driving rock'n'roll.
The band's early gigs included appearances at Lane Hall at Delaware University and support slots with blues greats such as Muddy Waters and Howlin' Wolf in their adopted hometown of Boston. They rapidly built up a live set of high-octane cover versions and demoed them in 1974. Eventually released by MCA in 1979 as Better Than The Rest (and reaching No.78 on the US Billboard 200) this first demo tape featured Thorogood and co's raw but exciting versions of blues and rock'n'roll standards such as Chuck Berry's 'Nadine' and Howlin' Wolf's 'Howlin' For My Baby.'
Armed with their demo tape and a fearsome live reputation, The Destroyers – by now including rhythm guitarist Ron 'Roadblock' Smith and bassist Billy Blough – came to the attention of respected folk/bluegrass-inclined independent label Rounder, who released the band's self-titled debut on 16 August 1977 – the day Elvis Presley died. Still an essential listen, George Thorogood & The Destroyers featured the quartet's thrillingly primitive, attitude-soaked versions of tracks such as Elmore James' 'Madison Blues', Robert Johnson's 'Kind Hearted Woman' and a frazzled, eight-minute medley of two John Lee Hooker songs, 'House Rent Boogie' and 'One Bourbon, One Scotch, One Beer' – the latter remaining a Destroyers' live favourite to this day. Clearly an inspiration for a future breed of rowdy, critically acclaimed bar-room US rock outfits, including The Replacements and The Georgia Satellites, the LP was steeped in the blues, but it fizzed with contemporary energy and has barely aged a day since.
Aided and abetted by regular bouts of touring, George Thorogood & The Destroyers sold well, eventually gaining a gold certification in the US. It also performed well internationally, charting in Australia and rising to No.14 on New Zealand's Top 40. Understandably keen to keep the momentum up, the band released their sophomore LP, Move It On Over, through Rounder, in November 1978. Another mandatory and boisterous set with Thorogood's searing slide guitar and gravelly vocals to the fore, the LP benefitted from muscular production from Rounder founder Ken Irwin's and featured enduring highlights including an overdriven version of Bo Diddley's 'Who Do You Love?' and a rubber-burning remake of the Hank Williams-penned title track.
Highly regarded by fans and critics alike, Move It On Over again performed strongly, introducing The Destroyers to the US Billboard 200 for the first time (peaking at No.33) and earning them a second gold disc in the process. Ron 'Roadblock' Smith then quit the band, but instead of recruiting a new guitarist, Thorogood opted to bring in Hank 'Hurricane' Carter, whose fat, Clarence Clemons-esque sax first made its presence felt on the band's third – and final – LP for Rounder, 1980's More George Thorogood And The Destroyers. Among this collection's highlights were an aggressive version of The Strangeloves' Nuggets highlight 'Night Time' and a stinging, slide guitar-led take of Hound Dog Taylor's 'Just Can't Make It'.
During the early 80s, The Destroyers were renowned for their rigorous touring schedule and, in 1981, they undertook the high-profile 50/50 Tour of the US, wherein they performed 50 shows in 50 American states in 50 days. This daring – and energy-sapping – schedule included feats such as performing two shows in Boulder, Colorado, on one day and flying to Hawaii for one show before then flying to Alaska for another the following night. The band also played Washington, DC, the same day as they played a show in Maryland, therefore actually completing 51 shows in 50 days.
Thorogood and his band's profile was, however, more significantly raised when they supported The Rolling Stones on their extensive North American arena tour late in 1981. By this stage, the band's contract with Rounder had expired and The Destroyers instead signed to EMI America, who issued the band's perennially popular, gold-selling Bad To The Bone in August 1982.
One of The Destroyers' most potent recordings, the album featured honky-tonk piano flourishes from unofficial "sixth" Rolling Stone, the late Ian Stewart, and it included both inspired covers (The Isley Brothers' 'Nobody But Me'; a stately acoustic reading of Bob Dylan's 'Wanted Man') and two of Thorogood's best-loved self-penned tunes: the raucous 'Back To Wentzville' and the ballsy 'Bad To The Bone'. Arguably Thorogood's signature tune, 'Bad To The Bone' later also enjoyed widespread exposure in film and TV, featuring in Miami Vice and the sci-fi thriller Terminator 2: Judgement Day, among others.
Thorogood's fifth LP, 1985's Maverick, again went gold in the US, where it peaked at No.32 on the Billboard 200. A consistently hard-hitting affair which thankfully eschewed most of the (now horribly dated) mid-80s production techniques, it featured several of Thorogood's most enduring self-penned tunes, including the piledriving 'Gear Jammer', the alcohol-soused 'I Drink Alone', and 'Long Gone' – the latter providing a fine opportunity for Carter's wailing sax to let loose. A suitably energised cover of Johnny Otis' 'Willie & The Hand Jive', meanwhile, cracked the Billboard Hot 100, rising to No.25 and providing Thorogood with his only substantial American hit single.
The band were at the peak of their powers as a live unit at this point, so it made sense that their next release should reflect that; the self-explanatory Live was recorded at a rapturously received gig held at Cincinnati Gardens on 23 May 1986. Including firm favourites such as 'Who Do You Love?', 'I Drink Alone' and 'Madison Blues', the LP was a terrific snapshot of The Destroyers in viciously good nick and – after climbing to No.33 on the US Billboard 200 – the LP eventually earned itself a platinum certification.
Rhythm guitarist Steve Chrismar joined up before The Destroyers recorded 1988's Born To Be Bad: a souped-up set featuring slabs of Chicago blues (Howlin' Wolf's 'Highway 49'), rattling rockabilly (Chuck Berry's 'You Can't Catch Me') and stylish R&B ('Treat Her Right') in addition to the crunching, Thorogood-penned titular song, which offered a tongue-in-cheek update of 'Bad To The Bone'. A big hit with the faithful, the LP again charted highly on the US Billboard 200, where it finally came to rest at No.32, earning Thorogood and co their third gold disc in a row.
Though grunge held sway in the early 90s, The Destroyers stuck to their guns, producing 1991's exuberant Boogie People, which featured quintessential hard-driving covers of John Lee Hooker's 'Mad Man Blues' and Muddy Waters' 'Can't Be Satisfied', along with Thorogood's humorous 'If You Don't Start Drinkin' (I'm Gonna Leave)', which charted at No.5 on the US Mainstream Rock chart. With the rock scene feeling the wind of change, Boogie People missed the US Top 40, but it still rose to a highly respectable No.77 on the Billboard 200 and again sold well in Australasia, where it reached No.13 in New Zealand.
Thorogood and co earned a second platinum disc for EMI's The Baddest Of George Thorogood & The Destroyers, released in 1992. A well-appointed CD anthology, it offered nothing new for the long-term faithful, but did provide a handy 11-track career overview for the uninitiated, featuring lesser-cited cuts such as 'Long Gone' and Boogie People's 'If You Don't Star Drinkin' (I'm Gonna Leave)' in addition to the expected triumvirate of 'I Drink Alone', 'Bad To The Bone' and 'Who Do You Love?'.
Switching to Capitol Records, Thorogood and co recorded two solid sets, Haircut (which reached No.120 on the US Billboard 200) and 1997's Rockin' My Life Away before signing to Tom Lipsky's CMC International Label (later part of the Universal Music group) for 1999's Half A Boy/Half A Man. Arguably The Destroyers' most visceral and aggressive outing from the 90s, it included a formidable cover of the Nick Lowe-penned titular song.
The band underwent a couple of personnel reshuffles on the cusp of the new millennium. In 1999, guitarist Jim Suhler replaced Steve Chrismar, and in 2003 Buddy Leach came in for the long-serving Hank 'Hurricane' Carter. Released to celebrate the band's 30th anniversary in 2004, Capitol's Greatest Hits: 30 Years Of Rock (another outing for 'Who Do You Love?, 'Willie & The Hand Jive', et al) reacquainted The Destroyers with the US Billboard 200 (peaking at No.55) and earned them another gold disc in the process.
Since the band's current line-up came together, in 2003, they've recorded another four fiery studio albums, the most recent of which, 2011's 2120 South Michigan Avenue (again released by the Universal Music-affiliated Capitol imprint) stormed to No.2 on the US Billboard Blues Top Albums chart. Named after the address of the offices and recording studios of the hallowed Chess label in Chicago, the album featured 10 covers of songs originally recorded for Chess by artists such as Chuck Berry, Bo Diddley and Willie Dixon, in addition to a cover of The Rolling Stones' '2120 South Michigan Avenue': the song that first turned the teenage Thorogood on to the wonders of Chicago blues. Performed with age-defying gusto, it was surely the album The Destroyers had always intended to make and it remains one of the grittiest and most satisfying entries in their catalogue.
George Thorogood and his trusty Destroyers have kept on keeping on ever since. They celebrated their 40th anniversary in 2014, have now played over 8,000 gigs in total and continue to blast their way through at least 100 shows a year. This hard-rockin' ex-roadie's own road crew will remain gainfully employed lugging gear and loading vans for years to come.
Tim Peacock
Format:
UK English