The Best BRIT Awards Live Performances Of All Time
From iconic outfits to poignant moments, these BRIT Awards live performances have helped make the ceremony an essential watch each year.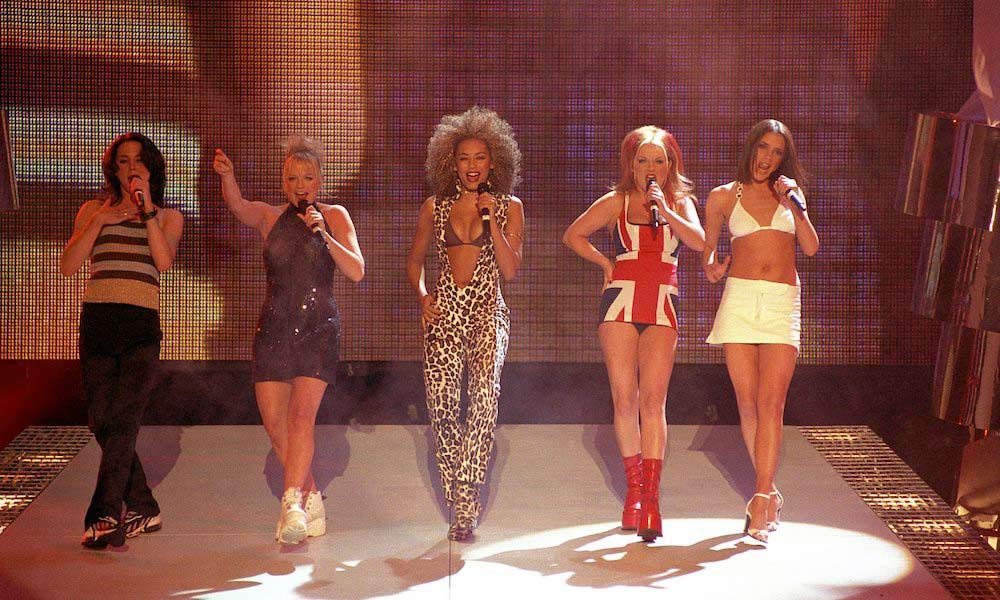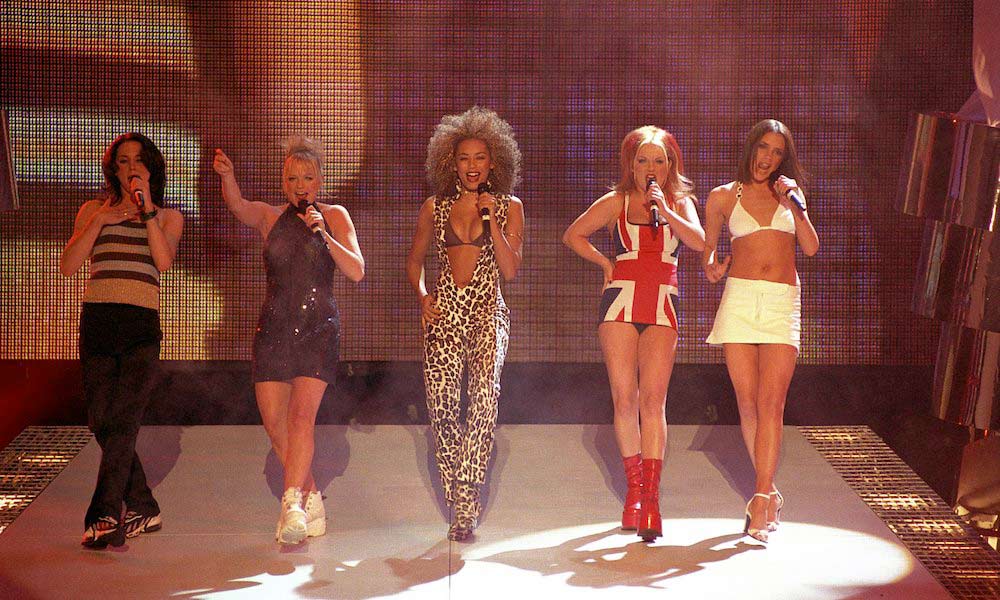 It may not have the universal appeal of the illustrious Grammy Awards, but the annual British Record Industry Trusts Show Awards (aka the BRITs) remains the UK's most prestigious music awards ceremony, attracting domestic viewing figures of well over five million. First held in 1977 to mark Queen Elizabeth II's silver jubilee, the event has since played host to a legion of legend-enshrining moments ranging from the poignant (Queen frontman Freddie Mercury's final public appearance, in 1990) to the provocative (Oasis openly taunting their Britpop rivals Blur in 1996), and including a number of historic BRIT Awards live performances that have helped make the ceremony an essential calendar event.
In tribute to this venerable British institution, we salute the Best BRIT Awards live performances of all time.
Spice Girls (1997)
Arguably the most iconic BRIT Awards live performance of them all, Spice Girls' triumphant slot has gone down in history. This is partly due to their supercharged performance of signature hits "Wannabe" and "Who Do You Think You Are," but also because of Geri Halliwell's outfit. With Spicemania at its zenith and the band having just celebrated their debut album, Spice, topping the US Billboard chart, Halliwell performed "Who Do You Think You Are" clad in a dress her sister made from a Union Jack tea towel, with a peace sign on the back. In 2010, this much-acclaimed extravaganza won the retrospective BRITs Hits 30: Best Live Performance At The BRITs Award.
Amy Winehouse (2008)
Amy Winehouse was enduring an especially turbulent time when she appeared at the 2008 BRITs. Her private life was being raked over by the tabloids, who were also criticising the standards of her stage show. She emphatically silenced her detractors at the BRITs, performing a superb version of The Zutons' "Valerie" with Mark Ronson, and returning to the stage alone for a show-stopping rendition of "Love Is A Losing Game."
Amy Winehouse - Love Is A Losing Game (live at The BRIT Awards 2008)
The KLF (1992)
Having shared the Best British Group award with Simply Red, electro-pop agent provocateurs The KLF were booked for the 1992 ceremony as the evening's opening act. Instead of faithfully reproducing their hit "3am Eternal," The KLF – who comprised Jimmy Cauty and former Echo & The Bunnymen manager Bill Drummond – performed an ear-splitting metal reworking of the track in collaboration with grindcore outfit Extreme Noise Terror.
At the song's conclusion, Drummond fired blanks from a vintage machine gun over the audience, and their publicist, Scott Piering, declared, "Ladies and gentlemen, The KLF have now left the music business!" He wasn't kidding. This much-publicized event marked the end of the duo's musical career.
Kanye West (2015)
Prior to 2015, hip-hop superstar Kanye West had already won three International Male Solo Artist BRIT Awards, and in 2006 he performed a medley of his hits "Diamonds From Sierra Leone," "Gold Digger" and "Touch The Sky."
In 2015, however, he stole the show in no uncertain terms. Introduced by his wife Kim Kardashian, West took to the stage with an entourage including UK MCs Skepta, Krept, Konan, Jammer and Novelist, as well as two massive flame-throwers, while he debuted his latest single, "All Day." Still one of the BRITs' most controversial performances, it was widely publicized – and genuinely provocative.
Michael Jackson (1996)
At the 1996 BRITs, Michael Jackson received a special Artist Of A Generation award. During the ceremony, Jackson accompanied a performance of his single "Earth Song" with an ambitious stage show, culminating with the artist backlit as a messianic figure surrounded by children. However, outraged Pulp frontman Jarvis Cocker mounted the stage in protest, lifted his jacket and waggled his (clothed) backside in Jackson's direction. Cocker's controversial interruption notwithstanding, Jackson's dramatic performance ranks among the most memorable BRIT Awards live performances.
Prince (2006)
Having long mastered the art of using a single key TV appearance to make headlines around the world, Prince chose his one and only BRIT Awards live performance to tease two tracks from his forthcoming 3121 album ("Te Amo Corazón," "Fury") before ripping into "Purple Rain" and "Let's Go Crazy." The performance gained added poignancy 10 years later; having invited Wendy Melvoin and Lisa Coleman to play live with him for the first time in years, this BRIT Awards live appearance would mark the final time Prince shared a stage with his former Revolution bandmates.
Sam Smith (2015)
The 2015 BRITs was undeniably a momentous occasion for Sam Smith, who took home two awards (British Breakthrough Act, British Global Success award) and celebrated these milestones in style with a truly heartfelt performance of "Lay Me Down."
Sam Smith - Lay Me Down (Live at The BRIT Awards 2015)
Lady Gaga (2010)
In 2010, Lady Gaga took home three International BRIT awards: Best Female Performer, Best Breakthrough Act and Best Album (for The Fame). To mark the occasion, she wore an arresting ensemble, resembling a tiered wedding cake as she arrived at the ceremony. For her BRIT Awards live performance (which she dedicated to the late designer Alexander McQueen) she stepped out of her dress to reveal a lace bodysuit and played "Telephone" and "Dance In The Dark."
Stormzy (2018)
Grime MC Stormzy had a big night at the 2018 Brit Awards, taking home British Album Of The Year for his acclaimed debut Gang Signs & Prayer, as well as the prize for British Male Solo Artist. However, he also used his 2018 BRITs performance to take a swipe at Prime Minister Theresa May over her handling of the Grenfell tragedy of 2018.
Following a memorable performance of "Blinded By Your Grace," Stormzy broke out into a politically-fuelled freestyle where he lashed out at the PM for the way she responded to the tower-block fire. "Like yo, Theresa May, where's the money for Grenfell?" he spat, before adding "What, you thought we just forgot about Grenfell?"
STORMZY - BLINDED BY YOUR GRACE PT.2 & BIG FOR YOUR BOOTS [LIVE AT THE BRITs '18]
Katy Perry with Skip Marley (2017)
The US and the rest of the world are represented by the BRITs' International Female and Male Solo awards, and the International Group Award. US pop superstar Katy Perry won the International Female Solo award in 2009, and while she wasn't a winner in 2017, her performance of "Chained To The Rhythm" (just a month after US President Donald Trump's inauguration) attracted global attention after she was joined by two large skeletal puppets dressed as Trump and British Prime Minister Theresa May. Perry is again nominated for two awards – for British Single and British Video – in 2018.
Katy Perry - Chained To The Rhythm (Live at The BRIT Awards 2017) ft. Skip Marley
Girls Aloud (2009)
The soon-to-be massive Girls Aloud made their first-ever television appearance at the 2009 BRITs, with the five band members seemingly performing "The Promise" naked, though their modesty was actually covered by outfits made from pink feathers. At the following year's event, this eye-catching performance was nominated for the retrospective BRITs Hits 30: Best Live Performance At The BRITS Award, but it narrowly lost out to Spice Girls' iconic 1997 slot.
Oasis (2007)
Mention Oasis in conjunction with the BRITs and people generally recall 1996, when the Mancunian stars won Best British Band and the Gallagher brothers taunted their arch rivals, Blur. However, Oasis returned to accept a BRIT for Outstanding Contribution To British Music in 2007, and performed an imperious set including several of their most influential tunes, "Cigarettes & Alcohol," "Rock'n'Roll Star" and "Don't Look Back In Anger."
Lorde (2016)
The 2016 BRITs took place within weeks of David Bowie's death and the event featured an emotional tribute to the late star which also included contributions from Annie Lennox and actor Gary Oldman. However, the pièce de résistance was surely Lorde performing a raw and emotional version of the timeless "Life On Mars?" with Bowie's live band. Both heartfelt and heart-breaking, it rewarded Lorde with a standing ovation and will remain one of the essential BRIT Awards live performances for years to come.
David Bowie Tribute l The BRIT Awards 2016
Adele (2011)
Only weeks after the release of her second album, 21, Adele performed an emotional version of the record's (then little-known) "Someone Like You," accompanied solely by piano. She was reputedly so nervous that she broke down in tears backstage, but her spellbinding recital stole the show. Her BRIT Awards live performance helped lift "Someone Like You" to No.1 on both sides of the Atlantic and made Adele a household name in the process.